The information in this article is the intellectual property of xMatters and is intended only for use with xMatters products by xMatters customers and their employees. Further, this intellectual property is proprietary and must not be reused or resold.
You may have noticed that we've overhauled the xMatters On-Demand online help system. So, why the change? It boils down to this: our overarching goal is to create an outstanding experience for anyone accessing our help system.
While we obsessed over the site's look & feel (right down to the web-font level), we also kept asking, "How can we help people get to the right content quickly so that they can be successful with xMatters?".
We're listening
That question - and its many answers - continues to inform our decisions. But we'd love to hear your feedback about your experience - simply make a comment on this page (you'll have to log in). Let us know what you love and want more of... and where we've maybe gone off the rails.
In the meantime, we want to highlight some major usability and content changes, as well as some notable little touches.
Choose your path
We understand that users come at our content from different directions, and that they might want to use different approaches depending on what they're trying to do in xMatters.
To that end, we've built in several ways you can access the information you need:
Browse a role-based menu: if you're an end-user, you'll be drawn to the User menu, while if you supervise groups, you'll head for Supervisor... and so on.
Search: we're pretty sure you're familiar with what this means.
Scan topics grouped by theme: get a sense of the content and maybe click through to explore something that catches your eye.
Whichever way you like to roll, we've got you covered (click any image or animated GIF in this article to enlarge it):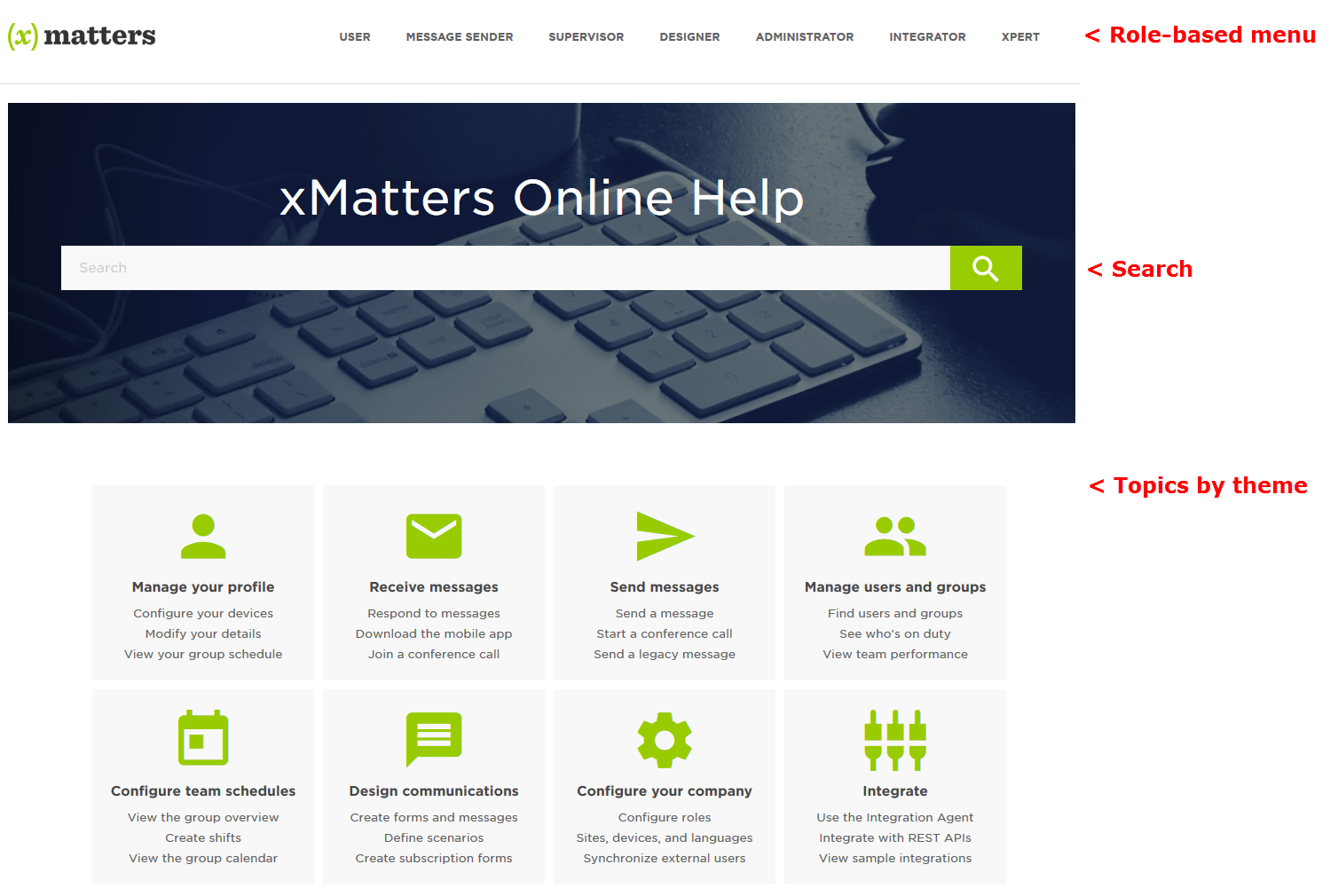 Navigation niceties
We've carefully considered how to make navigation on the new site easier so that nobody feels lost in a sea of information. Here are a few of the key ways we've done that.
Persistent menu during scroll
If you're a power user, you probably like to have easy access to the main menu without having to scroll all the way up to see it. We agree, as you can see in the following animated GIF that shows that the top menu stays put: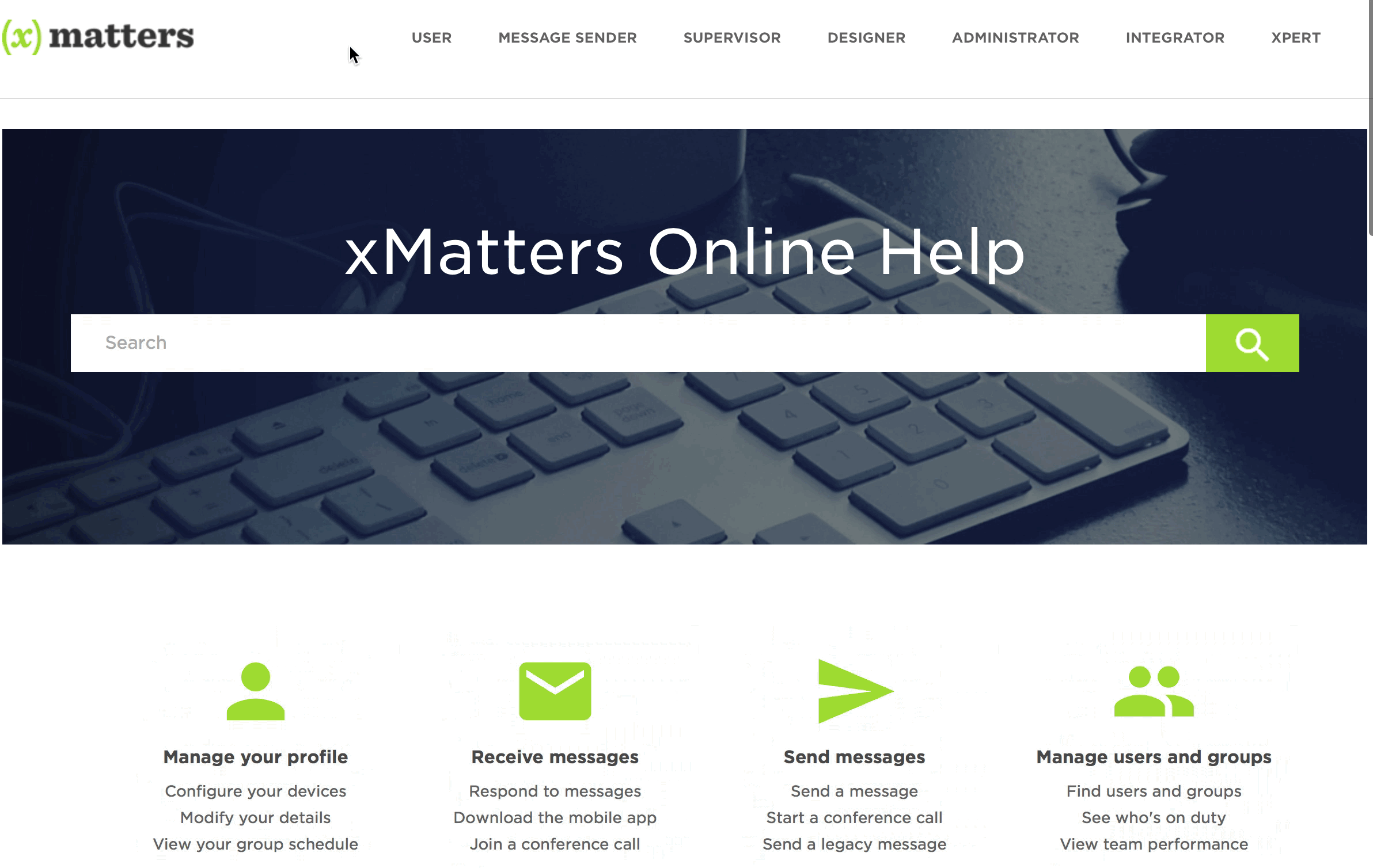 Ubiquitous search bar
No matter how deep you are into the content, you'll always have the option to search directly from the page you're on (including when you're on a mobile device).
Simplified content structure
When we decided to move away from two-frame help that felt a little like reading a book online, we realized that we had an opportunity to rethink our online help's content architecture.
Here's just one example: for adding devices we used to have different topics for each device type. That meant that if you were adding several different devices, you'd have to navigate to each device's topic for setting details. Now we've moved all of that information into one topic, with expandable sections for each device type: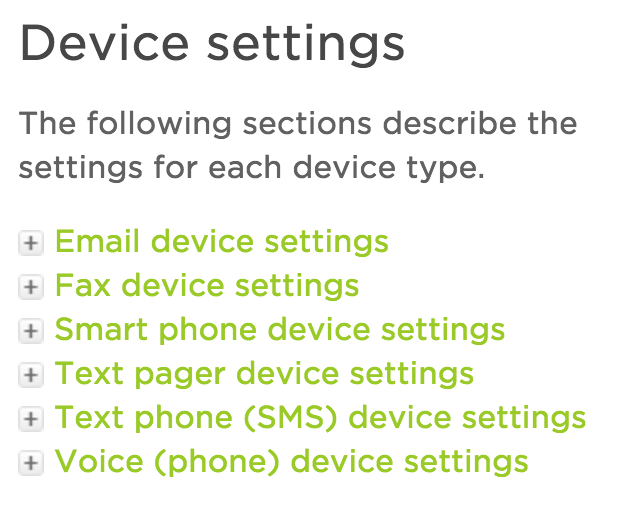 Related topics
Every topic that has 'child' topics now displays a list of related topics. So, if you've found that you're not quite on the topic you need, a scan through the related topics list can put you to rights: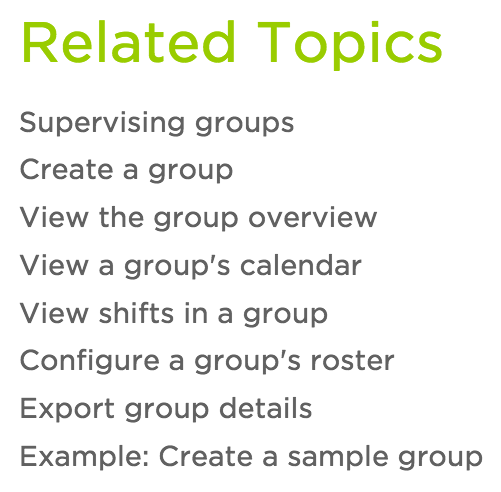 Never get lost
While we're always working to simplify navigation, we're also keenly aware that our online help contains a lot of content. To ensure that you never get lost, we've added handy breadcrumbs to give you a sense of where you are, and also to allow you to click 'up' a level or two if necessary. And, if you really want to bail out for a do-over, you can hit the xMatters logo on any topic to return to the home page.
Stylish (and actually helpful) 404 page
Hey, sometimes things go wrong: when we did our content overhaul, we broke some links and created some unexpected artifacts. We think we've chased most of those down, but we might have missed something or broken a link that you've bookmarked. When that happens, you'll land on this page which provides a handy link to the online help. 
Enhanced & aligned mobile experience
We want your browsing experience to be as seamless as possible no matter what device you're using. The new help system has an enhanced responsive design that not only works great on mobile devices, it also plays nicely right on your desktop when you need to save screen real estate for your other applications.
Here's a look at how the new online help looks on an iPhone 6 Plus: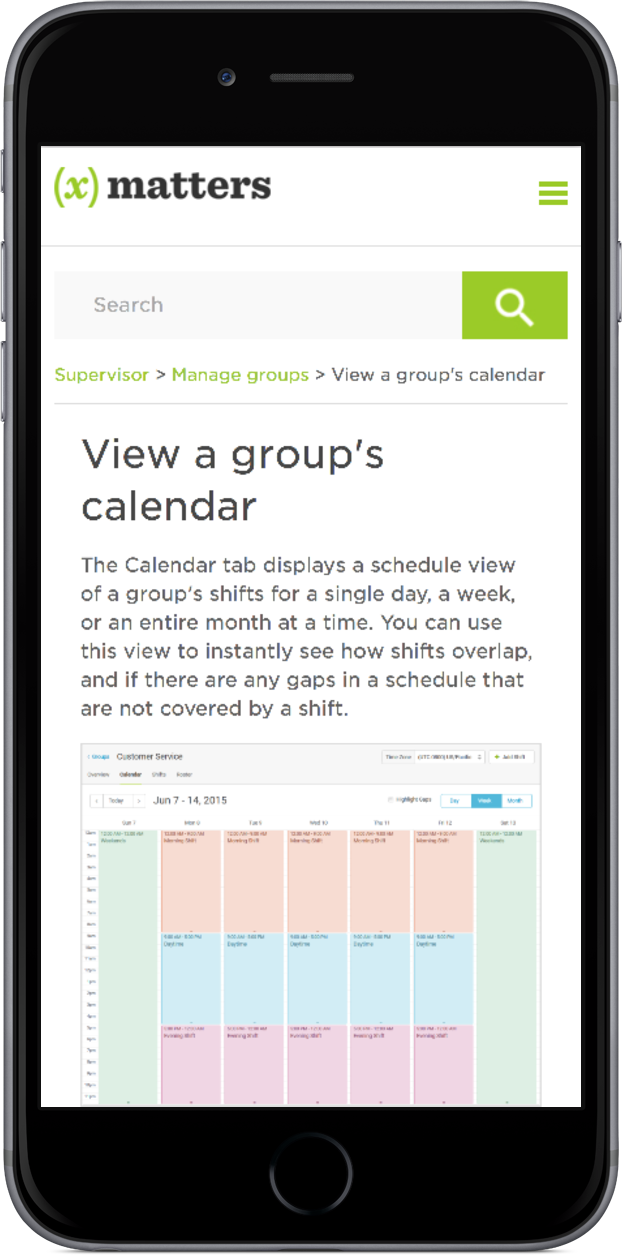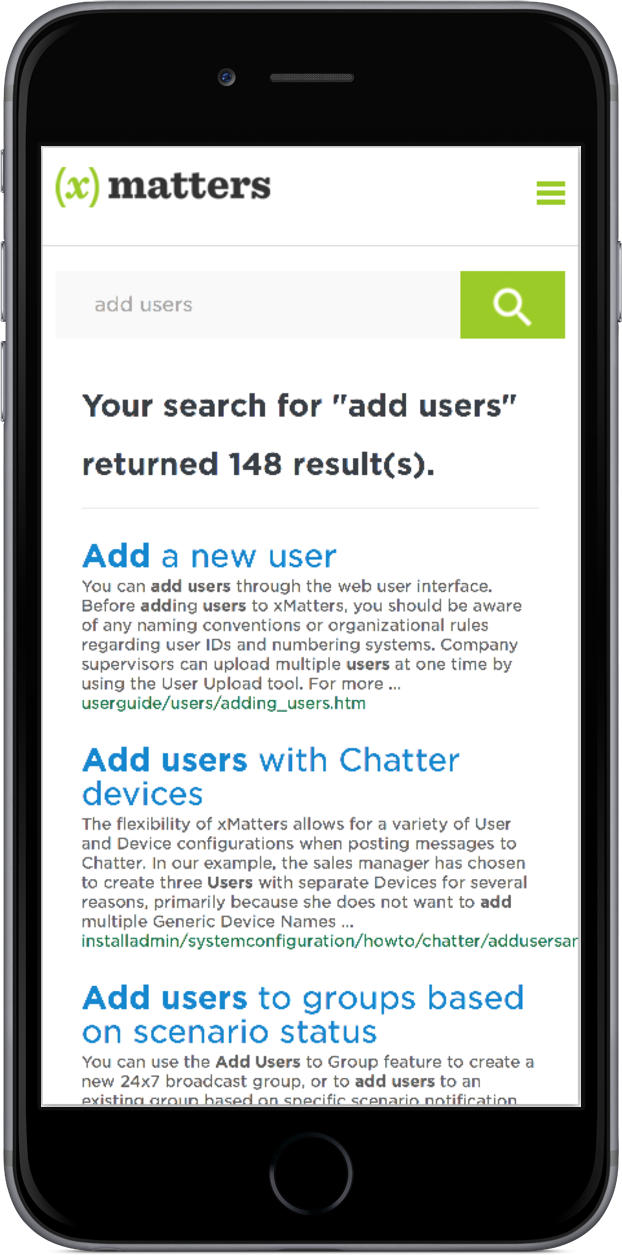 Grab bag o' goodness
Here are a few quick items that didn't quite fit into any of the other sections.
Embedded eLearning
We've unfortunately been a little too good at hiding the fact that we have eLearning modules available for a number of topics. We're looking to change that by featuring those modules on the home page of the new help:

We've also started adding videos and training modules to related topics, and we'll continue to do so over time as materials are developed: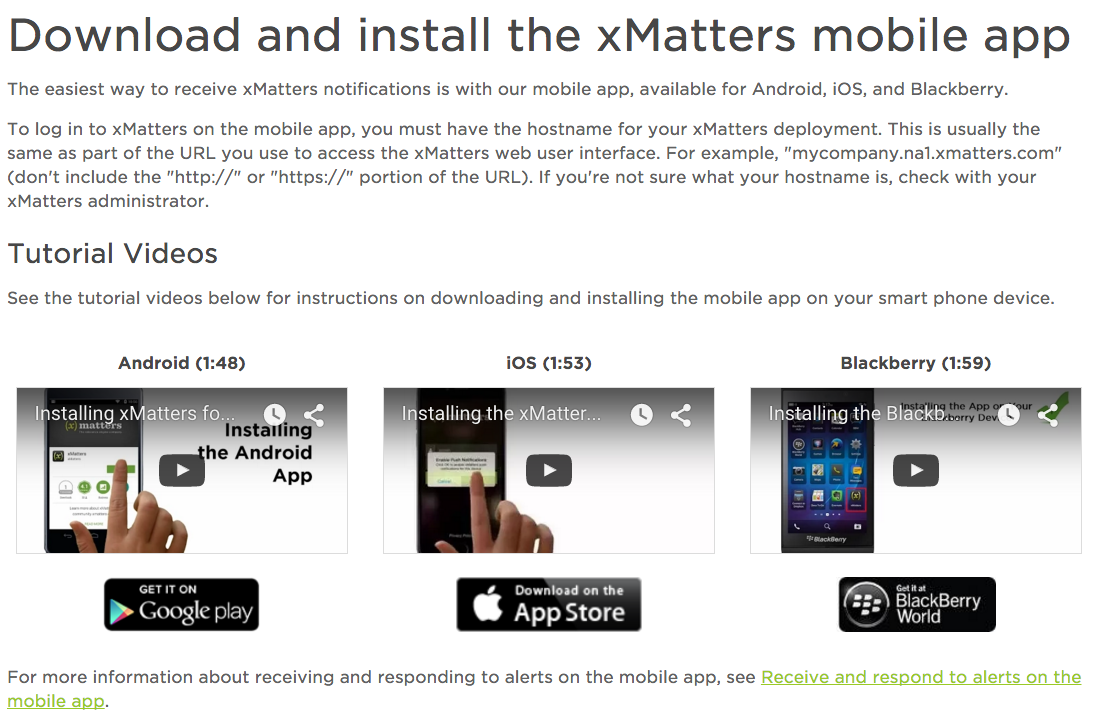 Glossary terms in search results
Newbies especially will appreciate this little touch that brings up definitions for search terms when they exist in our glossary. For example, if you search for "form" your search results will include its definition before the topic previews: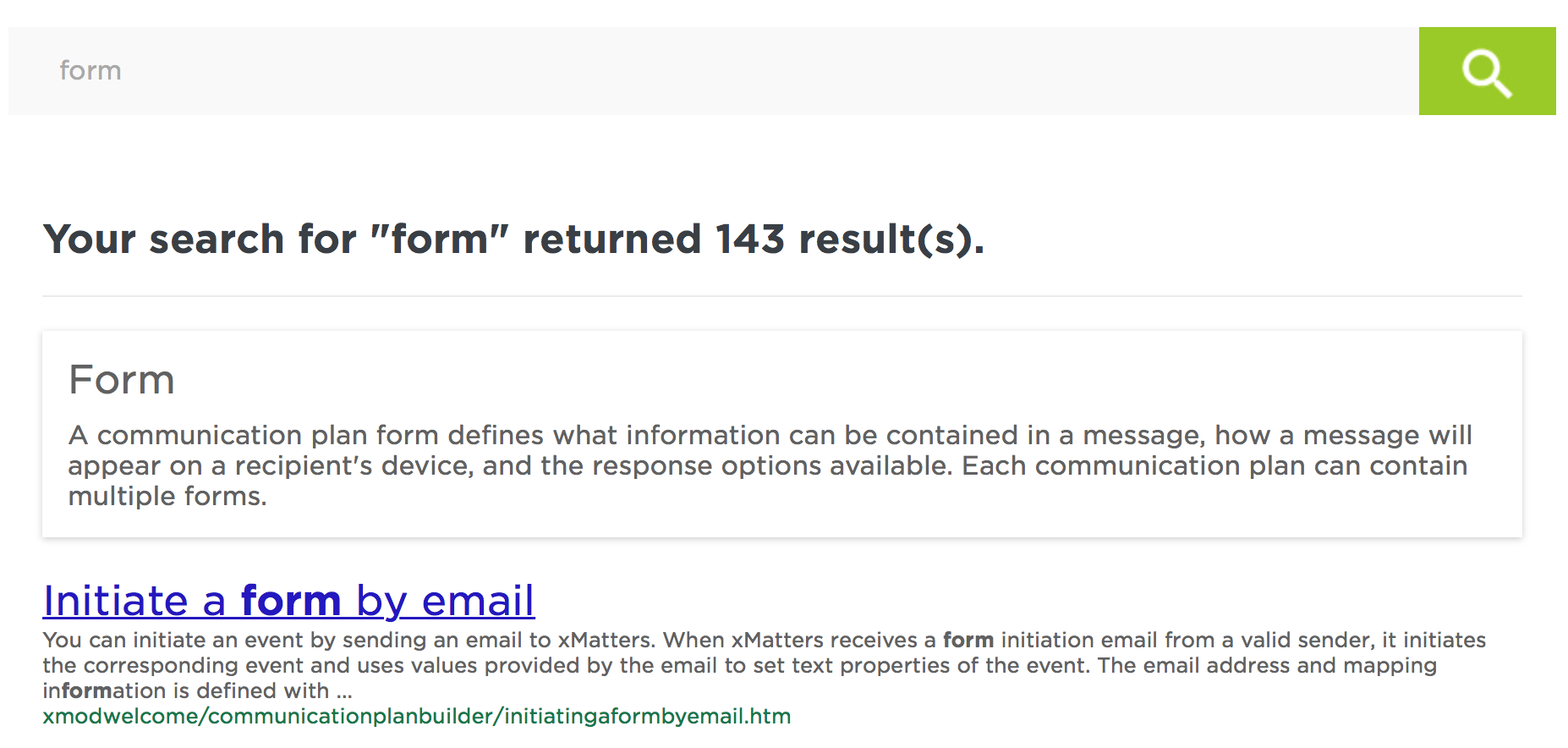 Version number and publication date
It's a small thing, but it can sometimes be extremely handy for troubleshooting or when talking to our support folks to see what version of xMatters On-Demand the help system represents, and also the last publication date (believe me, we're publishing all the time). You'll now find that information on the footer of every page:

No such thing as 'done'
We've already got a pretty solid to-do list to address over the next few months. We'll continue to massage the existing system and also pull in additional content (e.g., EPIC documentation) to consolidate our help into a centralized, searchable location. We're also employing new analytics and third-party usability services to proactively identify how we can make this the best possible help portal experience.