The information in this article is the intellectual property of xMatters and is intended only for use with xMatters products by xMatters customers and their employees. Further, this intellectual property is proprietary and must not be reused or resold.
New to xMatters? Wish someone could give you a quick run-through of how to get started so that you're ready and able to receive and respond to notifications?
Great, because that's exactly what this guide will show you! We'll walk you through the basics of logging into our web application and mobile app, lead you through setting up your devices and checking your on-call schedule, and show you what to expect when getting a notification.
We'll also include additional recommendations to more in-depth documentation and resources that are available to help launch you from a newbie to an 'xPert' in no time.
Where and how do I log in?
There's a couple of different ways you can log into your xMatters account. To log into the xMatters web application, all you need is an internet connection and a web browser. And when you're on the go, the easiest way to stay connected is with the xMatters mobile app.
Web application
To log into the xMatters web user interface, go to your-company.xmatters.com (for example, if your organization's name is ACME Corp, its xMatters login URL would be something like acmecorp.xmatters.com).
Depending on how xMatters is configured, you'll log into xMatters using your corporate credentials or with xMatters credentials provided by your administrator.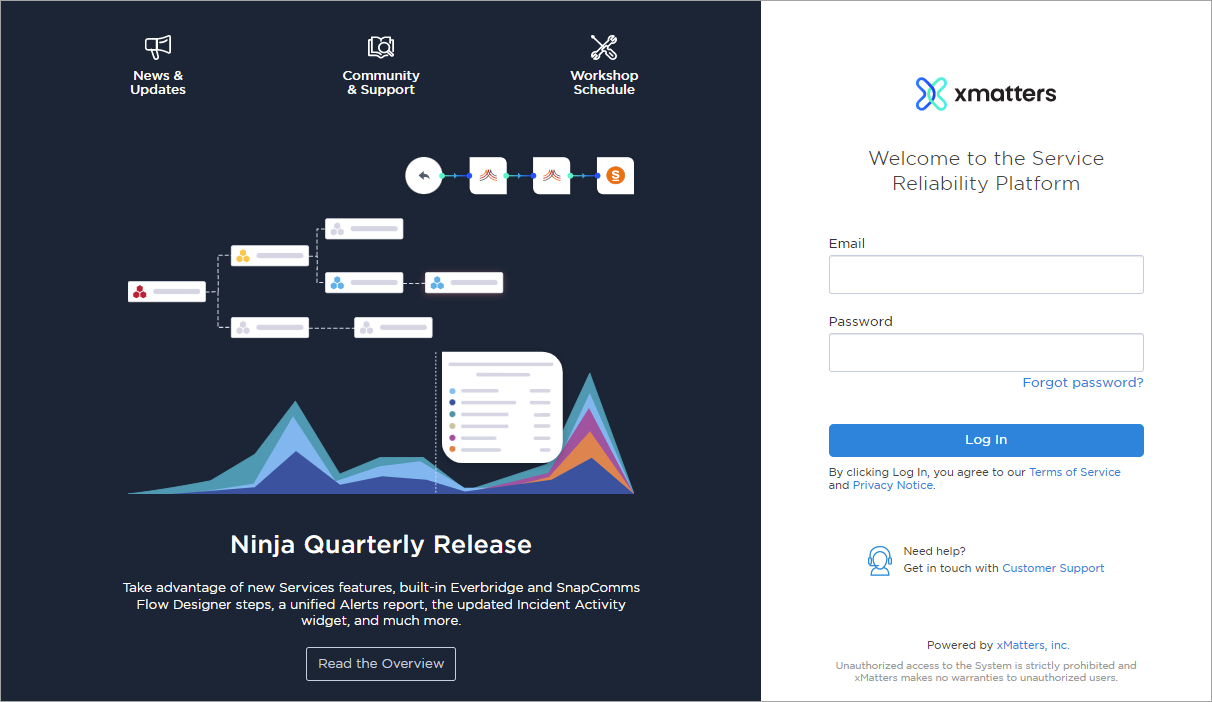 Additional resources:
Sign in to xMatters - step-by-step sign in instructions, browser recommendations, and troubleshooting.
What should I do when I log in for the first time?
After logging into the web application, you'll want to get your devices set up so that you can receive notifications from xMatters.
Set up your devices:

Click your name in the upper-right corner and select Devices.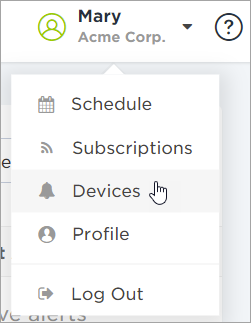 Click Add Device and select the type of device you want to add.
Enter your device's contact information and then send yourself a test message to make sure you've configured it correctly.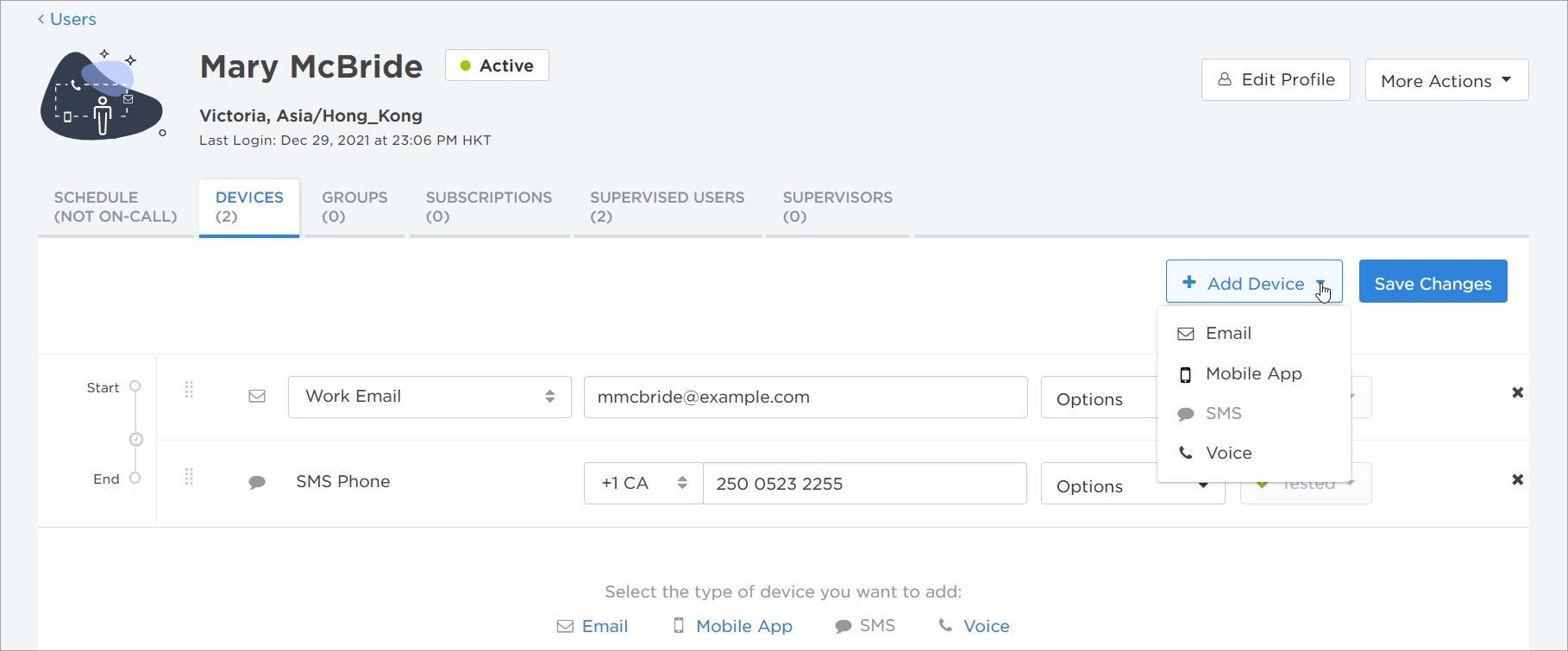 Once you've successfully added your devices to xMatters, you can set delays and timeframes for when you're available to receive notifications on each device. For example, you may want to first receive notifications on your email and the mobile app, then after 5 mins on your mobile phone.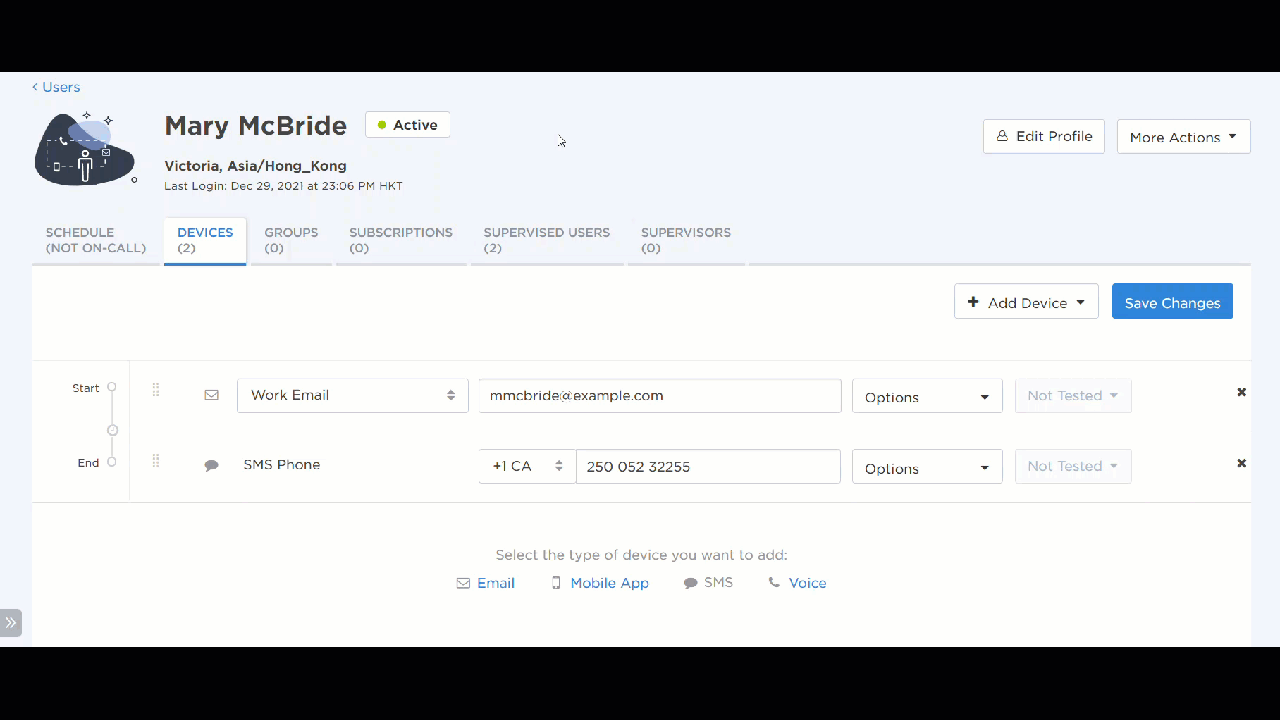 Externally-owned devices
If your organization uses a data sync process to add device data into xMatters from another system, then you may already have some devices configured in your profile. If the contact details for any of these devices are incorrect, let your xMatters Admin know so they can update the source system. You can add additional devices to your account without affecting the data sync.
Additional resources:
Get going with the mobile app (iOS/Android)
If you don't already have the xMatters mobile app installed on your iOS or Android device, you can get it by going to the App Store or Google Play store and searching for "xMatters".
Once you've downloaded and installed the app on your device, there are two ways you can log in: manually using your host name, or by scanning a QR code displayed in the web user interface.
Log in using host name
Enter your hostname. For example, if the URL you use to access the xMatters web user interface is your-company.xmatters.com, then enter "your-company".
Tap Continue.
Enter your username and password.
Tap LOGIN.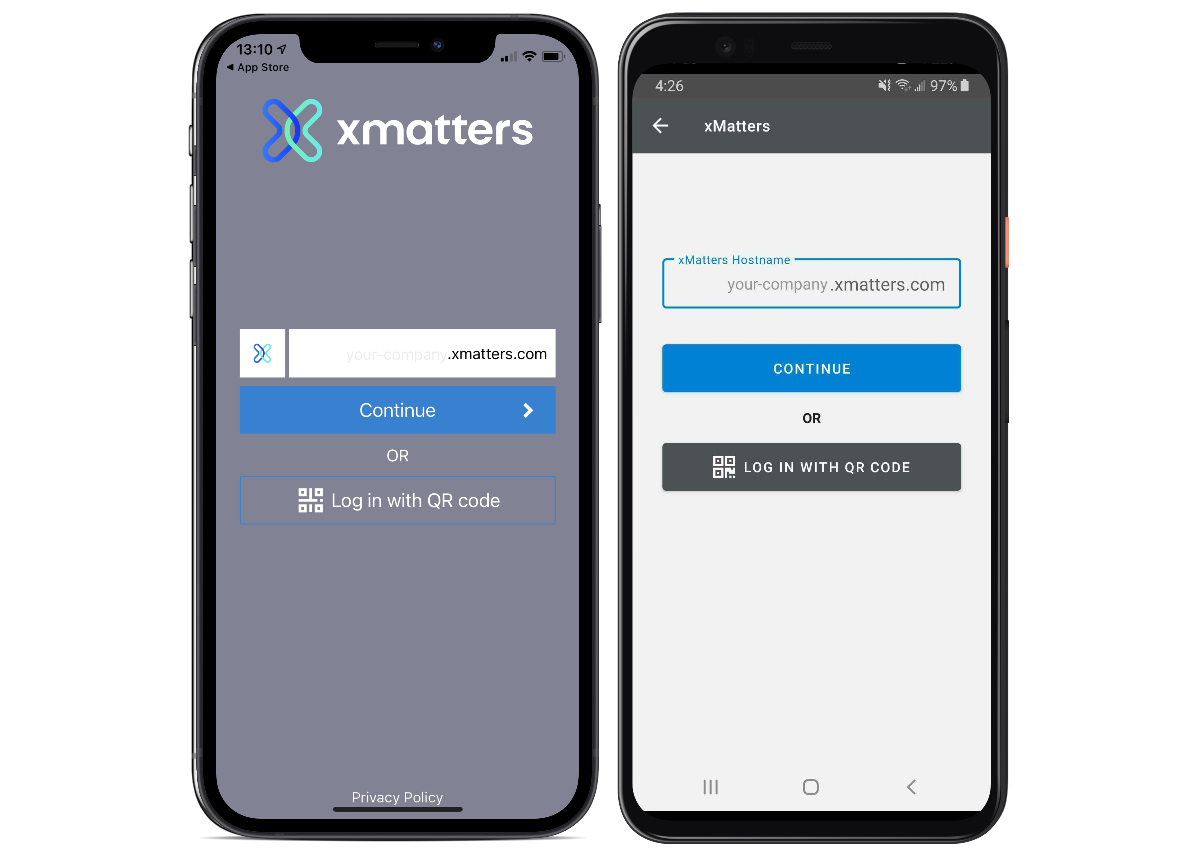 Additional resources:
Log in with host name - instructions for manually logging into the mobile app with your host name and credentials.
Scan a QR code
Log into the xMatters web application, go to the Devices tab in your profile, and add a "Mobile App" device.
On the mobile app, tap Log in with QR Code.
Scan the QR code that's displayed in the web user interface.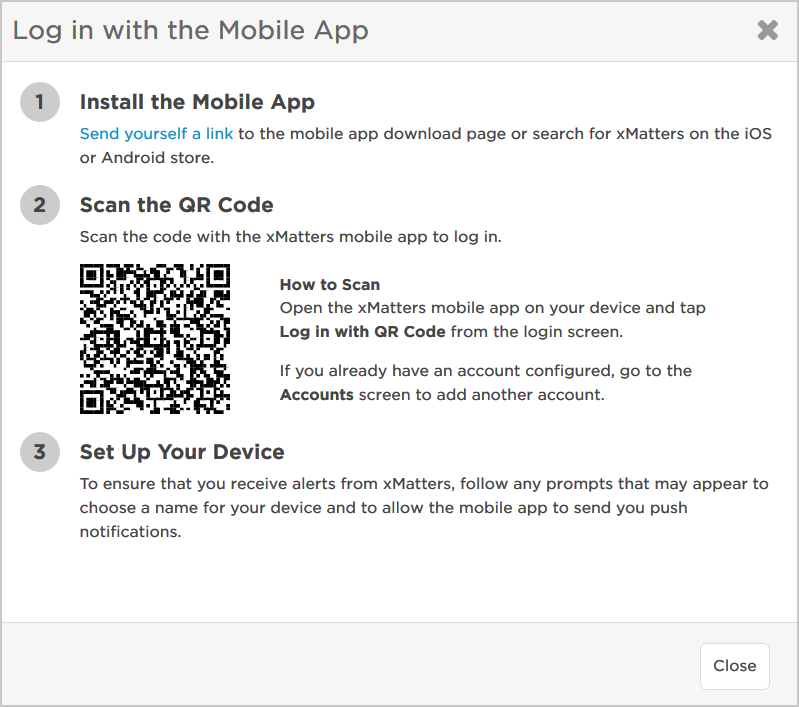 Additional resources:
Log in with QR code - detailed instructions for logging in by scanning a QR code with your mobile
How can I check my on-call schedule?
You can use your schedule to check your current on-call status and your upcoming on-call schedule. The schedule includes on-call information for all of your groups and shifts.
Web application
Click your name in the upper-right corner, and then select Schedule.
You can filter the schedule to show when you're the primary on-call resource (by default, the schedule shows all of your shifts):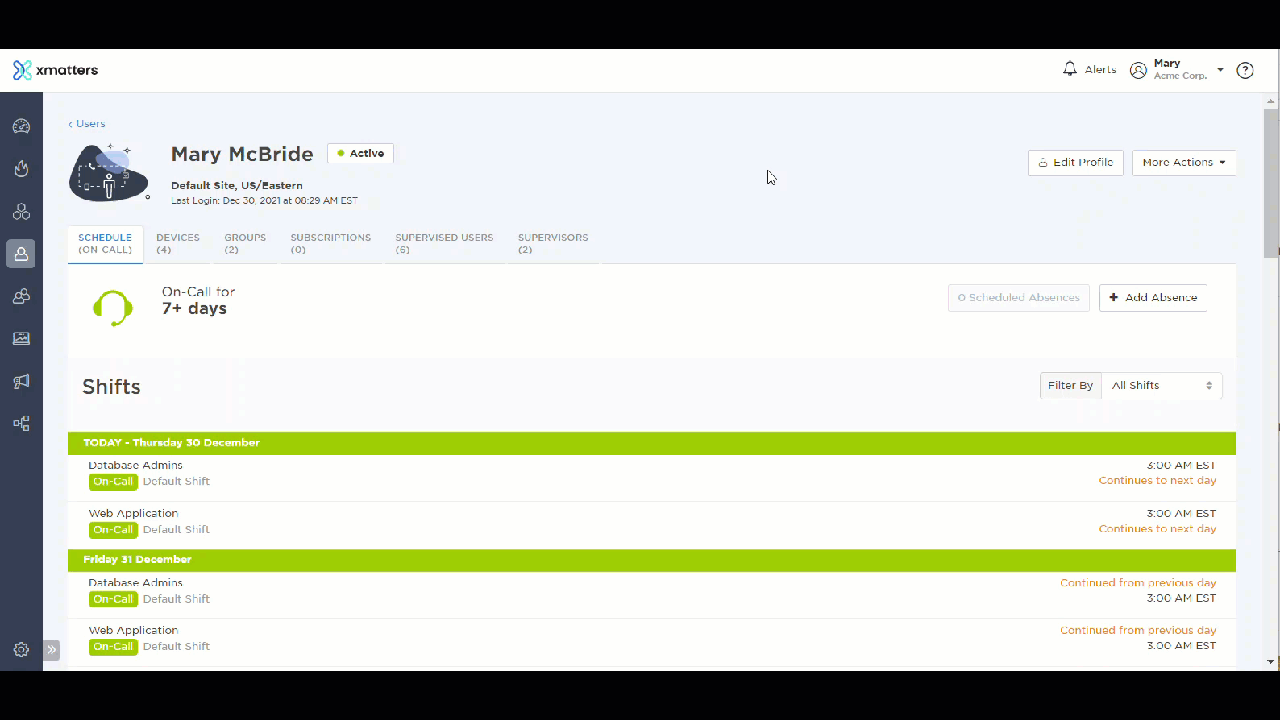 Temporary Absences
If you're unable to receive notifications for a period of time (such as if you're going on vacation or you're out sick), you can click Add Absence to add a temporary absence to your schedule, and optionally appoint someone else to receive notifications on your behalf while you're away: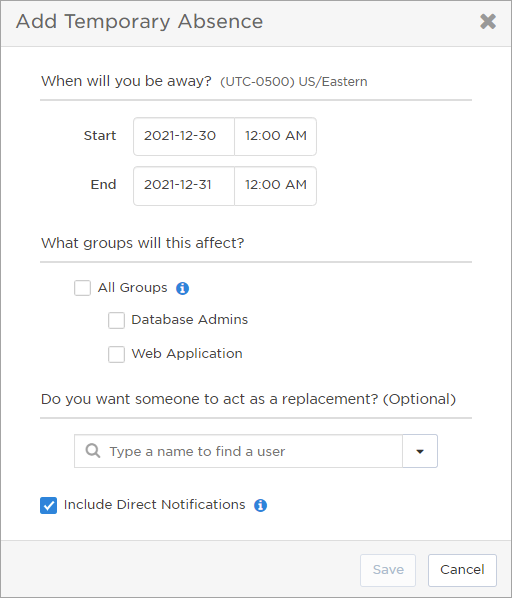 Additional resources:
Using your schedule - checking your on-call schedule, filtering by escalation order, shift details, and temporary absences from your on-call duties.
Set a temporary absence - view, add, and manage temporary absences in your schedule.
Mobile App
From the iOS or Android app menu, tap My Schedule.
The xMatters mobile app allows you to view your schedule in a daily or monthly calendar view. Like the web application, you can filter the schedule to display only shifts where you're primary on-call - just tap the filter icon in the upper-right corner of the screen.
Temporary Absences
To set a temporary absence in your schedule from the mobile app, tap the stopwatch icon.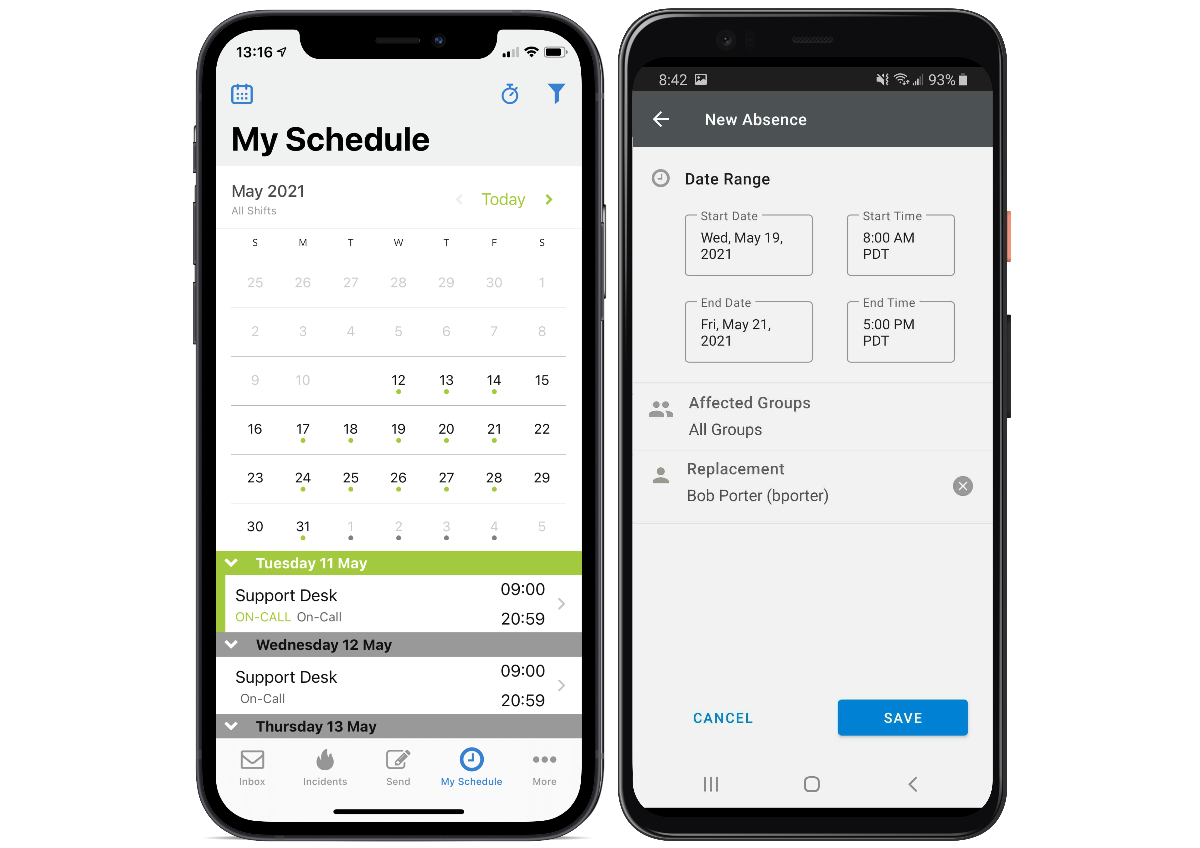 What should I do when I receive a notification?
After you've set up your devices and your supervisor has assigned you to one or more shifts, you can expect to receive notifications. The messages you receive on any of your configured devices will include information about the event, and it may also include options for you to respond. Response options are highly customizable, so you should read or listen to all available options before you select your response.
How to respond
Email - Scroll to the bottom of the email to click on a response link. A dialog box may appear that allows you to add a comment with your response.
Mobile app - Tap one of the response options. The mobile app asks if you'd like to respond now, or respond with comment. Respond with a comment if you'd like to add additional context with your chosen response.
SMS (Text) - Reply with the number associated with your response choice.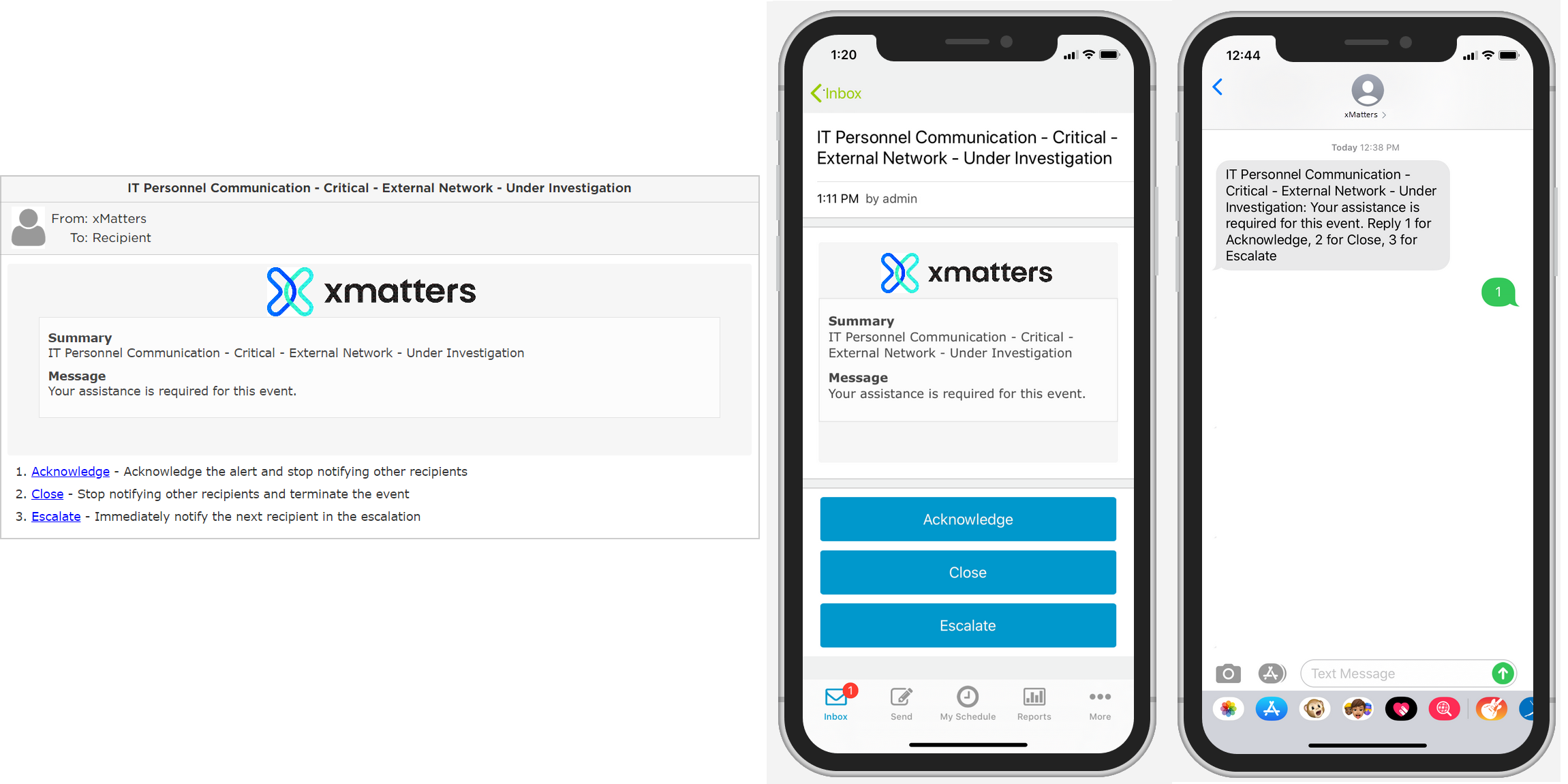 Escalations
Depending on how the shift schedule is defined, if you don't respond within a pre-configured amount of time, xMatters automatically escalates the notification to the next on-call resource in the shift.
Additional resources:
Additional tips & tricks
Context-sensitive help - If you're not sure how a feature works, just click the  icon in the top right corner of the screen to see help topics specific to the screen you're on.
Subscriptions - In xMatters, you can subscribe to receive notifications that keep you informed when certain types of events occur in your system. For more information, see:
Other helpful resources