If you're not familiar at all with the Advanced Messaging feature, and have no idea what it is, then feel free to ignore this article. This one's really just for anyone who's ever had to second-guess or otherwise question the meaning of the word "scenario"...
So what's happening?
We are officially sun-downing the Advanced Messaging feature! 
As of March 31, 2018, legacy scenarios and the Advanced Messaging feature will no longer be accessible through or usable with the xMatters service. 
Furthermore, we will no longer allow the creation of new scenarios via Advanced Messaging as of October 5, 2017 (though existing ones will continue to work until March 31, 2018).
Why are we doing this?
Advanced Messaging (also known as "Continuity") allowed users to create messages and recipient lists for common scenarios in advance to reduce reaction time and enhance responsiveness when issues occurred. Advanced Messaging featured some capabilities and options that were not immediately available in the first versions of xMatters, and so it was carried over for some select customers who relied on those features as part of their business continuity management procedures.
Well, workflows improve, expand, streamline, and just plain make better almost everything that Advanced Messaging ever did. And that's not to mention all the fancy and cool new things that Flow Designer does that we could only dream about back when we developed Advanced Messaging.
In short, very few people use Advanced Messaging anymore and anybody who does is kind of missing out on some really cool stuff.
So how does this affect me?
Frankly, it really shouldn't. Unless, of course, you can see these menu options on the Messaging tab (near the bottom) when you log into your instance: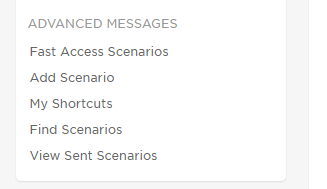 If those options aren't visible in your deployment, then you will not be affected by this change in any way. If you CAN see those options, then you'll need to start planning to migrate your legacy scenarios to new and improved communication-plan-based versions.
But like we said, there are very few customers still using these legacy scenarios. We'll be double-checking, of course, and anyone still using Advanced Messaging will be contacted directly make sure we help them step up to the much better options available in xMatters well before the deadline.
If you have any technical questions, or are interesting in migrating your scenarios sooner rather than later, contact Client Assistance- they can help you through the transition process.