This article describes the process for changing default recordings to new custom recordings in xMatters On-Demand instances. Out of the box, the recordings used by xMatters are saved and referenced from the global event domain. You can add custom versions of recordings to the common event domain, which will override the existing default out-of-box recordings.
These instructions require that you have created and saved a new recording with the same name as the recording that it will replace. We'll use the 'companyname' recording as an example. For a list of other commonly replaced recordings, see the table below.
For more information about creating recordings in xMatters, see Add a recording.
Note: You must have developer privileges to manage recordings in xMatters On-Demand.
To upload a new recording:
From the Workflows menu, click Add Phone Recording from the Phone Recordings menu.
In the Recording Phrase field, type the name of the recording ('companyname').
In the Event Domain field, leave the default setting as "All".
In the Description field, type an optional description of the recording.
Click Save.
xMatters will confirm that the phone recording has been saved.
Under Recording Details, click Add New.
xMatters will open the Add Phone Recordings dialog window.
In the Language field, select the language of your recording.
Click Choose File and select the 'companyname' file from your computer.
Click Save.
To add additional versions of the recording in other languages, repeat steps 6-9.
Click Save.
Verify the upload
On the Developer tab, click Manage Recordings from the Phone Recordings menu.
Search by FileName for the 'companyname' recording.
There are now two 'companyname' recordings. The first is the default ("xMatters") companyname recording on the global event domain, and the second is our new custom recording saved on the common event domain: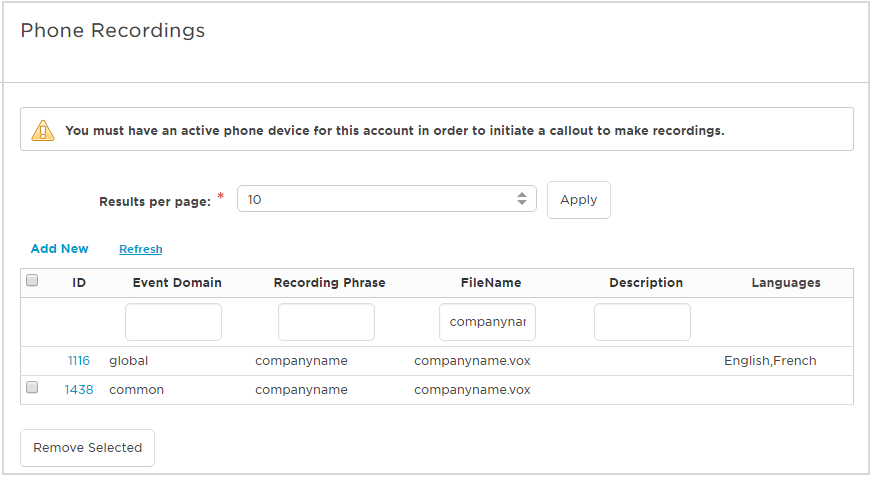 Click the ID number link for the companyname recording on the common domain.
Click Play (the green button) to play the recording in QuickTime. (If you don't have QuickTime, you can install it by clicking Download QuickTime.)
The companyname recording on the common event domain will override the version on the global event domain. This means our custom company name will now be played instead of the default "xMatters" recording. You can use these instructions to replace any of the default recordings in your xMatters deployment. The following table lists the most commonly requested default recordings to be replaced with custom recordings:
Commonly replaced recordings in xMatters On-Demand
| | | |
| --- | --- | --- |
| Recording Name | Default Content | Example |
| Hello | Hello | Hello. This is xMatters calling for... |
| thisis | This is | Hello. This is xMatters calling for... |
| CompanyName | xMatters | Hello. This is {CompanyName} calling for... |
| callingfor | Calling for | Hello. This is xMatters calling for... |
| PressAnyDigitToHearYourMessage | Press any digit to hear your message |   |
| youAreReceivingAnAutomatedConferenceBridgeRequest | You are receiving an automated conference bridge request |   |
| toJoinTheConferenceBridgePress1 | To join the conference bridge, press 1 |   |
| 1 to ACK, 9 to RPT | Press 1 to acknowledge the message, press 9 to repeat the message |   |
xMatters Reference: DOC-5877