The information in this article is the intellectual property of xMatters and is intended only for use with xMatters products by xMatters customers and their employees. Further, this intellectual property is proprietary and must not be reused or resold.
Have you ever missed a voice notification to join an xMatters conference bridge?
Do you find it frustrating to manually dial into a conference and enter a bridge number?
Have you ever incurred long distances charges to call into a conference?
If you answered yes to any of these questions, then read on! We're adding a new feature to the xMatters mobile app that means you'll never have to experience any of these issues again.
UPDATE: This feature is now available for both iOS and Android xMatters mobile apps.  Download now from iTunes or Google Play.
Call Me to join a conference
It's now easier than ever to join a conference using the xMatters mobile app. When you select to join a conference bridge from the app, you'll be given the option to enter a phone number to have xMatters call you to join the conference. Just enter your phone number (tap the country code to select your country), then tap 'Call Me' and standby for an incoming call from xMatters: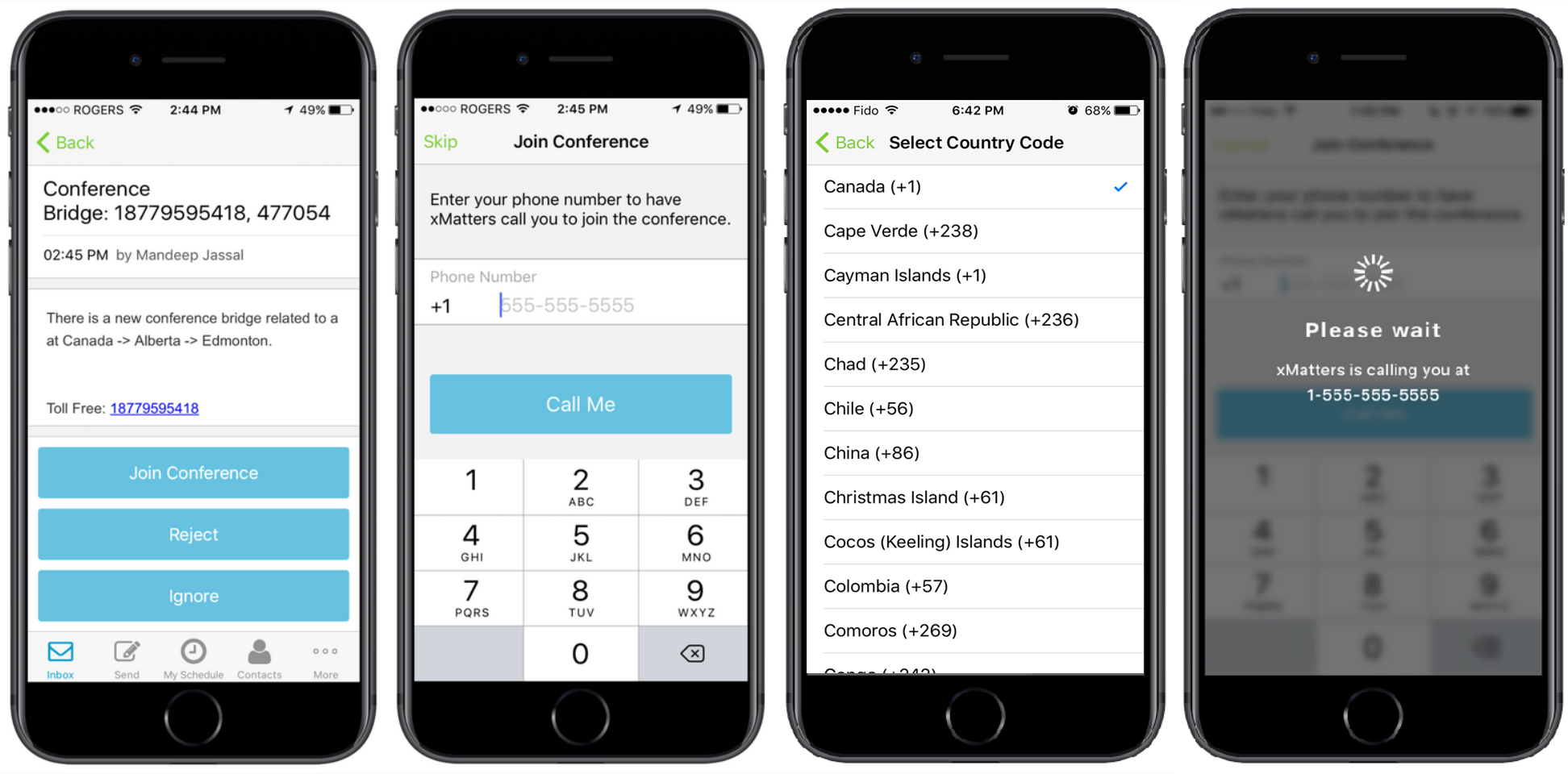 To make it even easier to join a bridge, the app will remember your phone number and auto-fill the phone number field the next time you use this feature.
No more long distance charges
Since xMatters is calling you to join the bridge, you'll no longer have to worry about being charged long distance for dialing in!
How to enable the Call Me functionality
To enable this functionality, you need to configure one or more of the response options for your message to join an xMatters conference bridge. To do this, enable the "Conference Bridge" setting (the phone icon) for your response:

For more information, see Associate responses with a conference bridge in the online help.
Note: The Call Me functionality only works with xMatters hosted conference bridges.