There are lots of reasons you might be away for a while... Maybe you're planning to take a much-anticipated vacation - lucky you! Or, perhaps you've been signed up for an off-site meeting and won't be in the office for a few hours - hopefully, it'll be catered! Maybe it's just that you're not feeling well and really need to take a sick day to rest - get well soon!
The great news is that you can now use the xMatters mobile app to add a temporary absence to your schedule and let your supervisor know that you won't be available for your shift.
Availability:
This feature is scheduled to be available in Version 3.14 of the xMatters iOS app (October 2018).
Android users can expect to see Temporary Absences in early 2019.
Schedule a Temporary Absence
To schedule an absence, go to the My Schedule screen in the mobile app and tap the Temporary Absence icon (the stopwatch) in the top right-hand corner: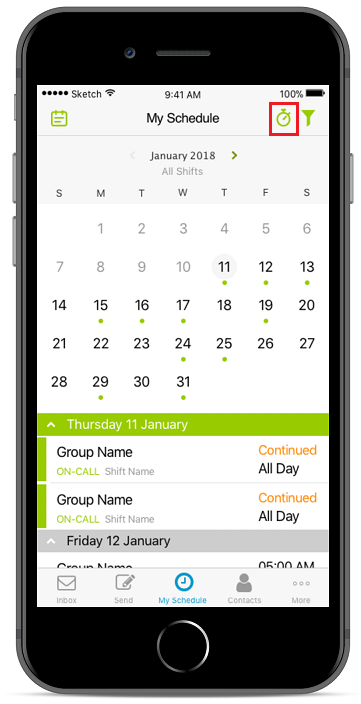 As shown below, this opens the My Absences screen, where you can tap 'Add Temporary Absence' to add an absence to your schedule.
To configure the absence, provide the start and end dates of when you'll be away, and which groups will be affected. If your absence doesn't affect all of your groups (the default setting), then tap to select the specific groups that you want the absence to apply to.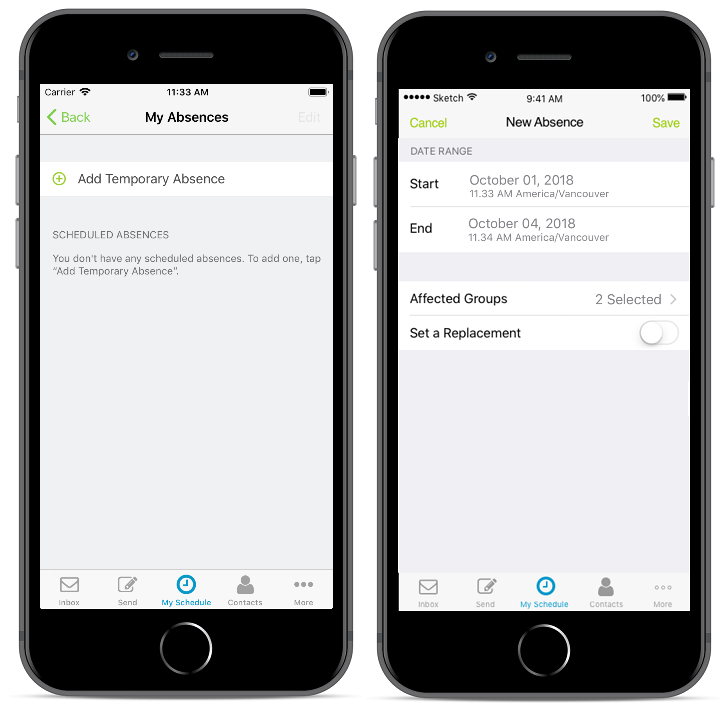 Set a replacement, if you want

Since the Breakout Release of xMatters On-Demand, it's now optional to select another user to replace you while you're away. This is useful if the rest of your team is already part of the same shift, or if the next person in the on-call schedule will cover for you.
If you don't select a replacement, you'll be taken out of rotation and your supervisor will be notified that no one is replacing you, so they can make any necessary shift changes if there's a gap in shift coverage.
To set a replacement, tap the 'Set a Replacement' toggle and select a replacement user. xMatters sends a notification to that user, your supervisor, and the supervisors of any groups that are affected, to inform them when the absence will occur and for which groups the replacement applies.
View your absences
Your scheduled absences are listed on the My Absences screen, with the next absence to occur listed first. You can tap on any scheduled absence to view and edit its details.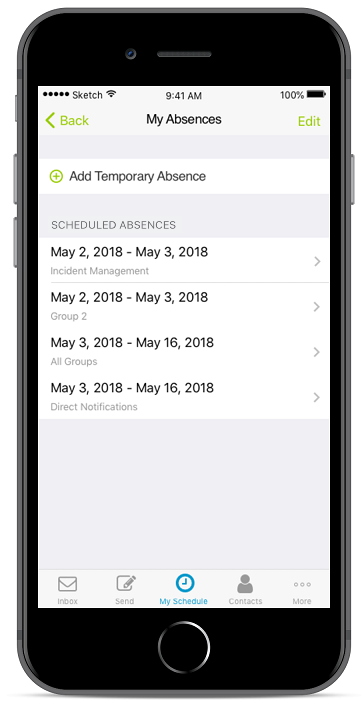 Add an absence for another user
If you're a group or person supervisor in xMatters, you can create absences for the users that you supervise. To do this, simply search for that person in your contacts, then tap the Temporary Absence icon at the top of their user profile: