After much anticipation and delay, we're very happy to announce that you can now use the xMatters mobile app to configure On-Call Reminders for your upcoming shifts! Available on both our iOS and Android platforms, you can use this feature to set up email and push notifications to remind you about your shifts, from one-minute to two weeks before they start. Scroll down for an overview on how to set things up, and for some important notes & limitations.
Mobile only? What about the web user interface?
Although we've released this feature to the xMatters mobile app first, we're also looking at bringing this functionality into the xMatters web user interface in an upcoming release.
Configure On-Call Reminders
1. In the xMatters mobile app, navigate the Settings screen for your account and tap On-Call Reminders.
iOS: Tap More, then Settings, and then Edit Settings.
Android: Open the side panel menu and tap Settings.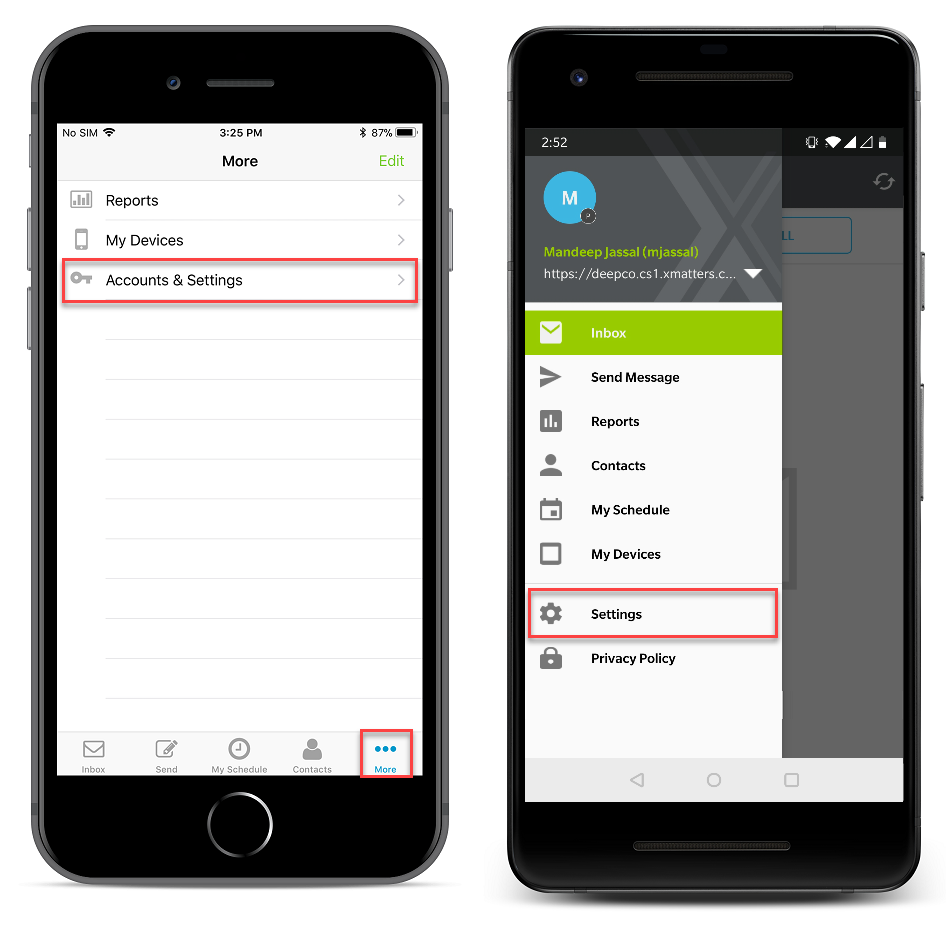 2. On the On-Call Reminders screen, tap the toggle to enable on-call reminders.
3. Configure your reminders:
When would you like to be reminded?
Set the time interval for how long before your shift starts you want to be reminded. The default setting is 1 hour, but you can tap to select a different interval in minutes, hours, or days - from 1 minute to 14 days.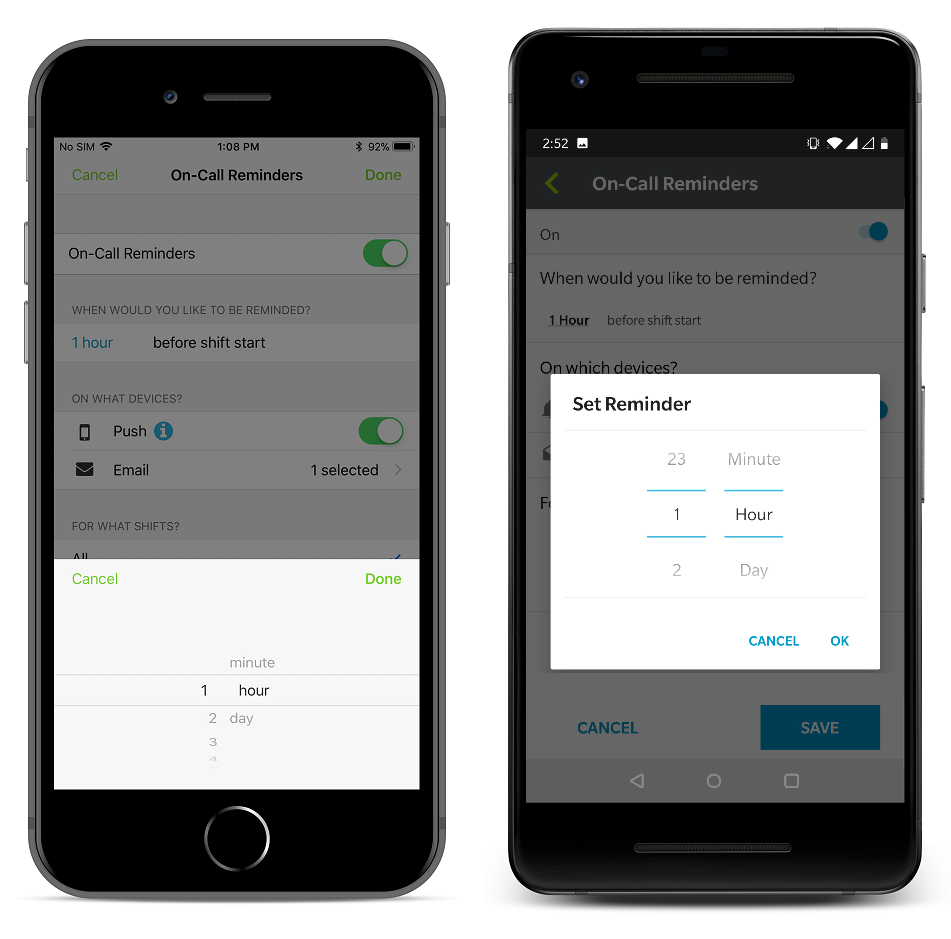 On which devices?
Select how you want to be notified. You have the option to be reminded via mobile push and/or email notifications:
Push: Make sure that you choose appropriate sound and visual notification settings on your mobile device so that you notice the reminder. If you want to be reminded on multiple mobile devices, you'll need to enable On-Call Reminders on each additional device.
Email: To receive reminders by email, tap Email to select from a list of email devices configured for your xMatters account.
Note: Individual device delays and timeframes are ignored when sending On-Call reminders.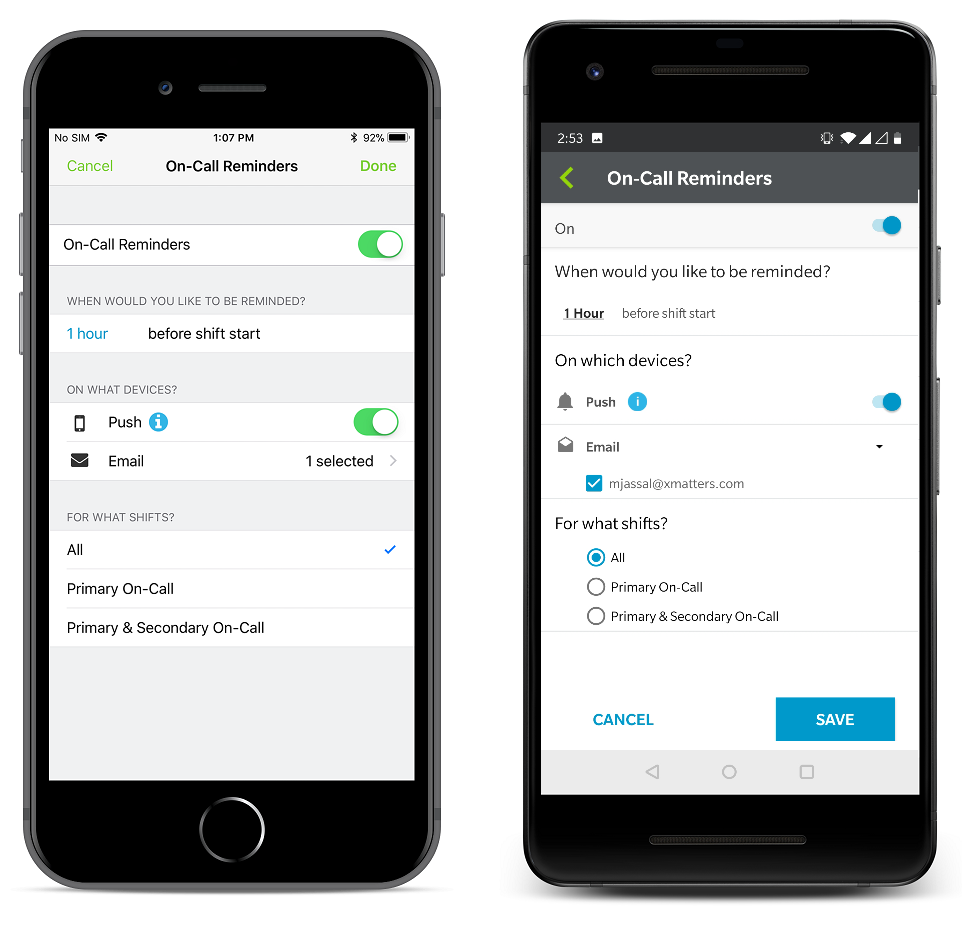 For what shifts?
Finally, select the shifts that you want to receive on-call reminders for based on your position in the escalation order:
All: All of your shifts, regardless of where you are in the escalation order.
Primary On-Call: Only shifts where you're primary on-call.
Primary & Secondary On-Call: Shifts where you're primary or secondary on-call.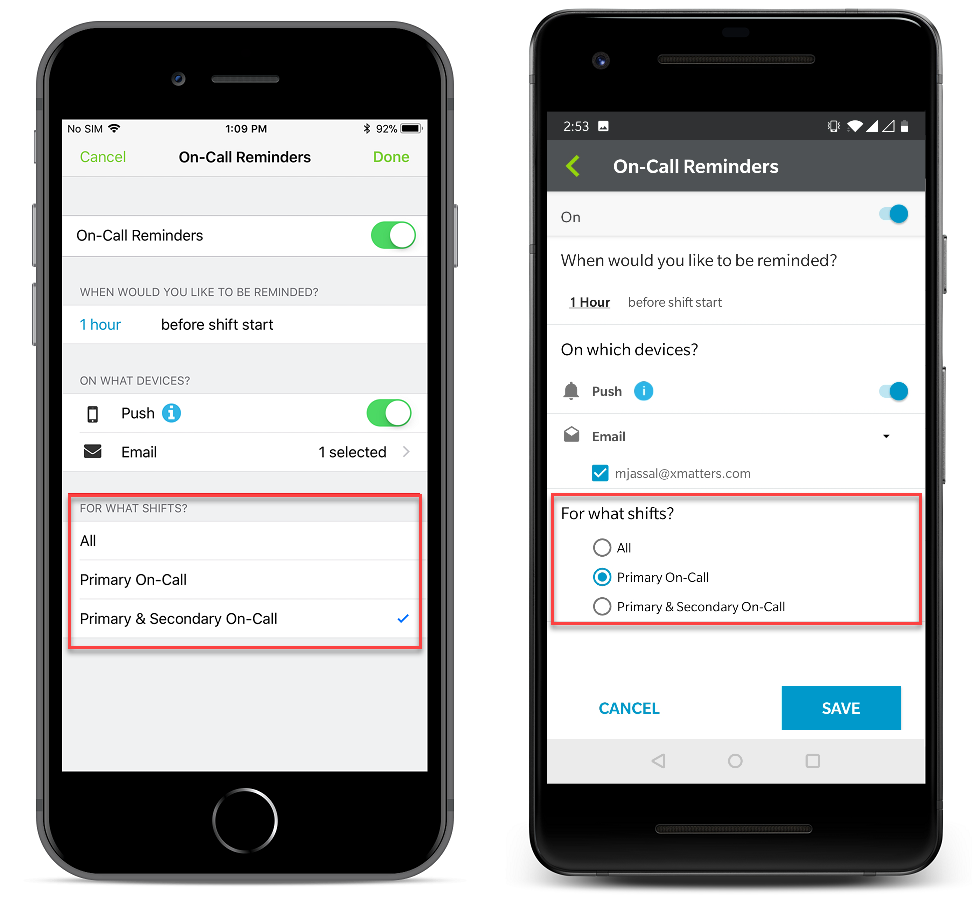 4. Click Done or Save.
Important Notes & Limitations
As we continue to improve and refine this feature, be aware that on-call reminders may not experience the same level of reliability as our standard notification services. Please let us know if you experience any issues.
A few limitations to keep in mind:
24x7 shifts: On-call reminders do not apply to 24x7 shifts without escalation delays. These are typically used as broadcast groups with everyone on call so they can be reached at once, and we don't think it would make sense to remind you about these every day.


Exception: On-call reminders are sent for 24x7 shifts that contain an escalation delay after at least one user (meaning there are primary and secondary on-call users) and there's a shift rotation.

Minimum shift recurrence: Shifts must reoccur at least once every 90 days for on-call reminders to apply.
Shift rotations: On-call reminders are not sent for shifts with event-based rotations, although they do apply to shifts with schedule and shift-based rotations.
Dynamic teams: Members of dynamic teams do not receive on-call reminders.
Updates to shifts:  If you make changes to your groups or shifts, it may take up to 15 minutes for the system to update your on-call reminders.
Get it now!
You can download the most recent version of the xMatters mobile app from the App Store or Google Play: