As part of our drive to automate and improve incident management — and provide the world's best service reliability platform — we're introducing enhancements to Flow Designer and changing the terminology we use to describe aspects of our product.
Why is this important?
The main reason for this change is to streamline and simplify flow creation by making it possible to build automations and notify users without maintaining forms and properties outside of Flow Designer. However, this does mean the name and appearance of some of the features you're used to will be changing.
What are we changing?
We improved the process of setting up automated flows to notify users, but it still requires you to switch between the Forms and Flows Designer tabs of a workflow to build out the properties, forms, messages templates, and responses to support your automations. With recent features and some planned enhancements on the way, we're aiming to make it possible to perform all necessary steps to go from signal to notification within Flow Designer itself.
As part of this effort, we want to provide a clearly-defined information architecture. To do this, we need to realign some of our existing terminology with recognized industry standards. Specifically, we're renaming "events" in xMatters to "alerts". This means some features — the Recent Events and All Events reports, event flood control, and event-based rotation in groups — will have new names. We'll also be updating our online help and support site to ensure we're using the correct terminology across our documentation and the entire xMatters user experience.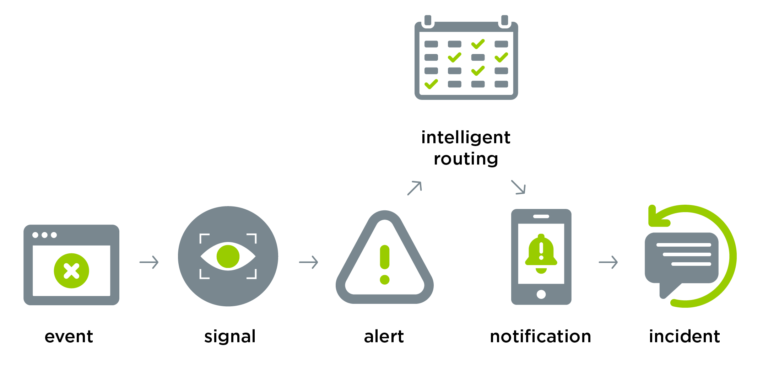 When will this happen?
We've already started introducing simplified flow creation in our Lunar Lander release with the ability to create flow canvases without a form and the new Create Alert step.
Over the next few months, we'll continue to enhance the Create Alert step to improve your ability to automate your notification process without the need to maintain a separate form or list of properties outside Flow Designer.
We'll also start introducing some much-needed terminology updates to better define the differences between events and alerts. Look for broader changes to the way we use the terms event and alert within the product and across our online resources in the upcoming Missile Command release, currently slated for July/August.
How will this affect you?
This change should have no immediate effect on your existing processes, workflows, and integrations. Any forms, flows, messages, and automations you're currently using will continue to function normally. There are also no immediate changes coming to the xMatters REST API, so any custom steps or configuration you've implemented will work without interruption.
Of course, if you want to start taking advantage of the new features available, you may find that they quickly become your go-to methods of automating your workflow. And you'll be well positioned to jump on all of the upcoming enhancements.
Where can I get more information?
For an overview of IT alerting and event management terminology that explains not just the difference between events and alerts, but defines notifications, incidents, and signals in the context of how they work in xMatters, check out this very well-written (even if I say so myself) post on the xMatters blog: IT Alerting & Incident Management
For information about how to use the new Create Alert step, along with helpful tips for deciding whether Create Alert or Create Event is the best approach for your use case, see the online help.
To stay informed about all the changes, enhancements, and new features as they're developed and released, be sure to follow the Highlights & Release Overviews section on this very website.