The information in this article is the intellectual property of xMatters and is intended only for use with xMatters products by xMatters customers and their employees. Further, this intellectual property is proprietary and must not be reused or resold.
Full User or Stakeholder?
With xMatters Base and Advanced plans, you can assign users a 'Full User' or 'Stakeholder' license type.
Users with the Stakeholder license type can access the xMatters web interface and mobile apps, configure device preferences, join groups and shifts, subscribe to notifications, and be assigned the same roles and permissions, but the options to send messages or respond to notifications are disabled. Stakeholder users are different than incident stakeholders (which can be users with any license type). 
Full Users are people who manage groups, build workflows, or need to respond to xMatters notifications (for example, incident commanders, resolvers, supervisors, and support teams). Stakeholder users are people you need to keep informed, but don't need to take action in xMatters, act as resolvers in incidents, send messages, trigger flows, or respond to notifications (for example, executives, partners, or customer representatives).
Still confused about the difference between what each user license can do? Here's a quick overview:
| | | |
| --- | --- | --- |
|   | Full User | Stakeholder |
| Access xMatters (mobile app and web UI) | | |
| Receive messages | | |
| Send messages | | |
| Respond to messages | | |
| Trigger flows | | |
| Resolve incidents | | |
As of April 21, 2022, Stakeholder users are available for all new instances with a Base or Advanced plan; if you have an older Base or Advance plan instance, you can enable the ability to assign user licenses by contacting us.
Sending messages to Stakeholder users
When users with the Stakeholder license type receive xMatters notifications, they don't have the option to respond like Full Users do, so it's important to remember that any messages or notifications sent to Stakeholder users should be for informational purposes only. 
For example, these two messages were sent to a Full User and Stakeholder user using the same messaging form. The only difference is that the options to Acknowledge, Close, or Escalate are not available to the Stakeholder user:
Full User message: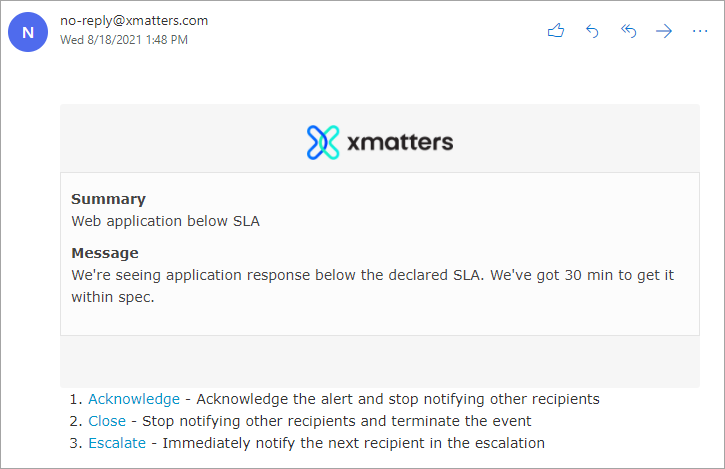 Stakeholder user message: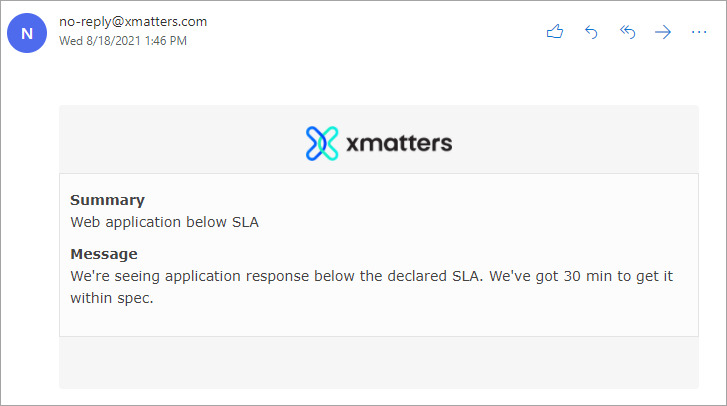 Understanding quotas
Before you start adding or assigning users to your xMatters instance, you need to make sure you have enough licenses available. It's easy to check this: simply go to General Settings to view the number of user licenses your company is using, and the total number available:

If you've reached the maximum number of available licenses and try to add or reassign additional users, a warning message is displayed. If you need to request additional user licenses, click the link in the message to contact the xMatters Sales team: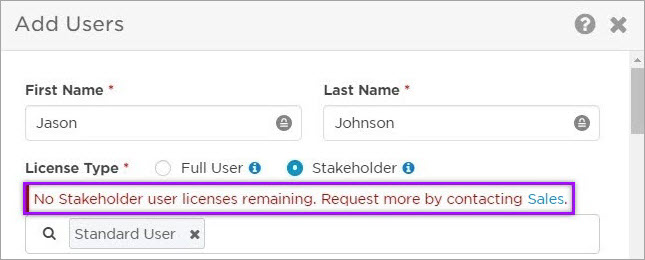 Adding Stakeholder users to xMatters
If you have Stakeholder licenses as part of your xMatters plan, you can assign the Stakeholder license type to new users, or downgrade current Full Users to Stakeholder users. If you exceed the maximum number of user licenses, you'll need to reduce the number of assigned licenses to your license limit or fewer, or request more licenses.
Adding new Stakeholders users
When adding new users to xMatters, you have the option to assign a Full User or Stakeholder license type to them. By default, the License Type is set to Full User, but it can be changed by selecting the Stakeholder license type when manually adding users in the Web UI, or by specifying STAKEHOLDER_USER as the license type in the bulk User Upload.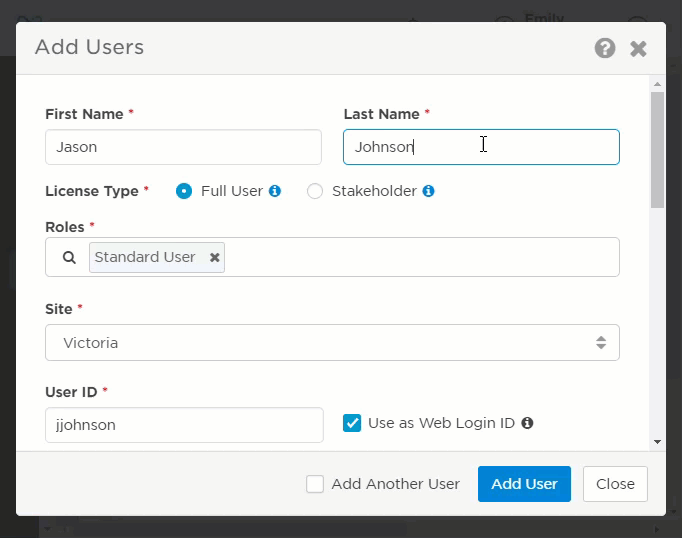 Changing the license type of existing users
If you need to change an existing user's license type, you can do so through the Web UI or User Upload. There are limits on how often you can change a user's type, so don't plan escalation or notification strategies around this change.
When a Full User is downgraded to a Stakeholder user they will no longer be able to respond to notifications, send messages, trigger flows, or be assigned as an incident resolver, and certain workflows and widgets (such as Messaging Link or Quick Link to Send Messages) will be disabled for them. 
Identifying Stakeholder users in xMatters
As Stakeholder users can't respond to the messages or notifications they receive from xMatters, it's important to know which users have been assigned this license type when targeting resolvers, configuring groups, and scheduling shifts.
Stakeholder users in recipient and group lists
In xMatters, users with the Stakeholder license type can be clearly identified by the STAKEHOLDER label next to their name or device in the Recipients and Resolvers selectors, and in Groups. This label is only used for users or their devices, so if you're targeting a group (even if it contains a Stakeholder user) this label is not applied.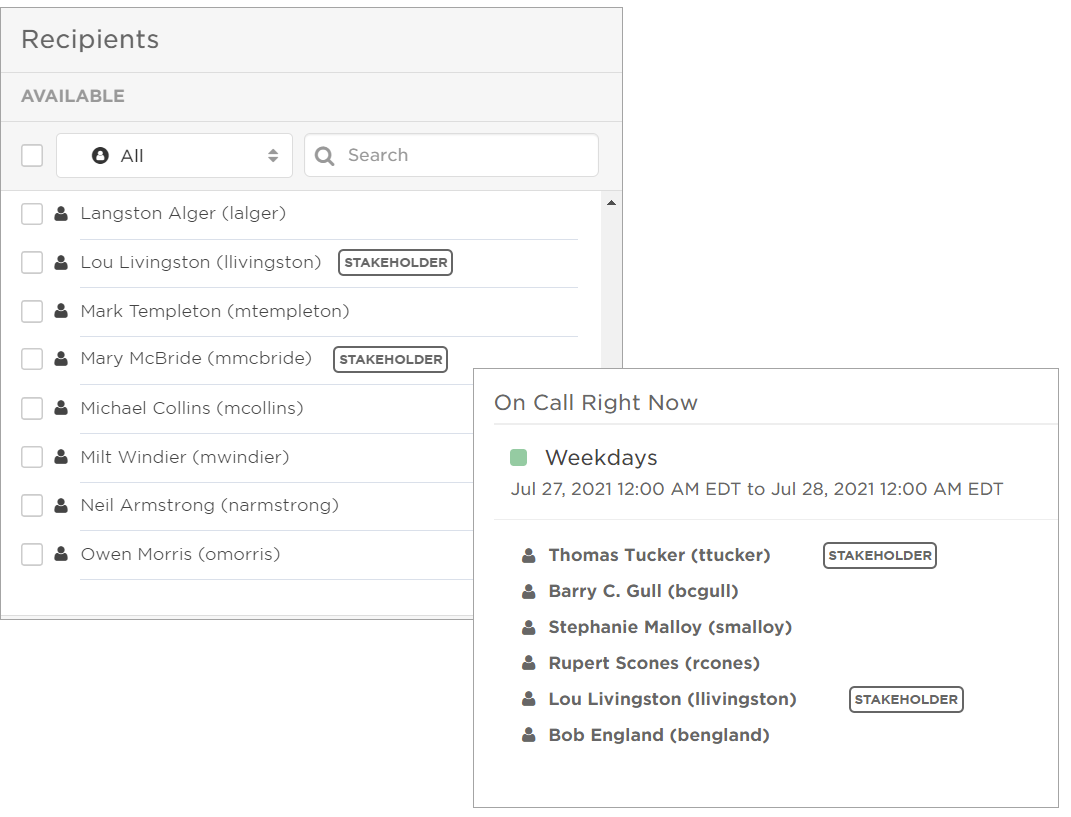 Stakeholder users in the Incident Console
When adding incident resolvers in the Incident Console, you need to select resolvers individually if there are Stakeholder users in the list. As Stakeholder users aren't selectable, the option to select All users is disabled: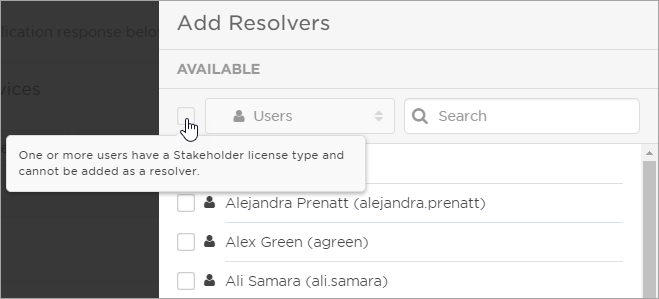 Filtering the Users list
The License Type filter in the Users list allows you to easily manage different Stakeholder users in xMatters by combining multiple filters. For example, you can review only the Stakeholder users you supervise, see the license types of all users, or view which Stakeholder users have configured devices.

Exporting Stakeholder user information
If you need to review users outside of xMatters, the License Type column is also included in User exports. As exports are .CSV files, you can open them in programs like Microsoft Excel or Google Sheets. This allows you to copy and paste this information into a User Upload file to quickly update the license type of multiple users: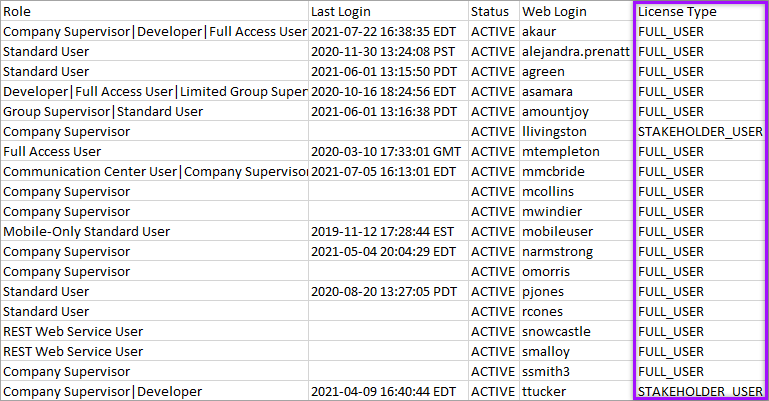 Tips and tricks
When adding or uploading new users, make sure to specify the right license type for their role and what they need to work on in xMatters. As license type overrides roles, when a user's license type is changed, it can affect their permissions and what they're able to view in xMatters (for example, messaging widgets, certain workflow features, and incident resolvers).
Do you use xMatters email devices to trigger flows or integrations? Be careful when changing user license types as Stakeholder user credentials cannot trigger flows or integrations that use an xMatters email device as the authenticating user.
If you currently use roles to identify Stakeholder users in xMatters, you can easily update the license type of users with specific roles. Use the Roles filter in the Users list to review and export these users into a spreadsheet, update the License Type column, and then import the changes into xMatters through the User Upload.
Are Stakeholder users included in your group shifts? If a user with the Stakeholder license type is the last team member in rotation, or an alert is escalated to them, they cannot acknowledge, decline, or escalate an alert. Because this could result in an incident being unacknowledged for a prolonged period, we don't recommend adding Stakeholder users to shift rotations or escalations.