When xMatters first introduced our adaptive incident management solution, its robust portfolio of features was a game changer for digital services. But we're not stopping there: we're constantly looking for ways to improve our offerings for you—the ones who spend time and resources to resolve incidents.
Incident commanders and resolvers have a lot on their plate. From managing issues and resources to keeping customers updated, resolving an incident requires a level of multi-tasking that at times can be too overwhelming for even the most efficient of teams.
This is where automations come in!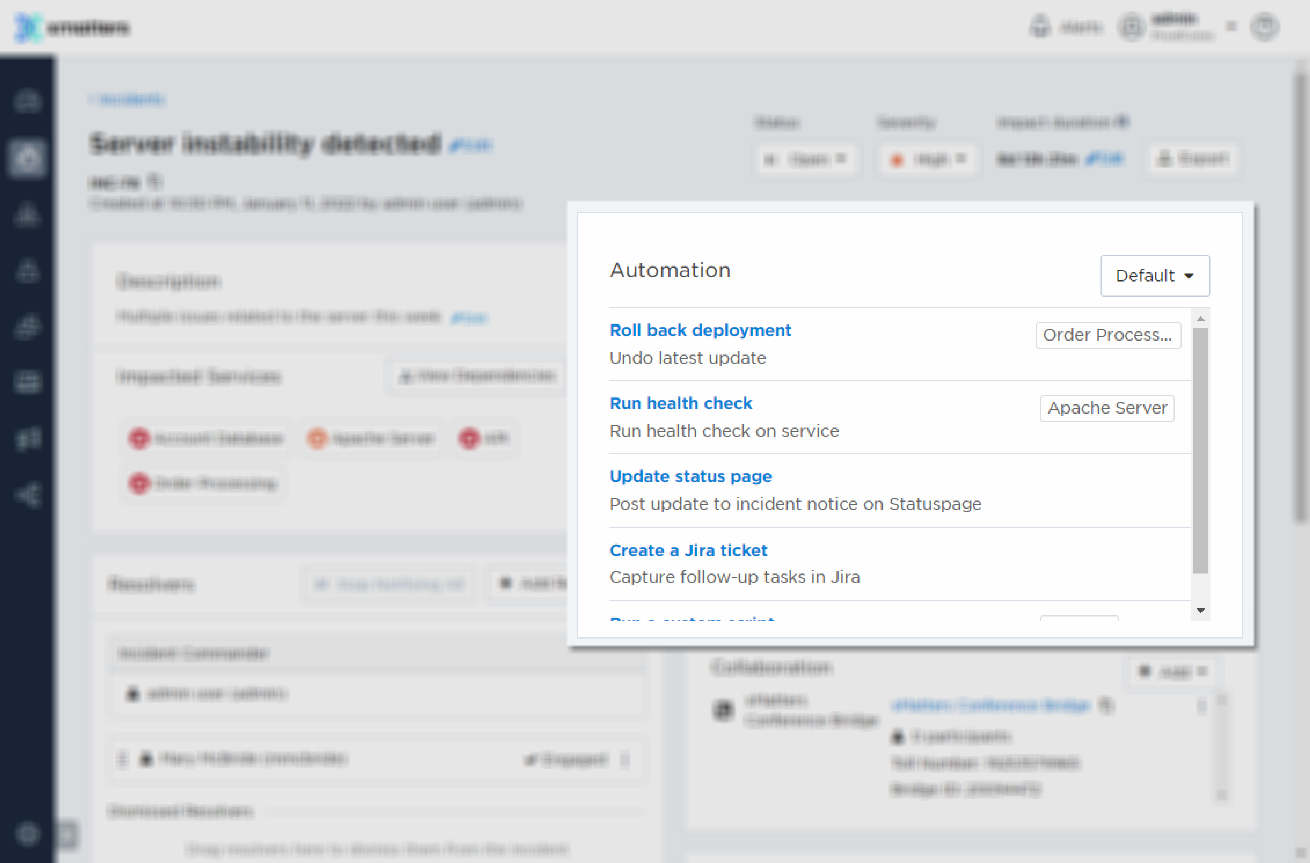 What are automations?
Automations are the solution to making incident management easier and more efficient for incident commanders and resolvers. Automating your processes reduces the time needed to diagnose, mitigate, and resolve incidents, and simplifies communication throughout an incident's lifecycle.
Sounds impressive, right? But how exactly can automations help you in your day-to-day work?
Just one click
Have you ever found yourself wishing that you could send out an incident status update to your customers without having to navigate away from the Incident Console? What about quickly rolling back a bad deployment?
You can do that and more with automations. While viewing an incident, you can quickly:
Create or update a status page for your incident to notify customers and resolvers in real-time. 
Run health checks on impacted services or service dependencies to reduce time to diagnose the root cause.
Divert traffic to another region, perform a rolling restart, or scale up a web cluster to mitigate an incident's impact while you work to resolve the underlying issue.
Roll back the last deployment to resolve a bad hotfix.
Initiate a critical event in Everbridge if a digital services outage requires additional crisis management.
Capture follow-up tasks in Jira or other ticketing tools without needing to navigate between apps.
Send the resolution details to a Slack or Microsoft Teams channel when the incident is resolved.
The automation possibilities are near endless — especially when you use the xMatters Agent to run custom scripts in your environment. It all depends on your organization's unique needs; we'll gladly work with you to optimize automations in your incident resolution process.
How do I run automations?
Automations are run by using forms to submit the automation request and any relevant data to Flow Designer. We have developed the Incident Automation trigger, a new type of trigger in Flow Designer, that enables you to connect these forms to flows you can run directly from the Incident Console as an automation.
Once you've connected an Incident Automation trigger to a flow trigger form and set up a flow that performs your process, you can associate it with a service and even add flood control rules. Automations are available for all incidents in the same workflow as the Initiate Incident step that created the incident, and for users with sender permission on the flow trigger form. 
After you enable the Incident Automation trigger in your flow, the automation is displayed during an incident on the Incident Console in the Automation section. Simply click the task you want to run to open the form associated with the automation.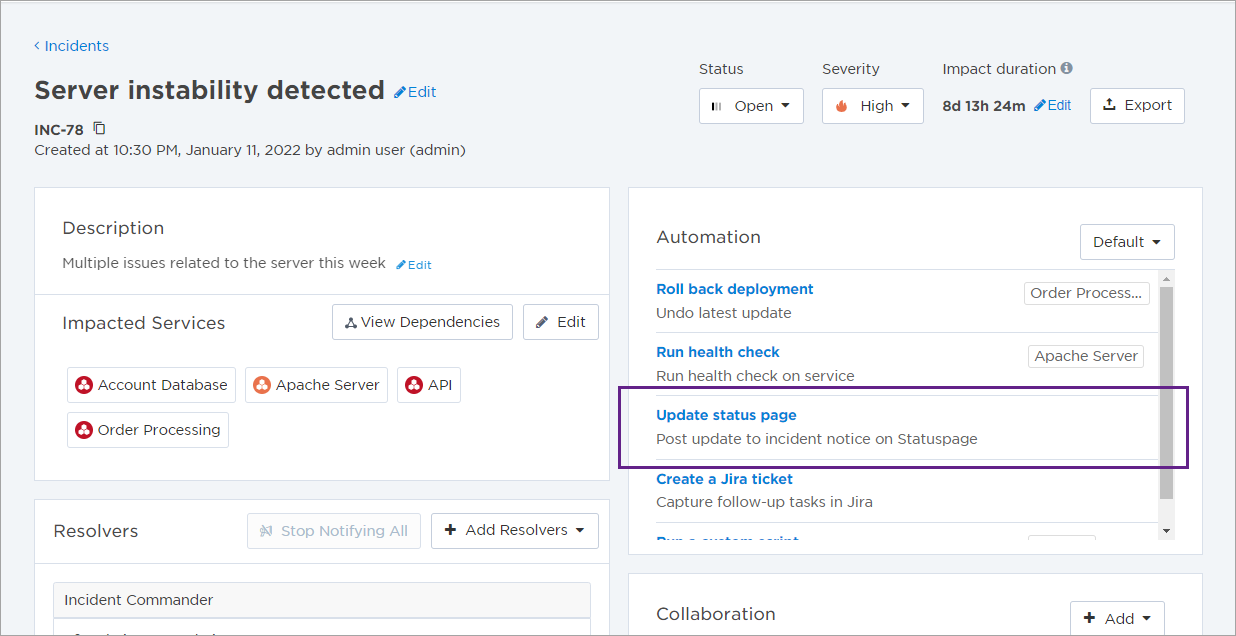 Fill out the required details on the form and hit Submit.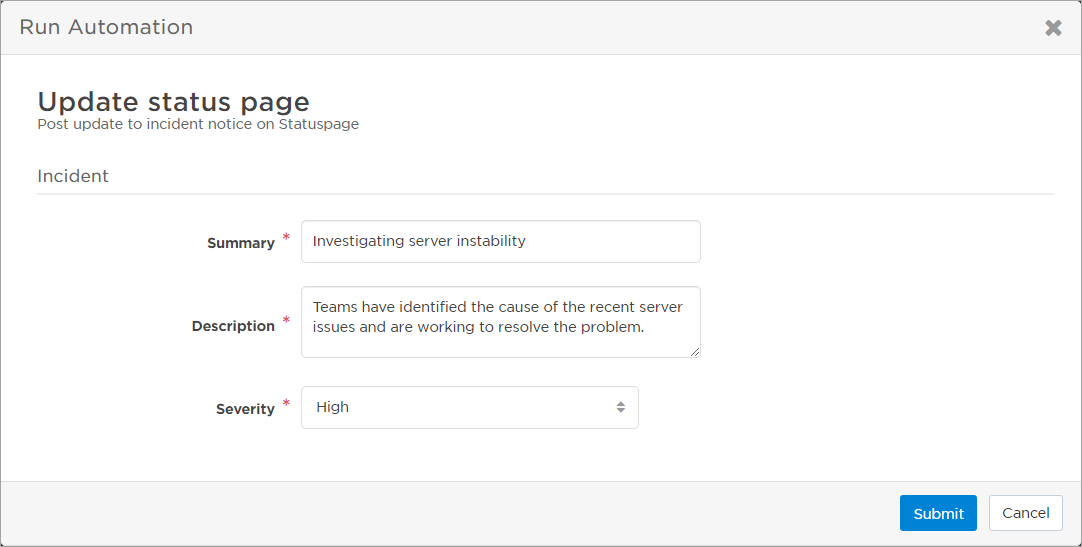 After that, sit back and let the automation run. (Yes, that's really all you need to do!)
We'll even handle the scribe work for you by recording an entry in the Timeline containing the real-time status of the automation, along with the user who ran it. (You can also view the details of the automation system request in the Flow Designer Activity Panel.)

Automations can be run in the cloud or behind your firewall using the xMatters Agent. Security can be paramount for many of the automated processes you might want to run, so any automations for which a user isn't registered on an underlying agent will display as disabled on their console.
Can I run automations from an incident's impacted service?
Short answer: Yes! Long answer: Yes, and you can run service-associated automations from multiple areas of the xMatters interface for an even more seamless incident management process.
To associate a service with an automation, select a service when you configure your Incident Automation trigger in Flow Designer. You also have the option to limit the use of service-associated automations to members and supervisors of the group that owns the service. After that, just save your workflow canvas and start running your service-associated automations!
Run automations from the service info card
Want to run a health check on a service or roll back a deployment that might impact it? Simply click on the service's info card on the Incident Console, and you will see the Run Automation drop-down menu.

Click on the Run Automation drop-down to see the automations the service is associated with.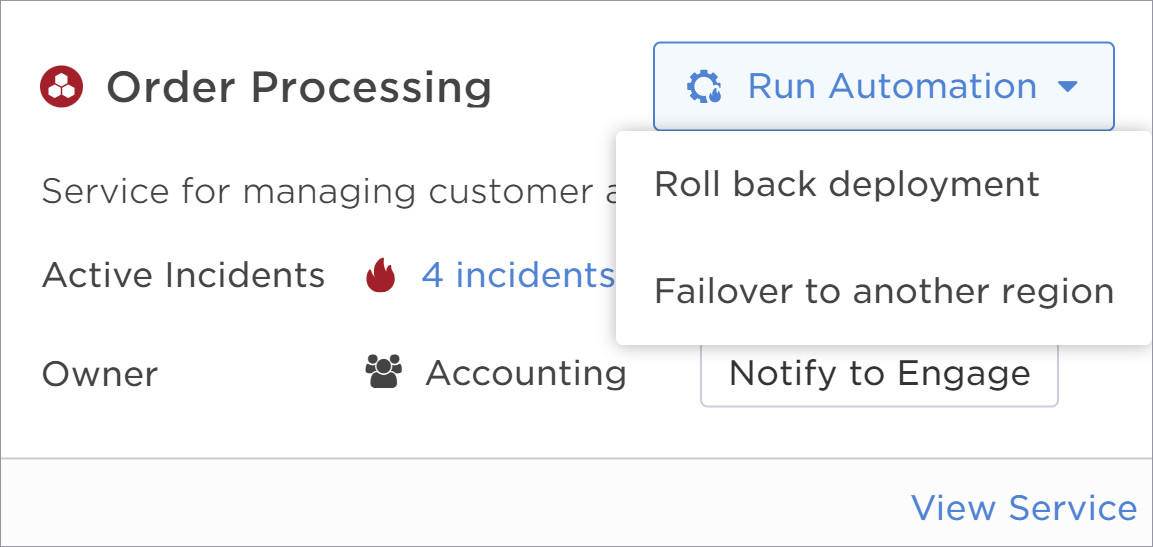 Once again, just select the task you want to run to open the associated form. Fill out the required details then hit Submit to run the automation!
Run automations from the incident's service dependencies map
You can also run automations from the service dependencies map of an incident. To open the map, click View Dependencies from the Impacted Services section of the Incident Console.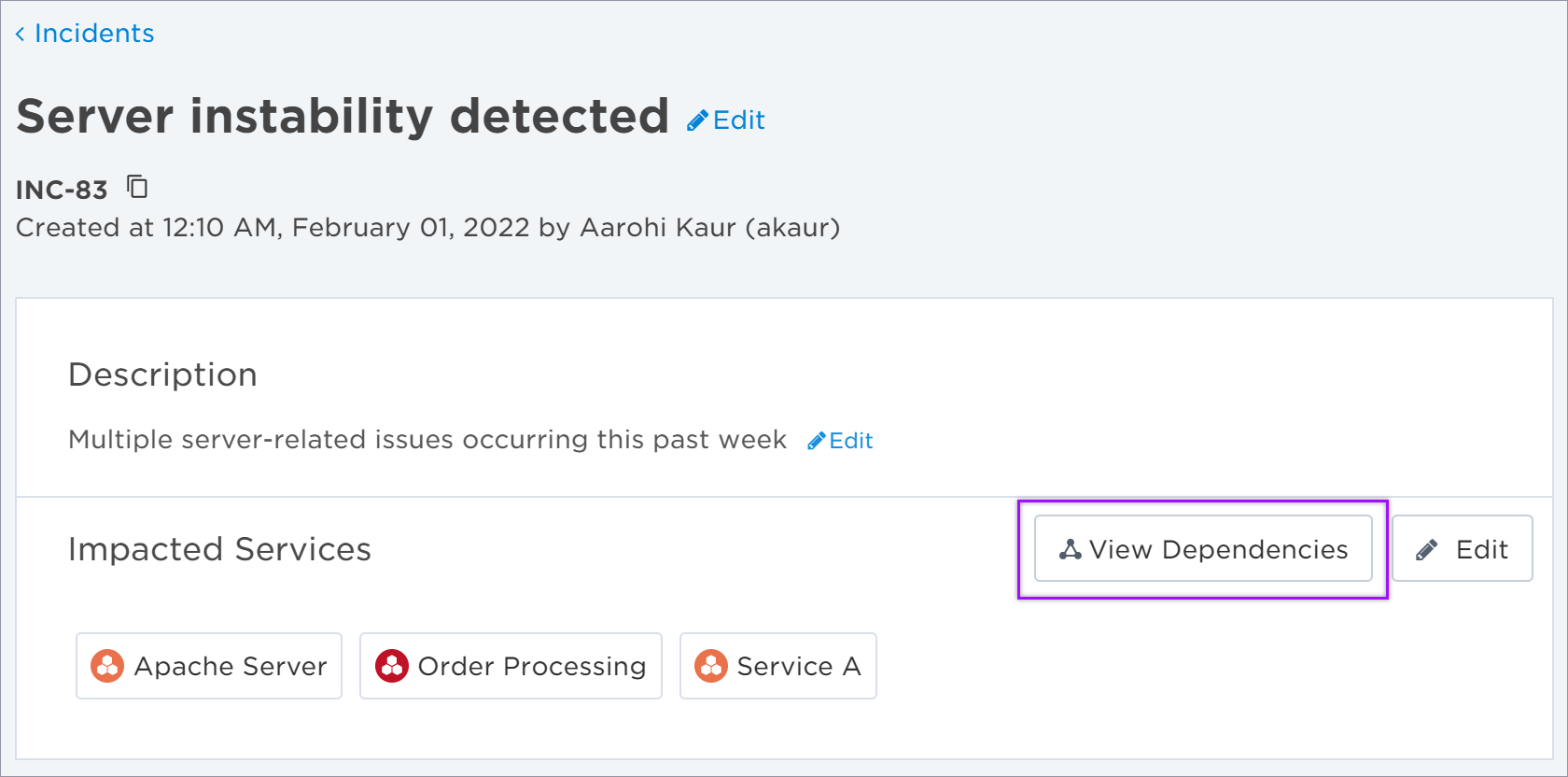 To access the Run Automation menu, click on the three vertical dots beside the service associated with the automation you want to run. Select your desired task, fill out the associated form, and hit Submit to initiate the automation.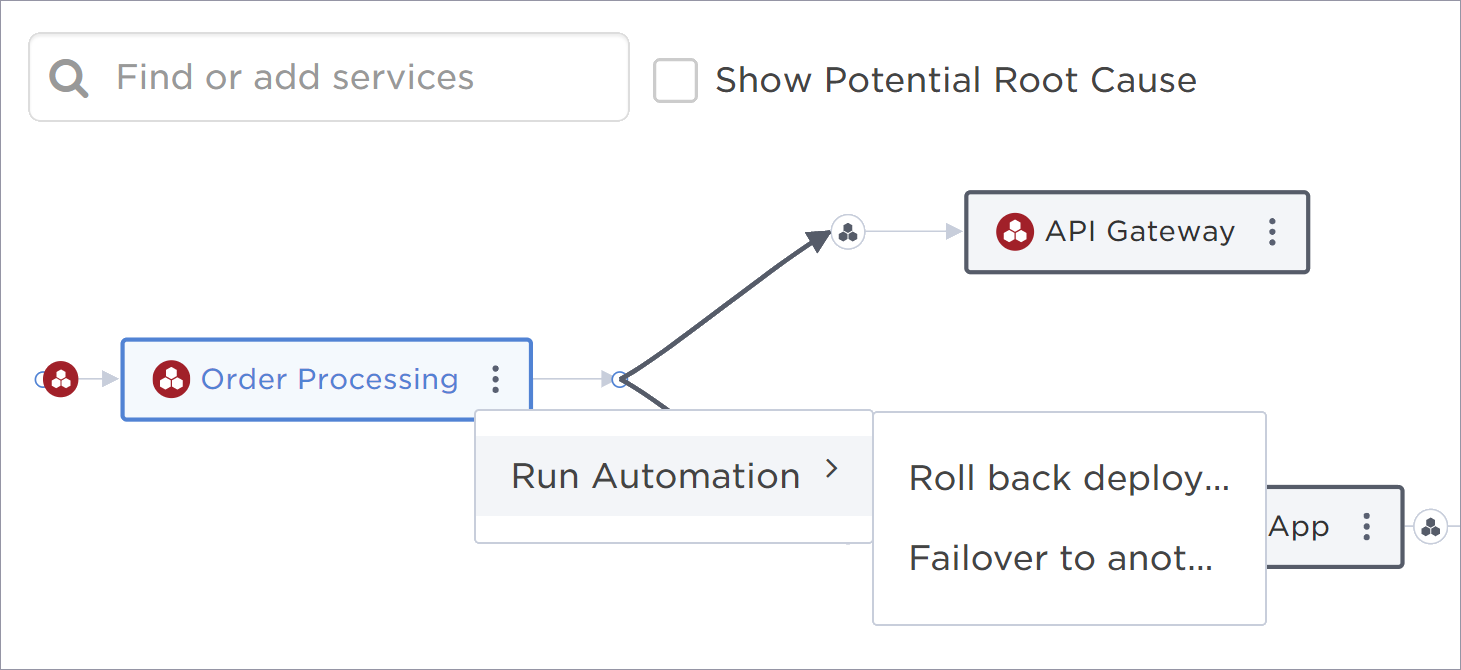 I know we sound like a broken record here, but it really is that easy to run an automation!
When will automations be available?
Update: This feature is now available for all customers with Base and Advanced plans.
For a more in-depth guide to automations, check out our online help.