When you're faced with constantly changing conditions, situational awareness is key for driving your teams' reaction to these changes. You need to be adaptable and responsive, so your incident management tools must allow your incident resolution teams to know what they need to know to manage their time and execute resolution steps effectively.
Incident links
With this in mind, xMatters has developed a new feature: Incident Links. You can now link related incidents to each other with different relationship types depending on your use case. When you link incidents to other active or historical incidents, resolvers and stakeholders can glean important situational insights from those related incidents to reduce the time to mitigate or resolve, track duplicates and merge resolution teams, and group incidents by problem for post-incident follow-up.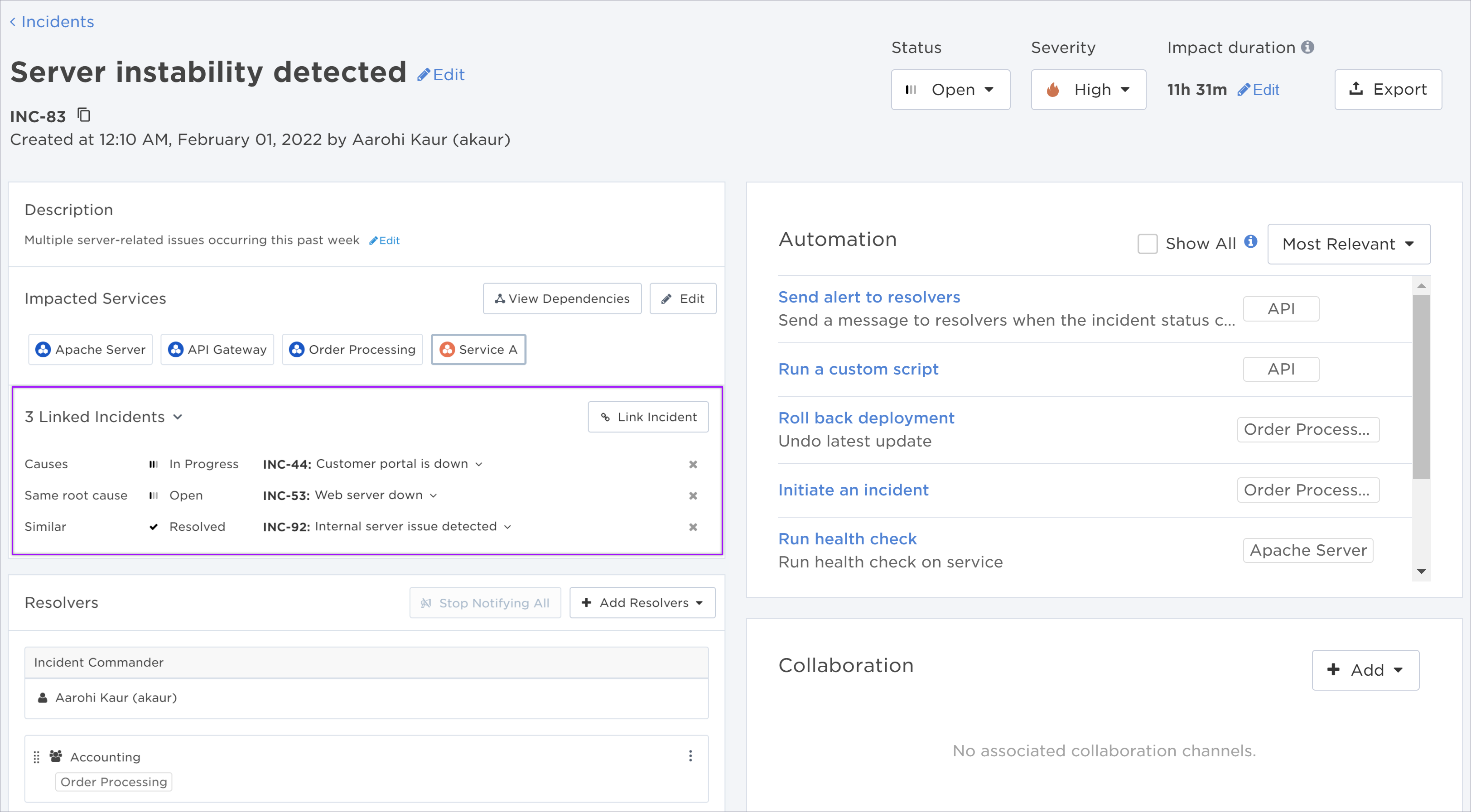 Incident relationship types
You can choose from a number of available relationship types when linking incidents:
Similar - Resolvers can review similar linked incidents for likely investigation paths and remediation actions to reduce time to mitigate and resolve.
Same Root Cause - Another active incident having the same root cause can be a great indicator that it's time to join forces with another responder team. Historical incidents with the same root cause can be a great source of inspiration for resolution actions.
Reoccurrence - A reoccurrence of a historical incident may mean that resolvers can simply reuse resolution steps from the historical incident. If an incident recurs multiple times, there might be an underlying problem that needs to be addressed to prevent it from happening again.
Duplicate - Resolvers can mark an incident as a duplicate and work together with another incident team to focus on the incident as a unified force.
Caused By - Knowing that an incident is caused by another incident can help resolvers decide whether to stop working on this incident and focus on solving the incident that caused it.
How to link incidents
To link incidents, simply open the incident you're working on and follow these steps:
Navigate to the new Linked Incidents section on the Incident Console.

Click Link Incident.

Type the name or ID of the incident you want to link

to, and

choose the relationship type between the two

incidents.

Click Link.
The incidents are now linked! Both incidents will have new links in the Linked Incidents section of their respective Incident Consoles.

Incident links are already available in all EAP and non-production environments. Look for incident links in your Base and Advanced IT production environments on Tuesday, November 29.
Linked incidents will also be used by an upcoming feature that we're excited to share with everyone. Stick around for a sneak peek!
Digital operations insights
Here at xMatters, we're always designing and developing newer and better technology that allows your resolution teams to do what they do best and increase their awareness and adaptability to ever-evolving incidents. 
To support that goal, we're introducing a new feature in incident management: AI-powered insights. Insights will provide suggestions to incident commanders in real time to help them mitigate and resolve incidents faster, as well as provide additional context during post-incident review.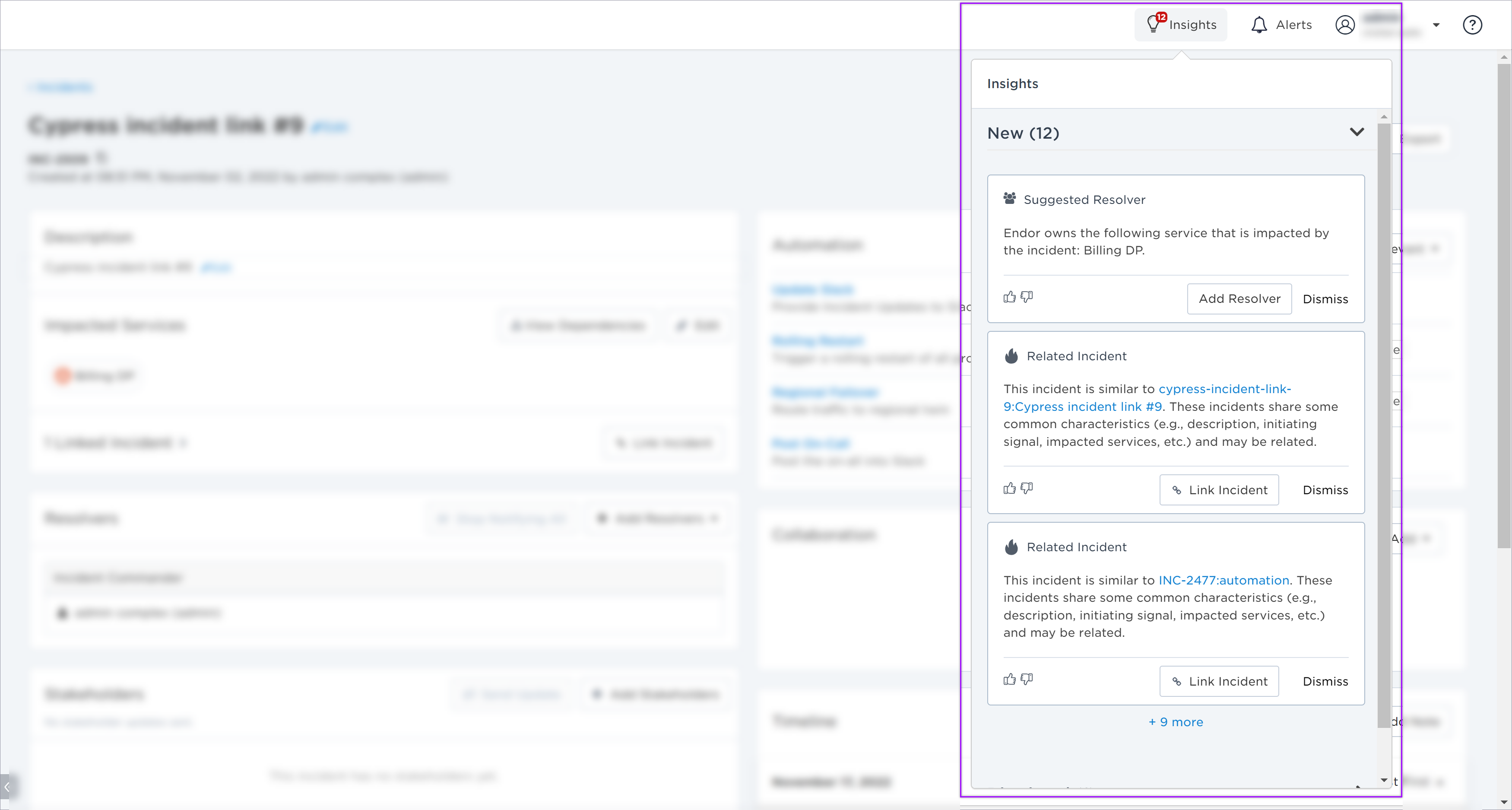 Driven by machine-learning tools and algorithms, insights will use incident links as one of the data sources to suggest resolvers that incident commanders may want to notify to engage during an incident. Insights suggest any impacted service owners that haven't yet engaged, as well as resolvers of similar active or past incidents that seem likely to be helpful.
Insights will also suggest similar active and historical incidents to help incident commanders and resolvers recognize when there are related incidents for better situational awareness and to minimize duplicate effort.
Each insight includes the reason for the suggestion. Insights are scored and ranked so the most helpful to an incident commander are at the top of the list, and users can rate insights as helpful or not by pressing buttons on the insight cards to help us improve which insights get presented to users.
Sounds exciting, right? Insights will be available to Base and Advanced IT customers as part of our Q*bert release — be sure to follow this article for more updates on this feature!