The information in this article is the intellectual property of xMatters, an Everbridge Company, and is intended only for use with xMatters products by xMatters customers and their employees. Further, this intellectual property is proprietary and must not be reused or resold.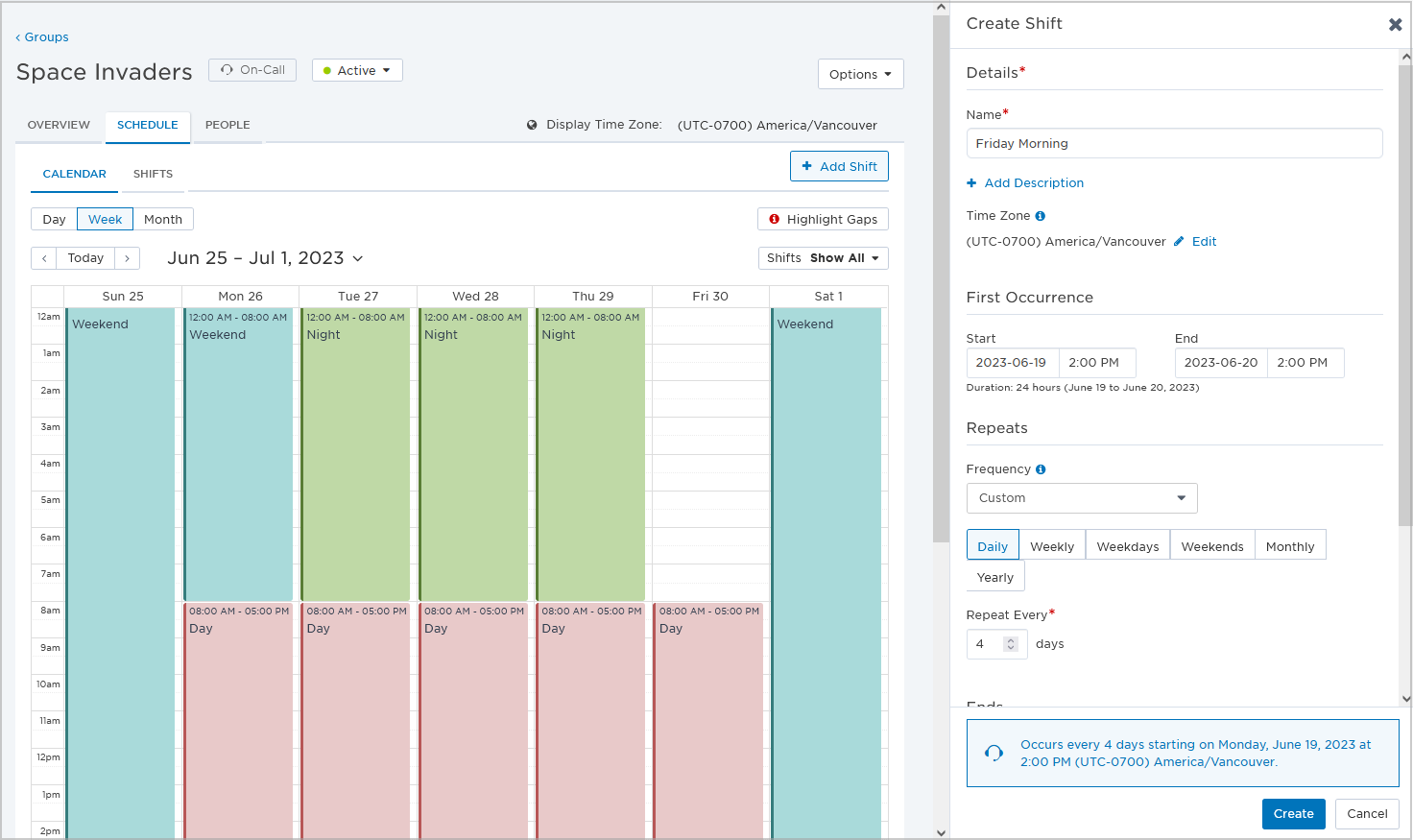 We're celebrating this release with the classic video arcade game Space Invaders, where your laser-equipped spaceship must defeat wave after wave of descending aliens. Swift detection, timely responses, a proactive defense, and continuous improvement are all key to your success—much like any major incident!
To ensure your resolvers are prepared, we've enhanced your incident-fighting arsenal with some powerful new features. Take advantage of our redesigned on-call group calendar and schedules to make shift management (even across time zones) simpler, keep your teams organized and efficient by creating and managing incident tasks, clearly differentiate between your applications and technical services, view group incident performance data right from your dashboard, visualize notifications data—and so much more!
Before you dive in to learn about all the improvements included in this release, here are some important dates:
Non-production environment access: Tuesday, June 27
Production environment access: Tuesday, July 25 (enabled between 10:00-10:30am Pacific)
After customer consultation, we're extending the length of time features are in non-production environments from two weeks to four weeks—this allows a full month for testing and user training on new features.
Future feature release

As a special bonus, we'll also give you a sneak peek at an enhancement we're working on for a future release:
Our community shrinks images for convenience but allows you to click on them for a closer look. See an image or animated GIF you like? Click it.
Jump ahead
In a hurry? Here's an overview of this doc if you want to skip ahead to something awesome:
On call management
Over the past year, we've focused on updating and enhancing the groups experience across xMatters. Along with our new broadcast group type and redesigned group user interface, we're excited to bring you an improved way to manage calendars and schedule shifts for on-call groups.
Redesigned on-call scheduling & calendar
Availability: Space Invaders Quarterly Release
This release includes exciting new updates and usability improvements to the group calendar to help group admins manage their on-call schedules. Some of the highlights include:
A new side panel so you're able to edit shifts while still viewing the calendar.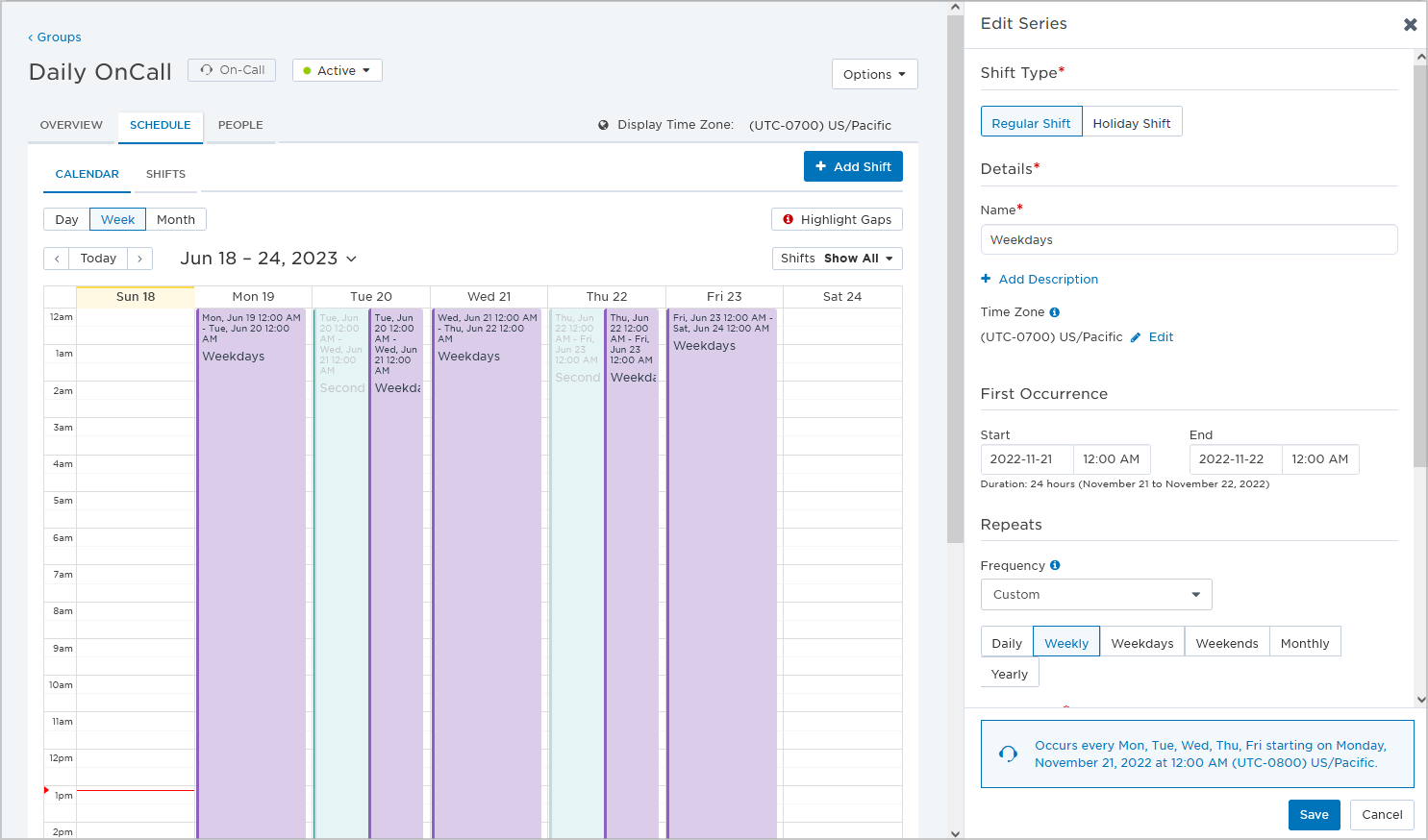 Increased visibility and support of time zones, including seeing the time zone each shift belongs to and the ability to change a shift's time zone when creating groups that follow the sun.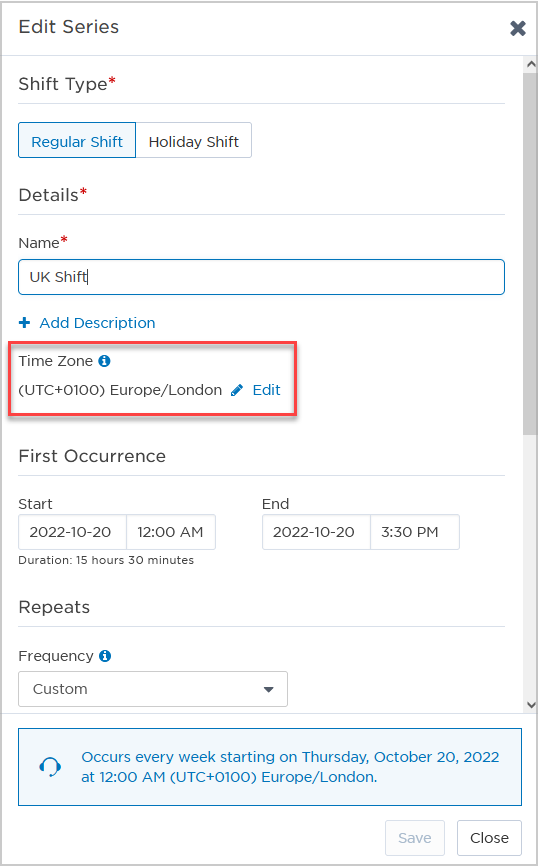 Enhanced highlighting and management of shift gaps, including a list of all coverage gaps over a specified date range, creating recurring shifts to easily fill any patterns in gaps you identify, and calls to action to help admins discover gaps that may not be in their immediate view.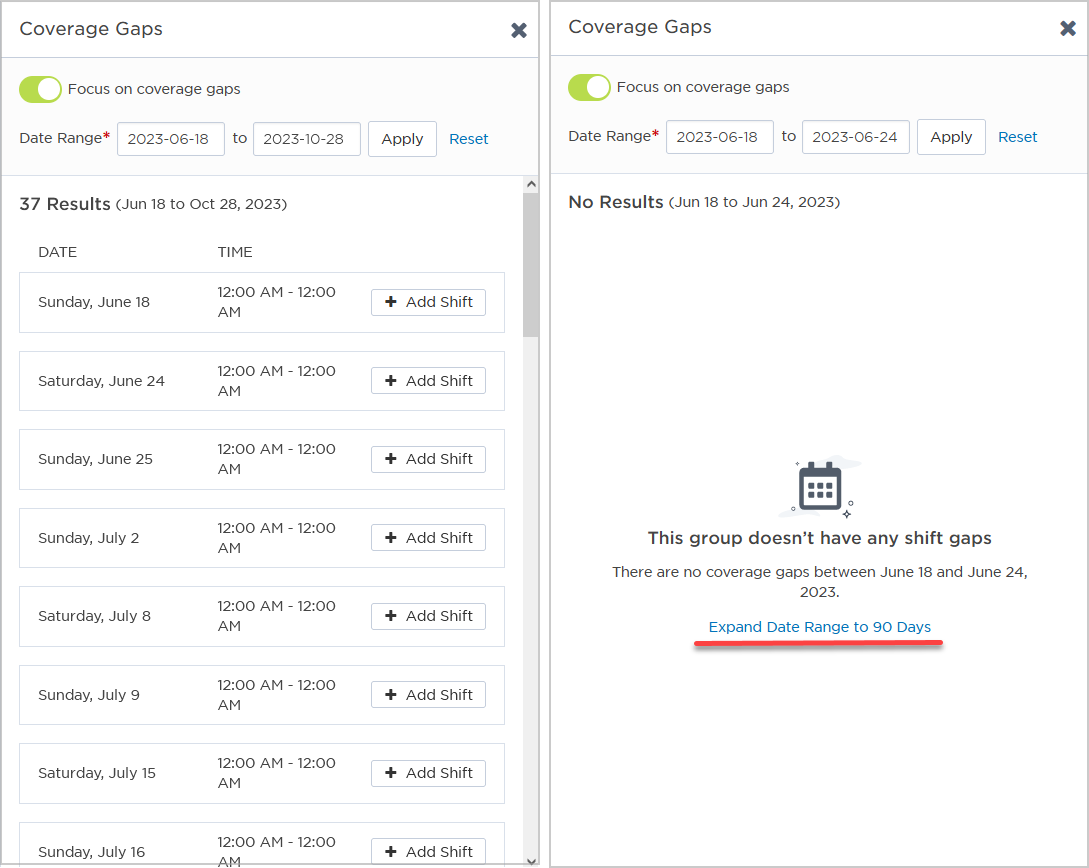 Want to see more?
For a more in-depth look at group scheduling and calendar updates included in this release, see our article, A new way to schedule groups.
Sneak peek: Repeat escalations
Estimated Availability: Tetris Quarterly Release
We're currently designing new end of escalation behaviors for on-call shifts so you can take action when no one from the group responds to a notification. As you can see in one of our initial designs, one action will be to repeat the shift's escalation policy multiple times to find someone available to respond to the alert.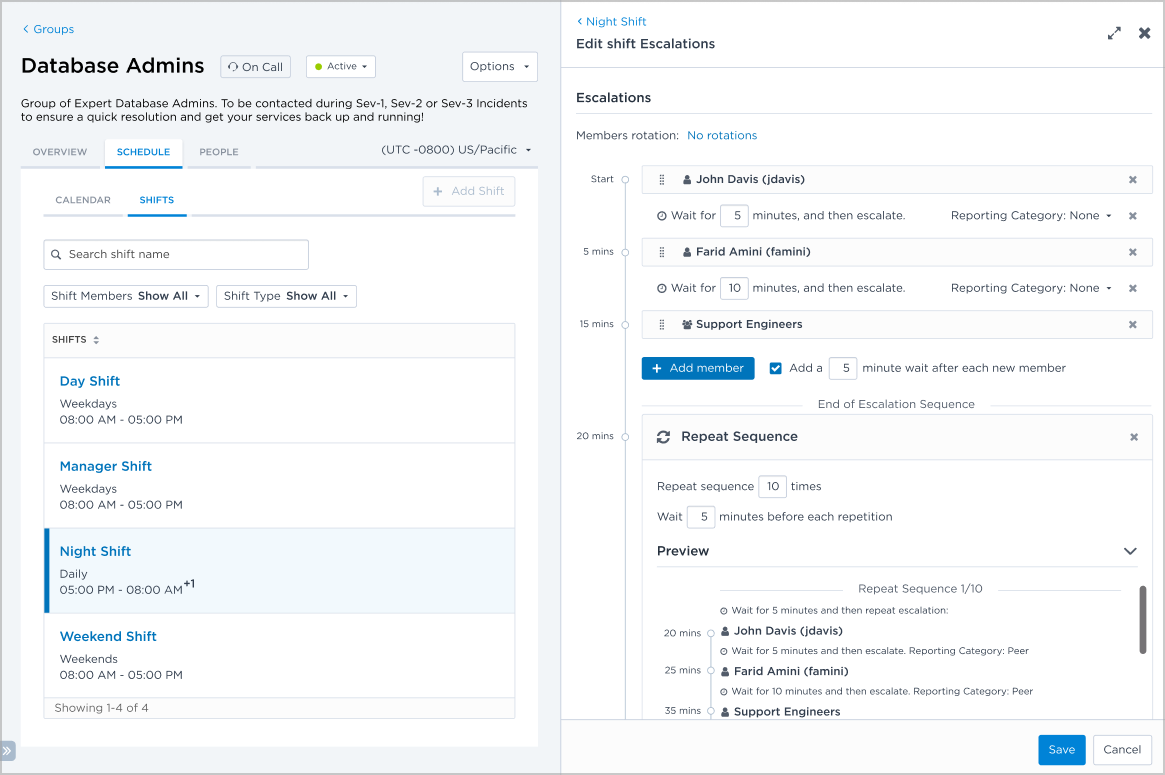 Incident response & service intelligence
The combined incident management capabilities and service intelligence insights of xMatters enables organizations to respond effectively to disruptions and proactively minimize their occurrence. In this release, we lay the foundation of several key enhancements we'll be adding to our platform over the next few releases, including the ability to classify the types of services in your architecture and creating and tracking tasks throughout your incident resolution process.
Application and technical service types
Availability: Space Invaders Quarterly Release
You can now designate each service in your Service Catalog as either an 'Application' or 'Technical' service. Differentiating the types of services in your organization's architecture can help you to identify when applications are impacted by technical outages, better prioritize efforts, escalate resolver engagement, run playbooks for specific applications, notify consumers of the service, and to satisfy compliance regulations and contracts.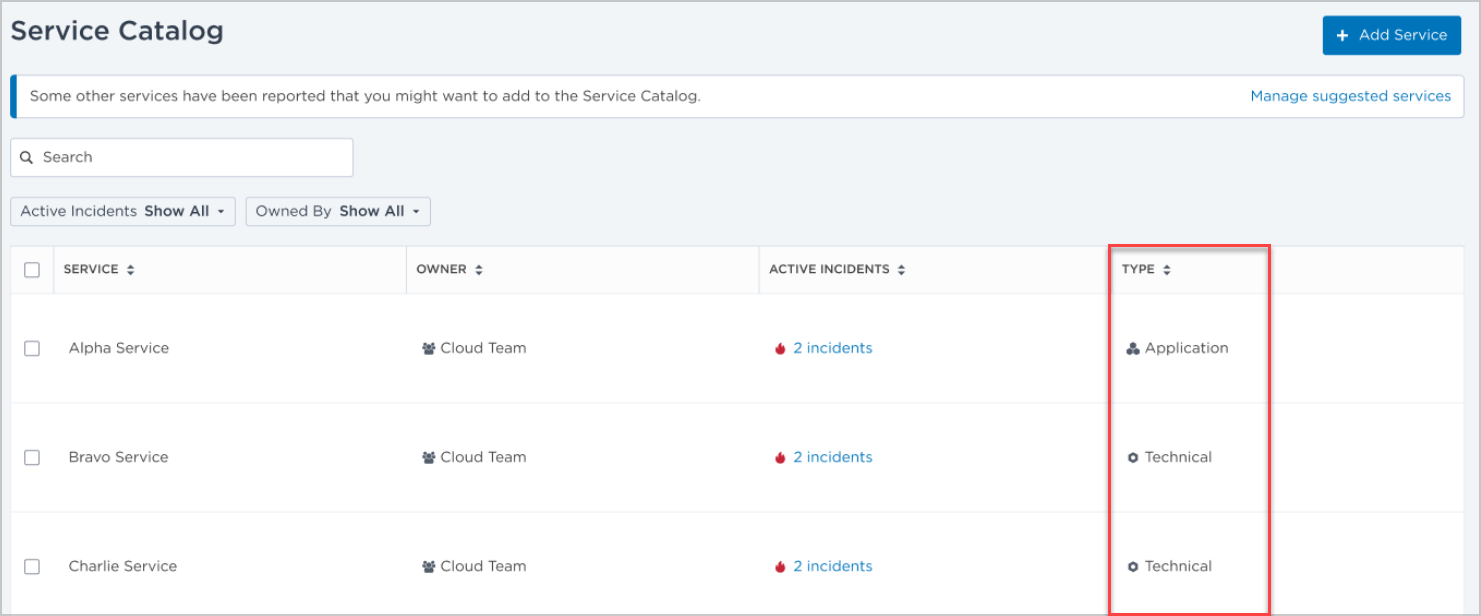 You can set the service type when you add or edit a service. The two service types are represented by different icons throughout the web user interface and you can use the service dependency maps to view which technical services underpin impacted applications, and the applications affected by impacted technical services.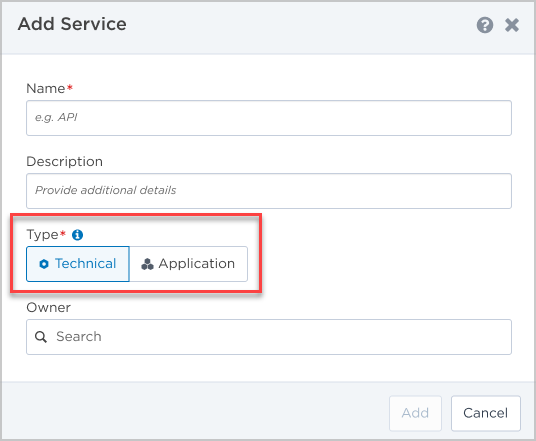 Knowing which technical services underpin applications can help you more effectively track down the root cause of an incident and reduce the time to mitigate and resolve it. Similarly, knowing which applications depend on technical services impacted by an incident brings clarity to the impact on the business and the criticality of the incident, and makes it faster to identify which stakeholders should be updated throughout your incident response.
Incident Tasks
Availability: Space Invaders Quarterly Release
Incident response is often a team effort. While more people can mean more resolution power, it also means more complexity—combining the forces of an incident commander, scribe, service owners, support teams, and other resolvers and stakeholders makes it crucial to keep track of who's doing what, the tasks that are outstanding, and what has already been completed.
To help with this, we've added a new 'Tasks' section to the Incident Console. Here you can assign tasks, set a specific or relative due date and time, see the length of time remaining for each task and whether any are overdue, and manage the status of each task.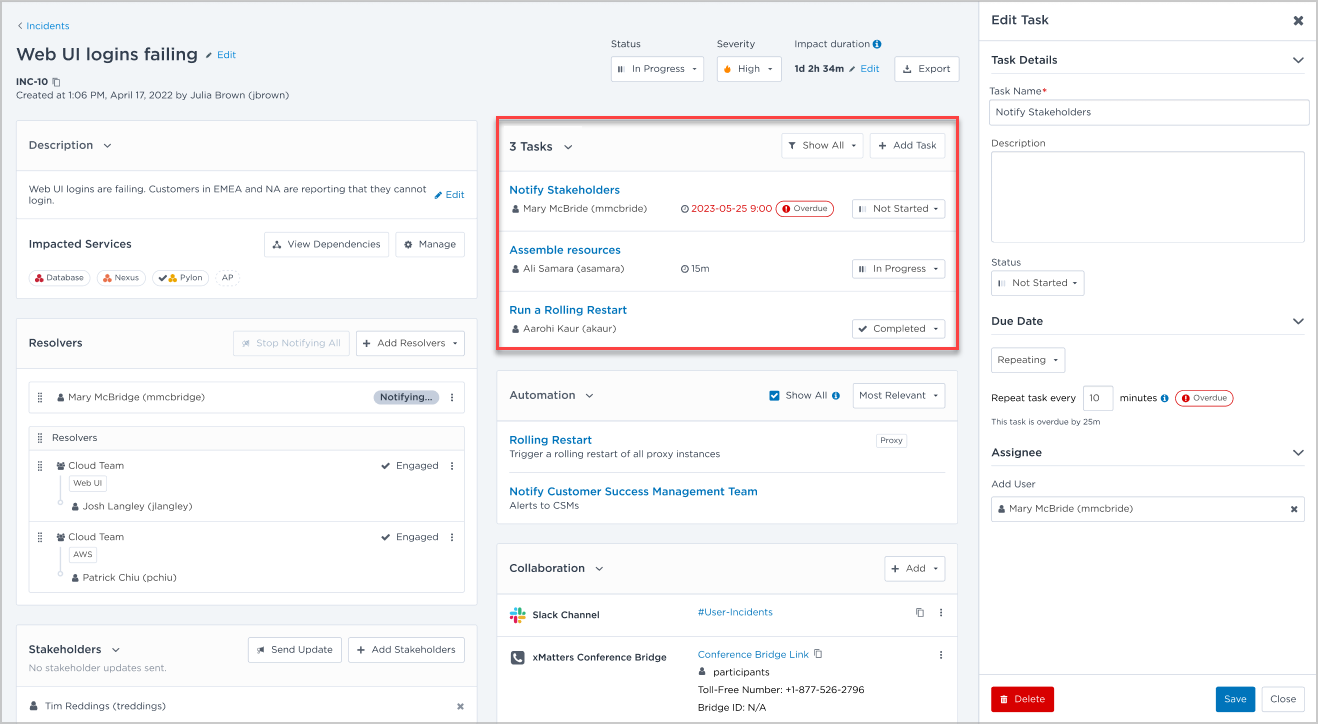 You can also edit the start and end time of each task, which is useful for those occasions when you prioritized mitigating the incident before updating the status of the tasks you completed.
Incident Console usability improvements
Availability: Now in xMatters
We've made the following usability enhancements to the Incident Console that will help reduce your time to engage resolvers:
Preemptively avoid notification failures – The Recipients and Resolvers selectors now warn you when a user has no active devices, a group has no members, or a service has no owner. This means you'll know in advance when a notification will fail so you can fix the issue or contact someone else.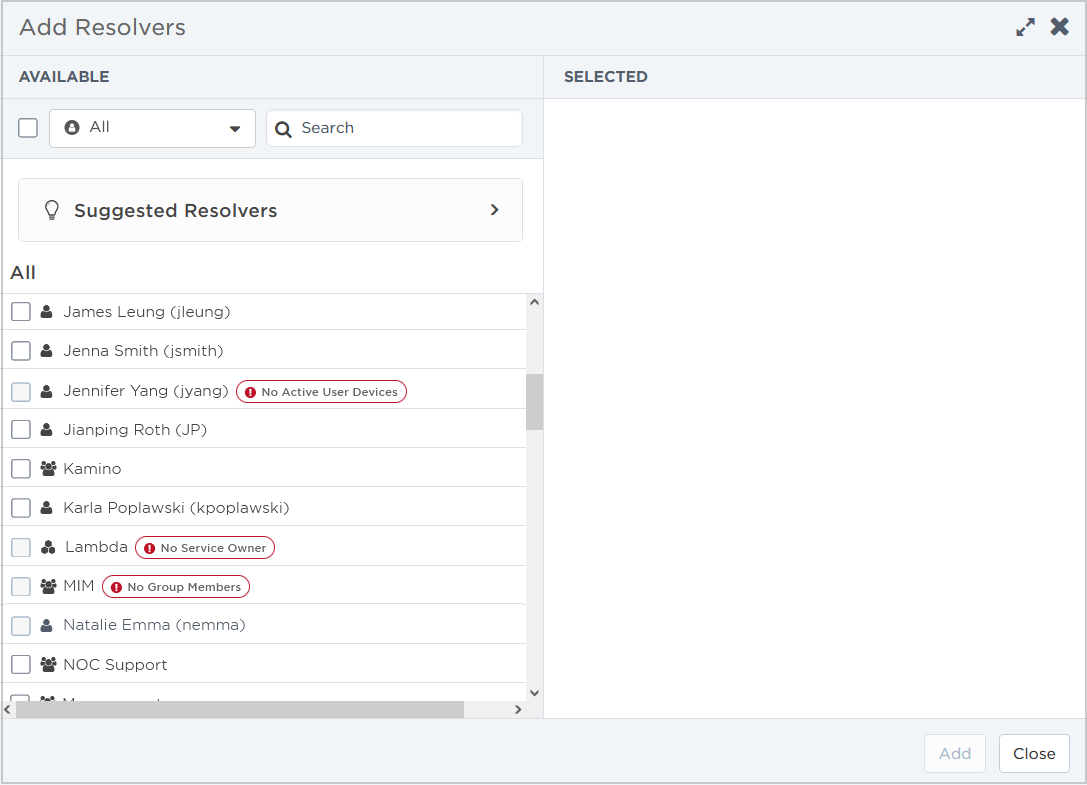 Find services more easily – The Recipients and Resolvers selectors—as well as the Impacted Services section of the console—now search on service description as well as name. This makes it easier to find services when you know what they're for, but don't know their exact name.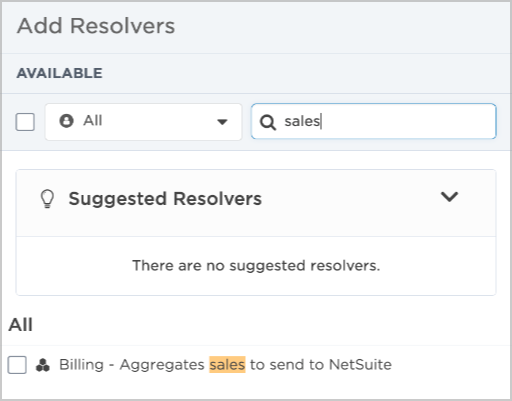 Troubleshoot resolver notifications – Timeline entries for notifying resolvers now include links to their underlying alerts so you can more quickly troubleshoot notification issues.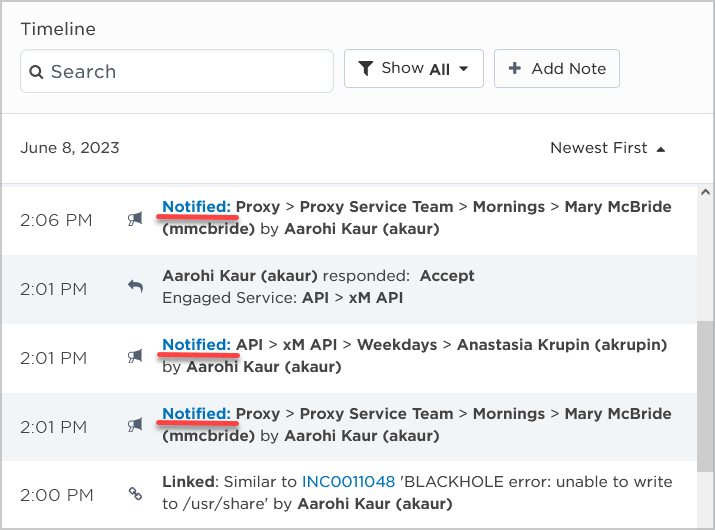 Keep Stakeholder users informed – You can now select Stakeholder users as recipients in automations. This is helpful for updating people in your organization with Stakeholder user licenses who don't quite fit the built-in incident stakeholder updates.
See what you need, when you need it – You can now collapse sections of the Incident Console when they aren't needed to better focus on the sections that you need in the moment, such as Resolvers or the Timeline.

Automatically add stakeholders to incidents
Availability: Now in xMatters
To further save time when you're resolving an incident, you can now build your flows to automatically add specific stakeholders on incident initiation, or during the lifecycle of the incident. To do this, include the new 'Add Stakeholder to Incident' step to your incident resolution flows.
Service property type in Flow Trigger forms
Availability: Space Invaders Quarterly Release
When you're initiating an incident or running an automation, every moment counts. To help reduce time from detection to initiation, and to make it easier to select the service you'd like to run an automation for, we've added a new 'Service' property type to Flow Trigger forms.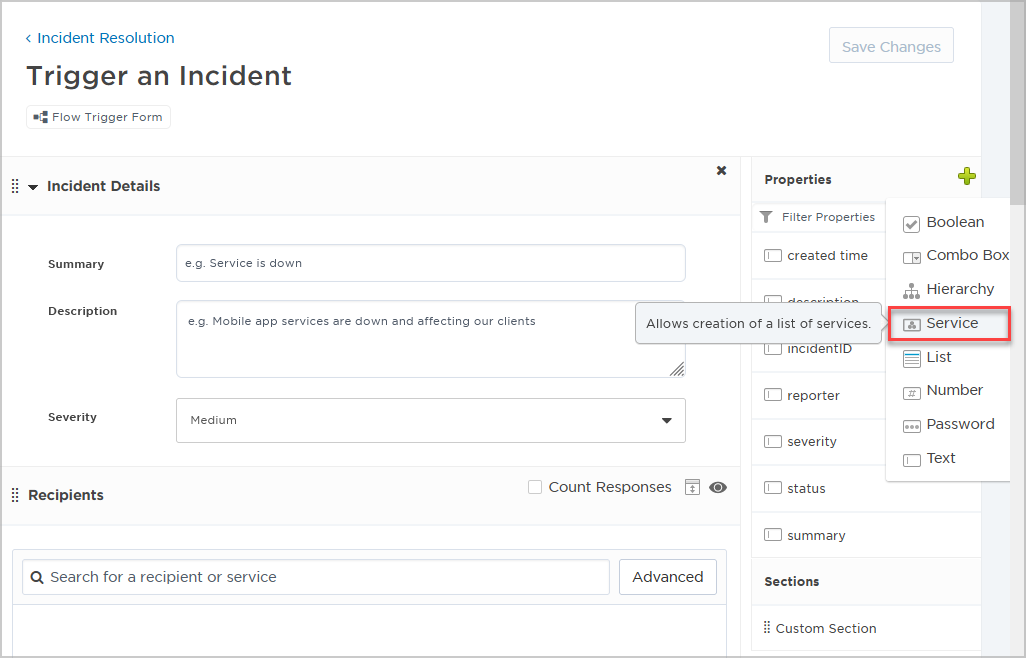 The service property provides a lookup of all the services in your Service Catalog by name or description. It enables you to more quickly add the services impacted by an incident to a message or identify the service you'd like to run an automation for.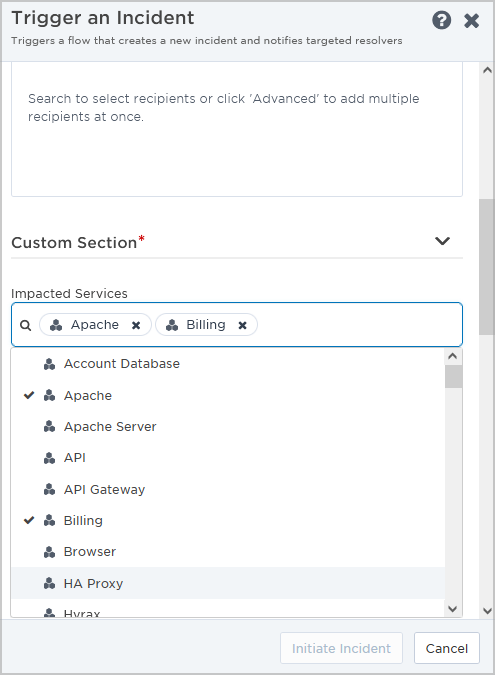 To further reduce time spent selecting values, you have the option to add default services—if you'd like, you can even input services that haven't been added to the Service Catalog yet.
Additional support for services on mobile (Android & iOS)
Availability: Coming soon
Supporting service intelligence throughout our product also applies to our mobile apps. In this release, we've enhanced our Group contacts with a new 'Services' tab that you can use to see at a glance which services a group owns and if any of them are currently impacted by incidents.
Reporting & analytics
Visibility into your incident response landscape is a key aspect of continuous improvement and more efficient incident response. In this release we continue to add important enhancements and metrics to our User Performance, Group Performance, Alert, and Notifications reports.
User & Group Performance enhancements
The Group Performance and User Performance reports are vital resources to see how teams respond to incidents, and we extend their capabilities to our Communication Center widgets so you can monitor performance right from your dashboards.
'Incidents by Group' dashboard widget
Availability: Now in xMatters
You can now keep an eye on incident volume by group directly from your dashboard with a new 'Incidents by Group' graph in the Group Performance widget. You can filter it to specific groups or timeframes and click on a bar to drill down to the underlying detail in the Group Performance Report.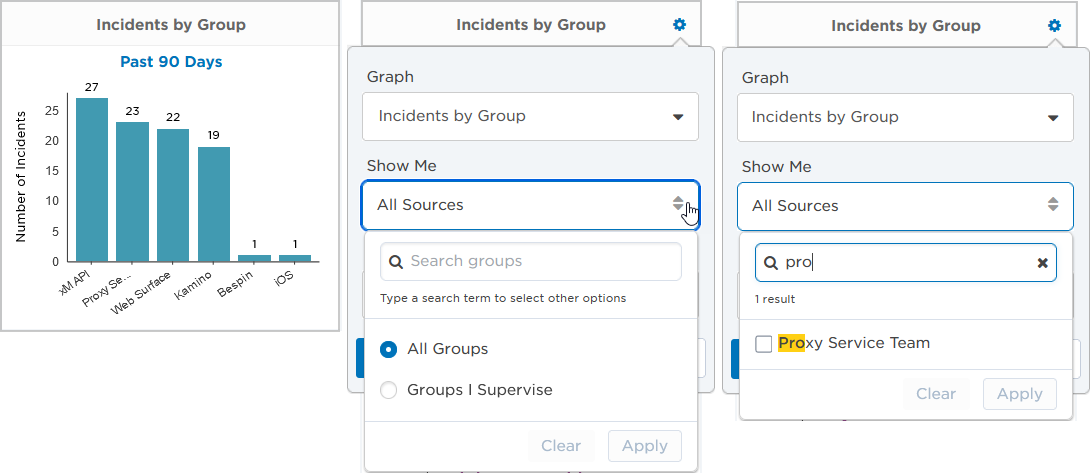 'Incident MTTA & MTTR by Group' dashboard widget
Availability: Now in xMatters
The Group Performance widget helps group admins quickly view important information about how their groups are responding to alerts and incidents. Now, with our new 'Incident MTTA & MTTR by Group' graph, you can quickly review incident Mean Time to Acknowledge (MTTA) and Mean Time to Resolve (MTTR) data straight from your dashboard.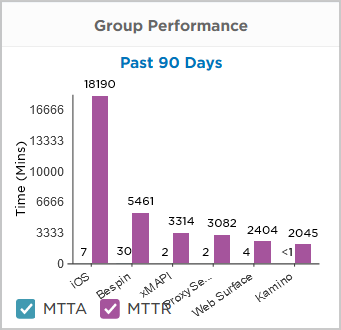 See who's working after hours
Availability: Now in xMatters
Help prevent burnout by tracking who's getting slammed by alerts after hours. We've added a new 'After-Hours Alerts' metric to the User Performance report to show you the number of times users are alerted between 7pm to 7am and anytime on Saturday and Sunday.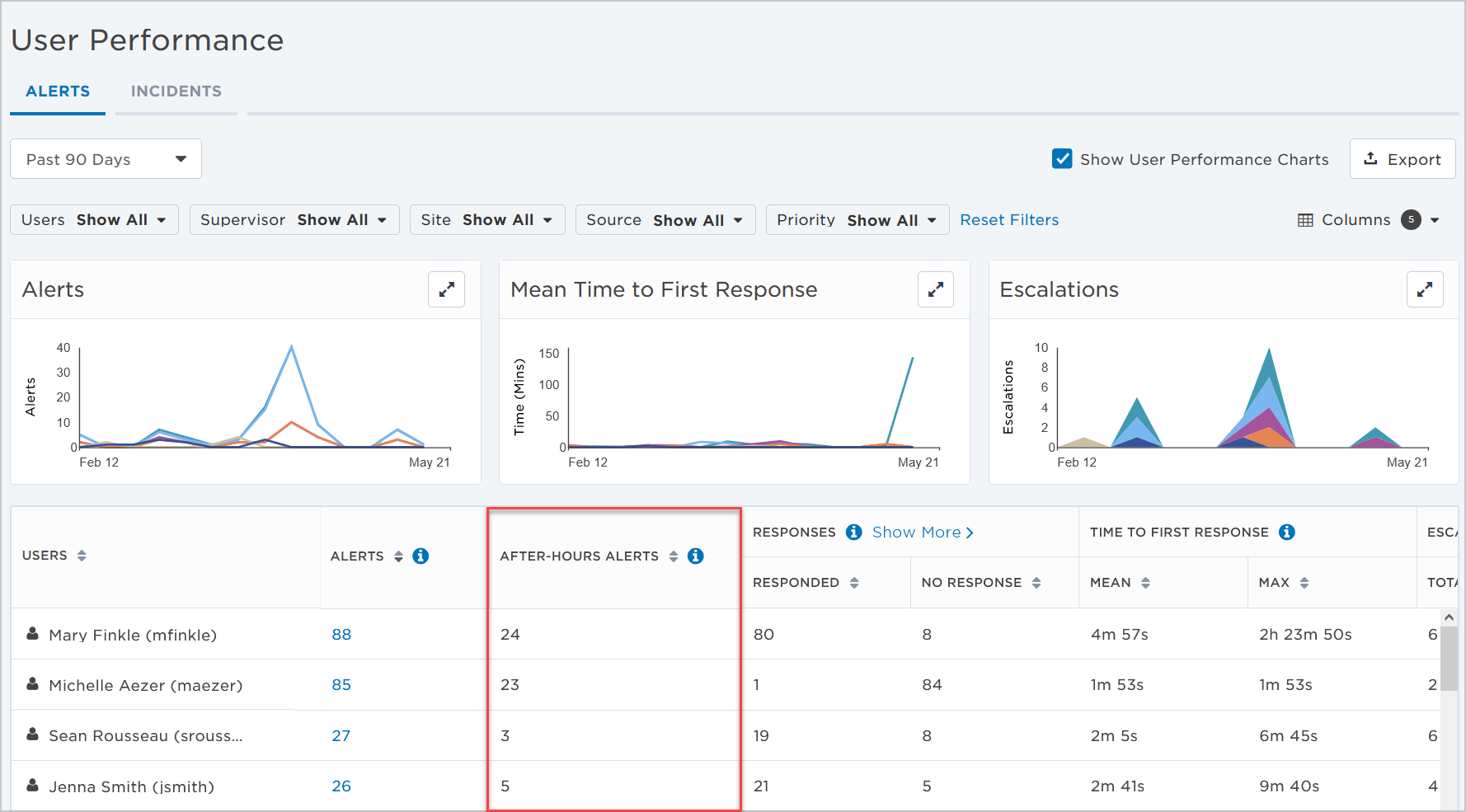 Alert report updates
The Alert report enables you to drill into an impressively detailed amount of information about each of your alerts, which now also includes the text (SMS) template used for your alert. We've also enhanced the report export to include more of your alert details.
View the SMS and email messages for your alerts
Availability: Now in xMatters
The Message tab of the Alerts report now includes the Text (SMS) template used for your alert in addition to the alert's email. We've also updated both the Email and SMS templates to include the response options included with the alert. This is useful for troubleshooting issues with your messaging and for keeping a more complete record of the communications sent out for your alerts.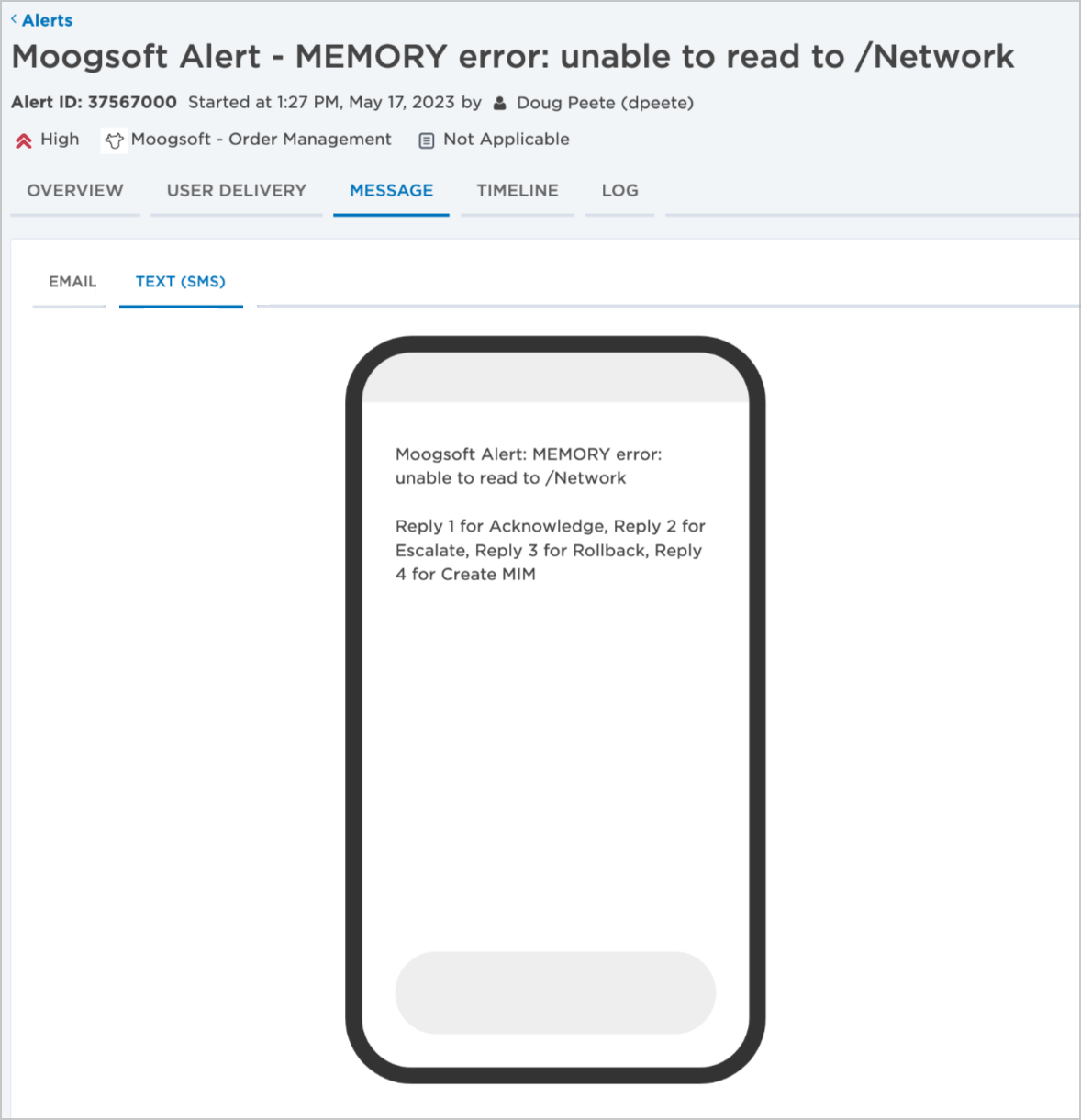 Export all an alert's properties
Availability: Now in xMatters
If you export an Alert report to perform troubleshooting, additional analysis, or to share with teams outside of xMatters, you'll notice the 'Alert Details' tab of the exported report now includes all of the properties of the alert (including devices and custom properties).
Notifications Report
We're excited to bring you some extra additions to our recently redesigned Notifications report that will make reviewing your system notifications more efficient.
'Notifications by Device Type' and 'Notifications by Source' charts
Availability: Now in xMatters
We've added two new charts to the Notifications report for 'Notifications by Device Type' and 'Notifications by Source'. You can use these charts to better understand the notification and volume trends by device type and source, spot where failures are occurring, which devices users do and don't respond to, and other opportunities for operational improvements.

If you don't need to see these graphs at a particular moment, we've also included a 'Show Notification charts' check box that allows you to temporarily hide this information so you can make better use of your screen real estate.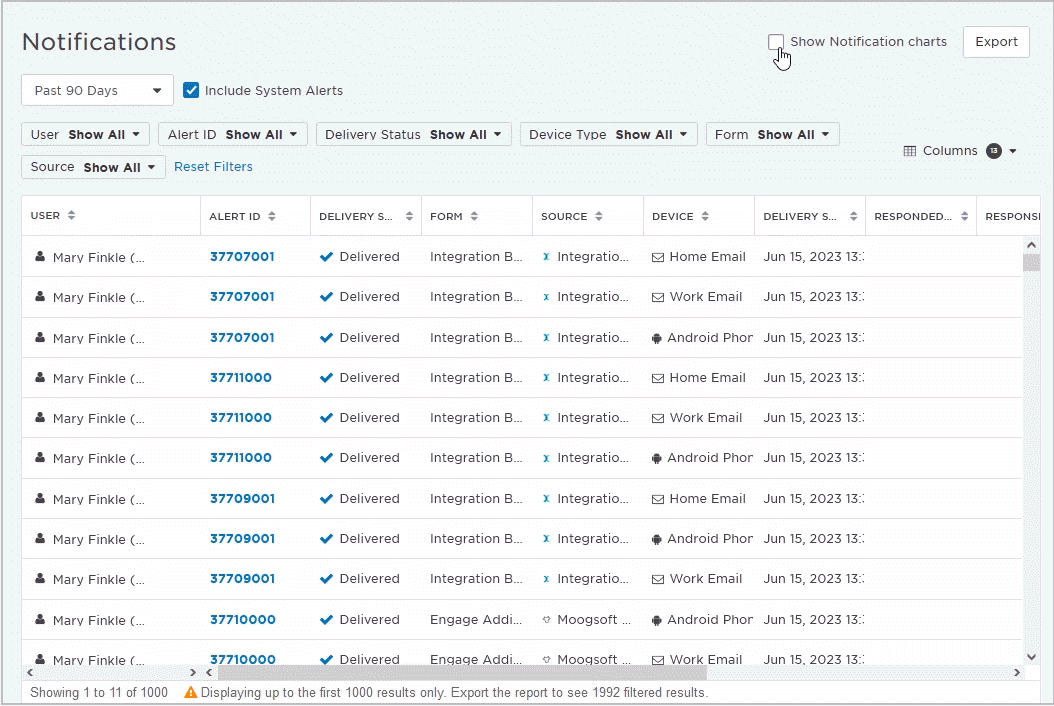 New filters & columns
Availability: Now in xMatters
We've added several new filters and columns to the Notifications report to help you track performance.
New filters
You can use the 'Source' and 'Form' filters to focus the report to specific workflows or forms when troubleshooting failures, quantifying device type distributions, or analyzing responses.

New columns
The following new columns enable you to assess performance at the notification level in addition to the alert, incident, group, and user levels. Including the created time of notifications in the table provides a quick reference relative to the delivery time so you don't need to export the report.
Created – The date and time each notification was created in xMatters.
Time to Deliver – How long it took for the notification to be delivered to a recipient.
Time to First Response – How long it took the recipient to respond after they received the notification.

Include system alerts (or not)
The report also features a new 'Include System Alerts' check box. If you don't want system alerts included, you can clear this check box to display only user-generated data in the charts and table.

Automation
In this release, our main focus was to improve what we already have in place by updating our existing steps and workflows for better efficiency and to take advantage of new functionalities introduced into the third-party systems we integrate with. We've also released a new frequently–requested step that enables you to automatically add stakeholders during your incident resolution process.
Flow Designer
Flow Designer is the user interface for our integration platform. Its goal is to provide an all-inclusive visual canvas that allows users of any technical ability across the enterprise to integrate and create incident resolution workflows with ease.
New & updated steps
We may be releasing only one new step this release, but we've made a ton of important updates to many of our existing steps that you'll find helpful for building more successful flows.
Add stakeholders to incident
Availability: Now in xMatters
We've released a new Add Stakeholders to Incident step that you can use as part of your flows: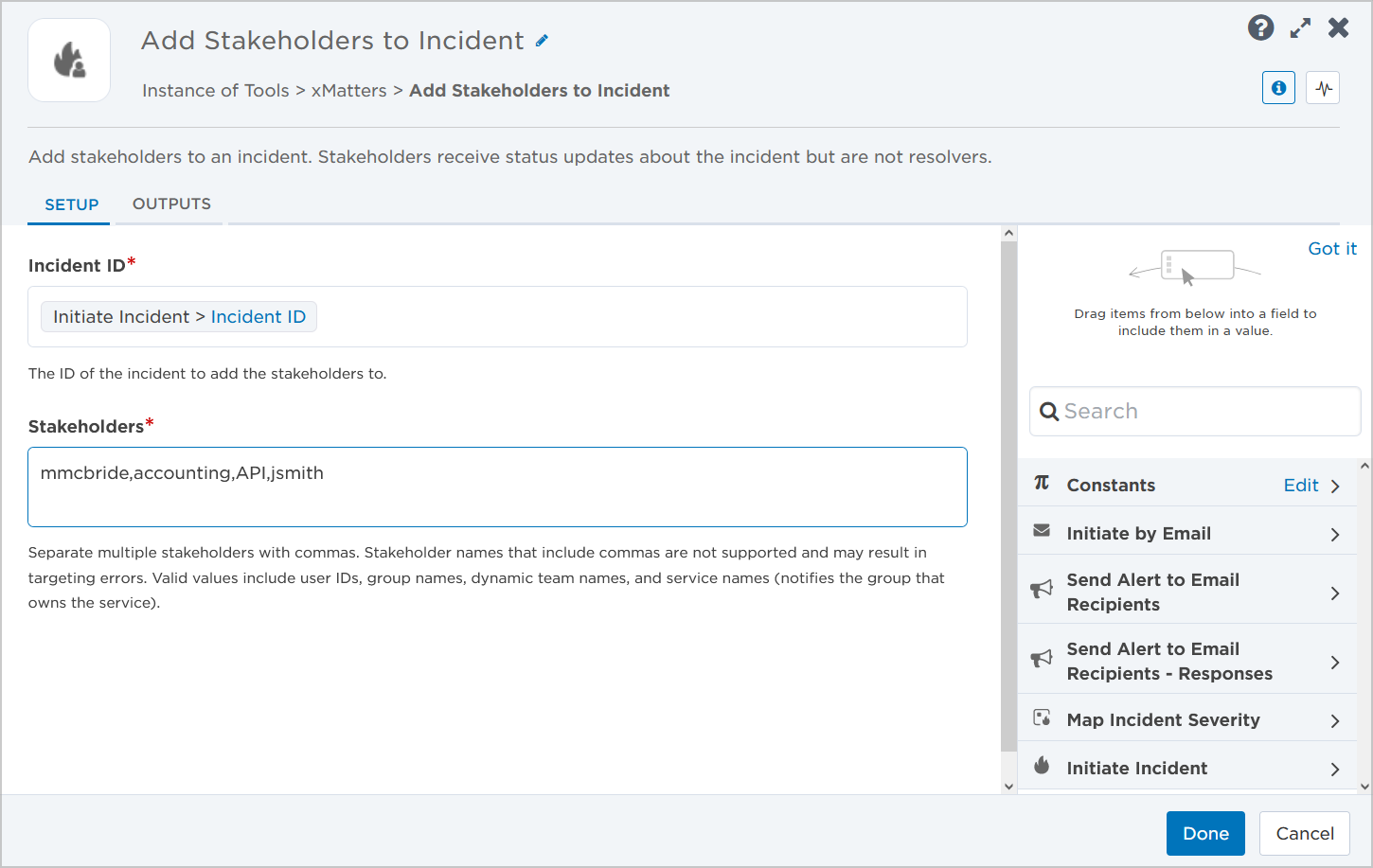 This can save you time during the incident resolution process—rather than manually adding specific stakeholders throughout the lifecycle of an incident, you can use this step to automatically add them while you focus on other tasks: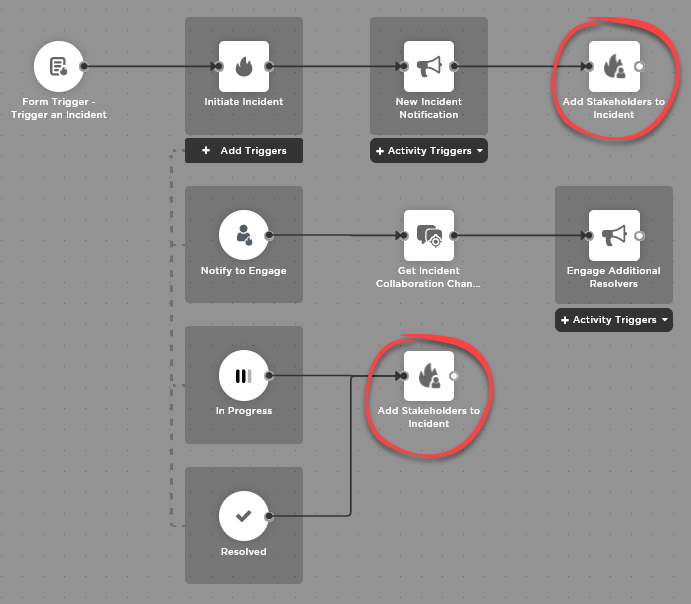 More resilient flow processing
Availability: Now in xMatters
When a flow fails partway through, it can prevent downstream steps from completing important actions, such as sending an alert to resolvers about an impacting event. To help developers build more robust flows, we've updated several steps to reduce the chances of flow failures for non-critical actions.
SolarWinds Network Performance Monitor Alerts
Availability: Now in xMatters
The SolarWinds Network Performance Monitor Alerts trigger is now more resilient in handling the values sent in the payload to xMatters.
Everbridge Create Risk Event
Availability: Now in xMatters
The Everbridge Create Risk Event step now supports subcategories, which enables you to add more detailed categorization of risk events in Visual Command Center.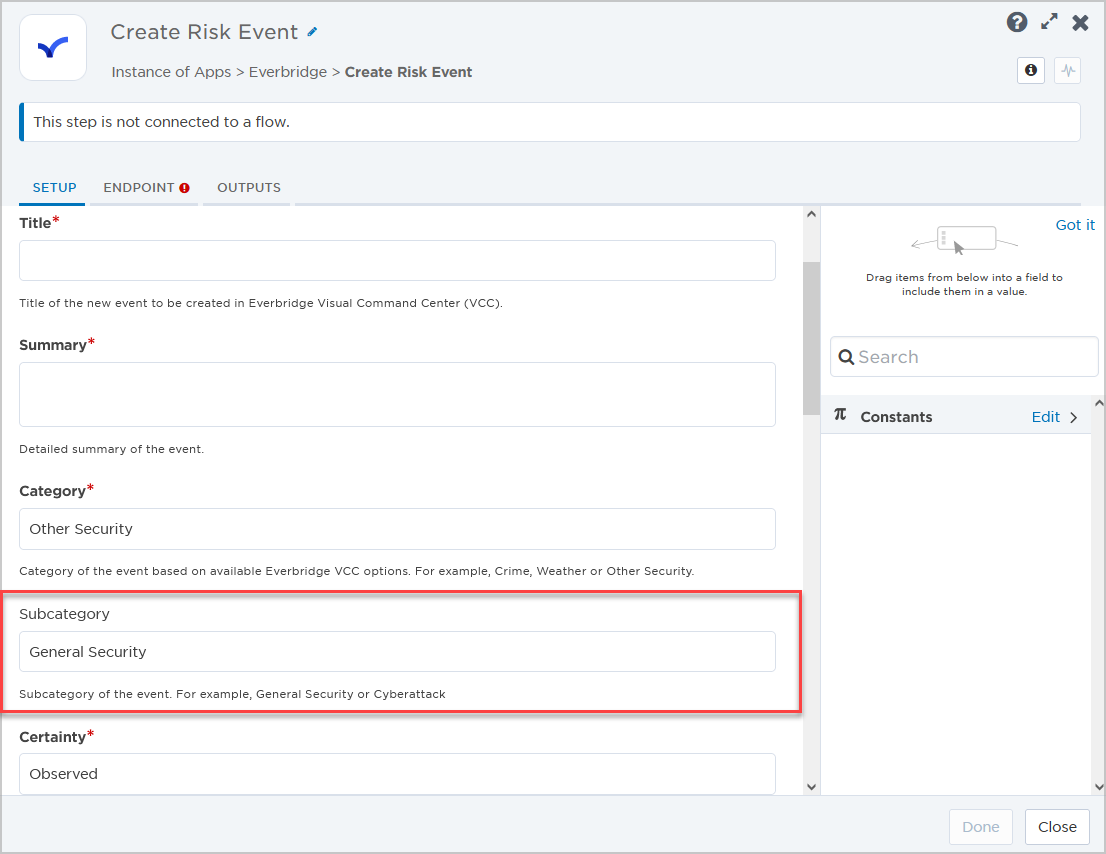 New & updated workflows
This release includes usability updates for the workflows with applications that can send test requests, as well as an update to our Zabbix integration.
Send a test request
Availability: Now in xMatters
As a best practice, we always recommend testing your integrations to check everything is working as you intend. In this release, we updated the workflows for most applications capable of sending a test request to xMatters. Now when you send a test signal, we'll send a confirmation alert to the recipient defined in the request. This makes it easier to see your integration is working without having to dig into the Activity panel in Flow Designer.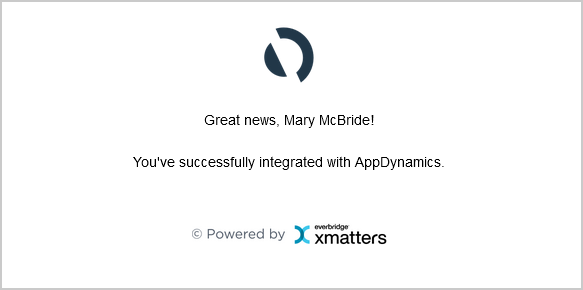 Zabbix
Availability: Now in xMatters
We've updated the .xml file used by the Zabbix integration to support changes in Zabbix. There's no need to update anything in xMatters—just use the new .xml file when you configure alerts in Zabbix.
Other product updates
With every release, we manage to pack in some extra goodies for our customers! We hope you'll find these ones helpful.
xMatters Agent Docker image
Estimated Availability: Early August
Do you want to run the xMatters Agent on an operating system that's not officially supported? Or do you already have a containerized environment and want to run an agent in it? Perhaps you want to test your workflow and just need to quickly start up an agent on your laptop? Well, now you can—using the container engine Docker along with the official xMatters Agent Docker image. Just pull down the image, provide a few configuration settings, and you're all set!
Get more help in Flow Designer
Availability: Now in xMatters
Our Robotron release included a spiffy new in-app Help Center, giving you access to help when and where you need it. While completing that work, we noticed a few places in Flow Designer that didn't have access to the help icon. We've gone through and added them now, letting you open the help when you're creating custom steps and triggers, configuring endpoints, using callable flows, and more.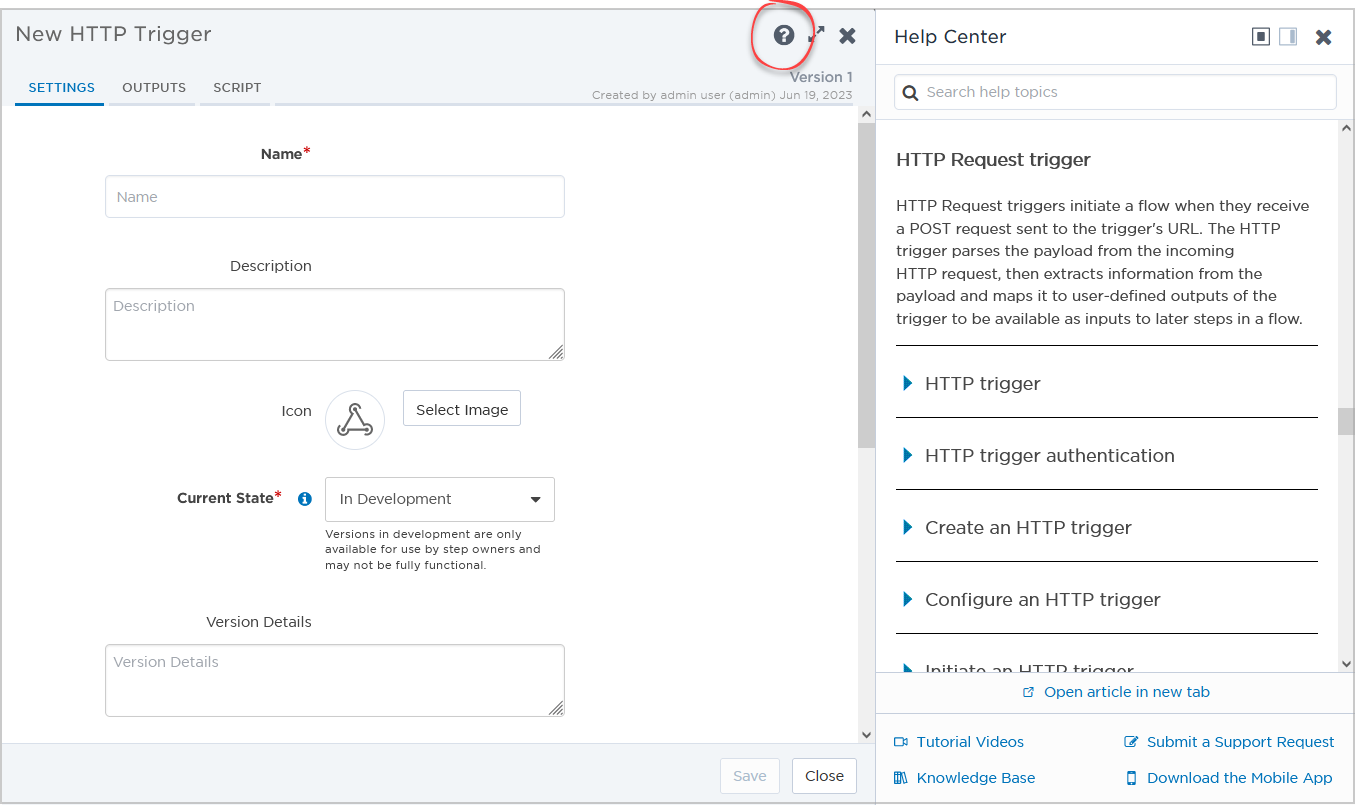 Welcome to xMatters video series
Have you seen our new video series yet? The first three episodes are out and we think they're pretty awesome—be sure to stay tuned for more exciting adventures! You can also check out our YouTube channel for more in-depth tutorial videos and product walkthroughs.
Episode 1: Connecting Your Tools
Episode 2: Organizing Your Teams
Episode 3: Sending Messages
Early Access Program & feature delivery update
The goal of our current delivery model is to balance feature delivery with customer change management processes. This means providing visibility into upcoming changes for customers that want it, while allowing other customers to have a more standard non-production environment that matches production.
If you aren't familiar with the current model, we release features only visible to admins/developers at a faster pace than the quarterly release process. These features should not impact end users until a customer provisions them into their workflow. Customers can opt their non-production environments into the Early Access Program to see features and functionality enhancements that impact end users before they're released on a quarterly basis. All customer non-production environments are updated four weeks prior to an official quarterly production release to allow for testing and training on new features.
We regularly reevaluate and improve our deployment processes to ensure they reflect industry best practices and customer feedback. For more information about our deployment process, see our On-Demand Deployment Process and Early Access article. We'll update that document whenever we make a change, and let you know about the change through other appropriate channels.
Learn more
These are the main features for this release, but be aware that there are several other small changes and enhancements we're delivering to keep xMatters looking sharp. Detailed information and instructions for using these new features will be available in our online documentation.
And, that's a wrap! See you at the Tetris release...