So you "accidentally" opted out of receiving SMS messages from xMatters, re-examined your life choices, and now you want back in?
The good news is that you don't have to get a new phone number!
The even better news is that opting in again is really pretty easy. Just follow the steps below, and your inbox will once again feel the welcome tingle of timely, targeted notifications.
NOTE: The following instructions currently apply to North American customers only. For all other regions, please contact xMatters Customer Support .
Step One: Sign Up
Click this link to go to the xMatters Opt-in page.
You should see a page like this one: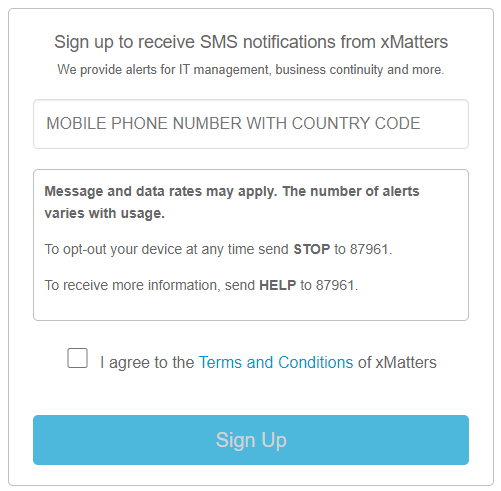 Type your text phone number (including the country code) into the field provided, and select the I agree to the Terms and Conditions of xMatters check box.
Click Sign Up.
Step Two: Confirm
After you submit the form, xMatters will send a confirmation message to the phone number you entered, and redirect you to a page like this: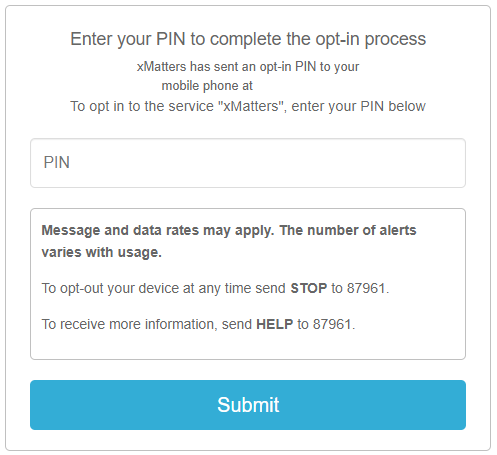 Check the text message for the confirmation number: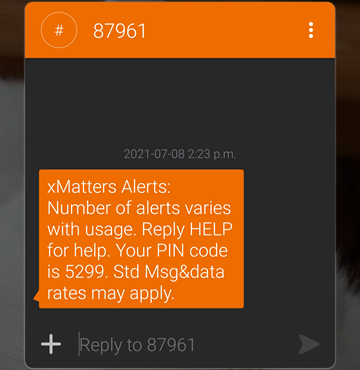 And then type it into the PIN field in the Opt-In page. Click Submit to send the confirmation to xMatters.
Step Three: Activate!
You're almost done! The last thing you need to do is log in to xMatters (or ask your administrator/supervisor to do it for you), and select the Active check box on the Device Details page for your text phone:

Once that's done, make sure to send yourself a test notification, just to make sure everything is correctly configured and working properly:

Now xMatters can send SMS notifications to your text phone again, and you can stay connected to what matters.
xMatters internal reference: DTN-4853, SUP-12475