The information in this article is the intellectual property of xMatters and is intended only for use with xMatters products by xMatters customers and their employees. Further, this intellectual property is proprietary and must not be reused or resold.
What's so special about a dashboard? Well, like the dash of a sleek new ride, your xMatters dashboard is designed to make your life easier, speedier, and a whole lot more manageable.
Easier and speedier?
You betcha. When it comes to group supervising and incident management, the xMatters Communication Center and custom dashboards make it simple to manage the most important information to you, so you can easily oversee useful data and quickly act on it. 
Perhaps you've never customized your dashboard before, perhaps you've already read How to be the best group supervisor ever and want to know how to be even better, or perhaps you just want to learn more about getting the most out of your xMatters instance. Whatever your reason - hang tight! Because we're about to show you everything you need to know about Communication Center dashboards.
What is the Communication Center?
The xMatters Communication Center is the central hub in your web UI that aggregates key data and links you to important elements of the interface, keeping your incident management and resolution processes operating smoothly. Whether your priority is reviewing event or group data, clearly seeing your message inbox, or the quickest way to initiate an incident; think of it as your own personal mission control for everything xMatters. 
Dashboards that fit your role
The first time you look at your Communication Center, a default dashboard is displayed which may be configured to reflect your role within xMatters. One of the best things about the Communication Center is that the dashboard is completely customizable! By using our handy widgets, your dashboard can be configured, modified, and adjusted to perfectly suit your needs. As every role is unique and ever-evolving, further customizing your dashboard allows you to take control of your group and incident management processes without ever needing to switch screens.
To customize the dashboard, you can simply add widgets into the current dashboard. Or, depending on your license level, you can create a variety of different (and shareable) dashboards based on what you and your teams need to see at certain times. And, as each widget is fully configurable, you can easily streamline the amount of data on your screen.
Want to learn more about dashboard configuration? Click here.
Dashboards that match your priorities
The dashboard makes it easy to access and monitor the information that's most crucial, and as everyone's priorities are different, it's important to choose the right widgets for you. 
The group supervisor's best friend
Like a group supervisor, if your primary focus is understanding the amount of event traffic in your system and how groups are performing, you can reconfigure your dashboard to show detailed performance analytics at a glance.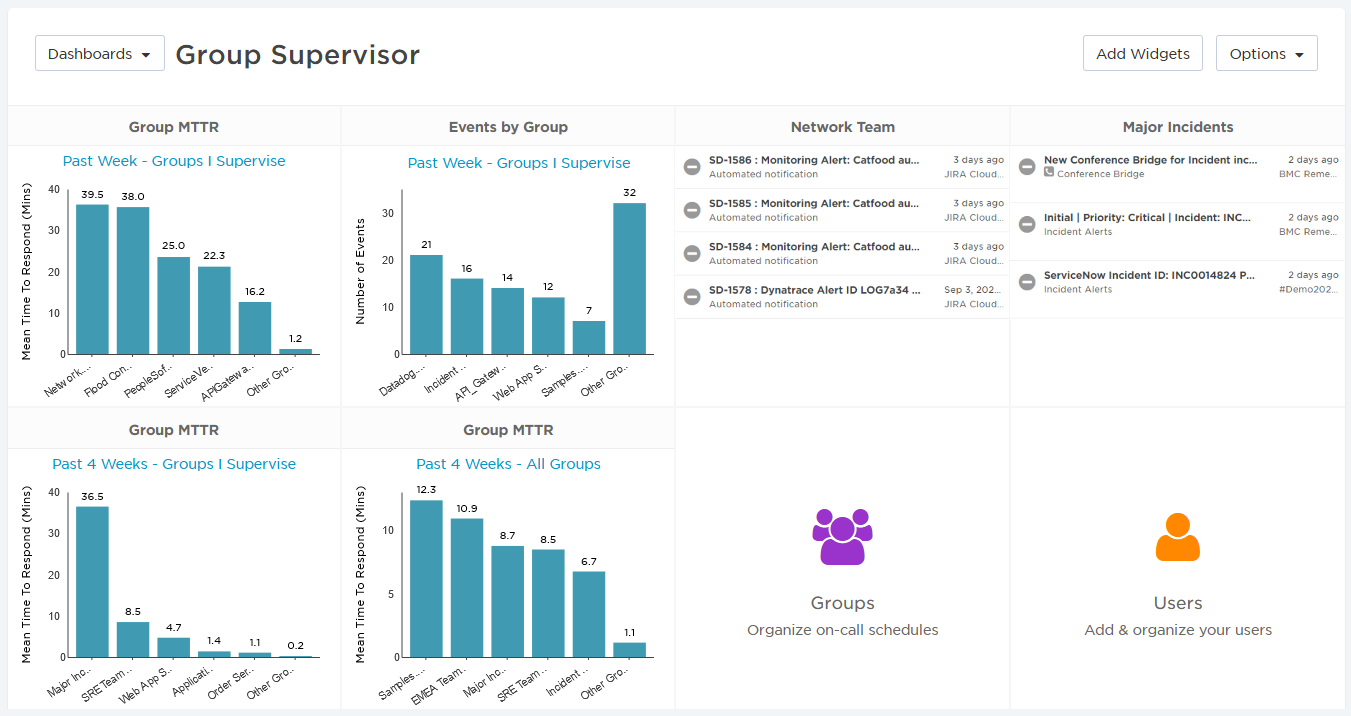 In this dashboard, right away we can get a really clear picture of how groups are performing in relation to how many event notifications they're receiving. By using different timeframes, we can easily see short and long-term trends in our groups' performance compared to all other groups.
Need more information on a specific group? No problem. Just click the individual bars to drill-down to view the underlying details:

The incident commander's secret weapon
When a major incident occurs, the goal is to resolve it as quickly and efficiently as possible; the xMatters Communication Center allows you to initiate, monitor, and respond to incidents in seconds. By adding and configuring the right widgets, incident management processes can be effectively streamlined so you can stay focused on resolving the issue at hand.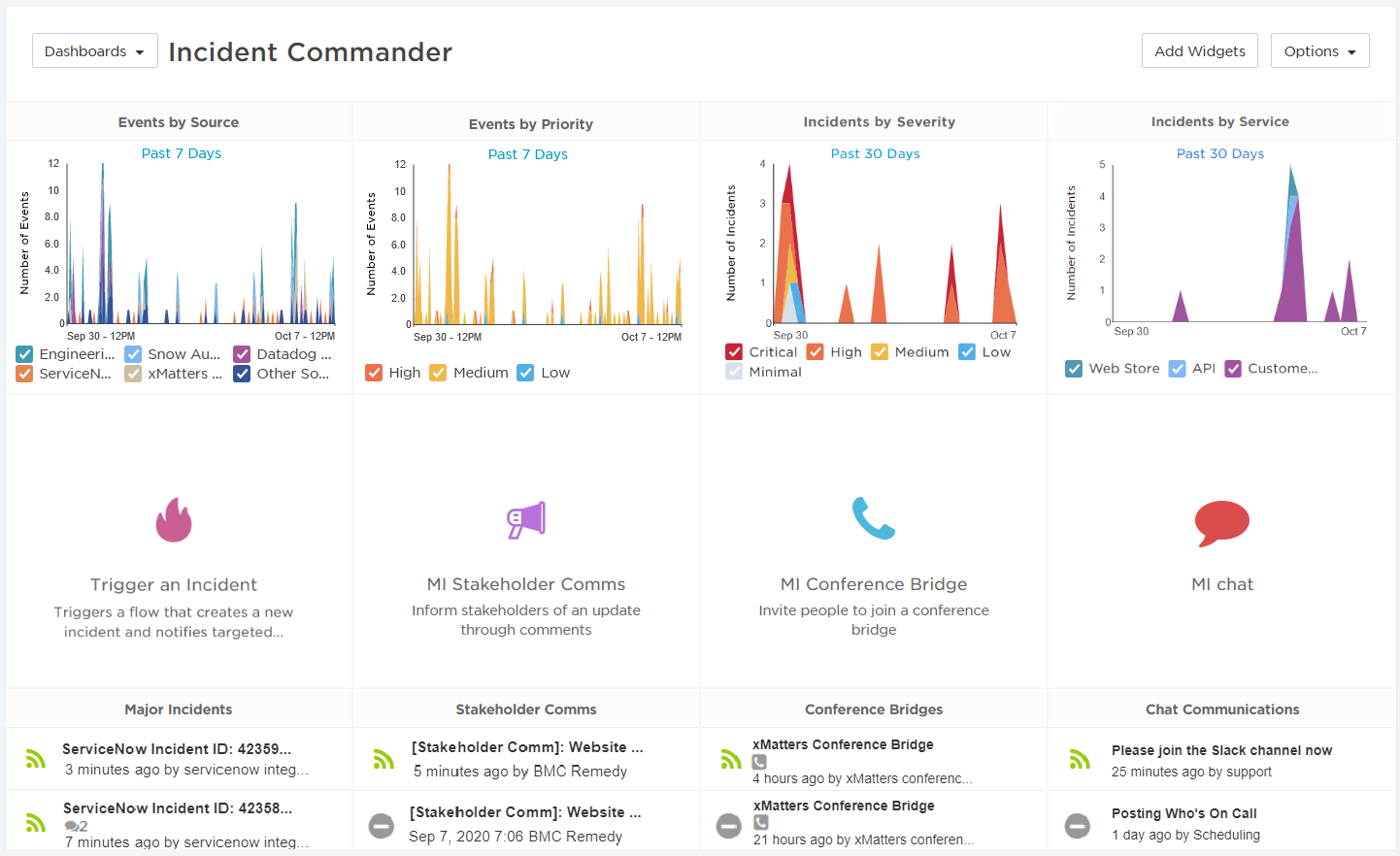 As you can see from this dashboard, triggering a new incident is as easy as clicking the widget, and you can monitor incidents by severity and service over time. There are also multiple Recent Events widgets configured to track ongoing issues, with corresponding Messaging Link widgets so the user can easily create a new incident, inform stakeholders, or start a conference bridge at the click of a button. 
But why stop at just widgets? If your license level and role allow it, go ahead and create multiple dashboards with other pre-configured widgets so you can easily handle other kinds of incidents. By configuring multiple Initiate Incident widgets on another dashboard, you can easily trigger other forms to initiate a variety of incidents. For example: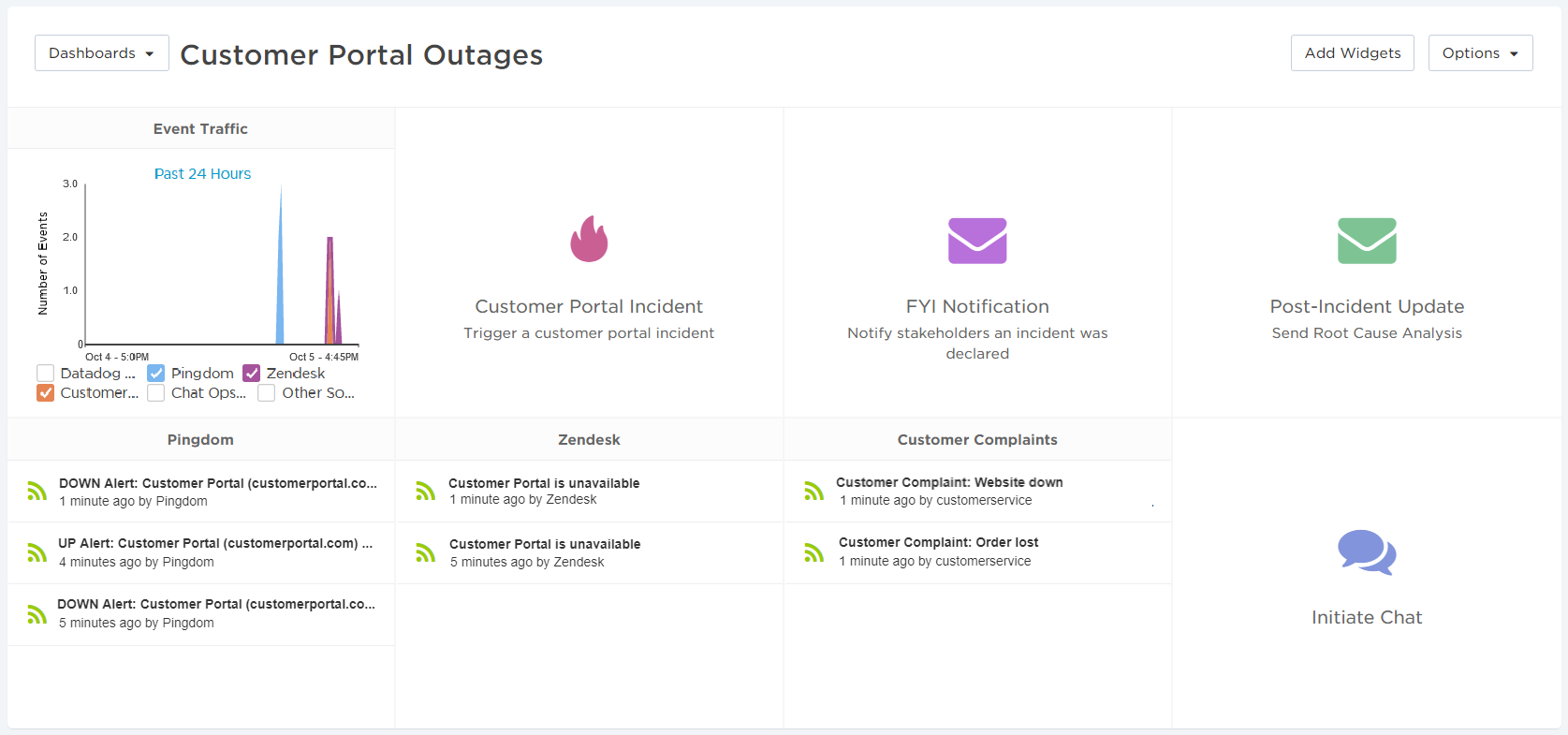 xPert tip: When you add and configure a widget, sometimes you'll also have the option to choose the icon and color you want to represent it on your dashboard: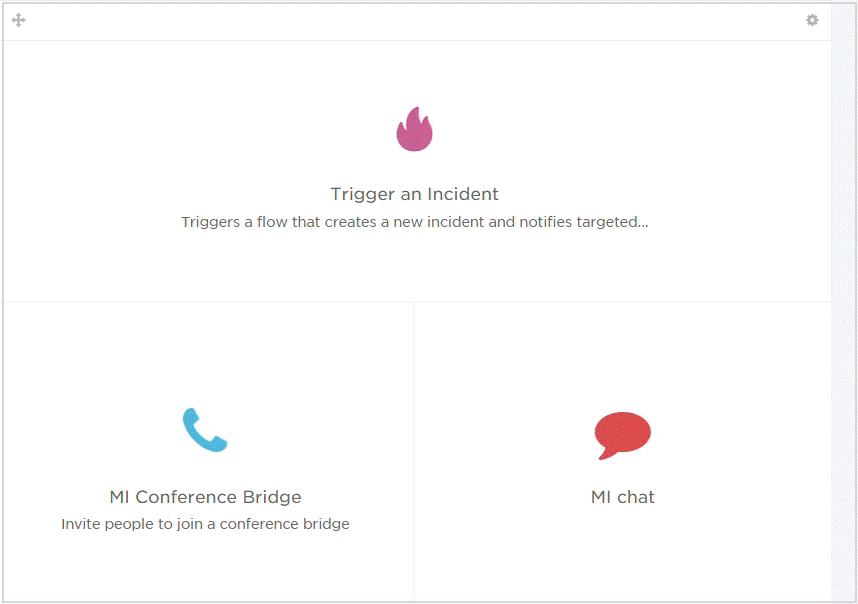 The SRE's base station
The health of your systems is crucial to business continuity, so if monitoring this information is your prime concern, make sure your dashboard reflects this. Add widgets that show you key data about how your systems are operating, so when something goes wrong, you can act immediately.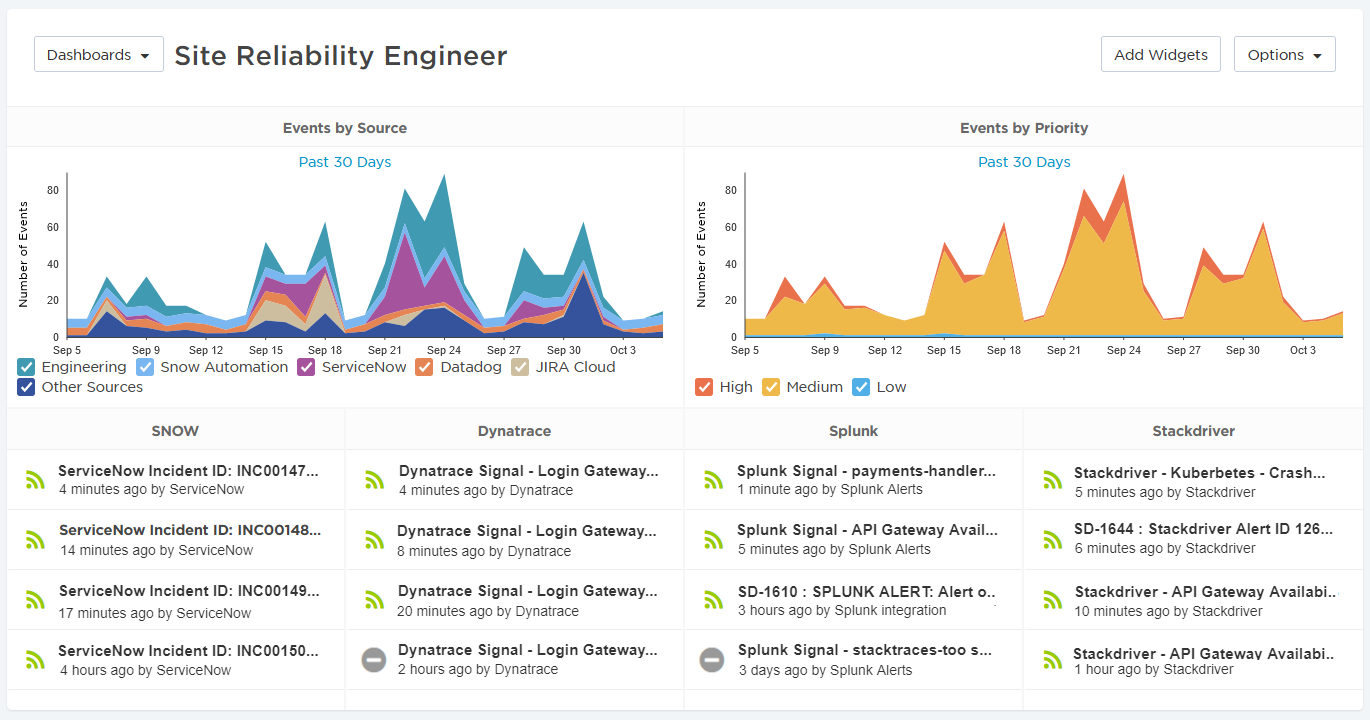 This dashboard has multiple, separately configured Recent Events widgets (based on saved searches created in the Recent Events report) to show incoming events from a particular source. The widget names have been changed to indicate which service each one is covering, allowing the user to easily see any active events and their current status.
Explore our other widgets
If you'd like to learn more about what widgets are available, as well as how to configure their specific options, check out Available widgets. We're enhancing our existing widgets and creating new ones all the time, but if you'd like to see a specific widget: let us know!
Dashboards that suit your space
While every role is unique, every workspace is too, which is why we designed the Communication Center to be customizable to suit your work environment. Whether you're working from home, or in a shared office, here are some examples of how the dashboard can be customized for your space.
See and hear your alerts
If you're working in a NOC, or you're part of a development team that needs to monitor a service in a shared office environment, you can customize your feeds so you never miss an incoming alert.
The Recent Events widget includes a setting to automatically mark item with a "NEW" icon and a background highlights so that you can tell from all the way across the room that new information is available. You can choose to highlight your new alerts this way for up to 99 minutes: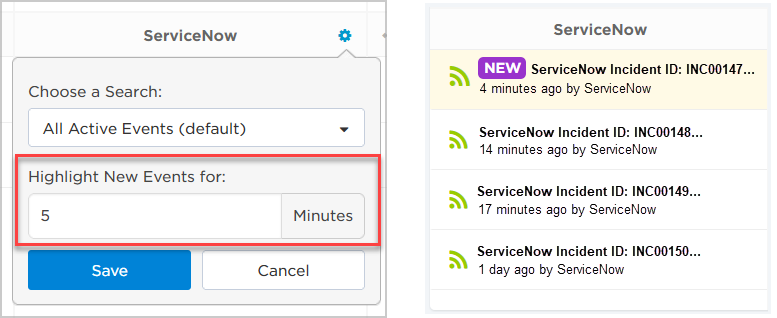 Just in case the NEW tag wasn't enough to catch your attention, you can also customize each Recent Events widget to play a different sound when a new event occurs, if someone comments on an event, or when an event flood control rule is triggered. To configure which sounds play and how many times they loop, click the Settings (gear) icon, and click Choose Sounds: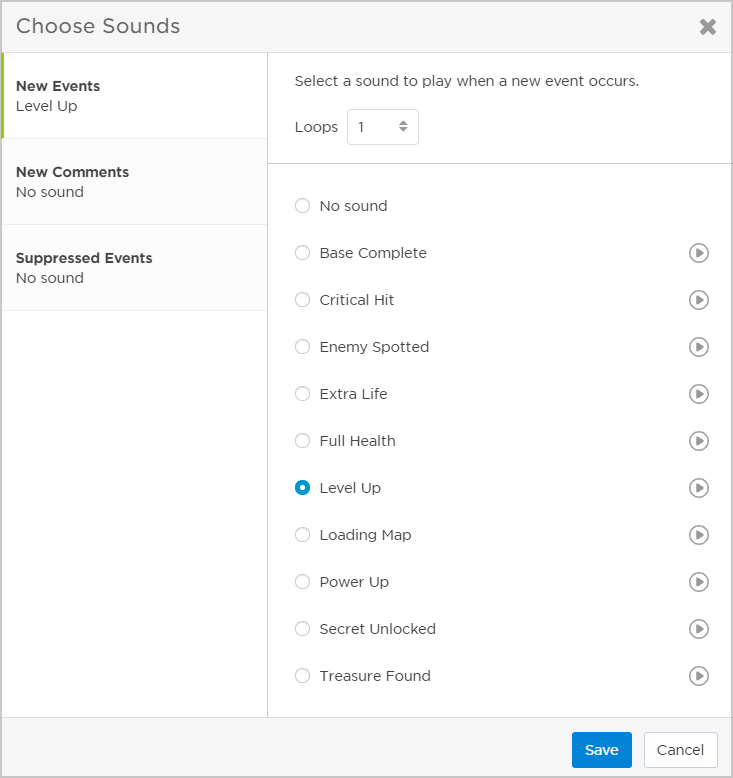 Nothing gets your attention quite like "Critical Hit" repeated three times in quick succession, trust us!
xPert tip: If you're using the dashboard as a monitoring tool for incoming signals to keep your team up-to-date, make sure your company-specific web session timeout settings are set to Exclude Reporting Pages. This way, reporting pages - including the Communication Center - won't time out while you have them open in your browser. Learn how to define company details.
Dashboards that align your team
As an incident progresses, the focus for your teams will change. To smooth this shift, Communication Center dashboards can be centrally defined and then shared across teams to standardize the user experience. This means that even a geographically-distributed organization can operate from the same playbook.
By sharing dashboards, you can make sure that all users with a specific role, or all of the users on the same team are seeing the same information when they log in to xMatters. If you have a role that requires sending a common set of messages, you might want to set up a series of Quick Link widgets that let those users access the most frequent messaging forms right from their dashboards.
To view the dashboards shared with you, select the Dashboards drop-down menu and select Show All. On the Shared with Me tab, you can star any of your shared dashboards to have quick access to them from the Dashboards drop-down: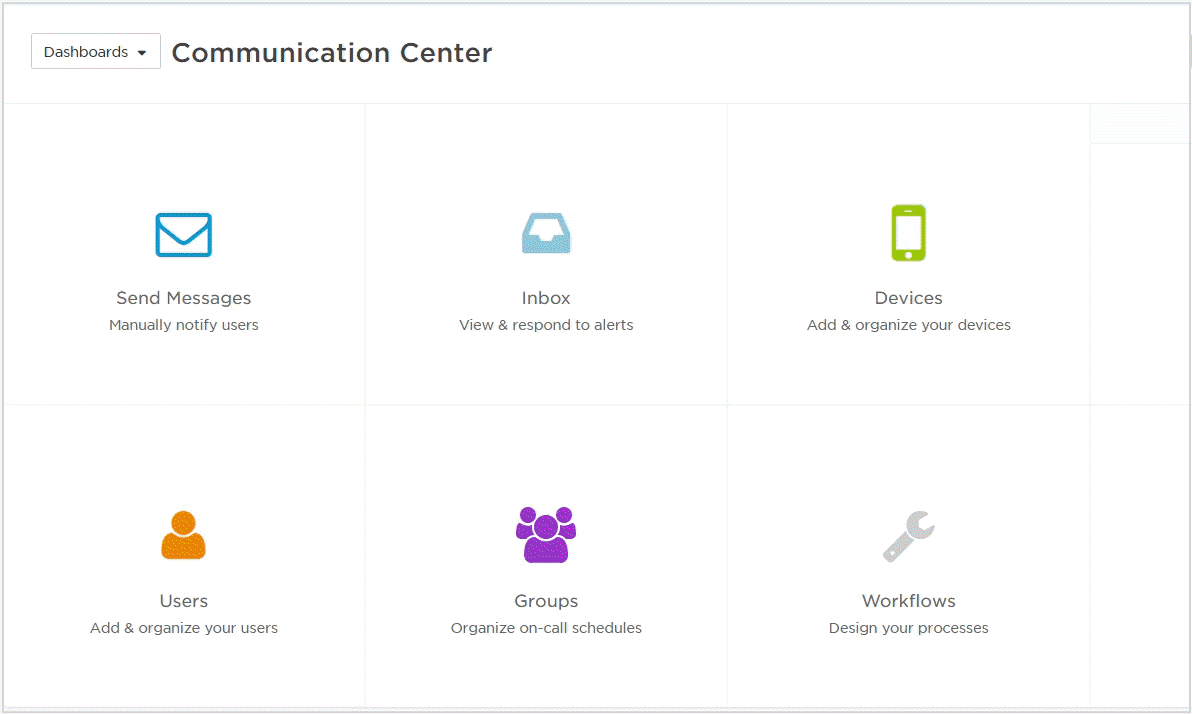 Note: Dashboard sharing is only available with the Advanced licensing plan. If you want to use this feature but don't have the right license - don't worry! Click here to see how to upgrade your plan.
Learn more about managing and sharing your dashboards.