The information in this article is the intellectual property of xMatters and is intended only for use with xMatters products by xMatters customers and their employees. Further, this intellectual property is proprietary and must not be reused or resold.
Landers, mutants, swarmers, baiters, bombers, or pods - whatever the enemy incident, the Defender release of xMatters On-Demand will help you stay laser-focused on protecting your astronauts from aliens and keeping the planet alive (or the equally noble goal of keeping your digital services up and running). Does anyone else remember the pure awesomeness of this classic horizontal-scrolling shooter game?
Speaking of awesome, this release has major enhancements for many areas of xMatters On-Demand, and includes an interface for managing your company's flood control rules, a ton of mobile features (including on-call reminders!), reporting enhancements, updates to our integration platform, as well as a brand new user upload.
Before you dive in to learn about all the improvements, here are some important dates:
Non-production environment access: Tuesday, January 29
Production environment access: Tuesday, February 12 (triggered between 10-10:30am Pacific)
Sneak Peek
As a special bonus we'll also give you a sneak peek at enhancements we're working on for a future release:
Mobile enhancements - Manage events, and view & edit comments
All Events Report response information - highlights & statistics about how users responded to an event
Jump ahead
In a hurry? Here's an overview of this doc if you want to skip ahead to something awesome:
Event Intelligence
A major theme of our last few quarterly releases is the continued evolution of our Intelligent Event Management processes. Most recently, we introduced the ability to analyze, correlate, and use rule-based filters to suppress incoming duplicate events in real-time with event flood control. In this release, we continue to build on this platform with controls for viewing and managing your company's event flood control rules.
Event flood control - rule viewer

Our initial release of event flood control allowed you to opt-in to a default 'Event Rate Filter' that suppresses events from the same inbound integration and targeting the same recipients when they occur at a rate that exceeds four events per minute. When events that meet this criteria exceed the specified rate, event flood control kicks in to suppress any additional event requests.
This default rule was based on our analysis of actual customer event flood data and balances effective protection against sudden influxes of events, while allowing real traffic to proceed as normal. In all customer cases that we reviewed, a recipient receiving more than 4 events per minute is better off viewing the events within the context of the integrated product instead of via notifications.
In this release, we're rolling out Event Flood Control to all customers, with the default event rate filter enabled for every communication plan. Don't worry: we're also adding a new event flood control interface to xMatters On-Demand to allow authorized users to disable, enable, and delete event flood control rules. This means it's now possible to take advantage of event flood control without having it apply to all of your company's inbound integrations.
Show me the rule viewer!
The animated screenshot below shows you a preview of the new event flood control interface.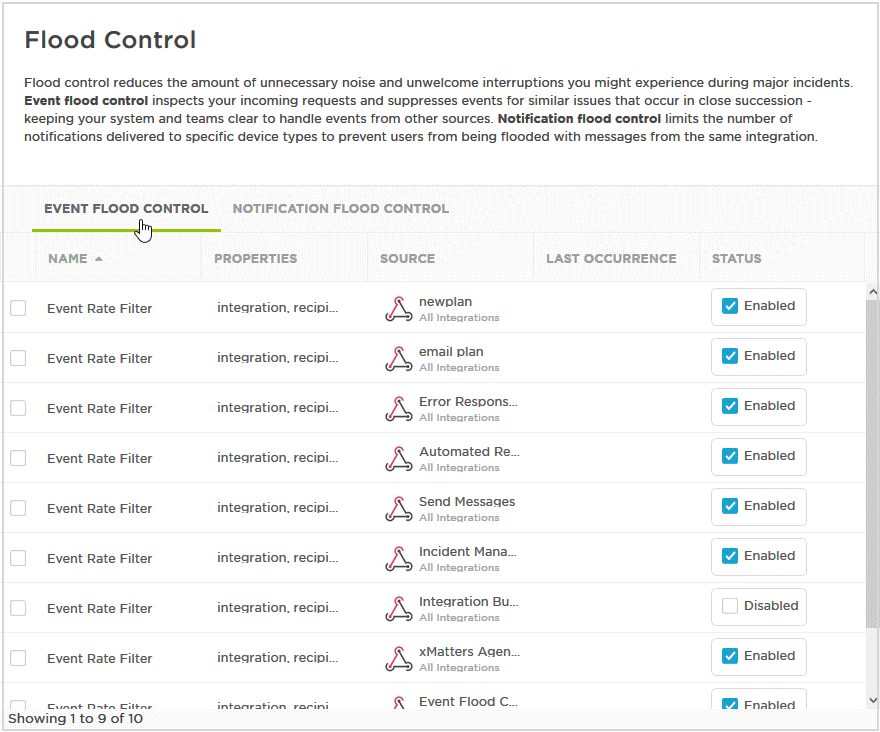 As you can see, we've created a new Flood Control section on the Developer tab that conveniently contains the settings for both event flood control and notification flood control.
The Event Flood Control tab displays a table of the event flood control rules for your company, including the following information for each rule:
Name. The initial release of this feature creates the default "Event Rate Filter" for each of your communication plans (later on you'll be able to create your own filters - more about that below).
Properties. The properties used to correlate event requests, and the rate of incoming event requests at which suppression occurs. For the default filter, this includes event requests targeting the same 'integration' and the same 'recipients' more than four times in one minute.
Source. The communication plan or built-in integration whose inbound integrations the rule applies to.
Last Occurrence. The date and time this rule last suppressed events.
Status. A toggle control for enabling or disabling the rule.
Event flood control permissions
While you can grant any user the ability to create new integrations, being able to edit event flood control rules is limited to users that have access permission to the communication plan, and a role which includes the ability.act.ManageFloodControl permission (this includes Company Supervisors and Full Access Users). This means newer users are less likely to flood your system since their integrations will inherit the default event rate filter, which they cannot edit without assistance. So feel free to share the power of xMatters with other teams!
More goodness is on its way
Over the next quarter, we'll be releasing additional functionality to let you create your own event flood controls filters and edit the rules of existing filters.
For example, maybe you'd like to do more granular filtering and suppression, such as by alert type (e.g., network issues) or sub-system (e.g., to differentiate between Nagios and Zenoss alerts being fed into your Moogsoft monitoring system). Or perhaps you'd like to define different flood threshold parameters, such as >10 'high' priority events every three minutes for a specific communication plan.
Using customizable event flood control settings, you'll be able to define your own rules, such as:
The communication plan or integration you want the filter to apply to.
The event properties you'd like to compare to determine if it's a duplicate event.
The rate you consider a flood, which is a rolling window of the number of events per time period.
How often you'd like to remind recipients that an event flood is occurring.
The following mock-up gives you an idea of what these controls might look like in a future xMatters On-Demand release: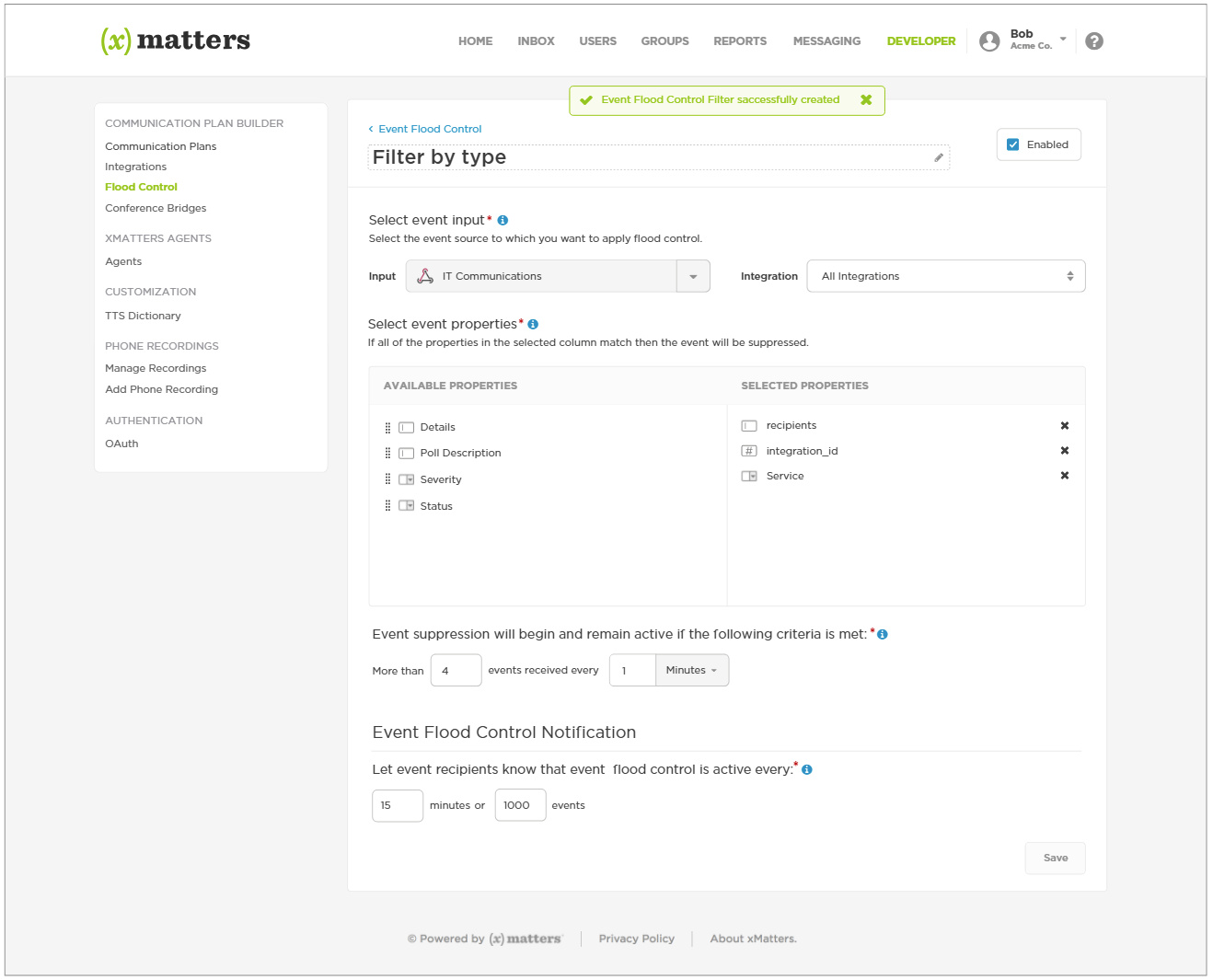 Mobility
The major themes for our mobile platform in this release include the launch of our much-anticipated on-call reminder service, more convenient access to the app with fingerprint and facial ID, and improvements to how xMatters is displayed on newer large-screen devices. But that's not all! You'll also now have an improved experience during network connectivity issues, when using temporary absences, and when viewing the monthly My Schedule calendar. Scroll down for all the details - and for sneak peeks of additional enhancements on their way soon.
On-Call Reminders

Availability: February 12
Can we get a drum-roll please... because on-call reminders are finally here! After much anticipation, we're pleased to announce that with the Defender release you'll be able to use the xMatters mobile app to configure On-Call Reminders for your upcoming shifts.
As you can see in the screenshots below, the On-Call Reminders screen in our iOS and Android apps guides you through the configuration process in three easy steps:
When would you like to be reminded? Select an interval from 1 minute to 14 days
On which devices? Push or Email (or both)
For what shifts? All, Primary On-Call, or Primary & Secondary On-Call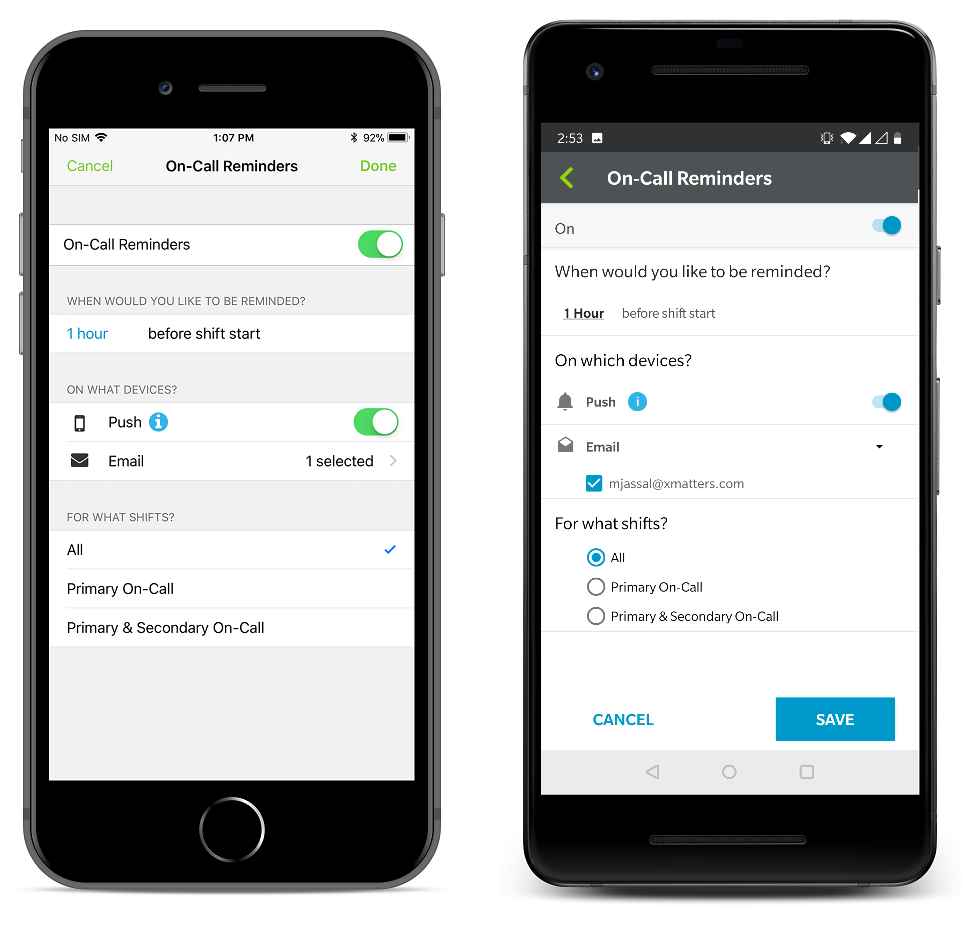 Once you've got that set up, you'll receive reminders before your on-call shifts that include the name of the group and the start and end times of your shift.
Here's an example of what an on-call reminder email looks like: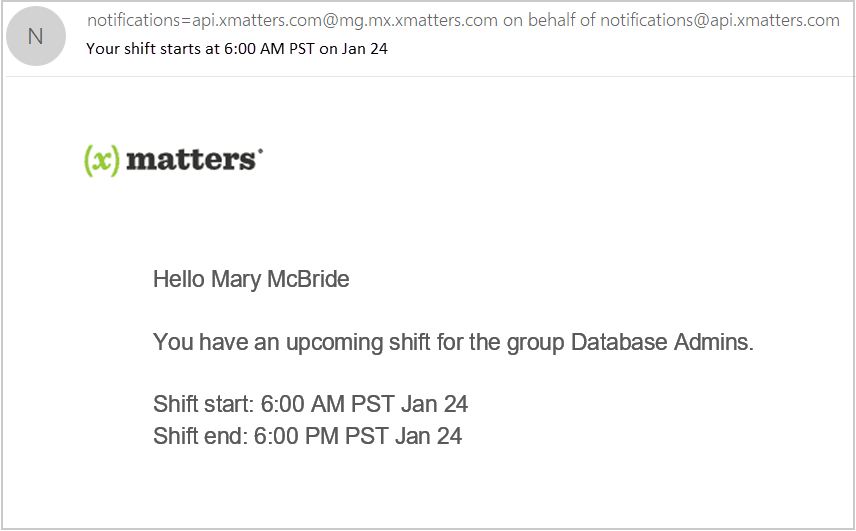 And here's what you'll receive as a push reminder on iOS and Android. If you tap on the push notification, you'll be taken to your On-Call schedule in the app: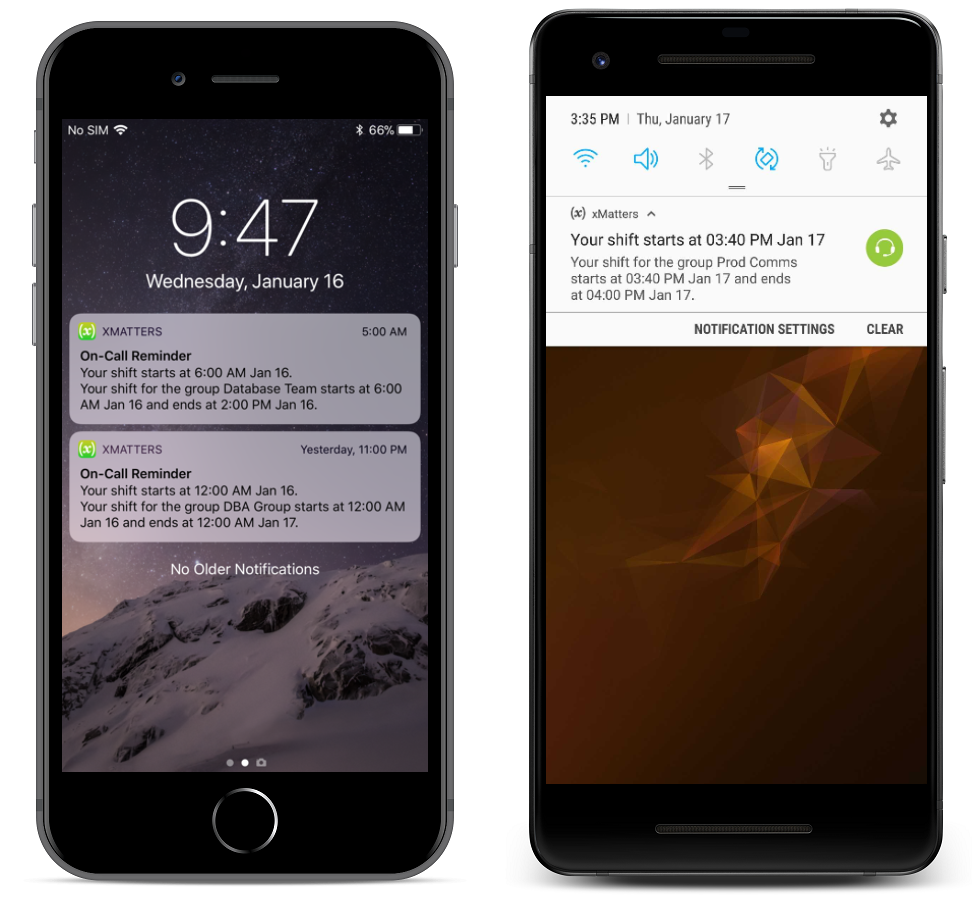 Biometric passcode (iOS Touch/Face ID)

Say goodbye to manually typing in your 4-digit passcode every time you access the app. You can now choose to unlock your accounts with your fingerprint or face ID (if your device has that capability). This gives you an easier and faster way to view your alerts and resolve incidents quickly.
We've implemented this functionality for the iOS app - Android users, it's coming soon!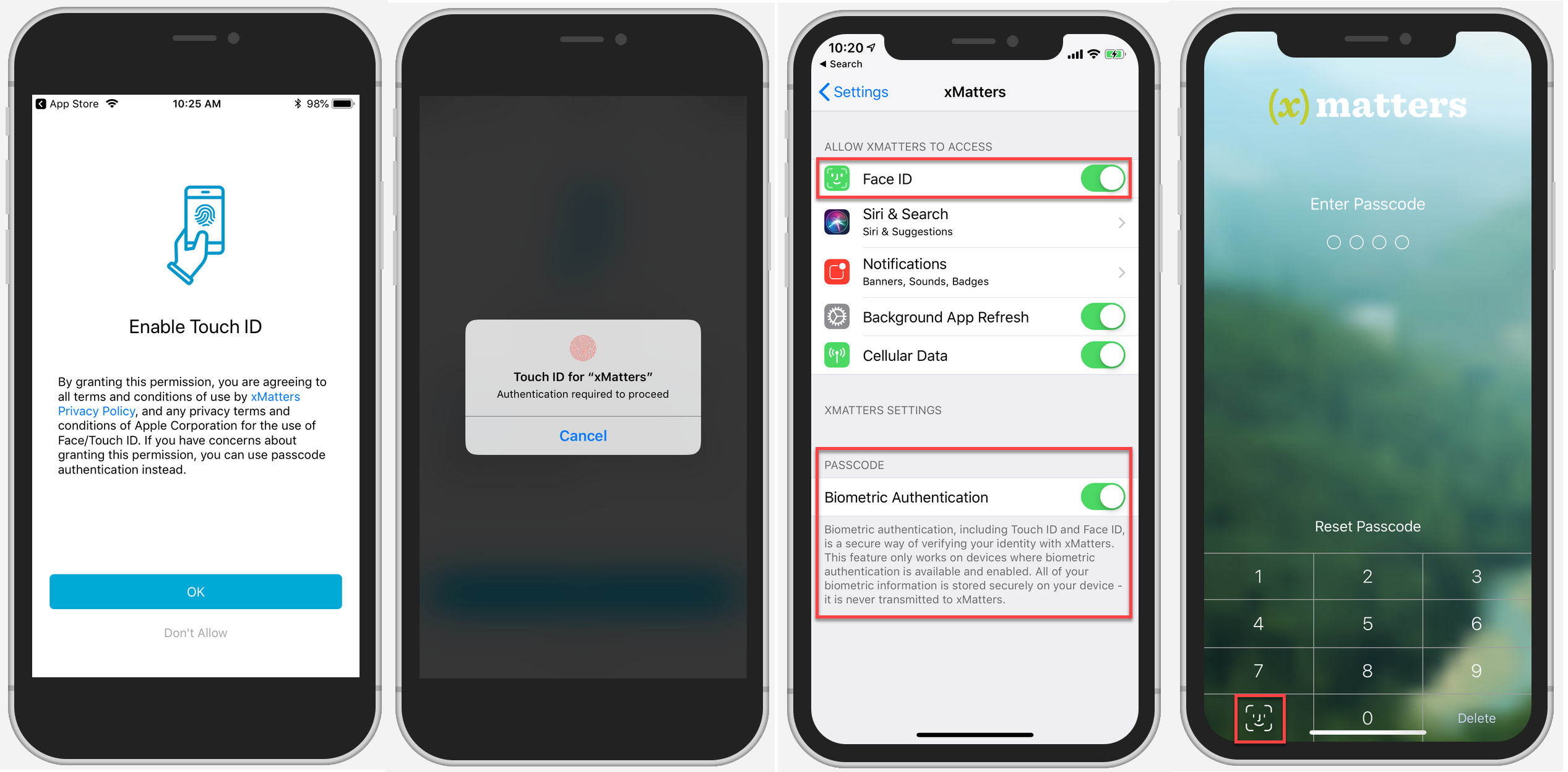 Support for larger device screens (iOS)
We've made styling updates to our iOS app to accommodate larger device screens, particularly those like iPhone X with "the notch" (if you've got one, you know what we're talking about). Our updates reflect the latest iOS app styling guidelines, with an unimpeded view of all app elements, larger headers, and better scrolling.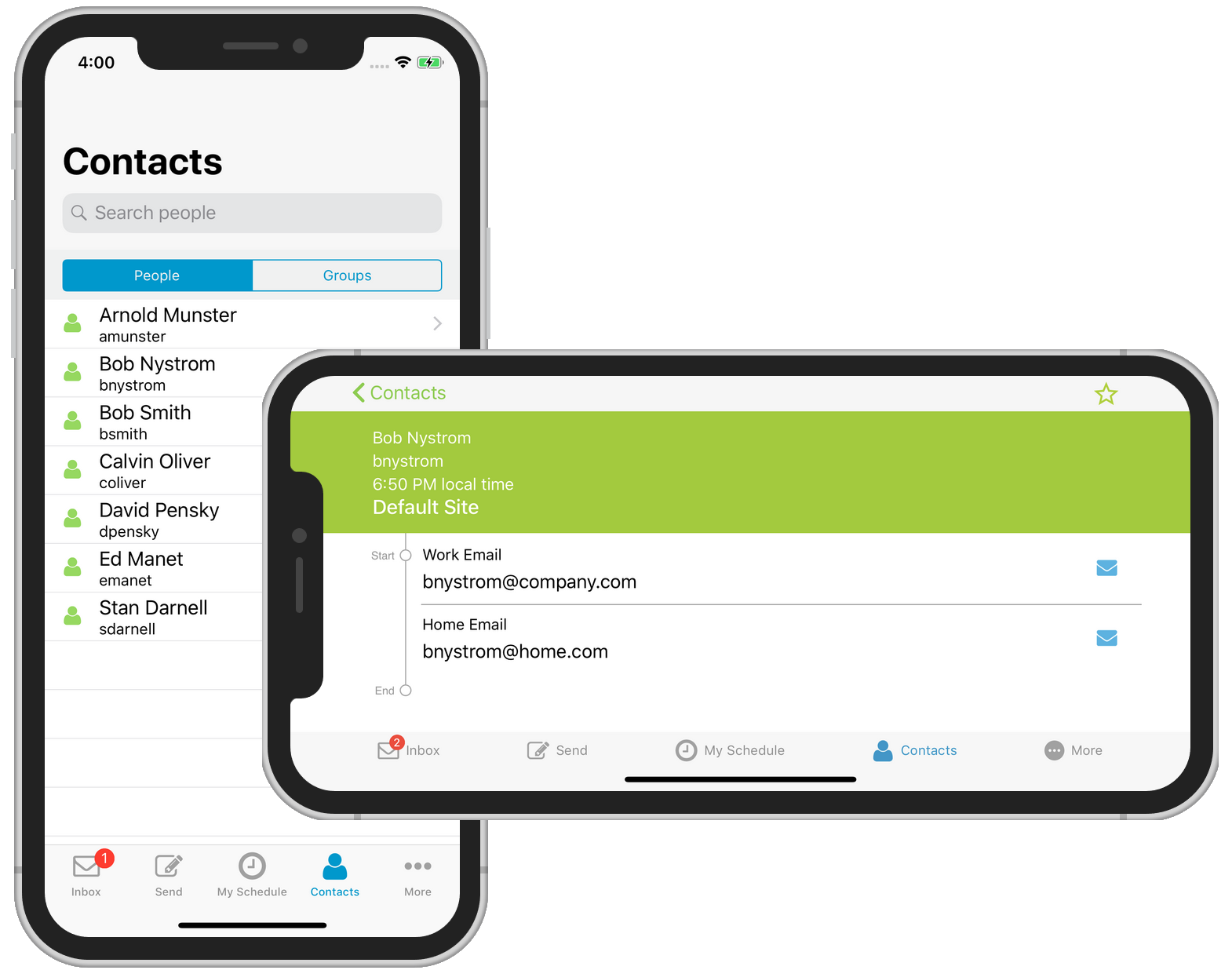 Improved experience during network connectivity issues (iOS)
We've improved the experience you'll have with our iOS mobile app when you lose network connectivity. The app now lets you know when you don't have an internet connection and attempts to reconnect every five seconds.
If you're signed into the app when you lose connection, we'll keep you on the current screen and preserve your input data so you can continue where you left off once your connectivity is restored. If you'd like to attempt to connect sooner than the default five-second retry interval, you have the option to to tap Reconnect? at the top of the screen.
If you don't have a connection when you're attempting to sign into the app, we'll let you know via a pop-up window, and the app will automatically continue to try and reconnect: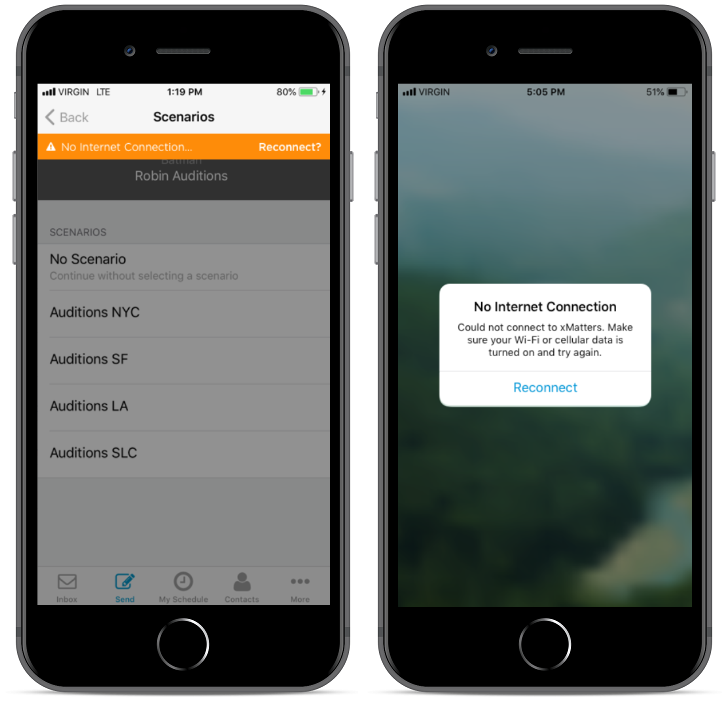 Display temporary absences on group overview (iOS)

In our last quarterly release, we made it possible to add a temporary absence to your on-call schedule using the xMatters iOS app. Following up on this functionality, we've updated the group timeline in the app to display these temporary absences, so you'll always have visibility into who's on-call during an incident.
Now when you view a group's on-call schedule, you'll see when a user is absent and who their replacement is - and whether they have 'No replacement' for all or part of their shift. Simply tap on the name of a user to retrieve their contact information.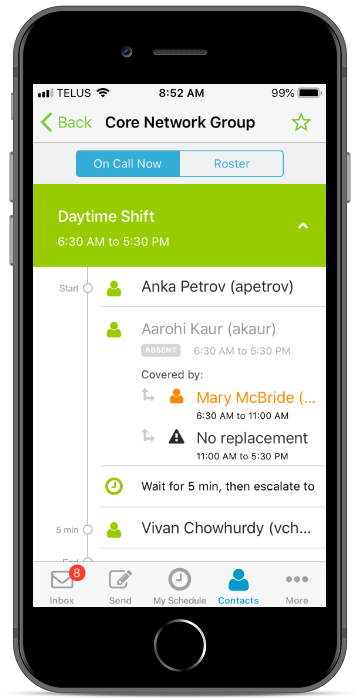 Don't worry, we haven't forgot about our Android users! You'll see temporary absences make an appearance in the Android app soon.
My Schedule usability improvements (iOS)

We've improved the usability of the monthly My Schedule view by displaying the 'dot' that indicates you're on call for any of the days visible on the calendar, and not just for days in the currently displayed month.
Previously, the calendar didn't indicate if you were on-call on days from the previous or upcoming month that were visible at the start and end of the monthly calendar - this could lead you to think you weren't on-call if you didn't scroll the calendar ahead or back to check.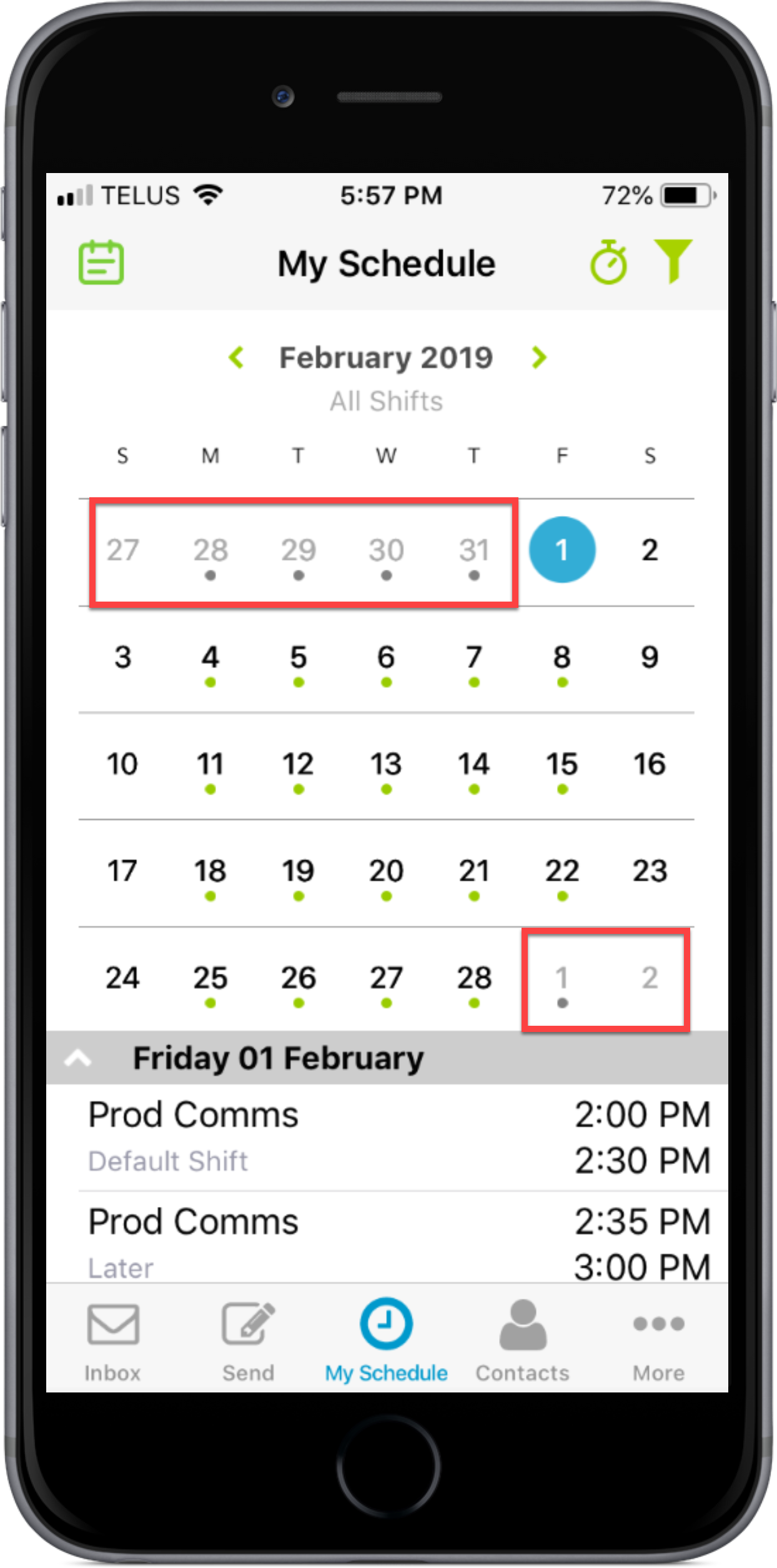 As you're using this updated feature, you'll also notice smoother transitions when switching from month to month, or between monthly and weekly views.
Sneak peek: Manage events from the app

With all the recent enhancements to event management in xMatters On-Demand, wouldn't it also be amazing if you could manage events from the mobile app? Heck, yes!
We're currently adding the ability for users to terminate, suspend, and resume events from our mobile apps. The following mock-ups give you an idea of what this functionality might look like for managing a single event - or for managing multiple events at a time: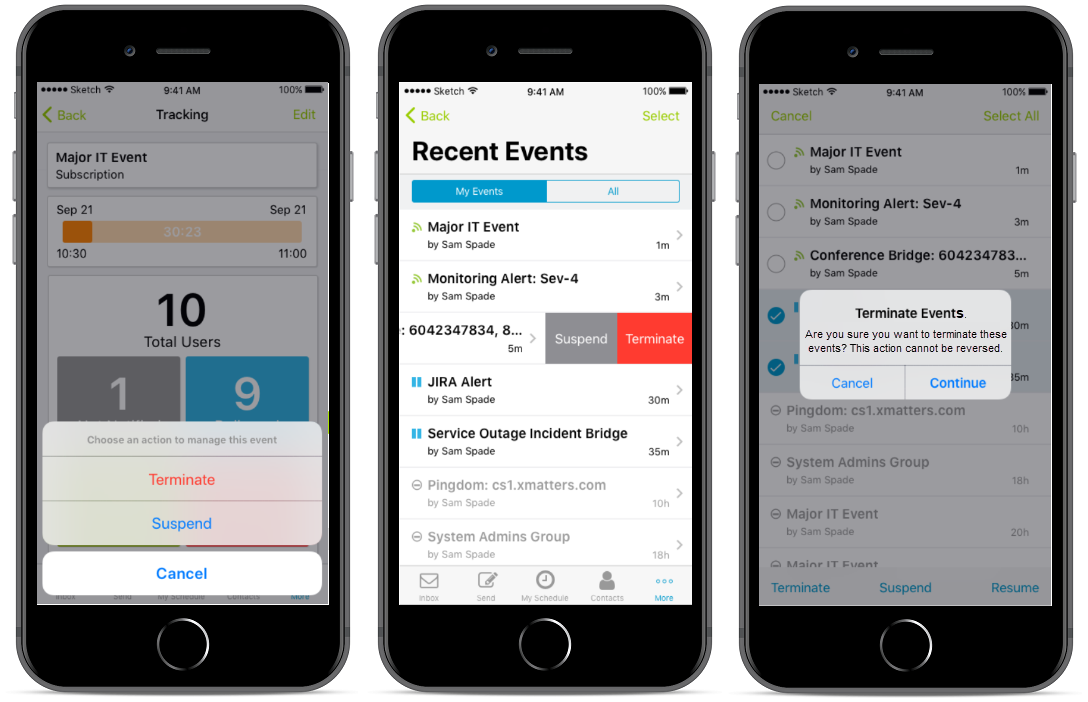 Sneak peek: View and add comments to an event
Wow, that was a lot of mobile enhancements! As a reward for scrolling this far, here's one more new feature: it'll soon be possible to view the comments for an event within the mobile app. If you're managing an incident from your phone, this means you'll be able to monitor the incident's progress or see whether anyone requires assistance.
The app will show you how many comments have been added to an event, and it'll also keep you updated if new ones get added. You'll also be able to contribute to the event by adding your own comments to the conversation. Here's an early look at what this might look like:
Reporting
Extended data retention was a major theme in our last quarterly release when we introduced our new All Events report. Now that these elements are in place and xMatters has started retaining all of your event data, we can focus on continuing to enhance our reporting mechanisms to give you greater insights into your past events. In this release, we add notification highlights and statistics to the All Events report, and also equip the report with helpful messaging when customers reach the data access limits of their pricing plans.
Notification highlights and statistics for historical events

We've enhanced the All Events report with details that incident managers can use to gain insight into who was - and who was not - notified for an event. You'll see the following two new sections on the Overview tab of the All Events report:
Notification Highlights
This section provides an at-a-glance high-level summary that an incident manager can use to see the total number of users that were notified out of the total number of users targeted, the time it took for the first notification to be sent, and how many users failed to get notified.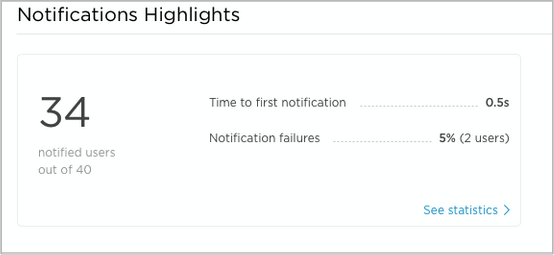 Notification Statistics
Here an incident manager can view the notification distribution. This is useful for seeing how many users have been notified but have not yet responded, and for understanding why users may not have been notified (i.e., if it was because they couldn't be reached, or because the notification failed).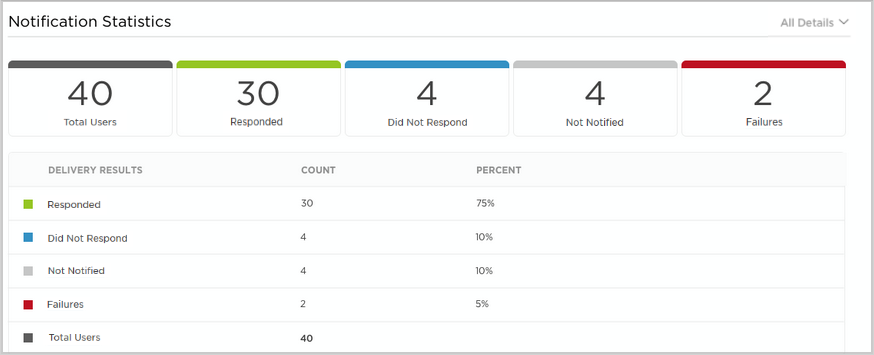 Ideally, an incident manager would be able to drill into more detail about the specific users in each of these categories. We're in the process of adding a User Delivery tab to the report that allows managers to link to this information from the Notification Statistics section. Stay tuned!
All Events report data availability limits
As you might expect, not all of our customers have the same data requirements. The beauty of our new data retention capabilities is that access to historical data is based on your pricing plan - so you only pay for the data that you need.
How do your users know when they've reached the data limits of their company's pricing plan? If a user queries the All Events report for a date range that exceeds their data visibility limits, we'll let them know that a portion of their requested data is not included in the returned results:

Sneak peek: Response highlights and statistics

Our next additions to the All Events report are Response Highlights and Response Statistics. Similar in design to the notification information above, these sections will provide incident managers the information they need about response rates. This includes highlights about how many people responded, who was first to respond and how quickly they did so, the number of users for which no response was received, and a breakdown of response counts for each response option.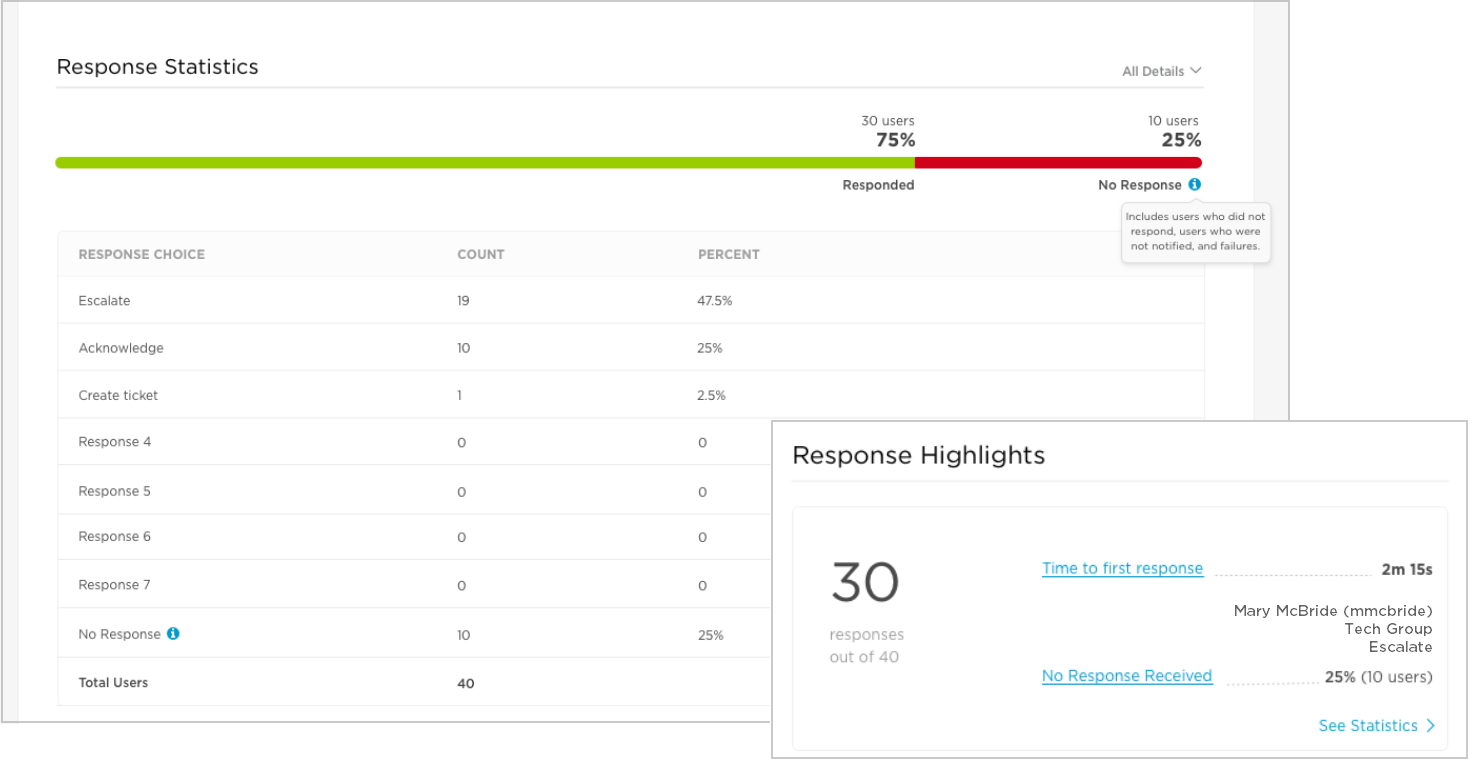 Integrations & Development
If you've been a customer of ours for a while, then you're probably aware of how much we love integrations, and helping our customers get integrated. There's not a release that goes by that doesn't include enhancements to our Integration Platform. For example, in this release we bring you updates to several of our integrations, an impressive assortment of new xMatters REST API enhancements, as well as a couple of great xMatters Agent usability improvements.
Something big this way comes!
We're working on something else, too... something big. The xMatters Marketing folks won't let us give you the details yet, but we begged them to let us tell you that we're building something absolutely unique in our market segment that's going to change the way you orchestrate your incident management toolchains. We'll tell you about it the moment Marketing lets us off our leash!
Integration Directory

The Integration Directory streamlines the work required to integrate your tools with pre-built integrations that are easy to find, configure, and manage. The main enhancements to the Integration Directory for this release include certification of our MS Teams Bot, and improvements to two of our existing integrations.
New and updated integrations
Microsoft Teams
In our last quarterly release, we announced an xMatters Bot for use with Microsoft teams. Since then, we've refined the bot to create a more simplified and secure installation and configuration process. And, we're pleased to announce we've almost completed the Microsoft certification process.
Users in your Microsoft tenant can use the xMatters Bot to find xMatters groups, see who's on call, and invite on-call members to a channel by sending an invitation to their preferred device. Delivery notifications and responses are updated in the Microsoft Teams channel as part of the thread, so the channel is kept informed.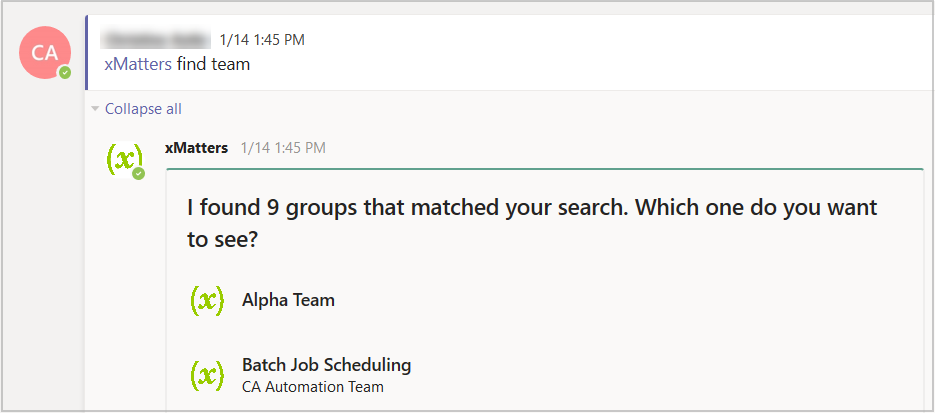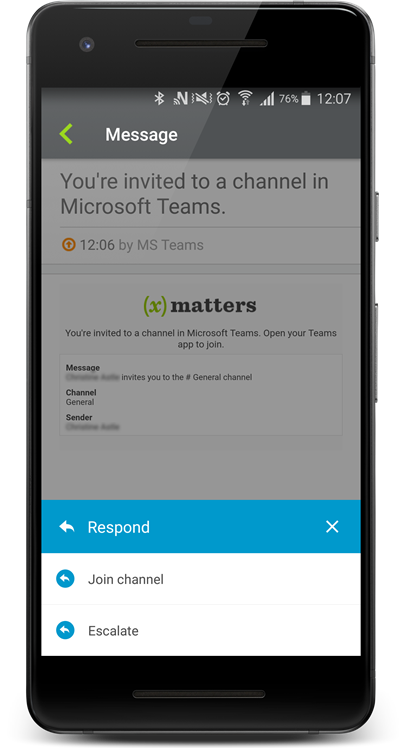 Remember that big news we hinted at above? Well, wouldn't it be cool if it had something to do with building toolchains, and being able to do things like post updates in a Microsoft Teams channel? Whoops, we've said too much - please don't rat us out to Marketing!
SignalFx
It's now easier to configure a built-in integration with SignalFx. When you're setting things up on the SignalFx side of things, instead of using a generic webhook you can select the xMatters tile from the available notification services:

This brings up a customized configuration screen where you can paste the URL that SignalFx will use to send requests to your xMatters integration: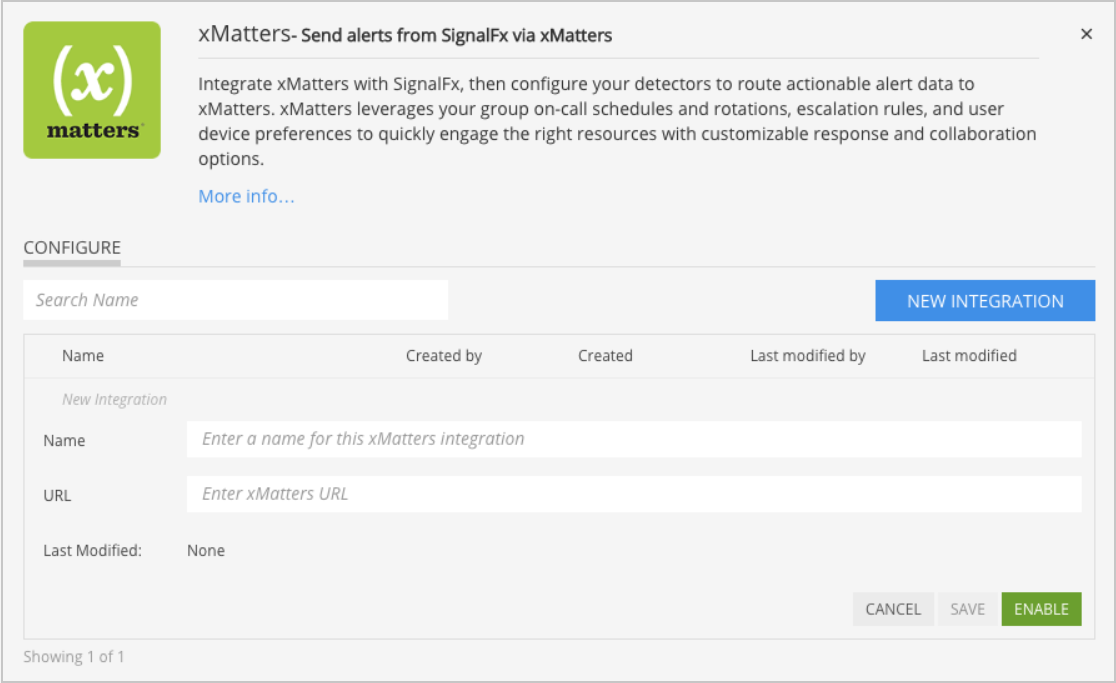 The latter screen also keeps all your xMatters integrations in one place in SignalFx so you don't have to search through a list of webhooks if you need to update one of your xMatters integration URLs. The xMatters side of the configuration process for a built-in SignalFx integration remains unchanged.
ServiceNow (version 5.2)

A new version of the xMatters application for ServiceNow is now available from the ServiceNow Store.
We've updated the "Engage with xMatters" feature to make it easier to find people and groups when you invite them to collaborate. Now when you search using multiple keywords the results return only names that contain all of the keywords (instead of any of them) - this narrower search returns fewer and more useful results. And, the more keywords you supply, the more specific the results become.
We've also enabled the number of search results to be configurable, so organizations with many groups can have up to 200 suggestions visible in their recipient lists:

For upgrade or installation instructions, feature and update descriptions, and a list of issues addressed in recent releases, see the ServiceNow integration guide here.
xMatters REST API

We continually enhance our xMatters REST API calls to replace existing SOAP and older REST methods. These calls not only support customer integration needs, they're also the foundation for data access by our mobile clients, the web user interface, and other key xMatters services.
xMatters REST API enhancements
In this release, we've enhanced the xMatters REST API with new endpoints that provide access to more information about integrations, shared libraries, subscription forms, and temporary absences. We'll also provide you early access to historical data for several endpoints in the xMatters REST API shortly after the Defender release.
New endpoints
Get integrations
We've enhanced the xMatters REST API with the ability to look up information about your inbound and outbound integrations:
Get shared libraries
In a previous release, we added the ability to get shared libraries from the xMatters REST API. In this release, we've followed that up with the ability to POST shared libraries:
Get subscription forms
You can use subscriptions to stay informed about certain types of events that occur in your system, even if you're not included as a recipient. The xMatters REST API now includes the following new endpoints that let you search and retrieve information about the subscription forms available in your company:
Temporary Absences
We've made a lot of updates to Temporary Absences over the last year, including allowing replacements to be optional, and being able to configure absences from the xMatters mobile app. And, we didn't stop there... it's now also possible to create and manage temporary absences programmatically using the xMatters REST API:
Historical Data Access
A major enhancement to the xMatters REST API that we're currently working on and will roll out as it becomes available (anticipated to be be shortly after the Defender release) is the ability to access historical data:
Historical on-call data. You'll be able to use the /on-call endpoint with a timeframe in the past to return the shifts and users that existed for that group at that time.
Point-in-time data. We're adding a new at parameter to our endpoints that you can use to retrieve data in your system as it was at that point in time, rather than current runtime data.
For more information about historical data access via the xMatters REST API, see the following resources:
What's next?
Over the next quarter you can expect to see new REST web services that provide access to more information about communication plans, like form scenarios and communication plan properties. We'll be completing our work on remaining endpoints to manage subscriptions, and our new user upload. We'll also continue to expose more historical event and system information through various existing endpoints to support new features related to the All Events report.
You can learn more about the xMatters REST API in our online help.
xMatters Agent

The xMatters Agent is a service you can install on a local system to process Integration Builder logic behind your company firewall. This allows systems behind your firewall to trigger and enrich events in xMatters, and enables integrations to communicate with systems that cannot be accessed externally. In this quarterly release, we've added the following helpful enhancements to the xMatters Agent:
More detailed agent information
Ability to manage scripts without restarting the agent
More detailed agent information
We've updated and added fields in the Details section of xMatters Agents to give you and other people in your organization greater insight into your agents' configuration information:
OS Name: If your integration is running on Linux, this field now displays full flavor & version info, such as "Ubuntu 18.10".
Address: We've renamed the "URL" label to "Address" to better describe that this field displays the IP address of the server your agent runs on.
Last seen (new!): Need to know when your agent went offline? The "Last seen" field displays the date and time an agent was last connected to xMatters (if it's online the status will be "Currently connected").
Port (new!): By default, the xMatters Agent is installed using port 8081. If you configured your agent to use a different port, it's now easy to identify it.

Manage scripts without restarting the agent
Previously, when you'd assign (or reassign) a script to an xMatters Agent in the Integration Builder, the web user interface would prompt you to restart the agent, which was a bit annoying. Well, now you don't have to! If you make edits to your script or reassign them to different agents, the changes take effect automatically - no restart required.
Data Management
A critical step to managing data in any system is being able to successfully get your data into the system, which may or may not be an easy task. In xMatters, we'd like make the upload process of your data management as pain-free as possible. To that end, we've completely redesigned how user data is uploaded into xMatters On-Demand.
New User Upload

The Defender Release launches a new User Upload that's built on a cloud-based interface and conveniently allows for the automation of data uploads without requiring you to install a client behind your firewall. And, it's completely backwards-compatible with our existing CSV format - which means you can start using it right away!
The new User Upload is available from the Company Reports section of the Reports tab in the web user interface. To get started, click + Create Upload from the main report screen and drop in or select the .csv or .txt file that you want to upload: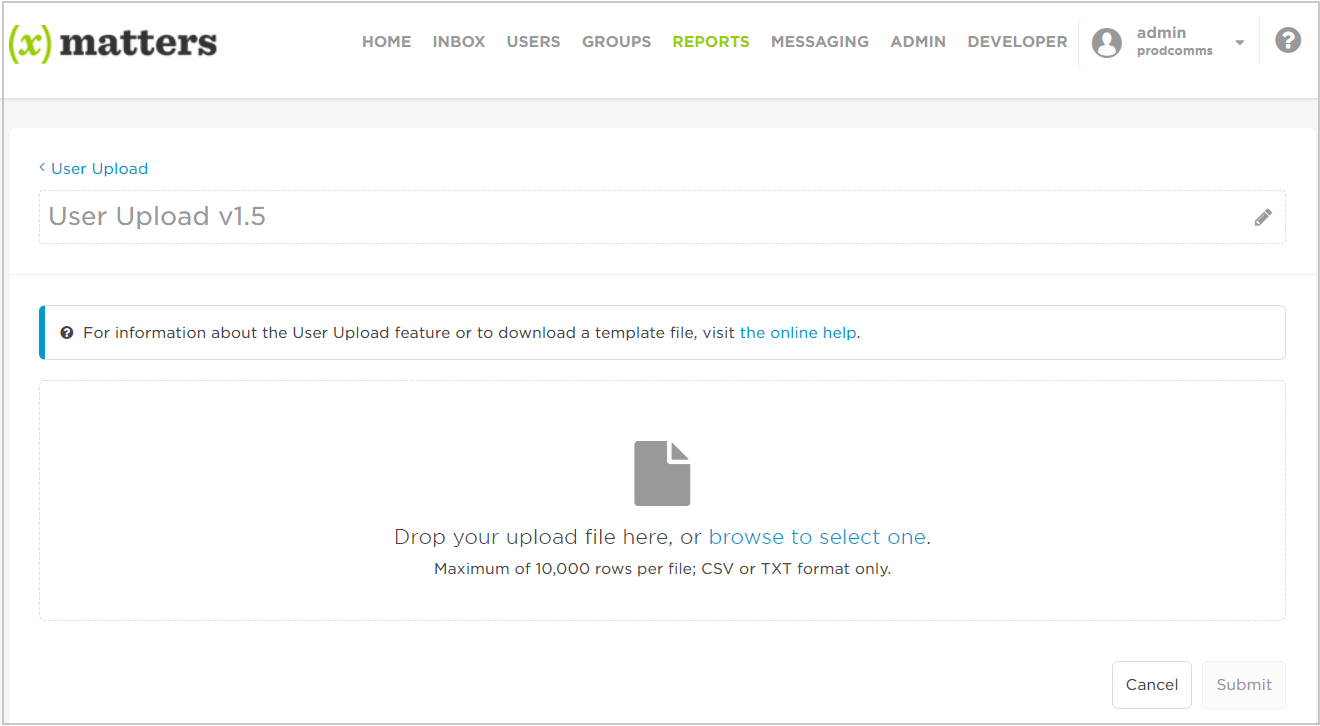 You'll be immediately taken to the main User Upload screen which displays a list of all the user upload jobs that have been submitted for your company. You can sort jobs by name, start time, status, the last time the status of the job changed, the user who initiated the job, and size. The report also includes a date range selector that you can use to find jobs uploaded during specific time periods.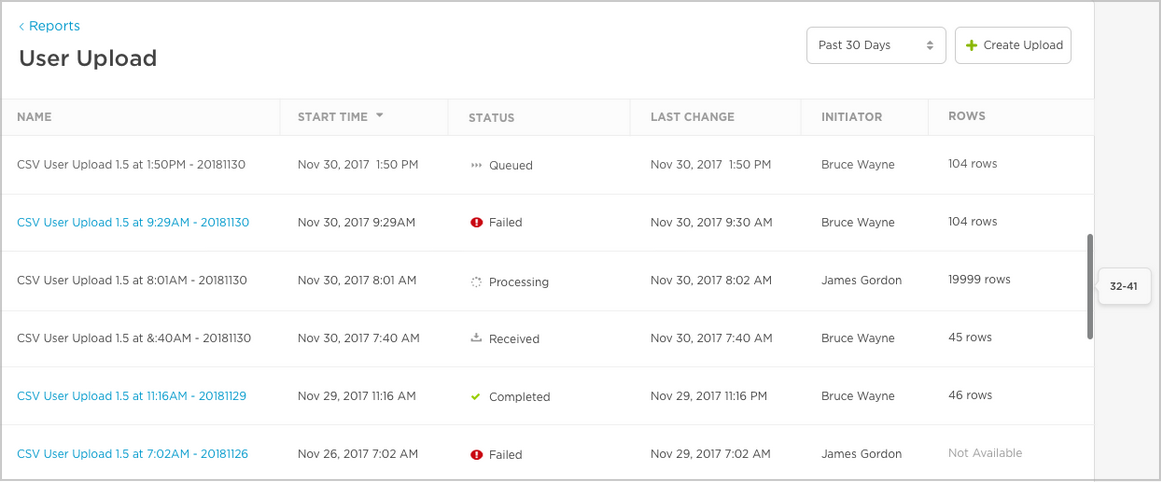 Once xMatters starts processing your job, you can click its name to view its progress: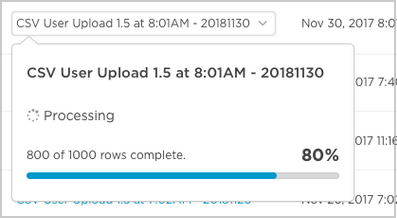 Once a job has completed, its name becomes a hyperlink that you can click to drill into its details. On this screen, you'll find a summary of the upload details and results, and an exportable list of errors and warnings to help you easily troubleshoot any problems identified with your data: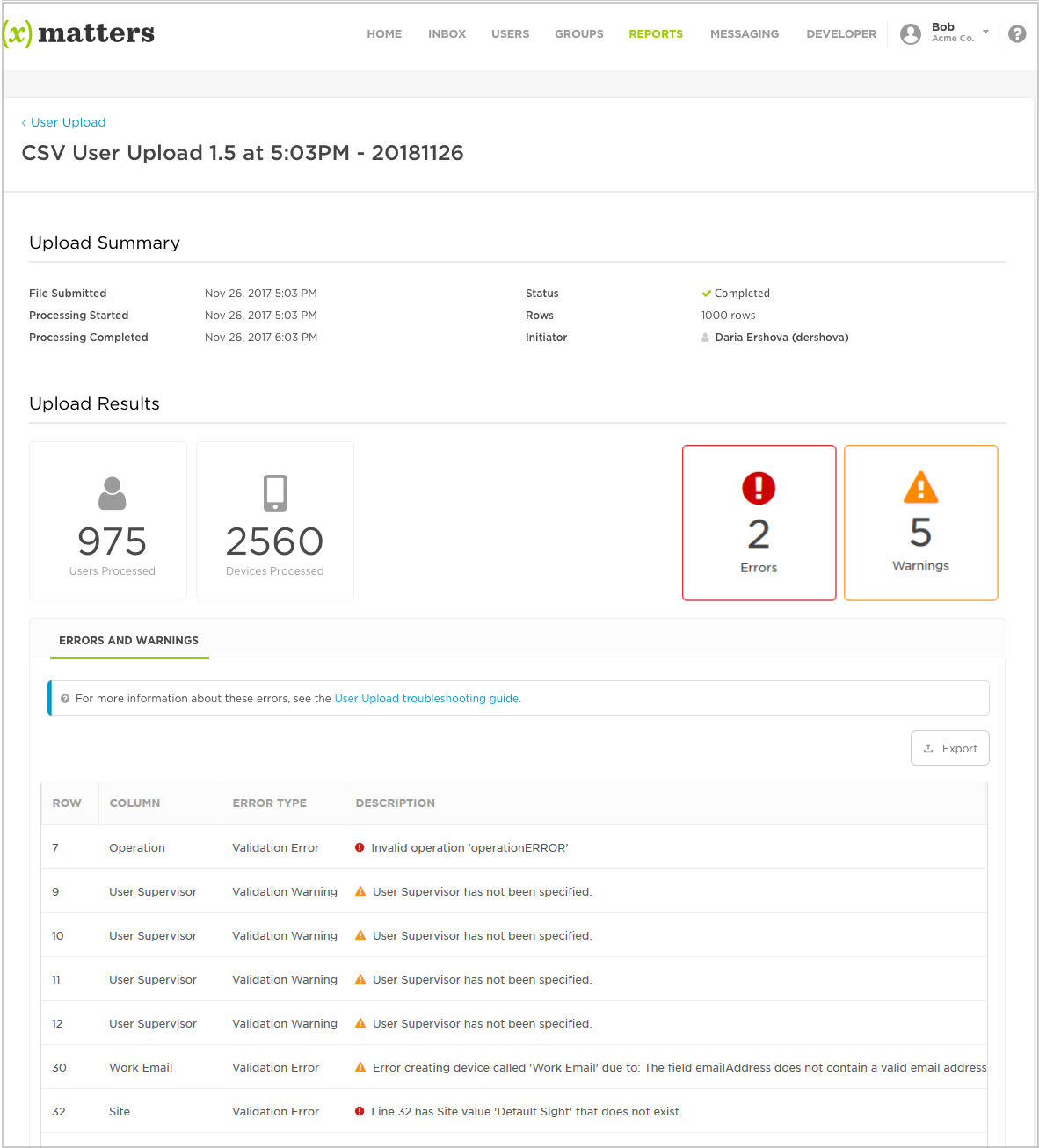 Peace out, legacy User Upload!
This new user interface for uploading users into xMatters is replacing our legacy User Upload, available from the Configuration menu on the Admin tab. For existing customers, the legacy interface will remain available for at least two release cycles so administrators can transition over, but as you can see - we strongly encourage you to use our new and improved version: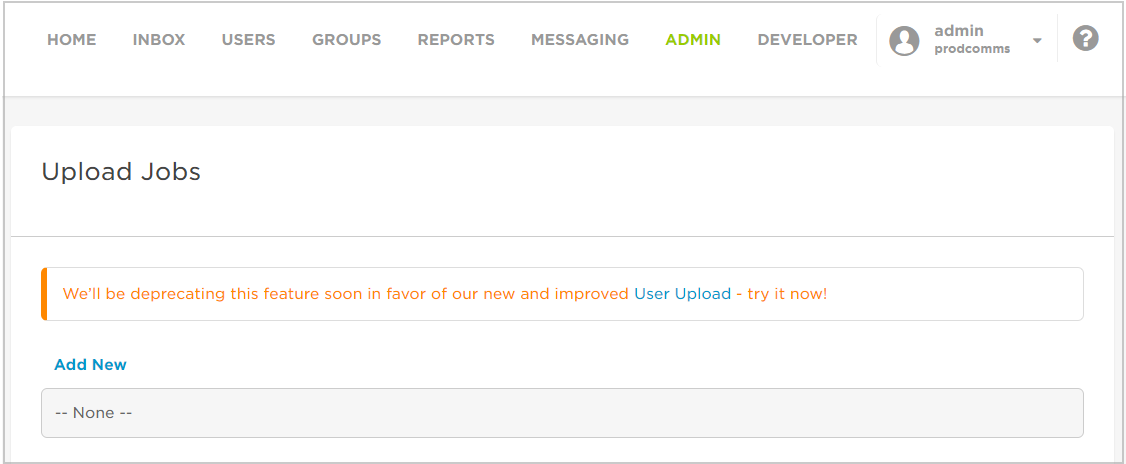 Other Product Updates
We can't help ourselves. We're always on the lookout for additional ways to improve xMatters, beyond our main release themes. We think you'll find the following usability updates quite, uh... useful.
Changes to SMS validity periods

In this release, we implemented a new two-hour validity period for SMS messages. For the full details about this change to our SMS service, see Helping SMS stink less.
TL;DR? Recent experiences (such as during the California wildfires) have shown that untimely SMS messages can be misinterpreted and cause confusion - exactly what you don't want during a crisis. We've consulted with providers and customers to find a solution that best addresses this issue while also continuing to provide reliable service that SMS users can depend on for their day-to-day activities.
Now, when xMatters is unable to deliver an SMS message to your device for two hours because it's unreachable, the message will expire and be discarded. That means you won't receive the message when your phone becomes available again. BTW, if SMS is currently your preferred notification method, we recommend that you add a backup device like the xMatters mobile app, available for Android and iOS.
Ability to dismiss DST warning

In our Centipede Quarterly Release, we introduced a new Daylight Saving Time warning into xMatters On-Demand. This feature warns you when you've got shifts in different time zones so that you can prepare for coverage gaps (or overlaps) that might occur in your schedule.
In this release, we added the ability to dismiss these warnings from the group schedule and shift details screen:

Updates to SMS invalid response message

Sometimes a user responds to an SMS message with a word the carrier is unable to interpret because it doesn't correspond to any known keywords (like STOP or HELP). This most commonly occurs when a user types out their response choice (e.g., "ACCEPT") instead of replying with the number associated with the response choice.
When this happens, we send back an error message letting the user know that we couldn't process their response. We had feedback that the existing message, "xMatters Alerts: invalid keyword. Please try again. Std msg rates apply", could be improved to help users properly submit their response.
We're always happy to make things easier for our users to understand, so we've updated the message to clarify what they should do: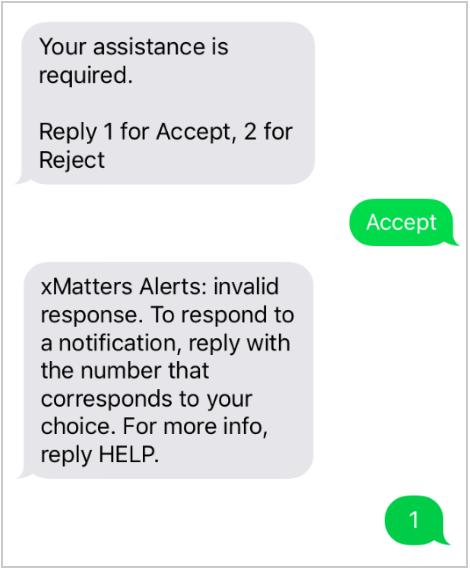 Temporary absences don't remove initial time delay

During a scheduled temporary absence, xMatters automatically begins notifying your replacement - if you've got one. If you didn't set a replacement, xMatters notifies the next person in the group escalation, skipping any delay that's set up after you. But what if you're at the start of the escalation process and there's a delay before you?
We're aware that some of our customers intentionally include a delay at the beginning of a shift because they'd like to wait a short period before xMatters begins notifying users. To support this, we've updated our group scheduling behavior to respect time delays at the start of a group schedule, even when the first user in line is absent without a replacement.
Early Access Program & feature delivery update
The goal of our current delivery model for xMatters On-Demand is to balance feature delivery with customer change management processes. This means providing visibility into upcoming changes for customers that want it, while allowing other customers to have a more standard non-production environment that matches production.
If you aren't familiar with the current model, we release features only visible to admins/developers at a faster pace than the quarterly release process. These features should not impact end users until a customer provisions them into their communication plan. Customers can opt their non-production environments into the Early Access Program to see features and functionality enhancements that impact end users before they're released on a quarterly basis. All customer non-production environments are updated two weeks prior to official quarterly production release to allow for testing and training on new features.
We regularly reevaluate and improve our deployment processes to ensure they reflect industry best practices and customer feedback. For more information about our deployment process, see our On-Demand Deployment Process and Early Access article. We'll update that document whenever we make a change, and let you know about the change through other appropriate channels.