This article describes the process of configuring Single Sign On (SSO) with Azure. While attempting to complete the setup in Azure, some users noticed a few inaccuracies in the Microsoft documentation.
Here's what you'll see in Azure, and what's required to configure SSO properly with xMatters:

In the xMatters OnDemand Domain and URLs section:

Identifier: Remove the final backslash.  For example: https://contuoso.au1.xmatters.com.au
Reply: The reply URL is the SAML link from the metadata. For example: https://contoso.au1.xmatters.com.au/sp/SSO.saml2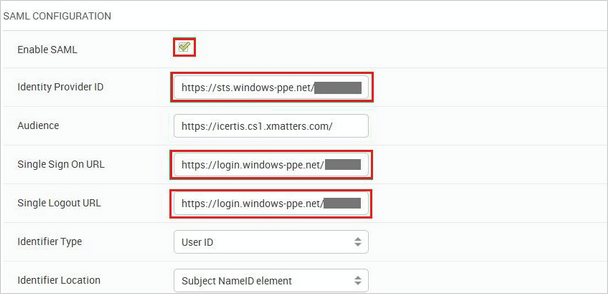 In the Azure SAML Configuration window:


Single Sign On URL: Use the myapps link. For example: https://myapps.microsoft.com/signin/xMatters%20OnDemand/4975267c-7215-454c-a714-9e04ad58e7cd
You may be able to find it in your Azure application configuration (user access URL) as shown below:






In the xMatters SAML Configuration window, ensure the Identity Provider ID uses https://sts.windows.net rather than the login.microsoft.com URL.


In the Azure configuration, make sure the Sign On URL is NOT populated. It should be left blank.


Note that if you do enter a value for Sign On URL it will result in a looping effect between the Azure login screen and the xmatters login screen.