The information in this article is the intellectual property of xMatters and is intended only for use with xMatters products by xMatters customers and their employees. Further, this intellectual property is proprietary and must not be reused or resold.
Lava, falling eggs, pterodactyls, the disembodied hand of an indestructible lava troll... whatever type of incident befalls you, this release has got you covered! We're celebrating this release with Joust, where lance-wielding knights astride ostriches and storks work together to take down their buzzard-riding opponents. Game designer John Newcomer studied mythology to decide which birds to feature, and apparently eagles weren't majestic enough to make the cut — but you must admit that ostriches have a far more elegant gait!
This release rolls out an exciting new addition to our digital service availability platform, with a whole new approach to incident response and automation. It also includes updates to our Group Performance and Event Traffic dashboard widgets, new device management capabilities, and usability improvements for adding and uploading users, among many other things.
Before you dive in to learn about all the improvements, here are some important dates:
Non-production environment access: Tuesday, October 27
Production environment access: Thursday, November 12 (enabled between 10:00-10:30am Pacific)
Joust Training Webinars
For a guided Joust tour — including tips and tricks — sign up for one of our webinars.
Future feature release

As a special bonus, we'll also give you a sneak peek at a future enhancement that we'll be releasing soon:
Signals report - identify and manage the signals coming into your xMatters instance.
Our Community shrinks images for convenience but allows you to click on them for a closer look. See an image or animated GIF you like? Click it.
Jump ahead
In a hurry? Here's an overview of this doc if you want to skip ahead to something awesome:
Adaptive Incident Management
In this release, we add incident management features that support an adaptive approach to incident resolution to the already amazing list of offerings in our world-class digital service availability platform. Whether you're dealing with a small technical issue affecting a software service or an enterprise-wide outage, xMatters Incident Management introduces a new way to respond to digital service interruptions.
As you're about to see, our new incident management capabilities help you bridge your tools and teams, facilitate collaboration, and automate manual processes with ease — while also providing data to inform and continuously evolve your incident resolution processes.
Create & manage incidents
The Incidents list lets you monitor the incidents across your organization and prioritize which incidents require your attention based on their age, status, or severity: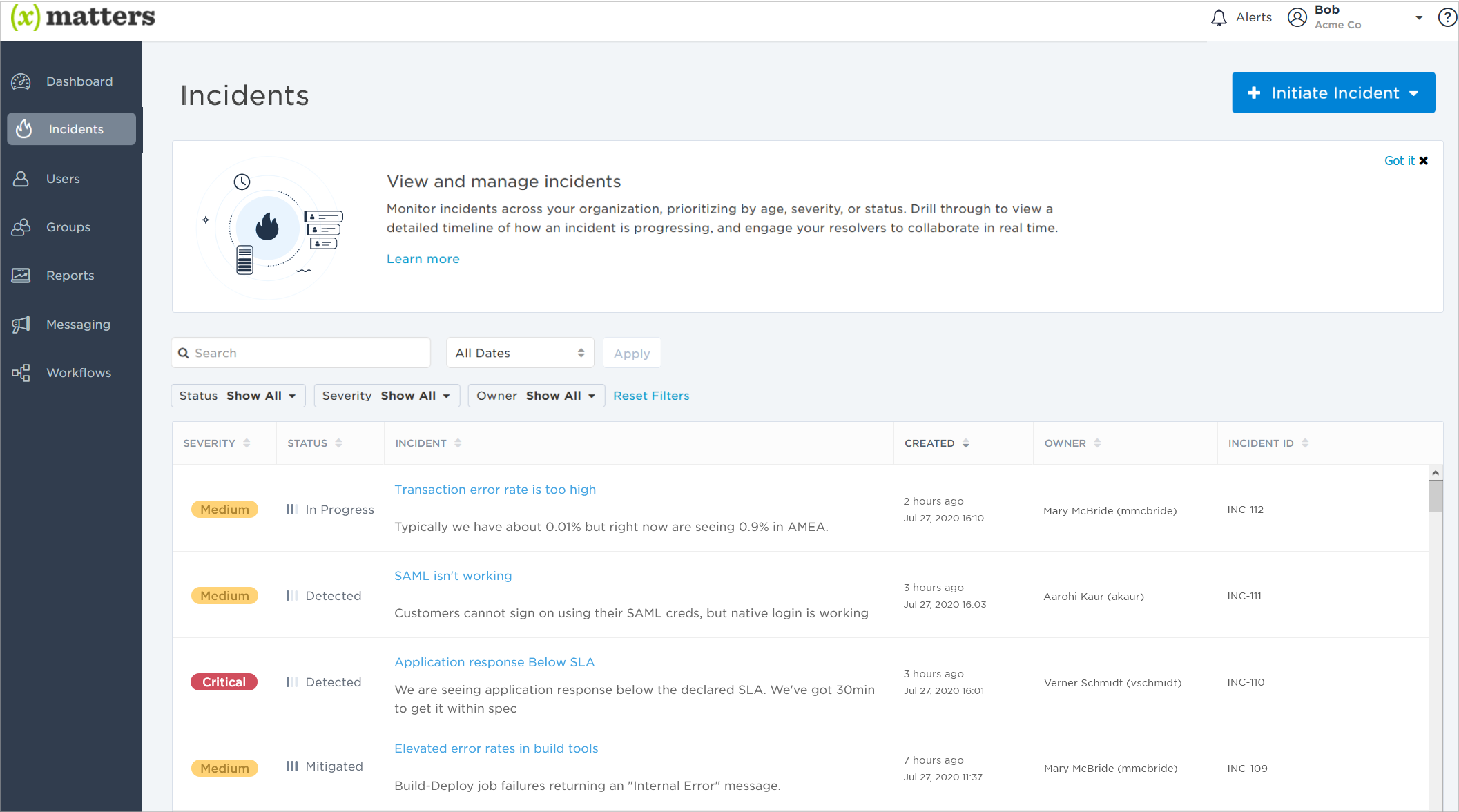 You can search for incidents by their Incident ID or by keywords in their summary or description. You can also filter the list to find incidents where you're the owner, or based on their status or severity: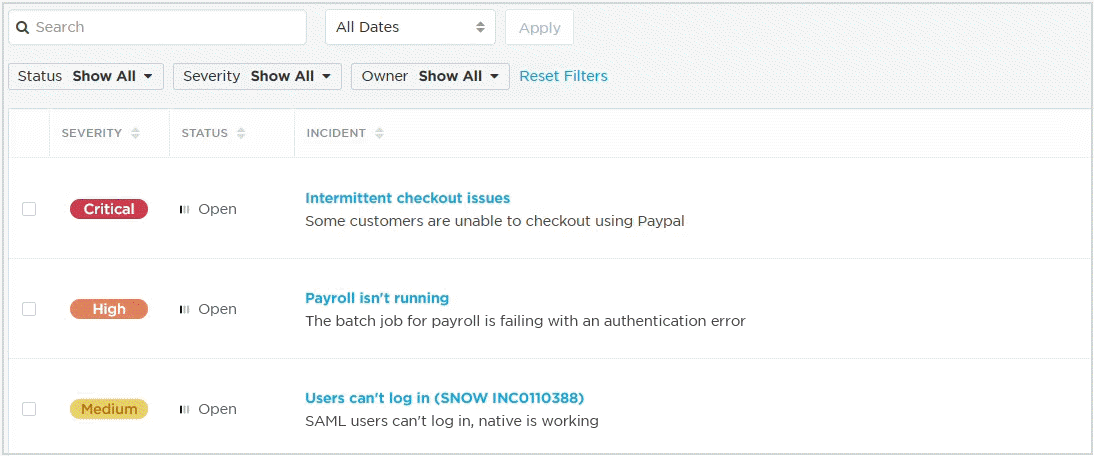 If multiple signals initiate a flood of incidents from the same root cause, you can set the status and severity of duplicate incidents in bulk to reduce noise and give your resolution team time to think. Set the status of duplicate incidents to "Rejected" to easily filter them out of the list and remove them from analytics: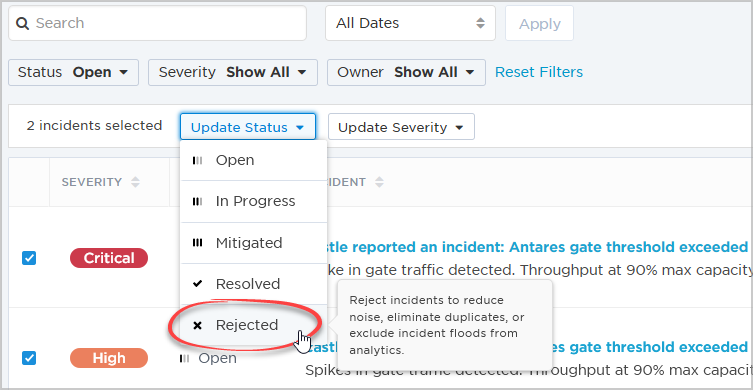 Initiate an incident
The list includes an Initiate Incident button you can use to kick off an incident in xMatters. When you initiate an incident, you provide details about the incident, its current severity, and identify who you want to engage to resolve it — this starts an incident resolution flow in xMatters.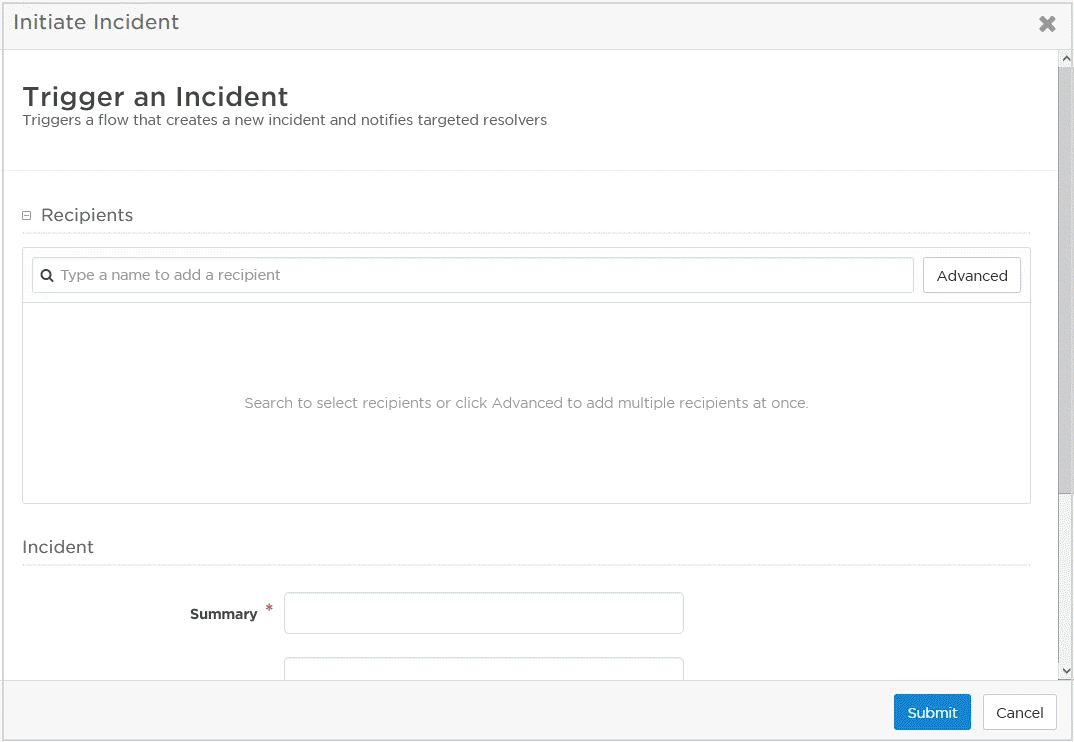 We've provided a default Incident Management Workflow you can use to initiate incidents right out of the box (or use as a starting point for your own customized Incident Resolution workflow):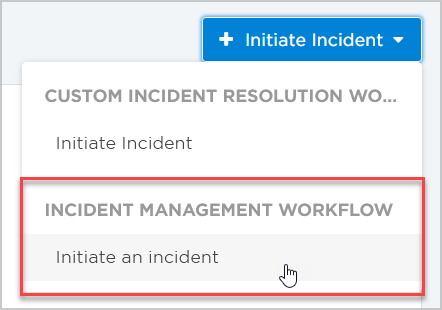 We've also added an Initiate Incident widget to the Communication Center, so you can add shortcuts for initiating incidents right to your dashboards: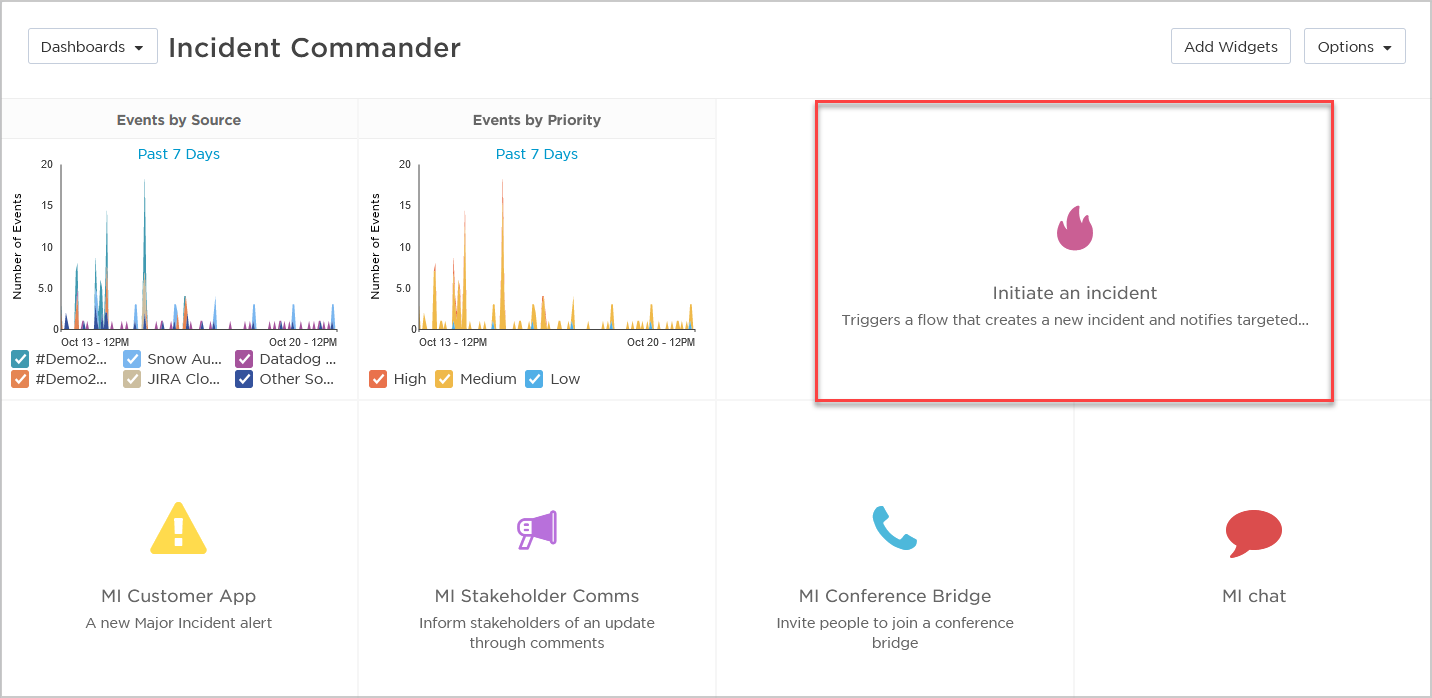 But that's not all!
Keep reading to find out how you can initiate incidents from our mobile apps, Slack, or automatically when xMatters receives an incoming signal.
Work an incident
When you initiate an incident, or drill through to an incident from the Incidents list, you'll be taken to the Incident Console. The Incident Console is your heads-up display for working an incident. You can find and update the incident's details, gather your resolution team, and add notes to help the post-incident review process.
Basic incident details
At the top of the Incident Console, you'll find the following critical information about the incident:

Summary and Description - contextual information to help you triage the incident, understand which services or systems are affected, and identify who you need to engage to resolve the issue.
Status - the state of the incident resolution process; changes to status drive key incident metrics.
Severity - the impact on the service or system and the level of response required.
Impact Duration - how long the incident has impacted the business or service.
Roles - who's the current owner of the incident and who reported it.
Resolvers
The Resolvers section of the Incident Console lets you see which subject matter experts are engaged in the incident resolution process. When you initiate an incident and identify who you need to help resolve it, xMatters takes care of all the heavy lifting by efficiently notifying resolvers according to their on-call schedules and device preferences. As an incident progresses, you can add additional resolvers, renotify users or teams who haven't responded, and stop notifying or dismiss people if you no longer require their assistance.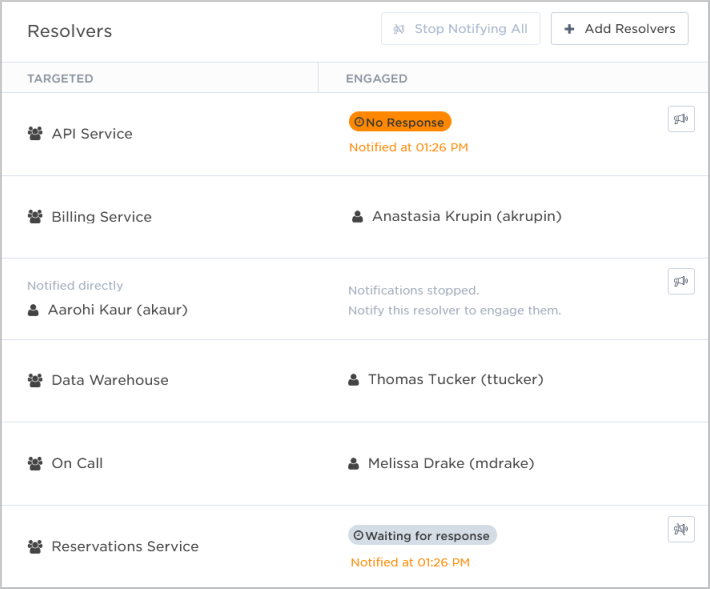 Collaboration
Communication between your team and stakeholders is key to resolving incidents efficiently. During an incident, your resolution team may be using multiple channels to communicate, like chat, conference calls, or video conferences. The Collaboration section displays details about these channels that you can use to join the conversation or to share with others:
Being able to automatically create channels that suit your incident resolution framework when you initiate an incident is one of the most important — and most useful — reasons you'll want to use a custom Incident Resolution workflow.
Timeline
It can be challenging to take time out from fixing a critical issue to record the details of incident activities, even when you know those details might be crucial to improving your future response patterns. Luckily, the Incident Console reduces the amount of manual record keeping you need to do!
The incident Timeline keeps track of everything that happened during the incident, recording incident activity in real-time and noting who made changes. This includes things like when the incident was created, who's been notified and their response, and changes to incident details, like status and severity.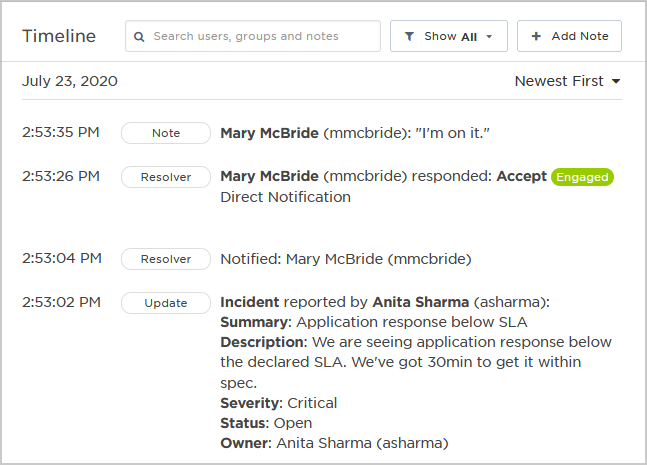 This frees up your incident scribe to focus on adding insightful notes to the timeline about how resolution activities are going. All of the information added to the timeline — automatically and manually — is accessible during post-incident analysis when building out your post-incident report.
Review incident metrics
Savvy digital service owners know every incident can teach them how to improve for next time. The first step in improving your incident resolution process is evaluation. Once an incident is resolved, the Incident Console automatically updates to display the most important incident response and performance metrics:

Time to Detect - Length of time from when a problem is first noticed by a person or monitoring tool to when the incident management process began.
Time to Acknowledge - Length of time from incident initiation to when a resolver became engaged.
Impact Duration - How long the incident impacted the service or business.
Time to Resolve - Length of time from when incident was initiated to when it was resolved.
Duration by Status & Duration by Severity - How long the incident spent at each status and severity level.
You can even adjust the impact start and end times to represent the true lifecycle of the incident. Reflecting on these metrics and using them to inform your post-incident review enables you to identify opportunities for future improvements to your monitoring capabilities, response processes, and resolution activities — and also whether you should consider investing less on shiny new features and more on your service architecture.
Export an incident status report
With our Incident Console, it's possible to Export a status report on the incident at any time during its lifecycle — whether you want to generate a report while an incident is active to provide an update to stakeholders, or once it's resolved to inform your post-incident review process. The exported report is a spreadsheet file which includes the following tabs:
Incident Summary - an overview of the incident, with details like peak severity level and overall impact duration.
Incident Details - information on how resolvers responded, including the user who originally initiated the incident, how long it took users to acknowledge and respond to notifications, and any collaboration channels used.
Timeline - all status and severity updates, resolver responses, and comments made during the lifetime of the incident.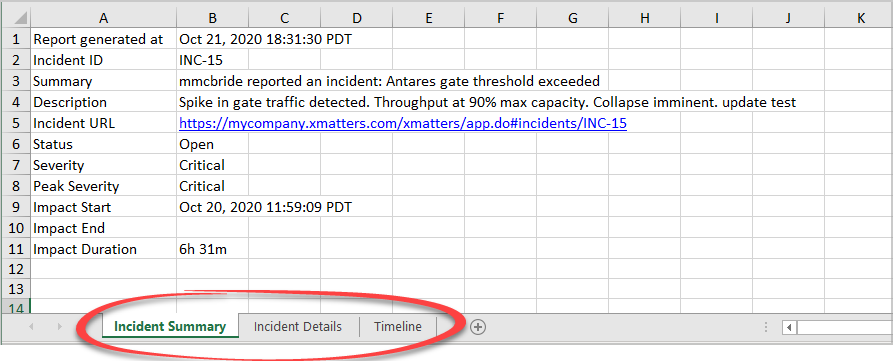 Perform a post-incident analysis
It's considered best practice to perform a post-incident review for every major incident. The Post-Incident Report builder provides a guided experience to create a written analysis of an incident, review key points in the timeline, and then assign and track follow-up actions to ensure similar incidents don't happen again.
Once an incident is resolved, you'll see an option to Create Post-Incident Report at the top of the Incident Console:

Analysis
The Analysis section of the report prompts you to add relevant information, like the incident's impact on customers, what the root causes were, how teams responded, and important lessons learned: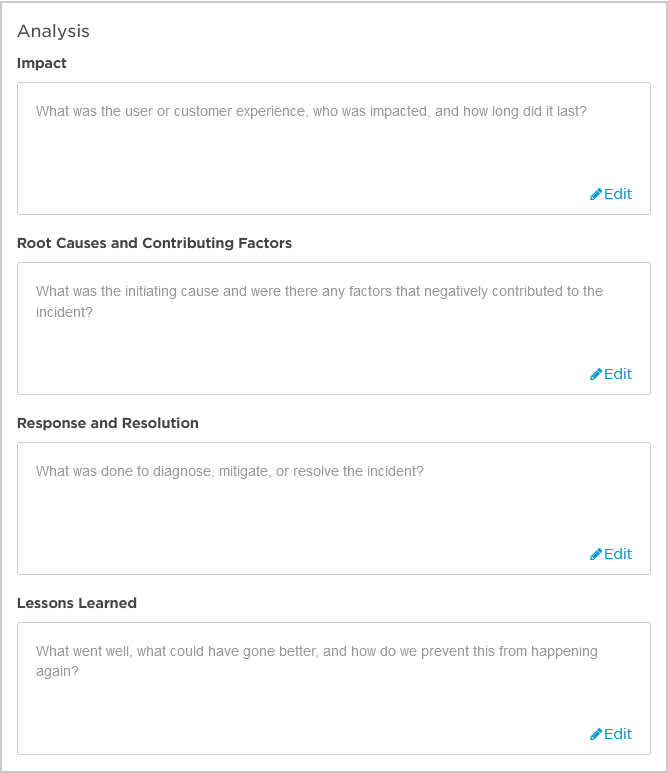 Timeline
The Timeline section of the Post-Incident report allows you to create a curated timeline that best communicates the story of the incident to stakeholders. By default, this includes all of the entries of the Incident Timeline, but you can easily highlight the most important moments and commentary during its life cycle by removing, editing, and adding new entries.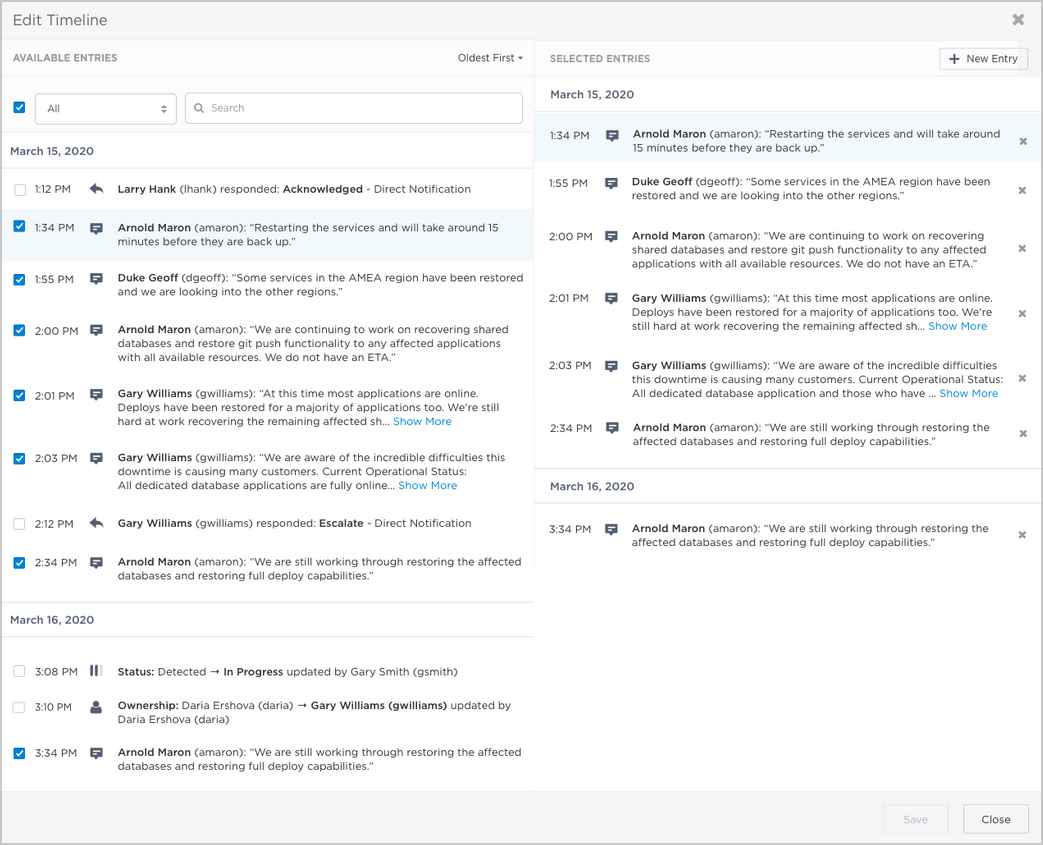 New entries get added to the timeline as notes and you can specify what date and time they occurred, so they'll appear exactly where you want to add additional context or fill in any gaps:
Actions
Use the Actions tab of the report to create and track any post-incident action items or tasks that need to be conducted. You can easily add actions, assign them to users, include links to external ticketing systems, and follow up on status and target dates – all from within your xMatters instance: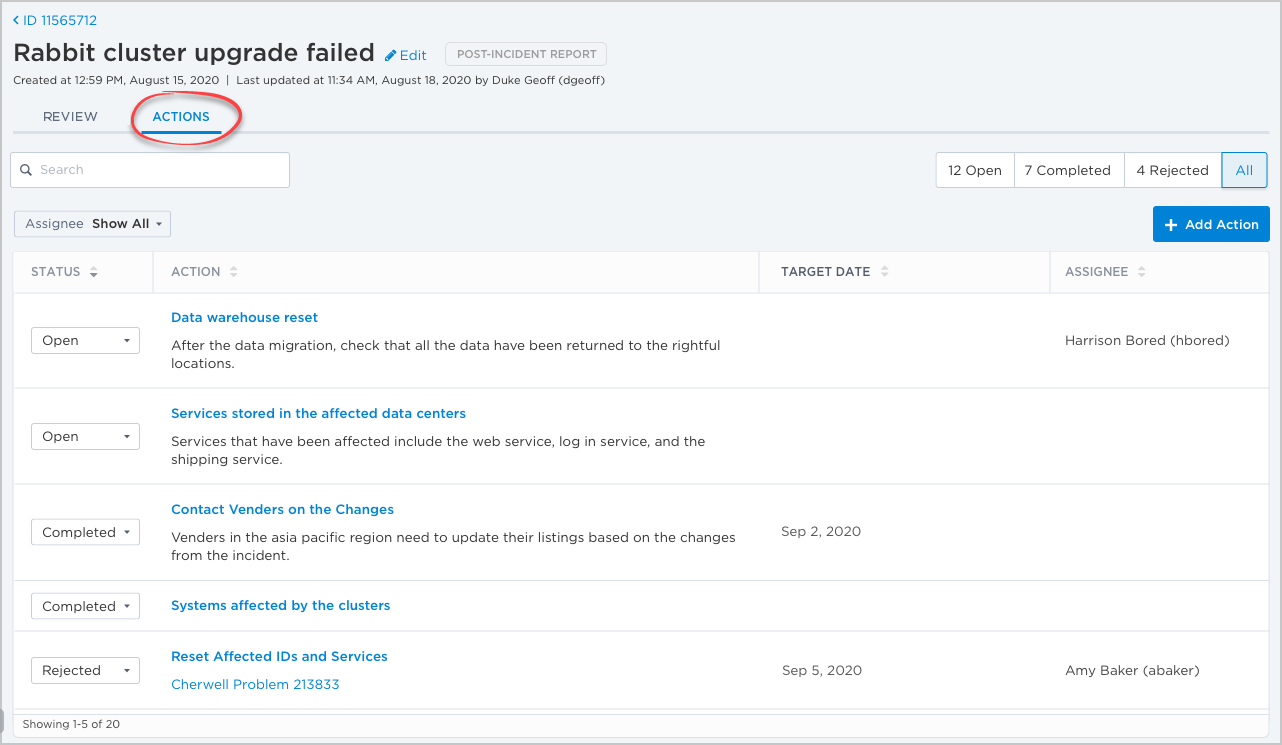 Manage incidents when you're on the go
Estimated Availability: Mid-November
Our incident management capabilities also extend to our mobile platform. So even when they're on the go, incident commanders, resolvers, and reporters can view, update, and initiate incidents from their Android or iOS devices: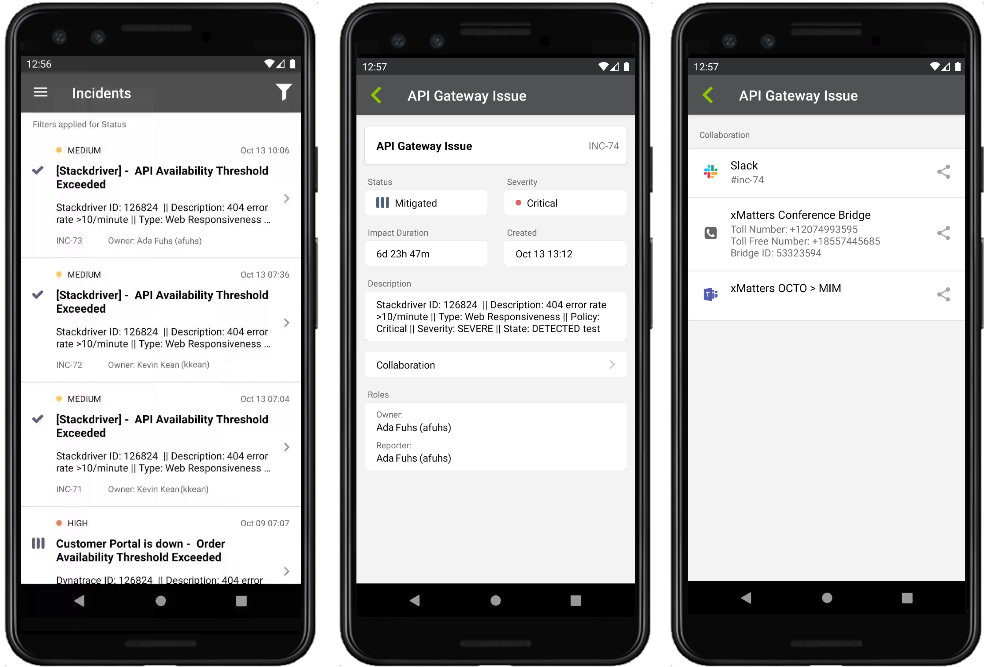 Note: For the initial release of this feature, you're only able to initiate incidents from the mobile app using the default xMatters Incident Management workflow.
Improve incident response for your digital services
Out of the box, xMatters Incident Management streamlines the process of working an incident, enabling you to find critical incidents, engage resolvers, monitor the progress of an incident, resolve it quickly, and make improvements to your processes.
Using customizable workflows and the power of Flow Designer, you can also adapt xMatters Incident Management to suit your organization's specific needs:
Automatically initiate an incident when xMatters receives an incoming signal, or as a response to another step in your flow.
Initiate incidents and stay informed on how they're progressing from Slack and Microsoft Teams.
Use your organization's preferred channels to collaborate on incident resolution, like xMatters Conference Bridges, Slack, Microsoft Teams, and even Zoom.
Customize resolver notifications and responses and gather information to enrich your messages.
Add automated steps to help incident resolution, like rolling back a deployment or automatically posting to a status page.
Coordinate xMatters incident with service desk incidents and issue tracking systems.
Getting started...
Although the xMatters Incident Management Workflow is available in your list of workflows, you'll notice it's locked — that's because we want you to always have a working version of the default workflow available in your instance:

You can use this workflow as a starting point for customizing xMatters Incident Management to your organization's needs by installing our Incident Resolution workflow template.
Once you've built Incident Resolution workflows that you'd like your teams to use instead, you can always disable this default workflow.
Reporting & Analytics
Real-time visibility into your incident response landscape is a key aspect of continuous improvement and more effective incident response. In this release, we enhance our Group Performance and Event Traffic widgets to support deeper and more relevant analyses, make it easier to find events from different sources, introduce a new report for managing signals coming into xMatters, and update our Event reports to include incident details.
Deeper group performance analysis
The Group Performance widget lets you visualize key information from the Group Performance report so it's easy to get an overview of how groups are performing — but what if you want to see the underlying data for each group? Now when you click one of the individual bars in the widget graph, you'll drill down into that specific group's data in the Group Performance report.
Here you can see the total number of messages to each group member, their average and max time to respond, the number of escalations to peers or managers, and more:

Event traffic by your services
The Event Traffic widget allows you to monitor the volume of events coming into your system from different workflows. In this release, we've updated the widget to be more helpful to service teams. A new "Show Me" filter for the 'Events by Source' graph allows you to select which workflows you want to display on the graph, rather than automatically displaying the six workflows with the highest event traffic over the specified timeframe: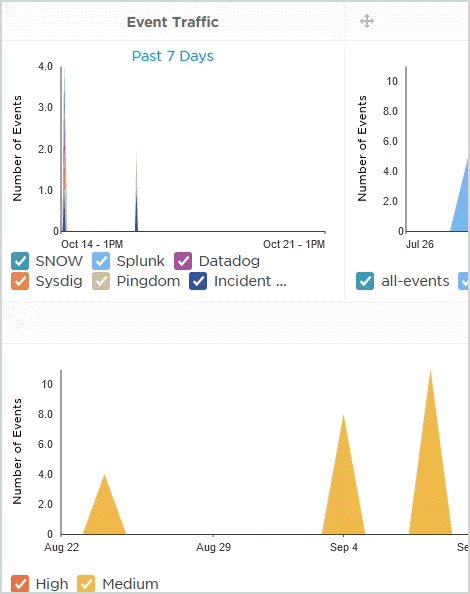 Want to drill down to view the underlying details? Simply click the name of the workflow you're interested in to be taken to a pre-filtered section of the All Events report: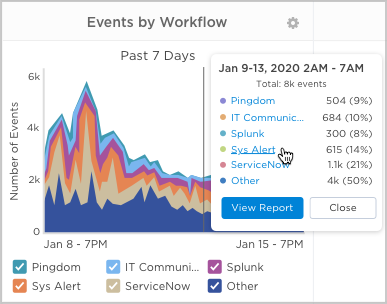 Find events from specific sources
The All Events report Source filter now supports multi-select, so you can find all the events that came from specific workflows or integrations:
Sneak Peek: Manage incoming signals
Estimated Availability: Krull Quarterly Release (Jan/Feb 2020)
Managing incoming signals into xMatters couldn't be easier. With our new Signals Report, you can identify the most common signals coming into your system, view signals rejected due to authentication issues, and drill into the workflow triggered by the signal.
For each signal, the report clearly displays its trigger in xMatters, when it was received, authenticating user, and, for HTTP triggers, the HTTP response provided to the requestor: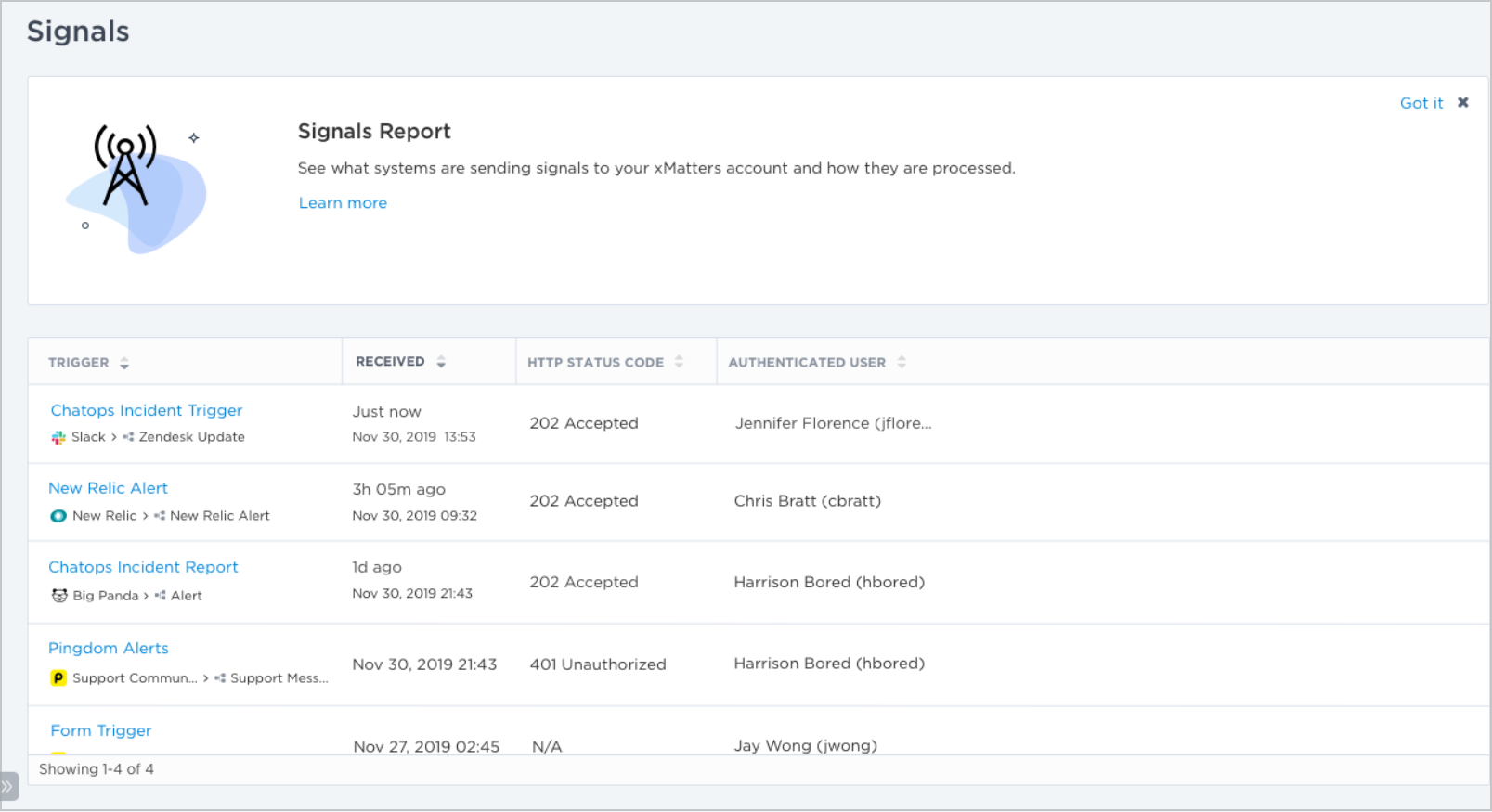 See incidents related to an event
Our Recent Events and All Events reports allow you to view critical data about the events in your system. Now when you view these reports, you'll also be able to see when an event is related to a larger incident.
A new "Related Incident" field displays the associated Incident ID for an event. If you have permission to view the incident in xMatters, the Incident ID will appear as a link to the Incident Console where you can find out more information about the incident: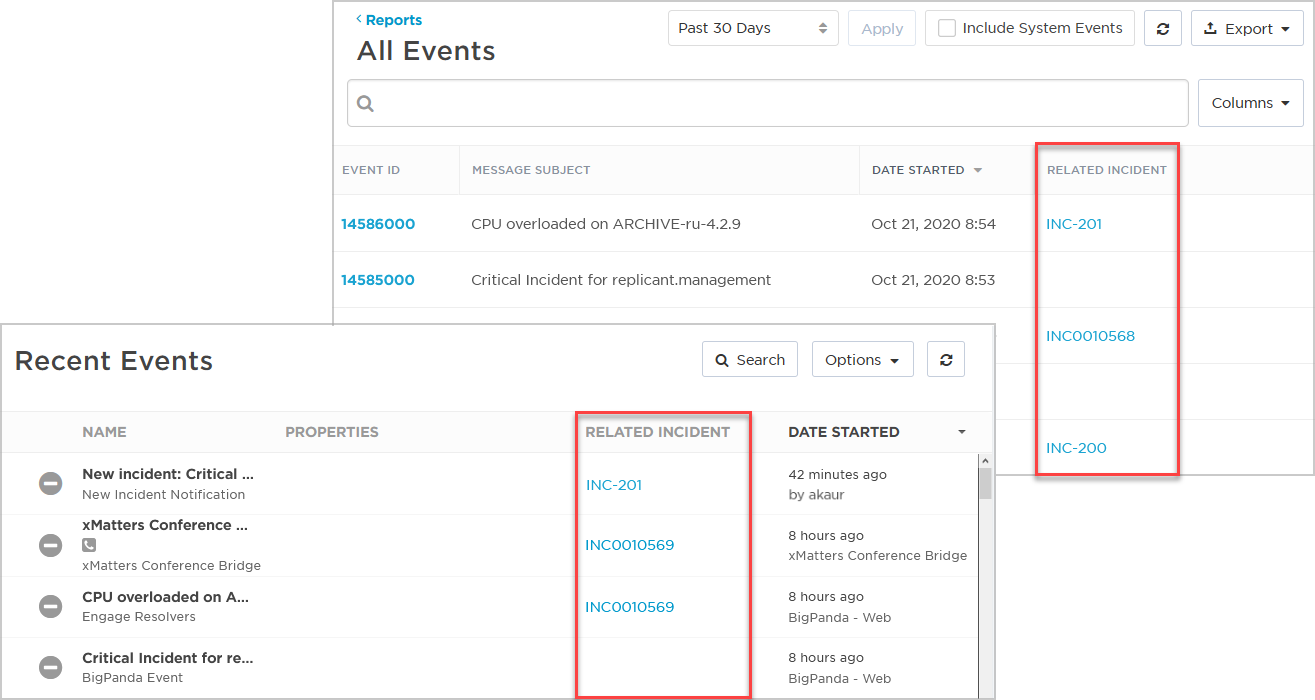 User Experience & Usability
A big thank you to all the customers who participated in our user feedback sessions and interviews! In this section, we'll highlight several updates we made in different parts of the product to incorporate your suggestions, including device management, adding and uploading users, managing sites, and upgrading your plan online.
Manage your user's contact information
Company supervisors of Advanced plans now have access to a new Device Management screen where they can view and manage the devices in their instance: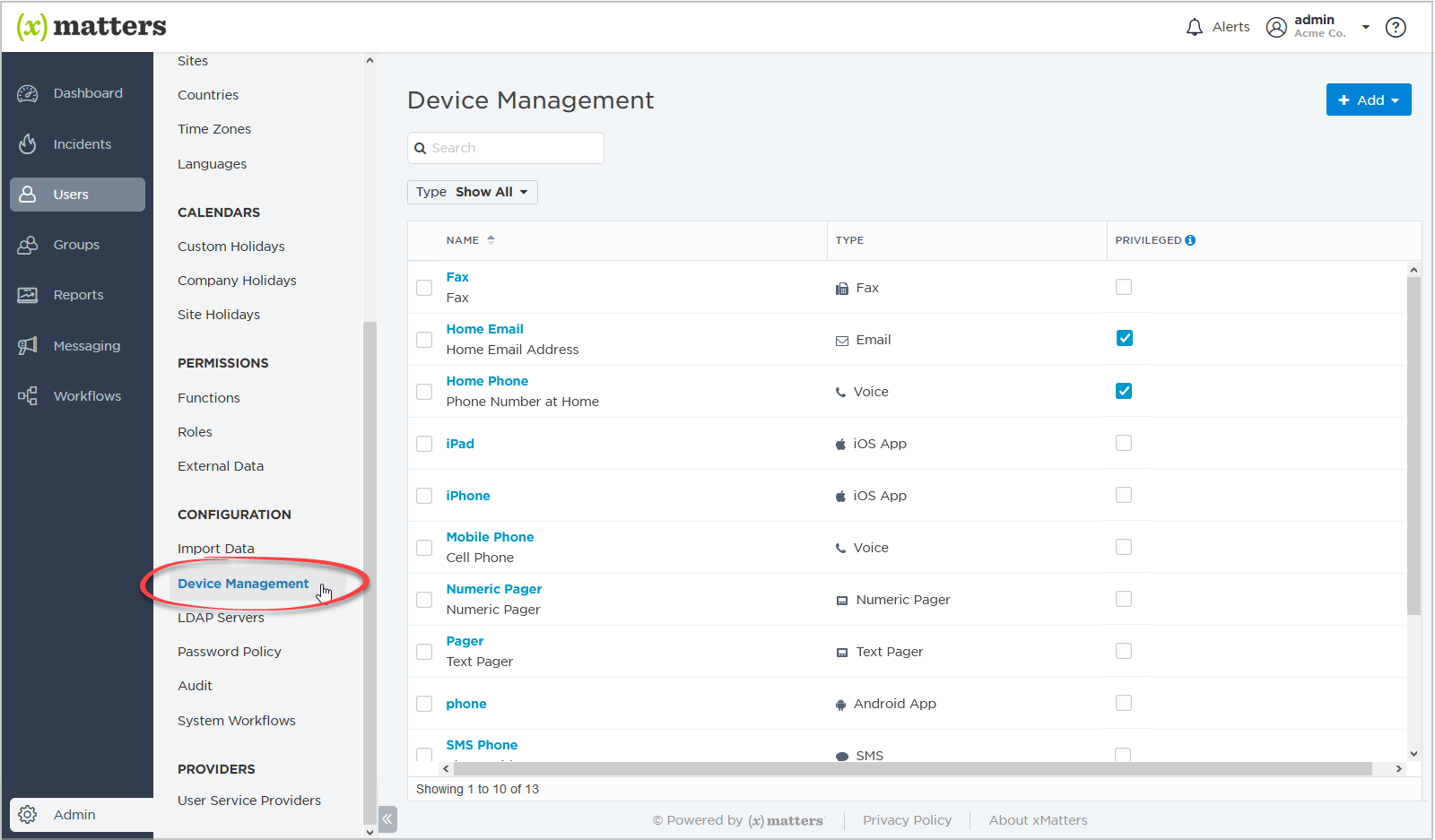 This means you can rename or remove the devices you get by default with xMatters — for example, maybe you want to rename your work phones to "Work Mobile" or add a new email device called "Internal Email". You can now make these changes yourself without having to file a support ticket.
Hide privileged device information
Advanced customers with access to the Device Management screen are now also able to configure devices as privileged in xMatters, so the contact details of those devices aren't visible to other users. This is useful when you want to protect the privacy of your users' personal information, or if there are certain devices you don't want to contact unless it's an absolute emergency (like home phones).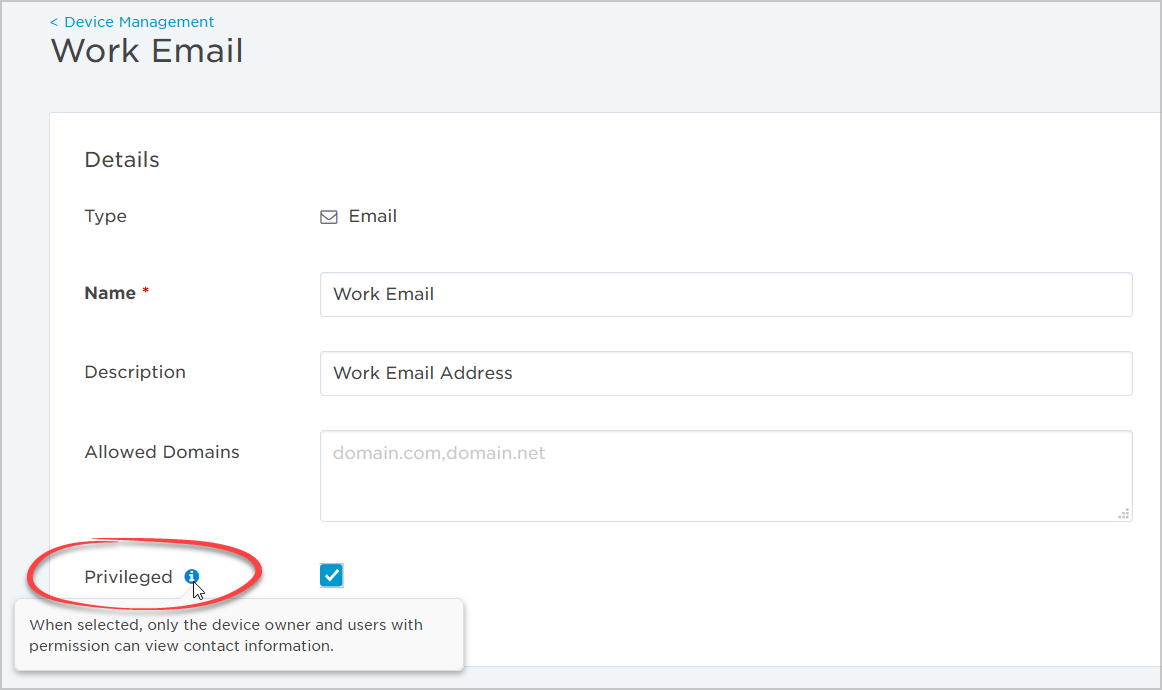 Redacted contact details
If you don't have permission to view privileged devices, you'll see the contact details for those devices redacted (starred out) on other users' Devices screens and contact cards, in exported reports, and in the mobile app: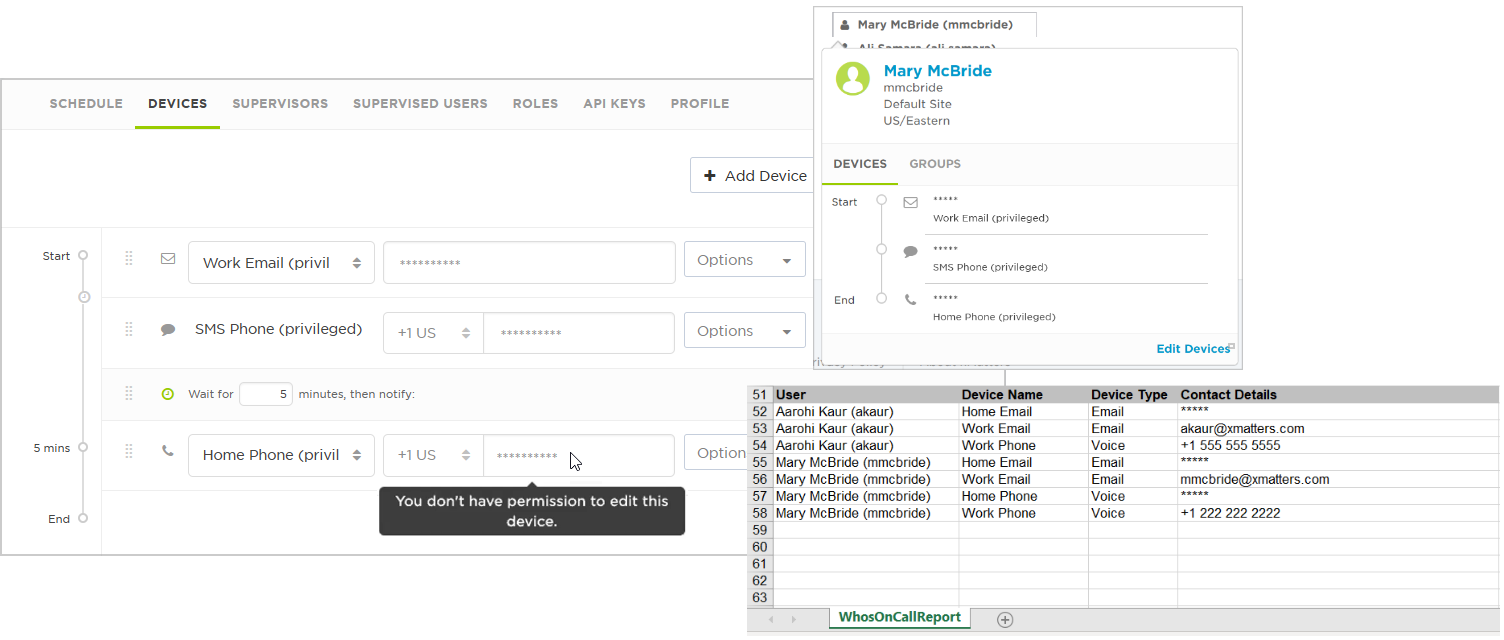 Although you can't see or edit the contact information for these privileged devices, you can still target them with xMatters notifications — if you need to. We've updated the Devices section of the form layout to show which devices are privileged, so you can choose whether to include or remove them from your notifications:

Easily add & upload users
Creating users can be a chore when you've got bigger things to do. To ease this process, we've simplified the way new users are added to xMatters and made it easier to take common actions after they've been added.
Uploading users in bulk
We agree with you that it's not very intuitive that the User Upload feature is under the Reports menu in xMatters! To make it easier to find the option to upload or update users in bulk, we've added a new Import option directly to the Users listing page:

From this drop-down menu, you can select one of the following options:
Create Upload - Launches the Create Upload process, where you can select the spreadsheet file of user data you'd like to upload.
View Uploads - Takes you to the main User Upload report, where you can view all of your past upload jobs, as well as create new ones.
Add User improvements
While we were working on the Users listing page, our usability wizards gave our Add Users workflow their expert treatment (the version you see depends on your role and your xMatters plan):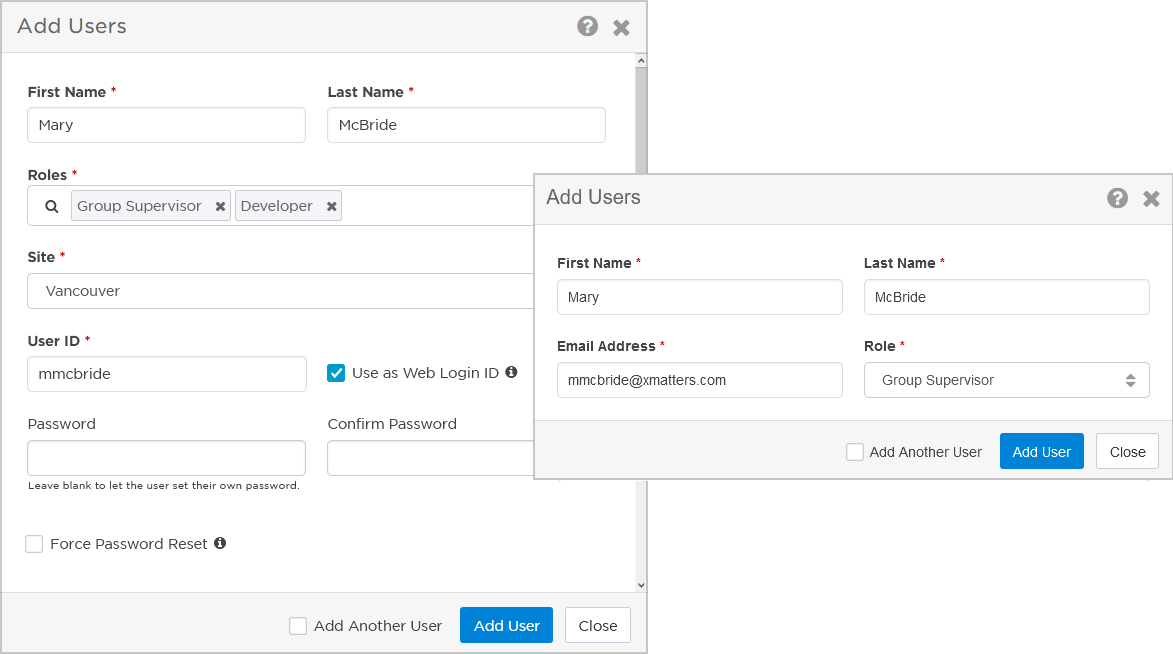 These redesigned screens are easier on the eyes, have fewer required fields, and simplify the process for adding multiple users in succession.
Copy Settings
When you choose the option to Add Another User, you're now given an option to "Copy Settings" from the user you just added to the next user. This is handy if you don't want to have to configure the same role, site, and custom user property values repeatedly for each user you add.

Get the party started
Once you're done manually adding a batch of users, you'll be presented with a temporary New Users screen. Here, you can review the users you've just added, send them a default or customized onboarding welcome message, and quickly add them to groups so they can start receiving xMatters notifications ASAP:

New ways to filter your users and groups
We've added a few new filters to our Users and Groups listing pages we think you'll find useful.
Filter users by site and temporary absences
The Users page includes two new filters for finding users based on the site they're located at, and whether they're currently absent from a group:
Site - Easily find the users at your site, or search for a different site:

Absent - See the users that are absent with a replacement, absent without a replacement, or those who aren't absent:

Find groups with any empty shifts
The Groups filter now includes an option to show groups "With Any Empty Shifts":

You can use this new filter option to quickly find groups in your system that have one or more shifts without any members. This might include groups with no members at all, or groups with members in only some of their shifts.
Once you've identified the empty shifts, you can either finish configuring them by adding members and escalations, or you can delete them if they're no longer needed.
Manage your sites
In our last release, we redesigned our Users, Groups, and Dynamic Teams listing pages with a simplified and consistent design. Once you've worked with one of these pages, you'll intuitively know how to use the others.
For this release, we apply that same treatment to our Sites listing page: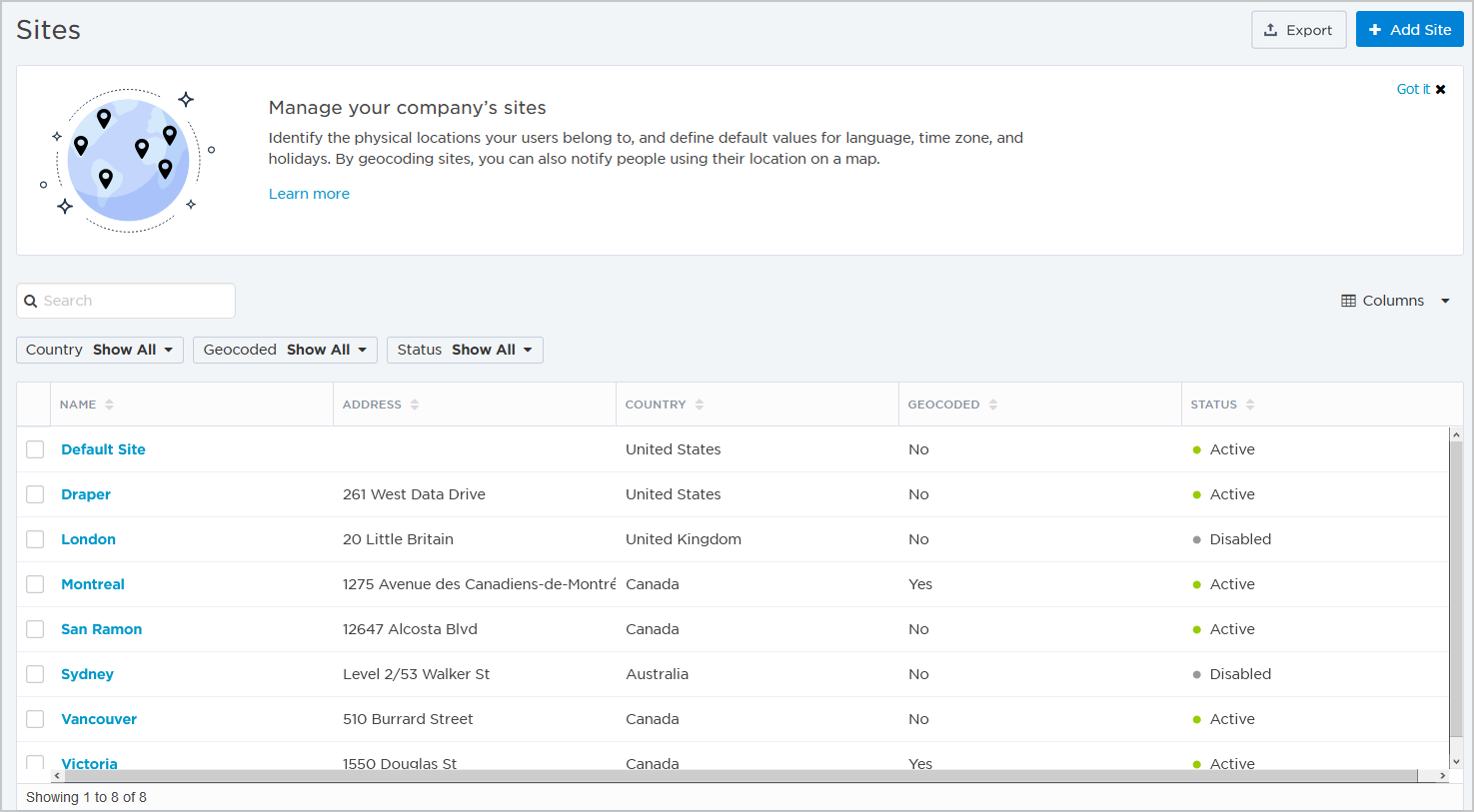 Benefits of the redesign include:
An informative (and dismissible) "Got It" box for new users to explain the main functionality and types of things they can do here.
A Columns drop-down to add or remove columns from the table – plus the ability to sort, resize, and reorder the currently displayed columns.
The ability to search for sites by keywords in their name or address.
Filters to quickly find sites by country, whether they're geocoded, and if they're active or disabled.
Batch geocoding
Wish there was a quicker and easier way to geocode your sites? We've added new functionality to geocode up to 100 sites at a time with the click of a button! We're using Google technology to find the latitude and longitude coordinates based on your site addresses — so you'll want to make sure they're as complete as possible for successful results.

Upgrade your plan online
If you're using a free version of xMatters and you're located in the United States, you can now upgrade to a paid plan online. When you click Upgrade in the top right corner of your screen, you'll be taken to a page where you can compare your upgrade options.
Currently you can upgrade online to our Base or Starter plan for a one-year contract term, paid annually:

If you need to purchase a very large number of user licenses, or you want to upgrade to the Advanced plan, then you'll need to talk to one of our friendly Sales representatives.
For instructions on how to upgrade online, and for a great list of frequently asked questions, see Upgrading your plan.
Automation
In this release, our major focus was providing the tools and resources people need to tailor xMatters Incident Management to their specific incident resolution process.
New & updated workflows
This release includes a new Incident Resolution packaged workflow, new incident management capabilities for our Slack and Microsoft Teams integrations, updates to our Dynatrace built-in workflow, and five new xMatters Labs integrations.
Customize Incident Resolution
Our new Incident Resolution workflow template is designed to help you tailor xMatters Incident Management to your incident resolution process. It starts as the same workflow used by default for the xMatters Incident Management feature, but lets you adapt how incidents are created, what happens when they're created, and the notifications sent to resolvers when the incident is initiated.

Here's some of the things you can do:
Initiate incidents automatically, via HTTP (or built-in third-party app trigger), when someone responds, or by sending an email.
Customize incident settings, configure who can initiate different incidents, and populate values automatically, like summary, description, and severity, or set up default resolvers.
Tailor event properties for resolver notifications and enrich notification content.
Automatically create collaboration channels when you initiate an incident, including Slack, Microsoft Teams, Zoom, and xMatters-hosted conference bridges.
Add additional steps to gather information before an incident is initiated to gather information about changes to your source or deployment status to inform the on-call resource of potential root causes.
Take action in other systems after an incident is initiated, like posting a message to a status page to let other people know you're already working on the problem.
For more information on using the Incident Resolution workflow template to adapt xMatters Incident Management, see our Incident Resolution workflow guide.
Initiate incidents from Slack
The xMatters Bot for Slack already helps you to collaborate by letting you look up xMatters groups, see who's on call, and invite on-call members to a conversation. And now, when an issue you're discussing turns into an incident, you can initiate an incident in xMatters right from your chat window: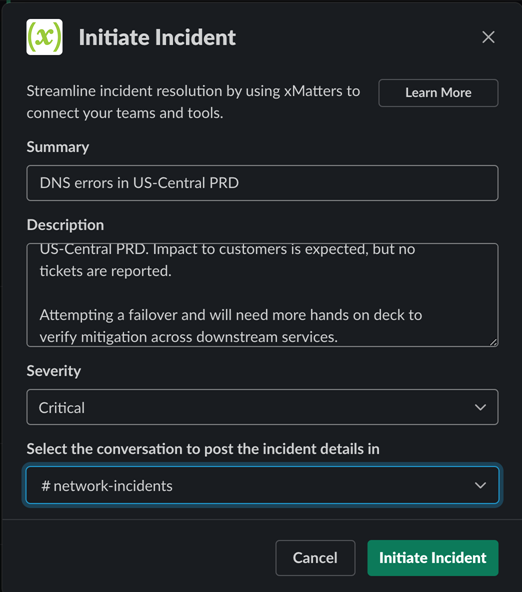 Once the incident is initiated, the xMatters Bot will share its details and a link to the xMatters Incident Console in the conversation of your choice:

The Slack channel you initiated the incident from automatically gets added to the incident as a collaboration channel, allowing resolvers to join the conversation by clicking the link.
Note: For the initial release of this feature, you're only able to initiate incidents from Slack using the default xMatters Incident Management workflow.
View incident details in Microsoft Teams meetings
We've been working closely with Microsoft as it launches its new meeting extensibility capabilities, which add support for apps in online meetings. You can now add an xMatters tab to your meetings to keep your team up to date on incident details and collaborate on incidents without leaving your online meeting.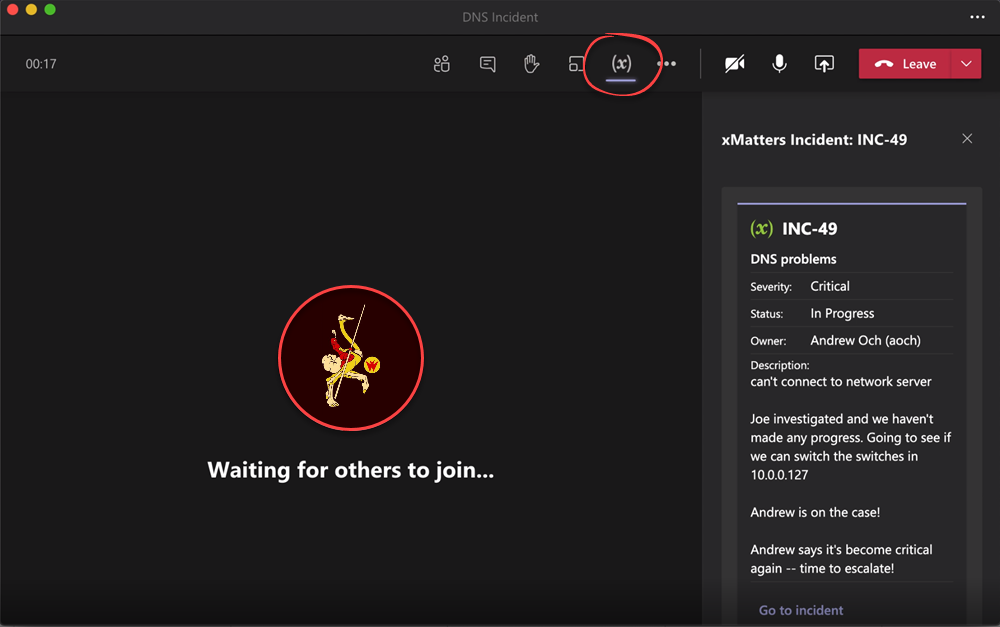 Add context to your Microsoft Teams invites
We've improved our 'Invite to Conversation' feature in the xMatters Bot for Microsoft Teams, so that you can now provide context with your invitations. This means your teammates can have a better understanding of the urgency of the situation and be ready to contribute to the conversation even sooner.
Disable Dynatrace updates
We've updated our Dynatrace built-in workflow with a configuration option to Disable all updates to Dynatrace. Selecting this option turns off xMatters notification activity updates to the Dynatrace Problem record. That's useful for customers whose Dynatrace instance isn't accessible by xMatters (because it's behind a firewall, for example):

If you don't select this option, responses to notifications and comments are always written to the Problem record. You can also add a comment when the workflow creates an event and when a notification is delivered.
New workflow templates
We've added the five new logos below to our growing list of available workflow templates. Although not officially supported, the following workflows available in xMatters Labs on GitHub were built by our field teams and are a great starting point for those looking to get integrated with these apps:
| | |
| --- | --- |
| | Instana provides critical insights to help keep your applications and microservices healthy. Connect Instana with xMatters to get observations into the hands of the people who can act on them. |
| | Sentry oversees the health of your applications. Combine that with the power of xMatters and empower users to take action by automatically notifying on-call resources on their preferred devices. |
| | API Fortress transforms your API testing to accelerate releases while decreasing risk. Connect your API Fortress tests to xMatters so you can notify on-call responders when there are failures and send critical information about the failure with a link to the test report. |
| | Honeycomb offers observability insights with its introspection and interrogation of applications big and small. Use xMatters on-call schedules, escalations, and configurable device channels to extend Honeycomb's notification capabilities. |
| | Sysdig Monitor allows you to maximize the performance and availability of your cloud infrastructure, services, and applications. Combined with xMatters, you can trigger alerts and deliver key information to the right on-call resources on their preferred devices and acknowledge alerts and capture audit details in Sysdig. |
Flow Designer
Flow Designer is the newest user interface for our integration platform. Its goal is to provide an all-inclusive visual canvas that allows users of all levels of technical ability across the enterprise to integrate and create incident resolution workflows with ease.
New & updated steps
As usual, this release includes several new and updated steps for automating and streamlining your incident management processes. You can now initiate incidents and kick off conference bridges in your flows and merge up to 10 flows into a single path. We've also updated our Slack and Microsoft Teams 'Create Channel' steps so you can add them as collaboration channels to your incidents — and there's a bonus xMatters Labs step for Zoom too!
Initiate an incident
Initiating incidents doesn't have to be a manual task. With our new Initiate Incident step, you can automate incident initiation at any point in your flows — like when xMatters receives a signal from a third-party system, after a switch step, or based on a user's response to a notification.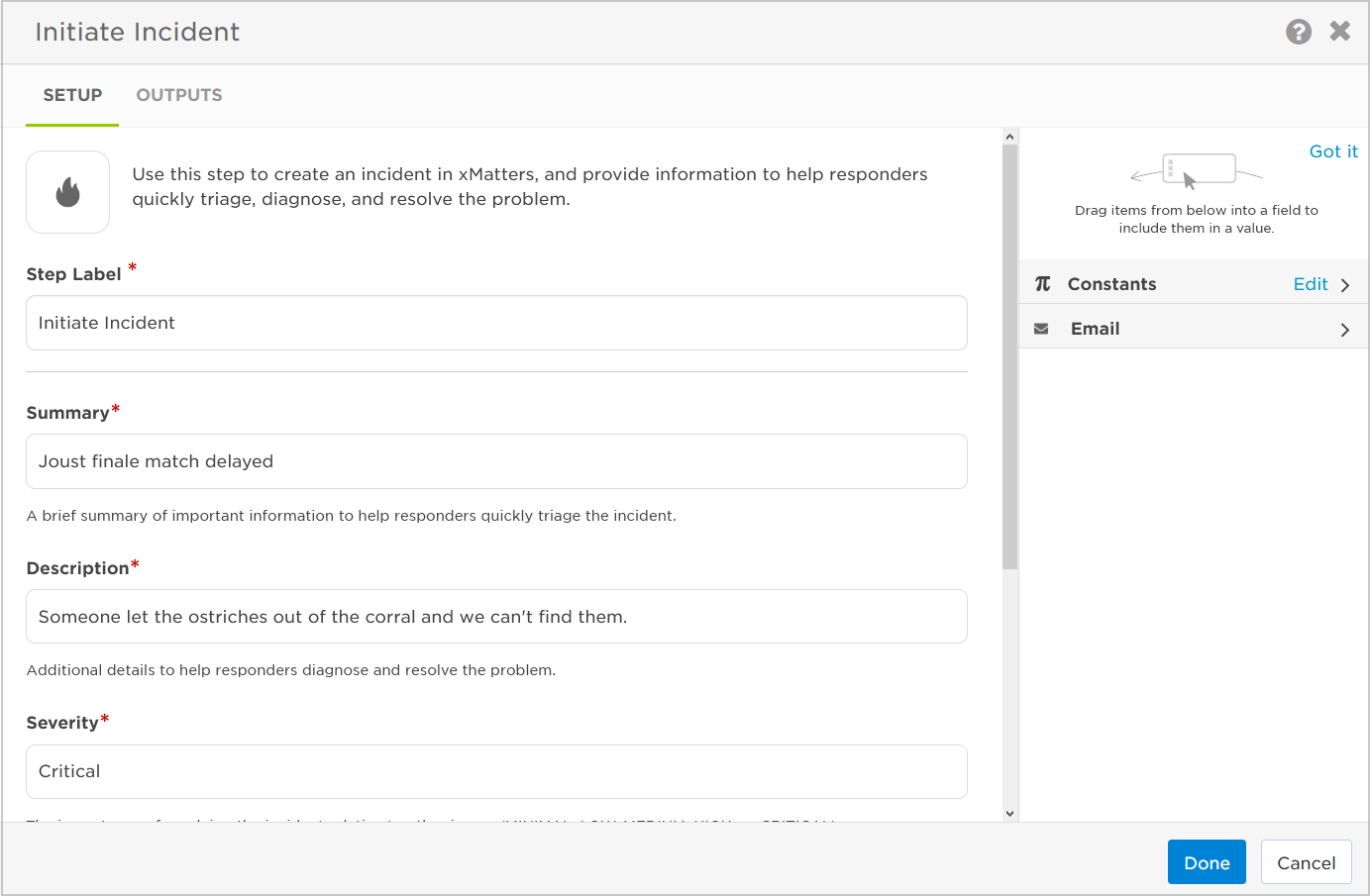 Your flow may also include steps before and after an incident is initiated, to enrich the incident or its resolver notifications with additional information from your monitoring tools, or to automate additional steps to help incident resolution (e.g., rebuilding a Jenkins project, posting updates to a customer status page, updating records and issues in other systems, or posting a link to the incident in your favorite chat channel).
Collaborate on Incidents with Slack, Microsoft Teams, & Zoom
We've updated our Slack Create Channel and Teams Create Channel steps with a new "Incident ID" field to link the channel with an incident. By associating a channel with an incident, it'll automatically be added to the Collaboration section of the Incident Console when the incident is initiated.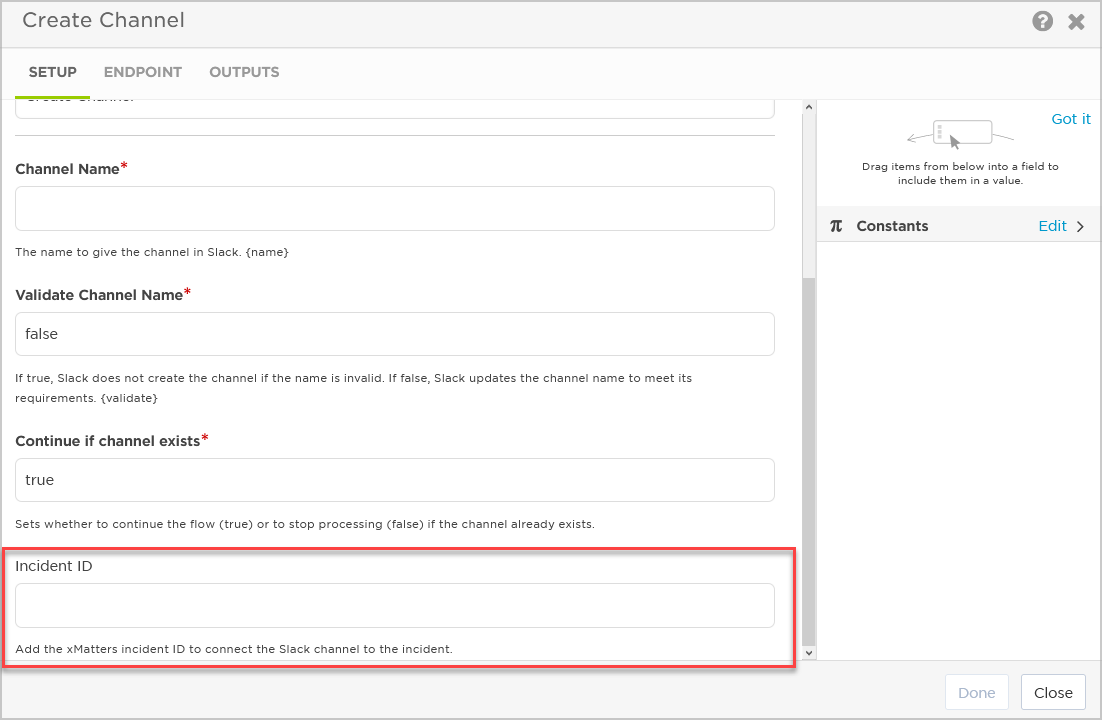 What about Zoom?
You might have heard about this Zoom thing. Although there isn't a "Zoom Create Meeting" step in xMatters yet (it's coming soon!), an "unofficial" Zoom step — or API call — is available in xMatters Labs on GitHub. You can use this to automatically add Zoom meetings as collaboration channels to your incidents.
Automatically kick off a conference bridge
We've added a new Create xMatters Conference step to Flow Designer. Include this step in your flows to automatically launch an xMatters-hosted conference bridge as part of your workflow processes:
When you add a Create xMatters Conference step to your flows, you can specify an "Incident ID" to associate the bridge with an incident in xMatters — and add the bridge information to the Collaboration section of the Incident Console.
Merge your flows
A new Merge step is now available on the Tools tab of the Flow Designer palette. The Merge step streamlines your canvas by letting you join up to 10 flows into a single path that's easier to maintain and reduces duplication of your core processes: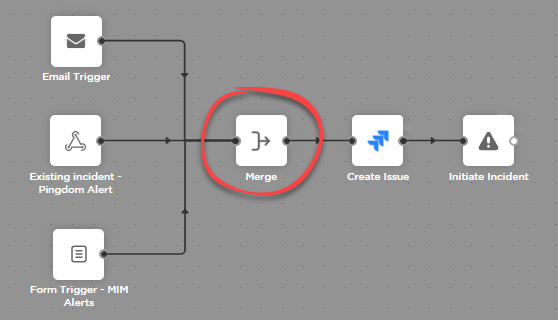 How is the Merge step different from merged flow paths?
Simply merging flow paths also lets you reuse flow segments — the only hitch is downstream steps can only access upstream flow variables common to all joined paths. The Merge step is more versatile because it lets you define a common set of outputs from a diverse set of sources.
How does it work?
When you configure a Merge step, you first create the set of outputs that will pass information to the downstream steps in your streamlined flow: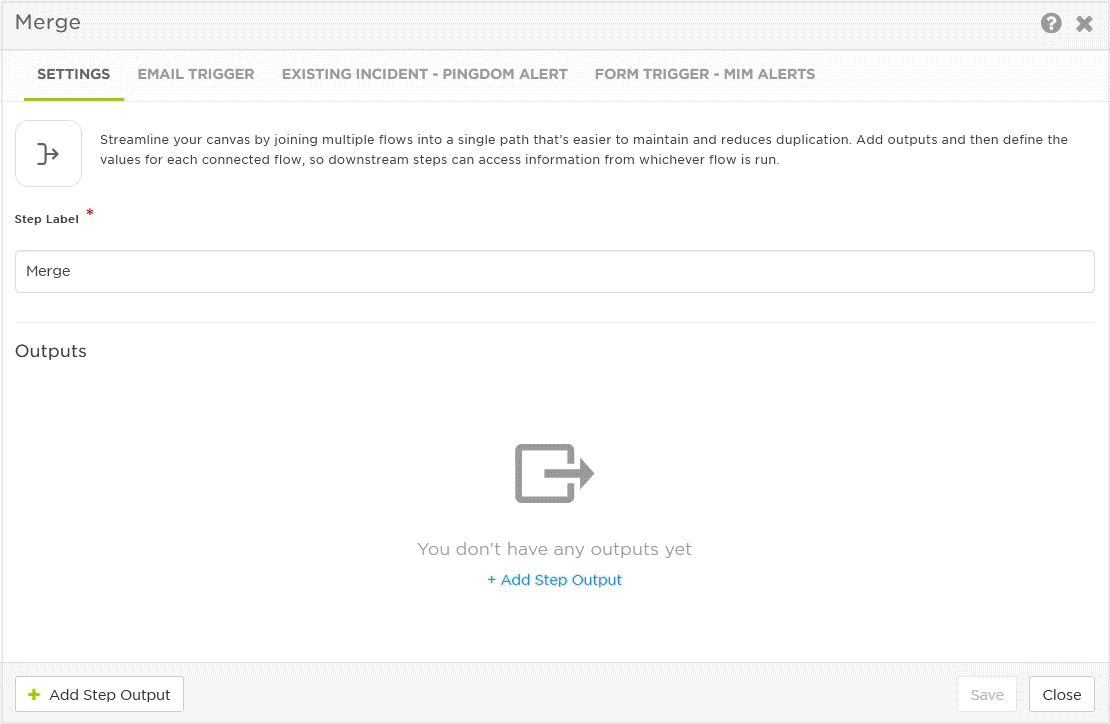 Then for each connected flow, you define the values to pass into each output when that particular flow runs. You can use plain text, constants, or variables from previous steps in that flow — these don't need to be common with the other connected flows.
Since each connected flow has its own tab in the Merge step configuration named after the step immediately preceding the Merge step, it's easy to know exactly which flow path you're working with: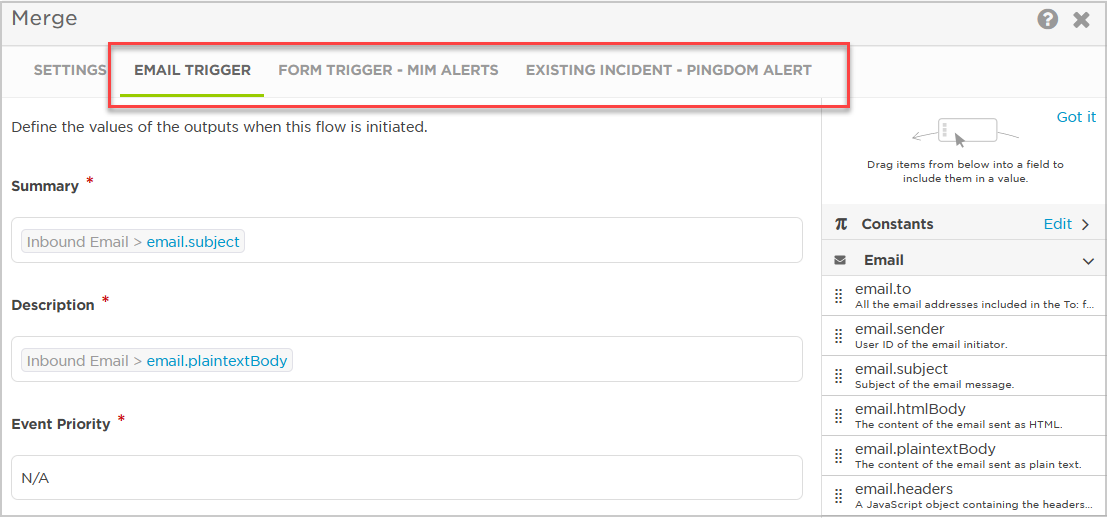 Trigger flows by submitting a form
You may notice there's a new Form trigger available in Flow Designer. This new trigger type supports our xMatters Incident Management capabilities, and you'll see it used in our Incident Resolution workflow template:

A Form trigger initiates the connected flow whenever a person or system submits the form associated with the trigger. We've released a new type of form called a Flow Trigger (see the next section) to support this functionality — you'll need to create one of these forms in your workflow to use a Form trigger on one of your canvases.
If you're setting up your own automated incident response process, connect a Form trigger to an Initiate Incident step. The Flow Trigger form is then available as an option to initiate an incident from the Incidents list or Initiate Incident widget.
Messaging and Flow Trigger forms
The next time you create a form in xMatters, you'll be presented with the following two options: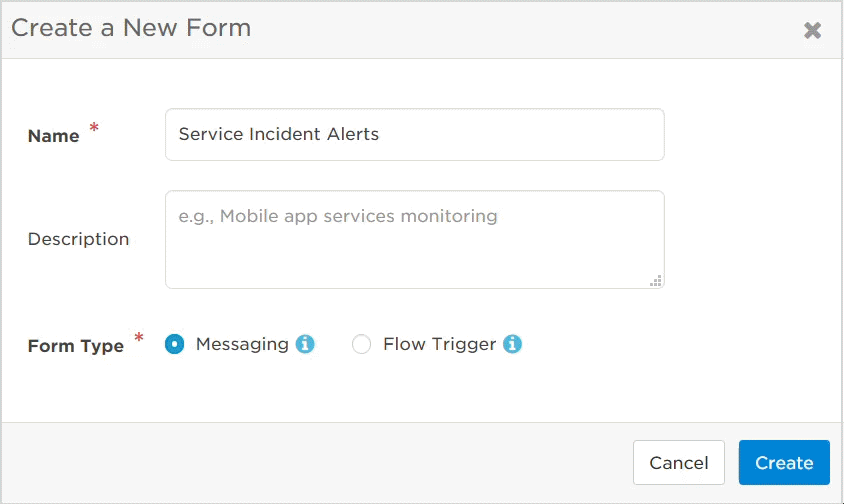 Messaging forms - Our previous type of form you're already familiar with, used to send notifications to targeted recipients and any subscribers. They give you the ability to craft the message content and configure responses. They also create an associated canvas in Flow Designer. You can access these forms from the Messaging menu.
Flow Trigger forms - A new type of form used in conjunction with a Form trigger on a flow canvas that gives you the ability to initiate flows by submitting a form. These forms support Incident Management workflows, which trigger an incident resolution flow from the Initiate Incident button or widget.
Easily identify your flow triggers on the canvas
It's now easier to identify the triggers on your Flow Designer canvases. We've distinguished them from other flow steps by representing them as circles instead of squares: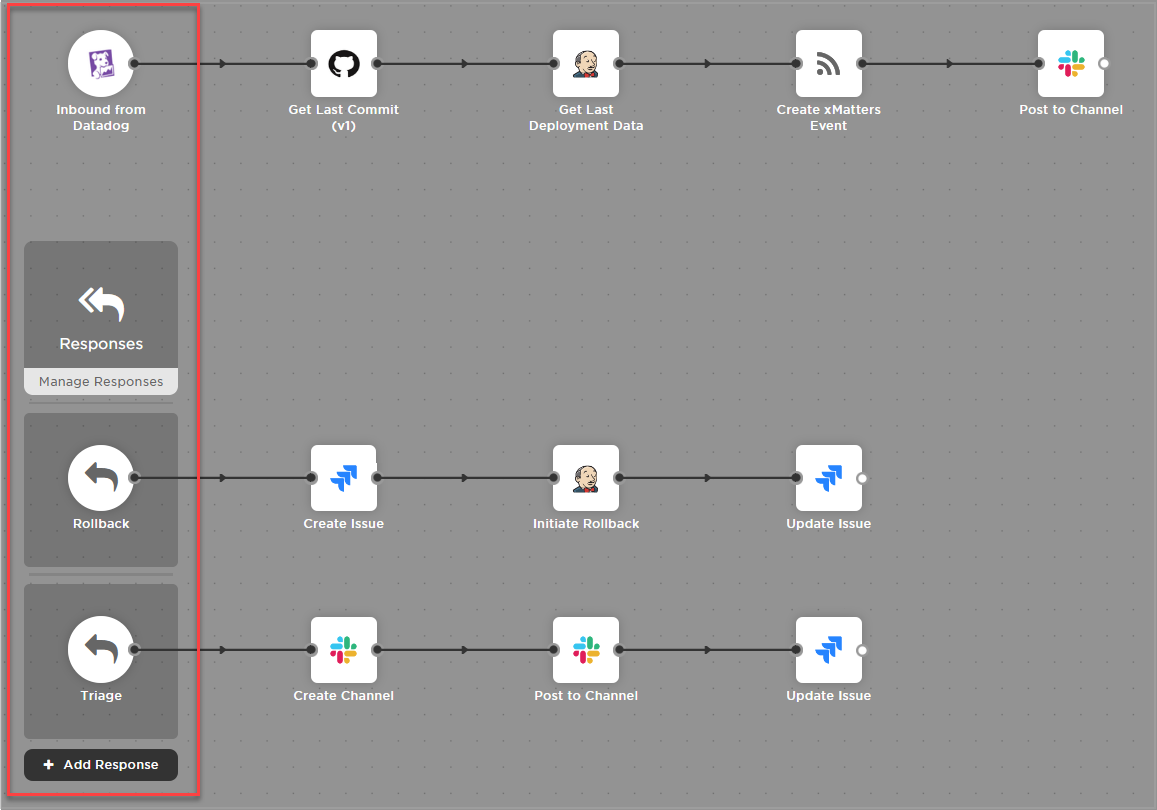 Quickly select steps on the canvas
It's now a lot faster to select steps on the canvas! Click Shift + Drag Left to select all the steps within a region, or Shift + Drag Right to select steps in — or just touching — a region. We've also updated the mini-map with new zoom buttons, plus a handy summary of all the shortcuts for working with the canvas: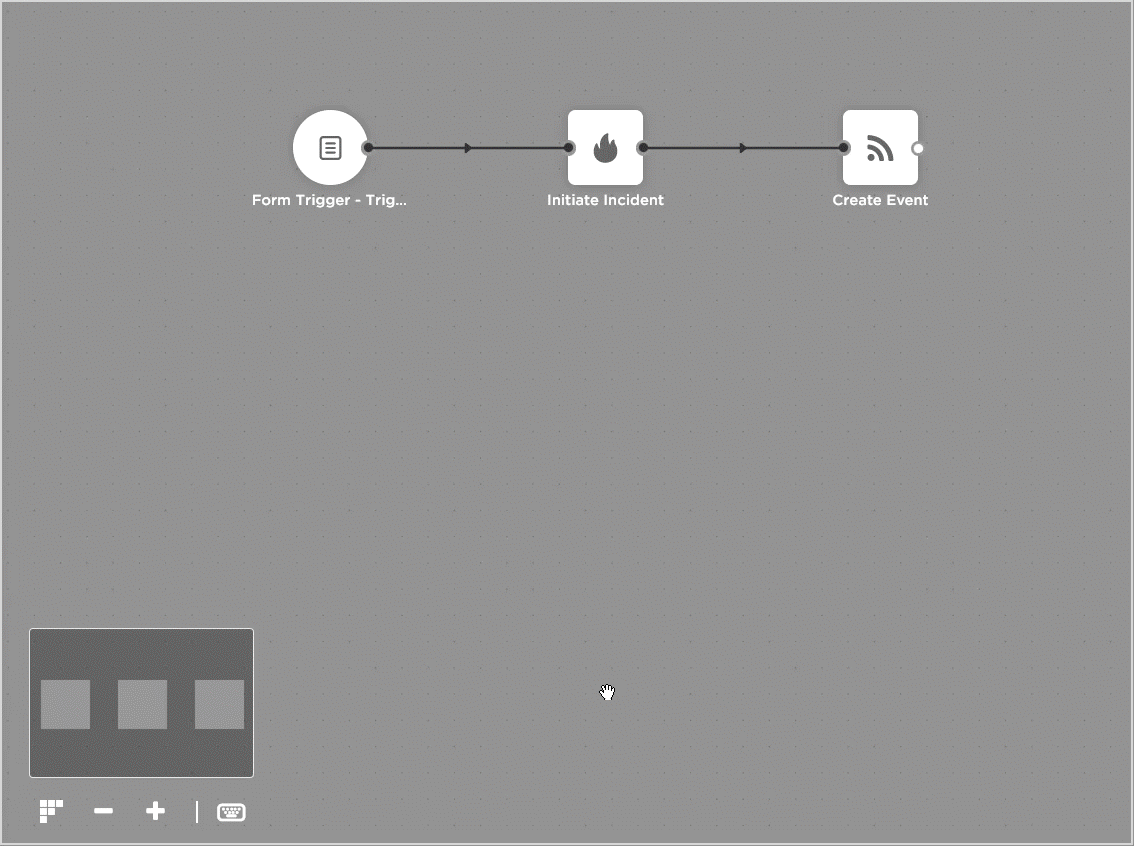 Workflow design tools
You don't need to be a developer to create professional messages — especially now, because this release includes a bunch of great new enhancements to our message editor.
Create better messages
We've updated our message editor to include additional WYSIWIG capabilities, an improved image library, and a bunch of powerful new functionality that gives you even more freedom to create effective rich text email and xMatters app notifications.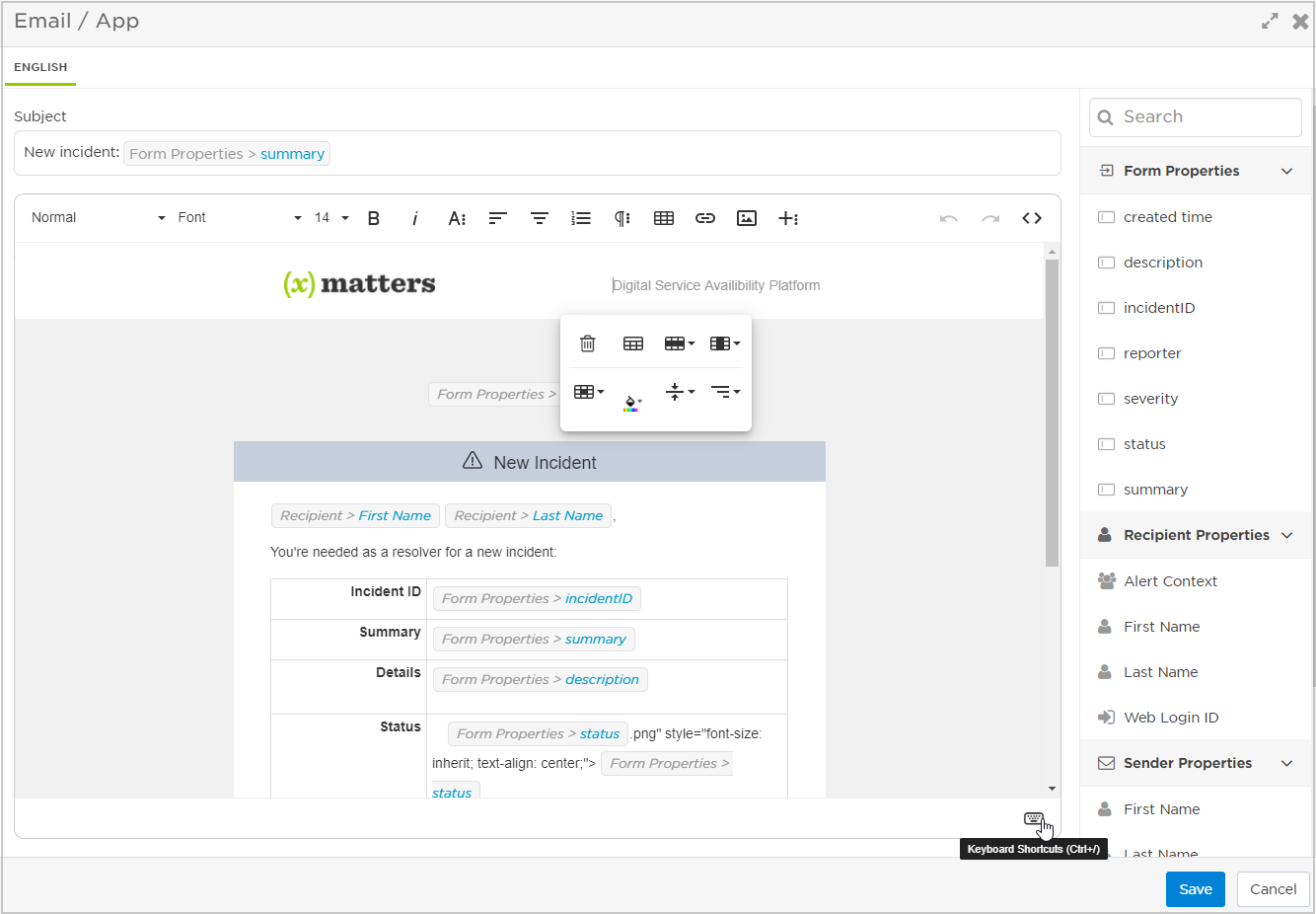 Use the inline editor and user-friendly keyboard shortcuts to craft your message without ever needing to view the source code – but, even when you do need to work in code view, you can take advantage of automatic Pretty Print HTML and syntax highlighting: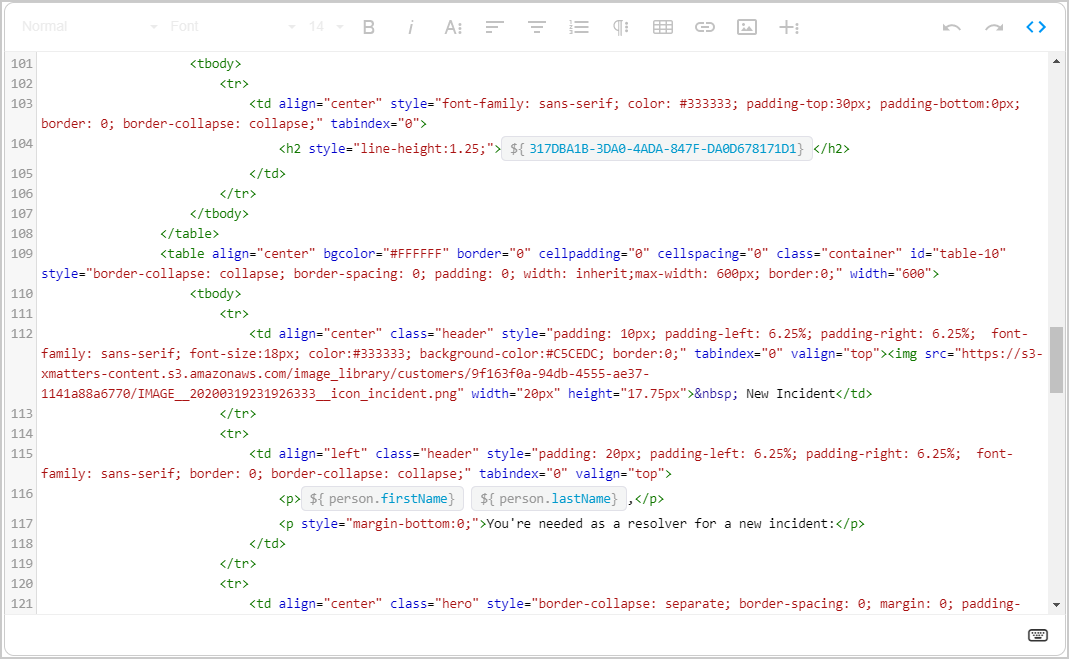 When adding properties to your message, the updated search bar allows you to easily filter for the properties you need and drag and drop them into your message — even in code view! And if you make a mistake? No problem. Use the new Undo and Redo feature to quickly shift between any of your changes: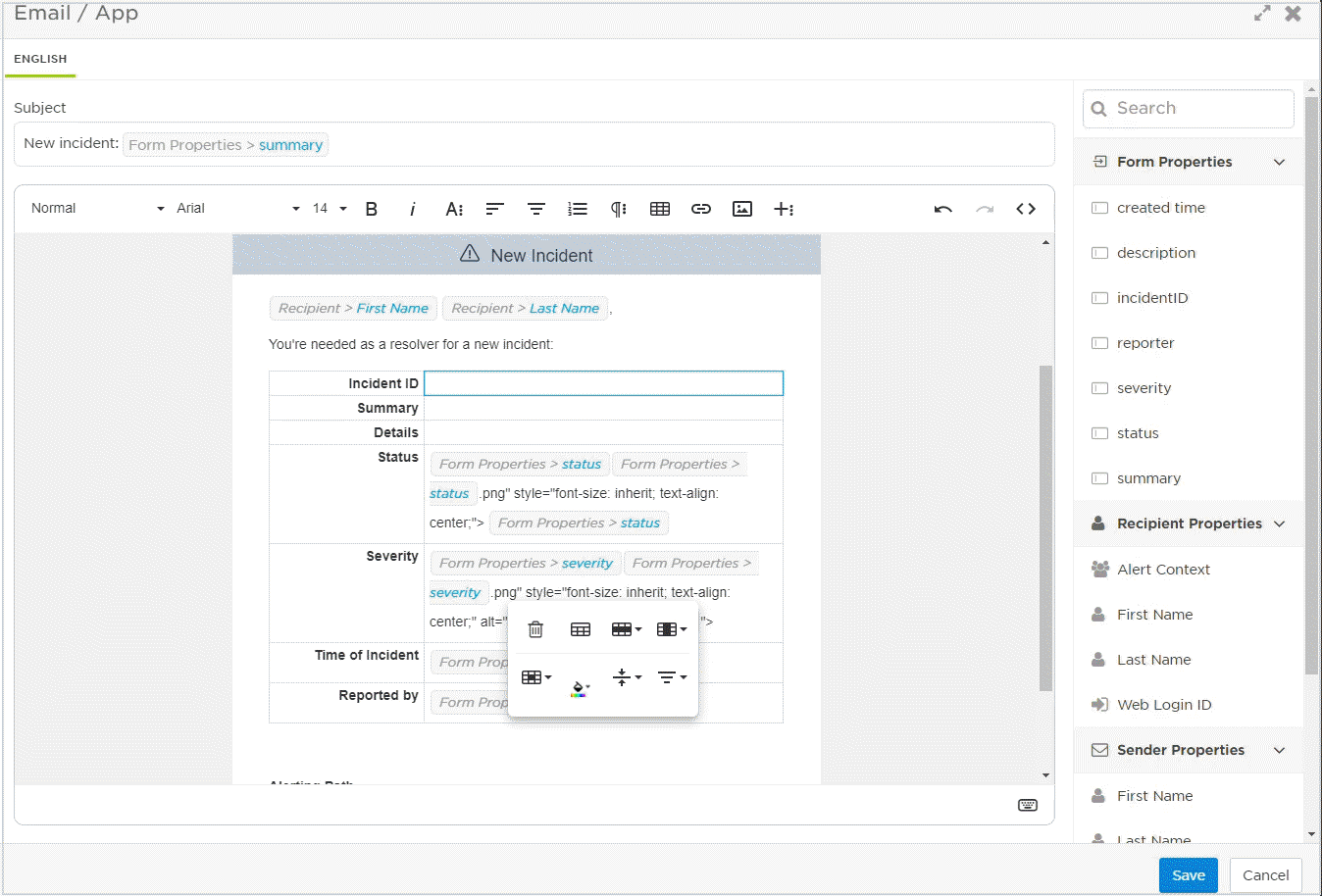 xMatters Agent
The xMatters Agent is a service you can install on a local system to process workflow logic behind your company firewall. This allows systems behind your firewall to trigger and enrich events in xMatters and enables integrations to communicate with systems that cannot be accessed externally. In this release, we updated the agent to support the latest version of Windows Server and we reduced its log footprints.
Windows Server 2019 support
The xMatters Agent is now officially supported on Windows Server 2019 systems. If you're running Windows Server 2016 or 2019, just select the "Windows Server (2016 and 2019)" option as your operating system when you're installing the agent and you'll be good to go:

Lighter log footprints
The xMatters Agent includes new options for controlling the amount of space the agent occupies on your system. To help reduce the overall footprint required by an agent, you can now specify how long the agent should keep its log files and how much disk space the logs can consume.
For more information about these options and how they can help you better allocate your system resources, see our page on how to monitor the xMatters Agent.
xMatters REST API enhancements
We continually enhance our xMatters REST API calls to replace existing SOAP and older REST methods. These calls not only support customer integration needs, they're also the foundation for data access by our mobile clients, the web user interface, and other key xMatters services. In this release, we focused on further discoverability of some objects within our existing REST web services, as well as improving data access to user sites, roles and permissions, and more.
Updated endpoints
Find people based on groups
Looking for users in a specific group, or groups? What about users not in any groups? If so, you'll find these new query parameters for GET /people quite handy:
Find users who belong to a group, or groups – Use the groups query parameter to specify a comma-separated list of group target names or UUIDs. If you specify multiple groups, xMatters returns the users who are members of any (not all) of the groups. For example: GET /people?groups=DevOps,25070811-5b97-4e39-887c-a81639598864
Find users who are (or aren't) in any groups – You can use the Groups.exists query parameter to identify the users who are members of at least one group (true), or users who aren't members of any groups (false). For example: GET /people?groups.exists=false
More ways to find sites
Wish there were more criteria you could use to look up sites programmatically with the xMatters REST API? How about being able to sort the sites that are returned? Then you'll be happy to hear about the following new functionality we've added to GET/ sites:
More specific searches – When you search with multiple search terms, you can use operand to narrow your results to just sites containing all the search terms in their name or description. For example, GET /sites?search=term1 term2&operand=AND
Search by specific fields – You can use the fields query parameter in combination with search to find sites with a particular value in their NAME or ADDRESS. For example, GET /sites?search=term&fields=NAME
Find sites by country – Use the country query parameter to find sites within a specific country by providing the country's full name or its country code. For example: GET /sites?country=Canada
Find sites by status – The status query parameter lets you find sites that are ACTIVE or INACTIVE. For example: GET /sites?status=ACTIVE
Find sites that are geocoded (or not) - When the geocoded query parameter is set to true, xMatters returns sites whose full longitude and latitude coordinates are set; if set to false, you'll get back the sites with missing or partial coordinates. For example: GET /sites?geocoded=true
Sort sites by name, address, status, geocoded, or country – To sort the returned sites, specify which value to sortBy, and whether to sort in ascending or descending order. For example: GET /sites?sortBy=ADDRESS&sortOrder=ASCENDING
What's next?
Over the next quarter we'll be making enhancements to some of our existing REST web services. We'll be improving access to forms and scenarios with new search parameters and better handling for access permissions. We're also planning additions to our API calls for events, including support for attachments, scheduled messages, and more.
You can learn more about the xMatters REST API in our online help.
Other Mobile Updates
As you've seen, the main focus of our mobile development work this release was bringing incident management capabilities to both our iOS and Android apps. Here are a few extra features we were able to complete that haven't been mentioned yet.
Search scenarios, forms, & workflows (Android)
Scenarios, forms, and workflows are core components of xMatters. Scenarios are particularly useful because they allow users on the go to react quickly by sending pre-configured messages for specific situations.
If you've got a lot of scenarios in your system, it can become a little difficult to sort through and find the right scenario to use during an urgent incident. With the Joust release, you'll be able to quickly navigate between your workflows, forms, and scenarios and easily bring up what you're looking for by starting to type its name or description: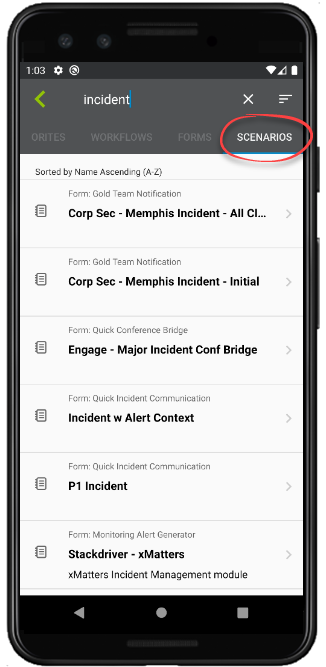 And if there are certain scenarios, forms, or workflows you use all the time, you can mark them as favorites for even quicker access: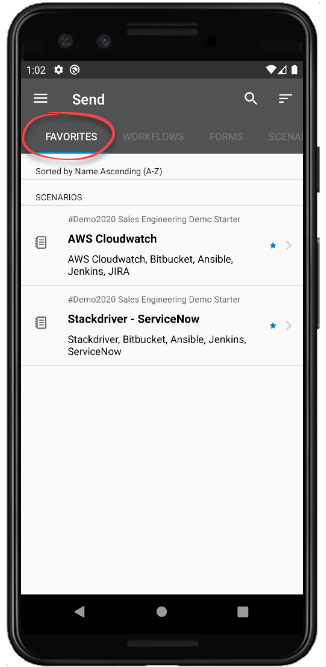 Comment on an event (Android)
Android users, like their iOS counterparts, can now add comments to events (previously you could only view them). Here's what this functionality looks like in the Android app: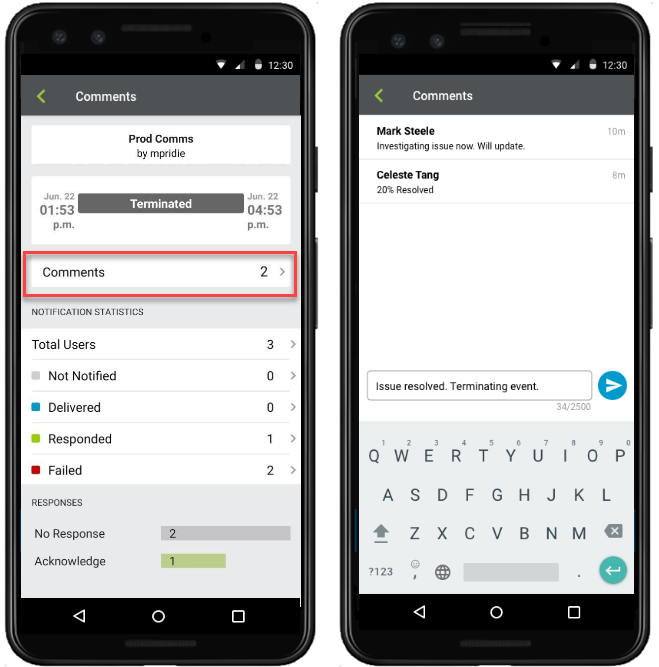 Get reminded of the group you're on call for (iOS & Android)
If you need more context about your upcoming shifts, then you'll be happy to hear that on-call push reminders now include the name of the group you're expected to be on call for: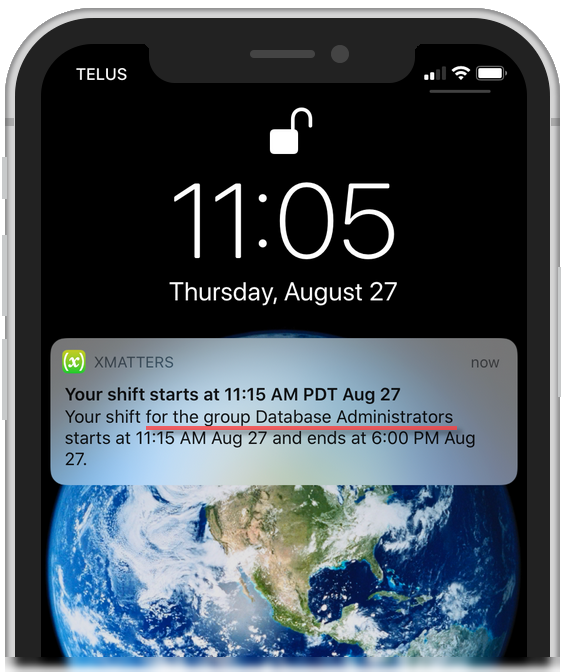 Toggle between light/dark mode in messaging (Android)
Do you ever find messages hard to read in dark mode? The Message screen now includes a handy toggle you can tap to quickly switch between light and dark modes while reading.
Other Product Updates
Congratulations, you've made it to the bonus level! Here's one more update for making it this far:
Help resource kits
Over the past year, we've released several help resource kits to get you started in xMatters and take advantage of the great features and functionality we have to offer:
With incident management as the major theme of this release, we thought it fitting to create a guide about how you can incorporate custom dashboards into your processes.
Launch your xMatters dashboard
Our new Launching your xMatters dashboard guide highlights how the Communication Center and custom dashboards make it simple to manage the information that's most important to you, so you can easily oversee useful data and quickly act on it. Whether your priority is initiating incidents, reviewing event or group data, or clearly seeing your Inbox, think of this as your own personal mission control for everything xMatters.
Early Access Program & Feature Delivery Update
The goal of our current delivery model for xMatters On-Demand is to balance feature delivery with customer change management processes. This means providing visibility into upcoming changes for customers that want it, while allowing other customers to have a more standard non-production environment that matches production.
If you aren't familiar with the current model, we release features only visible to admins/developers at a faster pace than the quarterly release process. These features should not impact end users until a customer provisions them into their workflow. Customers can opt their non-production environments into the Early Access Program to see features and functionality enhancements that impact end users before they're released on a quarterly basis. All customer non-production environments are updated two weeks prior to official quarterly production release to allow for testing and training on new features.
We regularly reevaluate and improve our deployment processes to ensure they reflect industry best practices and customer feedback. For more information about our deployment process, see our On-Demand Deployment Process and Early Access article. We'll update that document whenever we make a change, and let you know about the change through other appropriate channels.
Learn more
These are the main features for this release but be aware that there are a number of other small changes and enhancements we're delivering to keep xMatters looking sharp. Detailed information and instructions for using these new features will be available in our online documentation.
We hope you enjoy this release! We'll see you again very soon...