The information in this article is the intellectual property of xMatters and is intended only for use with xMatters products by xMatters customers and their employees. Further, this intellectual property is proprietary and must not be reused or resold.
Maybe you're here because you've been told to get the xMatters mobile app by your supervisor, maybe you're thinking: do I really need it?
The xMatters mobile app is here to make your life easier when you're on the go, or working remotely. Because it works through internet connection or WIFI, it allows you to stay connected with xMatters even if your mobile network fails, so you never have to worry about missing an important notification again.
Whether you're a seasoned xPert, or you've never seen the xMatters app in your life, this guide will take you through how to get the app set up on your devices, all the features it offers, and how to customize the settings, so everything is just how you like them. 
Maybe you're thinking: hey, that's all great - but what's in it for me? Here are some of our user's favorite things about the xMatters mobile app:
If you're set up as a Mobile-Only Standard role, you no longer need access to the xMatters web UI, as you can manage your entire profile and settings through the app.
Passcode/Biometric login options, so it's easier and quicker for you to get into your account.
Manage your on-call schedule and set up temporary absences/replacements straight from your device.
The ability to respond and add comments to active events.
Create on-call reminders, so you're always ready for your next shift.
If you're an Incident Manager, you'll have total control over your events, with the ability to send workflow messages, manage active events, quickly connect to your teams, and more.
Downloading the xMatters mobile app
To get started with the app, depending on what kind of device you have, search for "xMatters" on either the App Store or Google Play store.
Once you've downloaded and installed the app on your device, there are two ways you can log in: manually using your hostname (your xMatters web address, basically) or by scanning a QR code displayed in the web user interface.
Log in using hostname
Enter your hostname.

For example, if the URL you use to access the xMatters web user interface is your-company.xmatters.com, then enter "your-company".

Tap Continue.
Enter your username and password.
Tap LOGIN.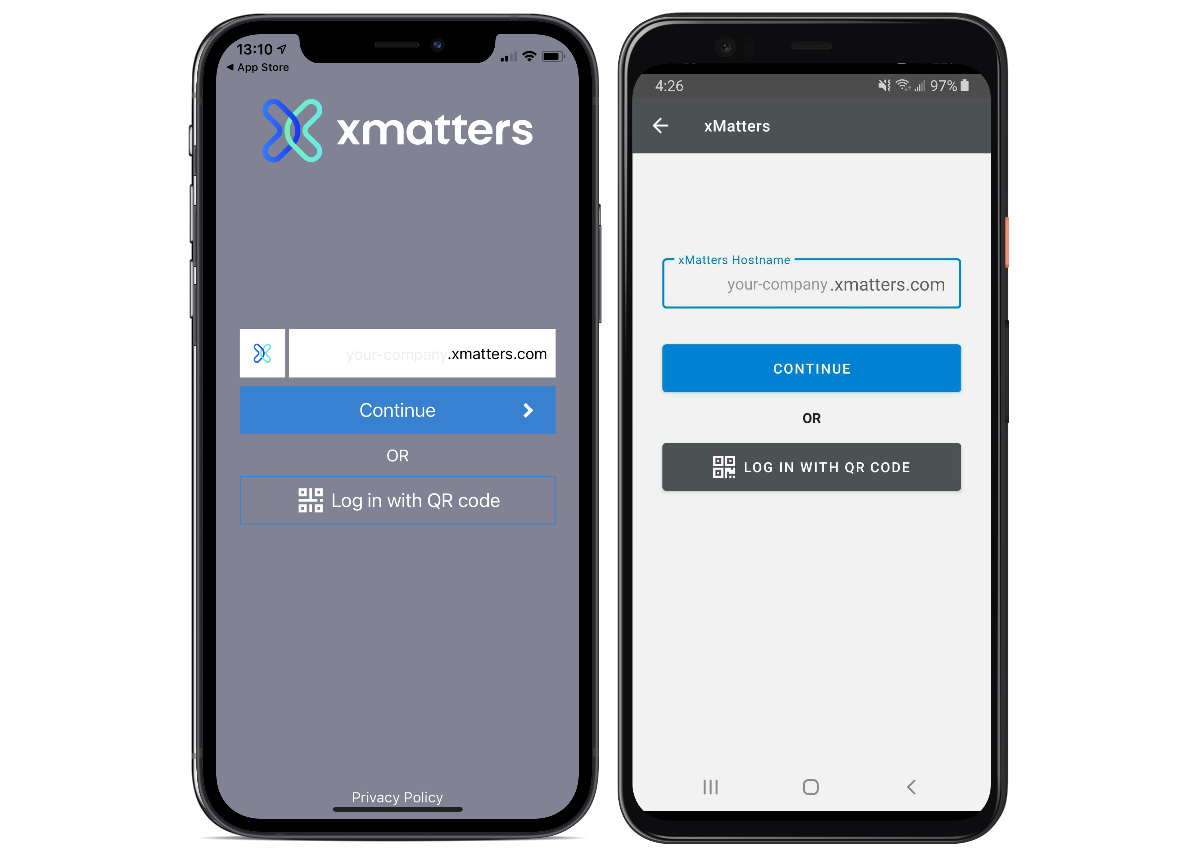 Scan a QR code
Log into the xMatters web application, go to the Devices tab in your profile, and add a "Mobile App" device.
On the mobile app, tap Log in with QR Code.
Scan the QR code that's displayed in the web user interface.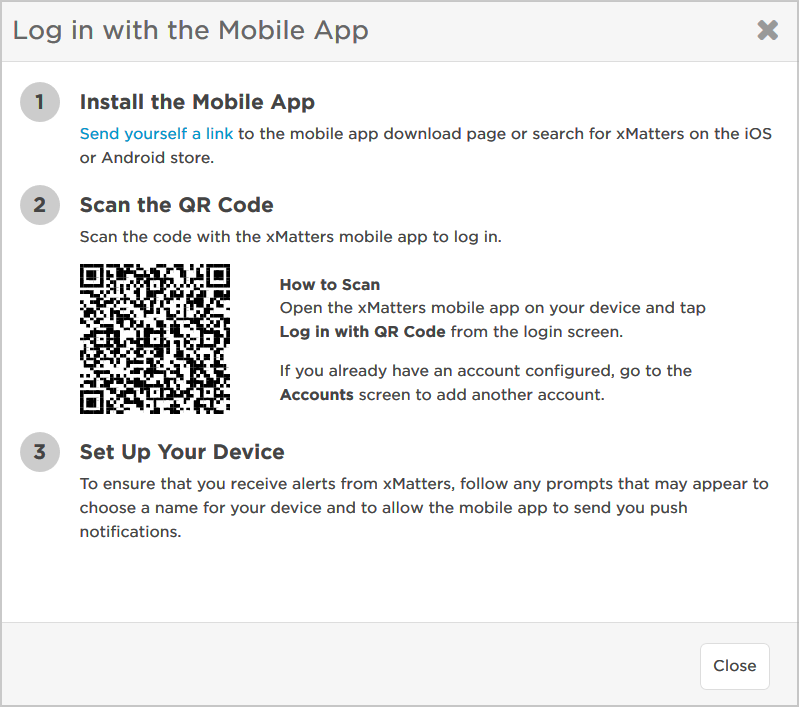 Once you've downloaded and installed the app on your device, you can log in manually using your host name, or by scanning a QR code displayed in the web user interface.
Additional resources
For more instructions about adding the mobile app to your xMatters profile, or to see some handy video walkthroughs, check out Get the xMatters mobile app.
Notification channels and settings
Whether you're using Android or iOS, there are a few different options for customizing how you're notified by xMatters on your device.
For Android users, there are separate notification channels for different priorities of xMatters notifications (High Priority, Medium Priority, Low Priority, and On-call reminders) so you can configure different notification options and custom sounds for each category.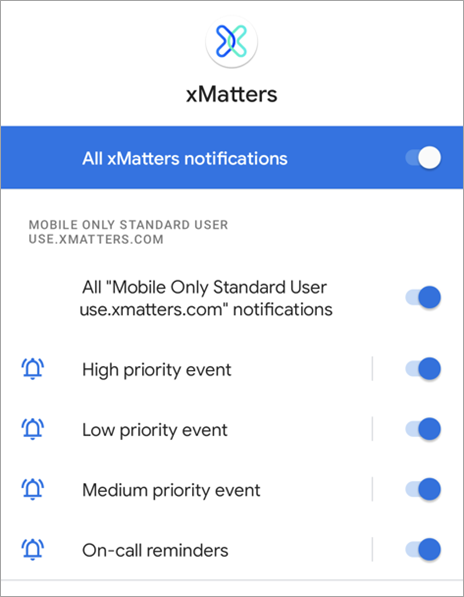 For iOS users, you can configure how your device displays notifications (such as banner style, sounds, and badges) in the app notification settings.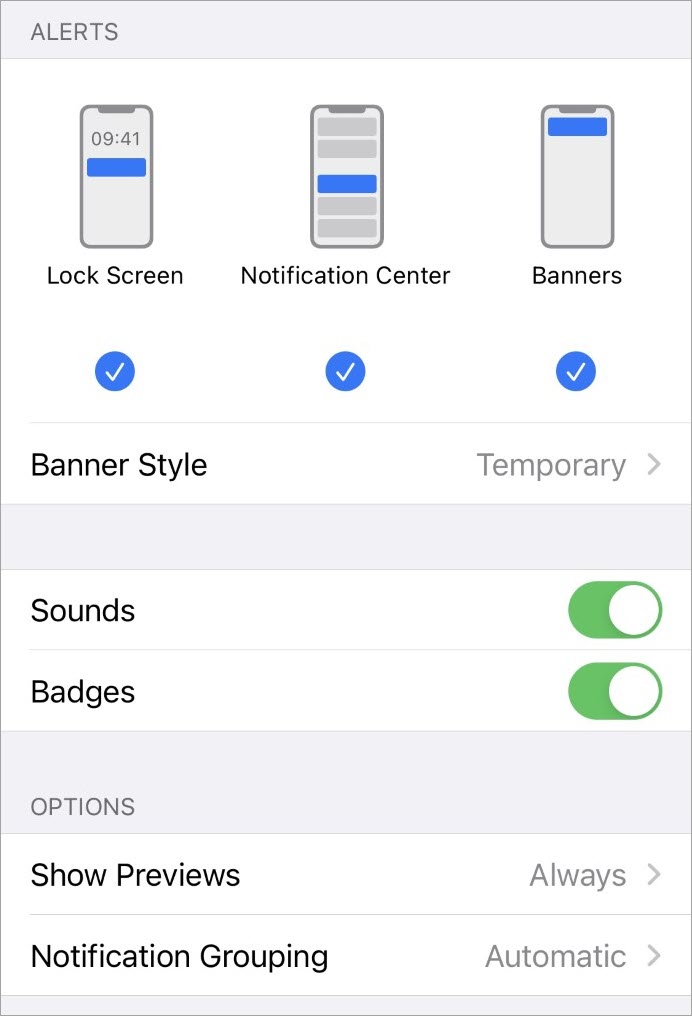 Okay, I've downloaded the app – now what?
Now that you've got the app and have successfully logged in, you can start to customize your settings. What you're able to change depends on what kind of role you have.
Resolvers
As a resolver, you want to make sure events are resolved as quickly as possible. With the xMatters mobile app, you'll be able to easily receive notifications, respond to events, contact team members, and customize your profile easily, so you can do your job as efficiently as possible.
Configuring your devices
The first thing that you'll want to do once you've got your hands on the xMatters app, is configure your devices. You can add as many devices as you like, so it's important to customize the settings so you receive notifications in your preferred way. For example, you can choose which devices are notified, in what order, and if there is a time delay in between notifications. If you don't configure your settings, you will end up receiving notifications at the same time on all your devices (which might be a little distracting).
Configure the device escalation timeline
If your devices aren't already in the order you want to be contacted, reorder them in the My Devices tab in the app by dragging them to a new position in the list.
To add a wait time between devices, click the clock icon that appears on the device timeline in between devices.
Type in the number of minutes for

xMatters

to wait before notifying the next device in the list.
Add a new device from the xMatters mobile app
On the app, click More.
Select My Devices, and then tap the + icon.
Here, you will be able to add either an Email, Voice, or SMS device.
Type in the contact information of the device you want to add.
To configure the settings of the device, tap the View Options drop-down menu. Here you can define if the device is active, its priority threshold, timeframes, and if you want to make it a failsafe device.
Click Save.
For more information about managing your devices, such as setting device timeframes (when each device is available to receive notifications from xMatters), priority thresholds (configuring a device to accept only a certain priority level message), or failsafe devices (for situations where you need to be notified outside of your device timeframes), see Manage your devices.
Viewing your on-call schedule
Within the app, you have the option to see your up-coming schedule in a weekly or monthly calendar layout. If you see a green dot under a date, it means you're on-call at some point during that day. You can view up to 90 days of schedules, and the shift rotation filter lets you choose which on-call shifts to display (for example, primary on-call, primary and secondary, or all shifts). When you click on a shift, you'll be able to view shift information, see who's on call, who's absent, and if there's a replacement.
Viewing your schedule
From the iOS or Android app menu, tap My Schedule.
To see a monthly view, tap the calendar icon in the top menu.
If you'd like to filter the schedule (for example, to only see the shifts where you're primary on-call), tap the filter icon, and select one of the options.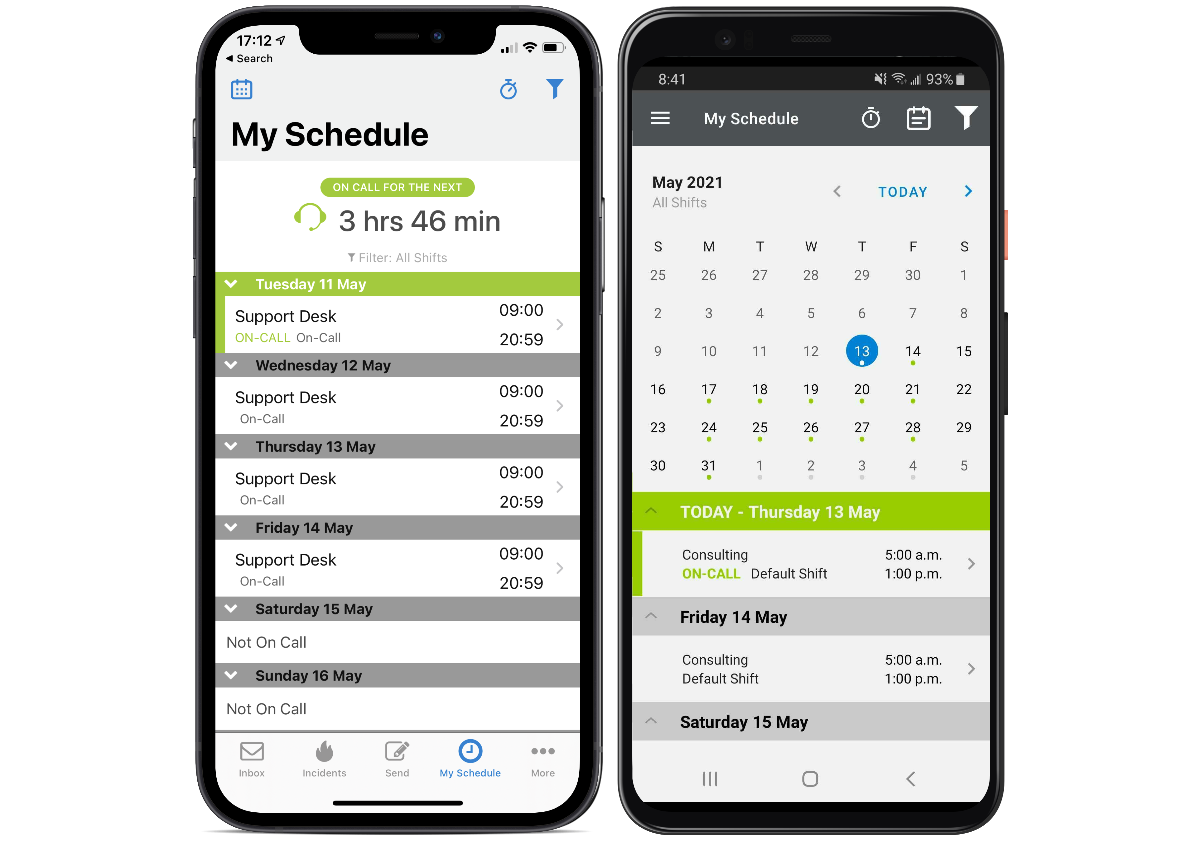 Additional resources
This screen is very similar to the Schedule tab on your profile in the web user interface, which means you can refer to the Schedule help page for more information about how to interpret your xMatters on-call schedule.
What happens when I have time off?
Whether it's because you're sunning yourself on a beach, suffering from a bad cold, or just out of the office for an external meeting, you can use the xMatters mobile app to schedule any shift absences. When you add a temporary absence to your schedule, this will automatically let your supervisor know that you won't be available. You'll also have the option to add a replacement, so you can rest assured knowing your shift is always covered.
Schedule a temporary absence
To schedule an absence, go to the My Schedule screen in the mobile app and tap the Temporary Absence icon (the stopwatch) in the top right-hand corner.
This will open the My Absences screen, where you can tap Add Temporary Absence to add an absence to your schedule.
You can then provide the start and end dates of when you'll be away, and which groups will be affected. If your absence doesn't affect all of your groups (the default setting), then tap to select the specific groups that you want the absence to apply to.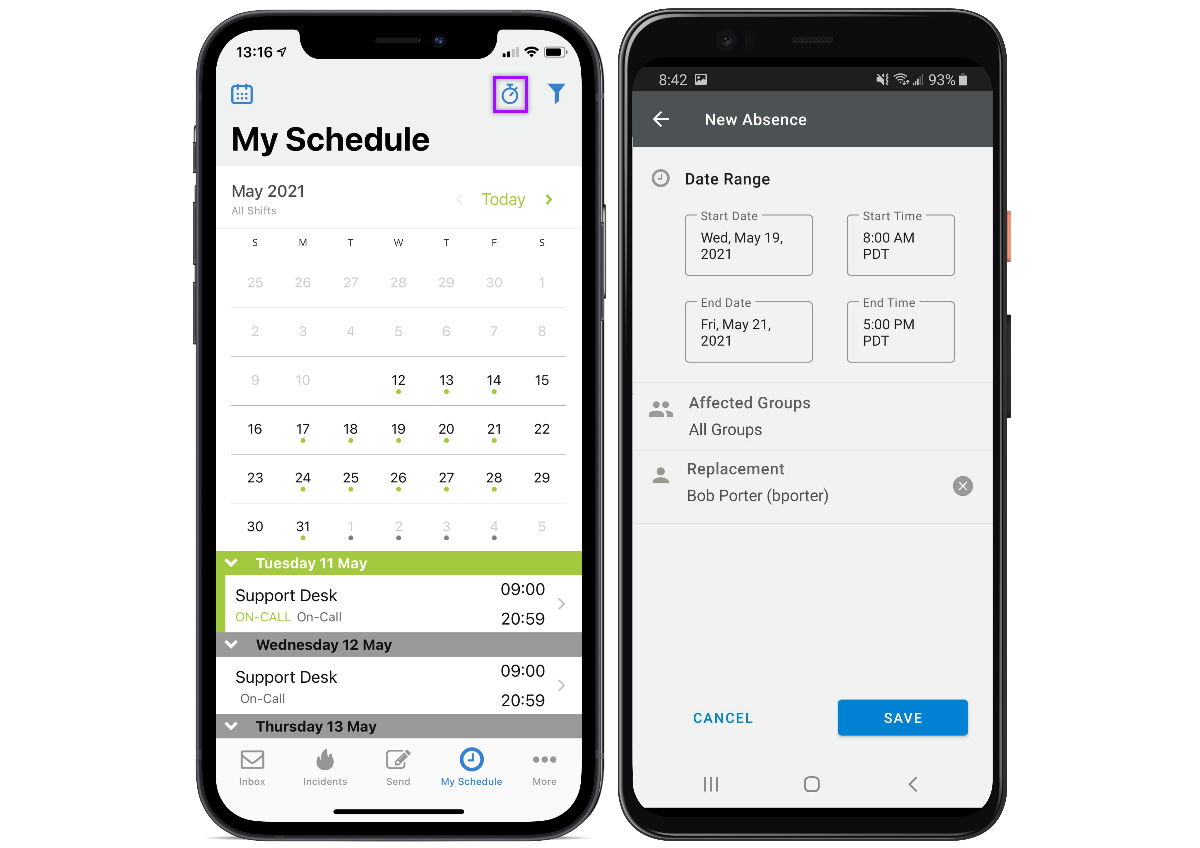 Setting up a replacement

When you create a temporary absence, you'll also have the option to set a replacement (you might even have to choose one, depending on your company's configuration). If you don't select a replacement, you'll be taken out of rotation. Your supervisor will be notified so they can make any necessary shift changes, and so will the person you chose to replace you.
To set a replacement, tap the Set a Replacement toggle and select a replacement user. xMatters sends a notification to that user, your supervisor, and the supervisors of any groups that are affected, to inform them when the absence will occur and for which groups the replacement applies.
Additional resources
Setting on-call reminders
We get it, life gets busy, work gets hectic, and the last thing you want is an unexpected on-call shift being sprung on you. The on-call reminder feature can be used to set up email and push notifications to remind you about your shifts, from one-minute to two weeks before they start.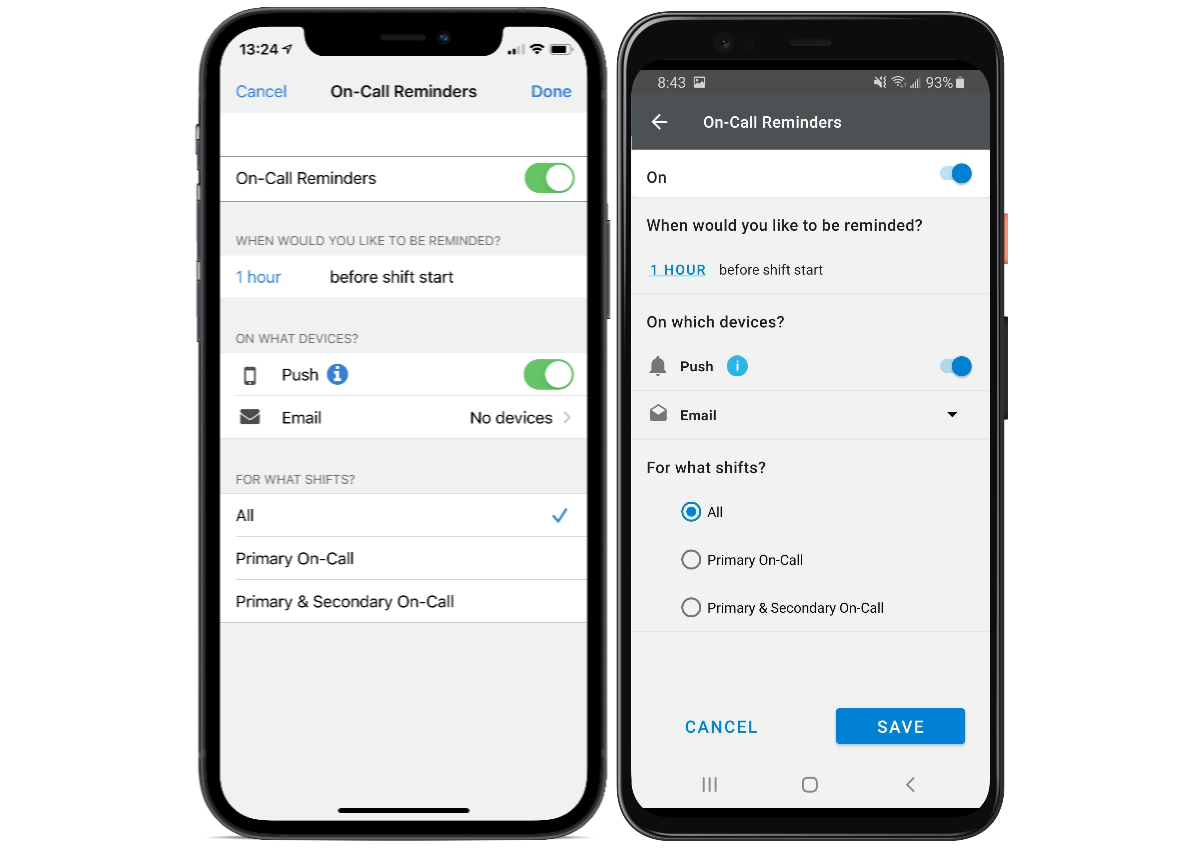 Configure On-Call Reminders
In the xMatters mobile app, navigate to the Settings screen for your account and tap On-Call Reminders.

iOS: Tap More > Accounts & Settings, and then the gear icon next to Edit Settings.
Android: Open the side panel menu and tap Settings.

On the On-Call Reminders screen, tap the toggle to enable on-call reminders.
Configure:

When you'd like to be reminded: the default setting is one hour before, but you can tap to select a different interval in minutes, hours, or days - from one minute to 14 days.
On which devices: you have the option to be reminded via mobile push and/or email notifications.
For what shifts: select either All, Primary On-Call, or Primary & Secondary On-Call.

Click Done or Save.
Reminders for your next on-call shift
What if I need to contact my teammates?
During an event, we know time is of the essence and you'll need to be able to connect with your team quickly. Now you can contact users straight through the xMatters app, simply click the Contacts button on the app, and you'll be take to your contacts list. Here, you'll be able to filter by People or Groups, to easily find who you're looking for.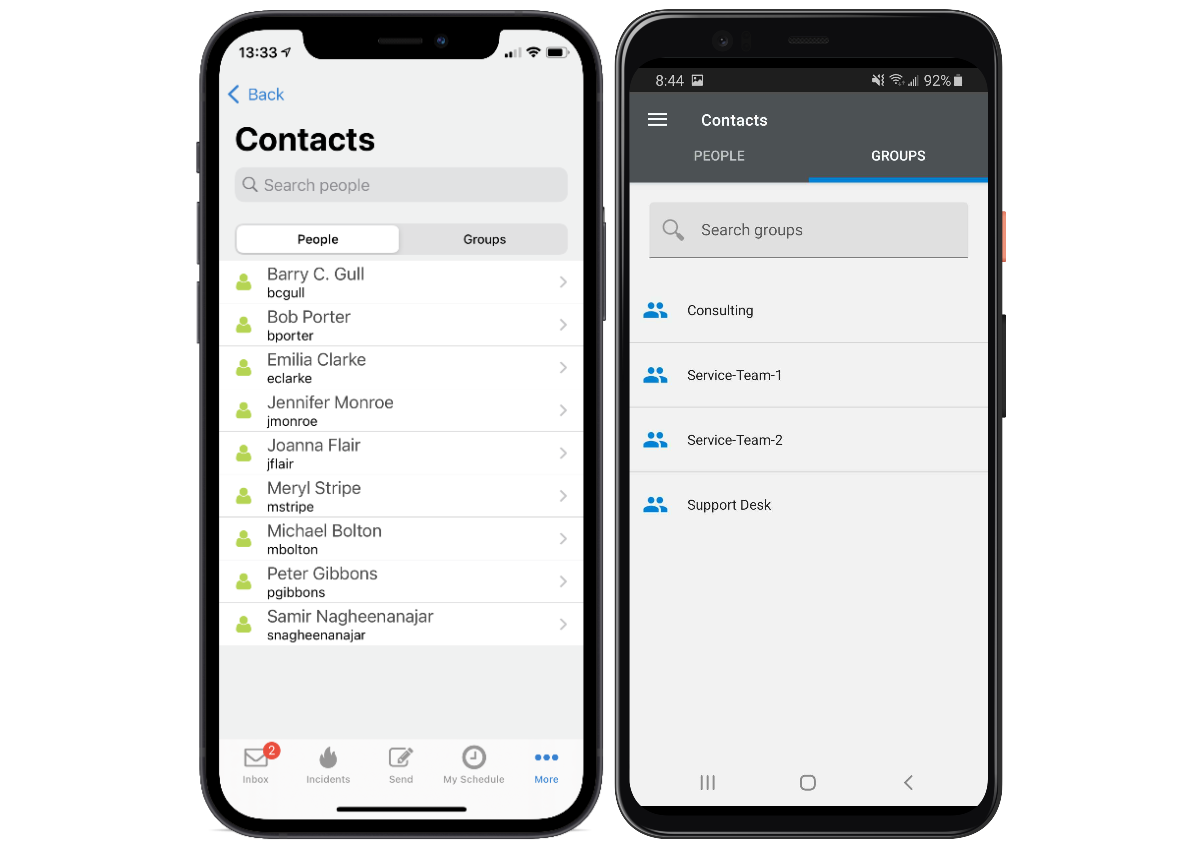 How will I be notified when an event is happening, and how can I respond?
 After you've set up your devices and your supervisor has assigned you to one or more shifts, you'll then be able to receive notifications. Your devices will be notified in the order you specified when configuring your devices. The messages you receive through the mobile app will include information about the event, as well as options for you to respond. Response options are highly customizable, so you should read or listen to all available options before you select your response.
When you receive an alert on the mobile app, you'll be able to respond directly to push notifications. To respond, simply tap your response to select it from the list of available options. You can also add comments to your response, to record additional information about your status.
Depending on how the shift schedule is set up, if you don't respond within a set amount of time, xMatters automatically escalates the notification to the next on-call resource in the shift.
To respond to a notifications, tap one of the response options. The mobile app will ask you if you'd like to respond now, or respond with comment. Respond with a comment if you'd like to add additional context with your chosen response.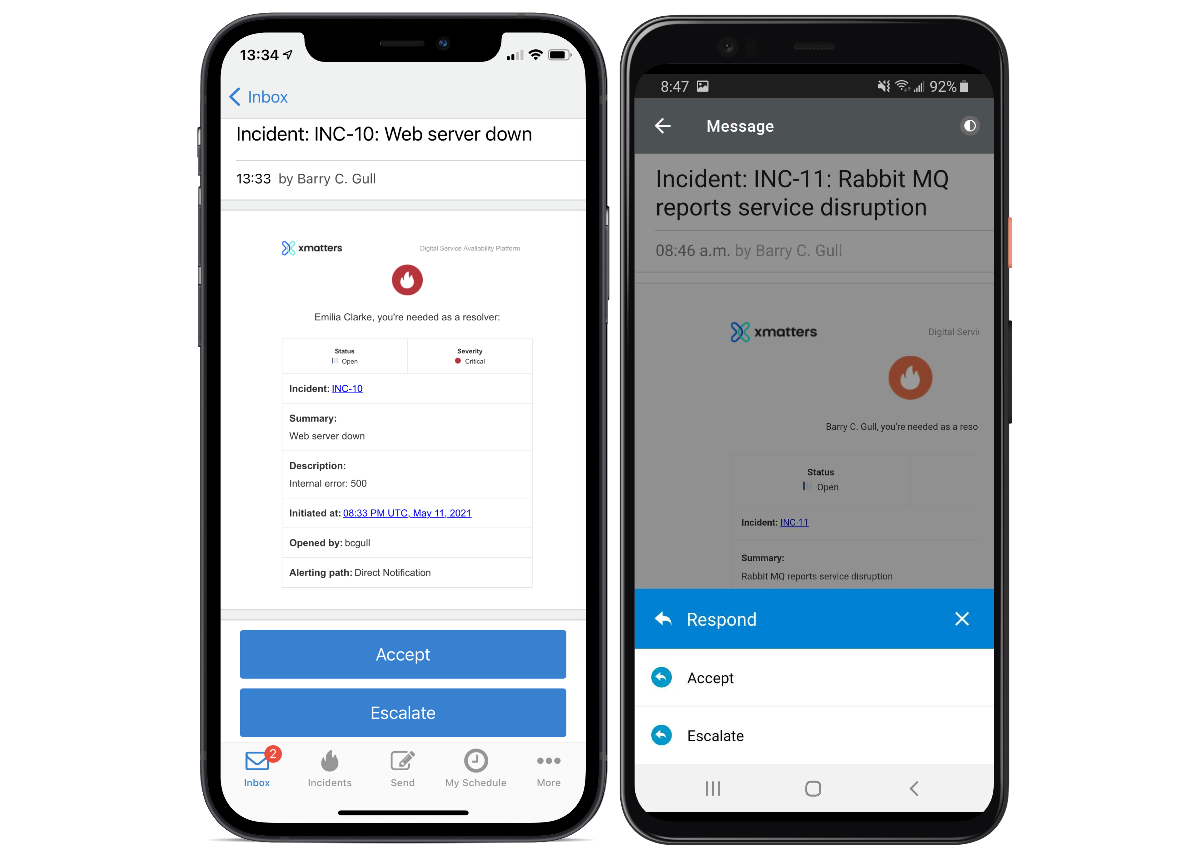 Escalations
Depending on how the shift schedule is defined, if you don't respond within a pre-configured amount of time, xMatters automatically escalates the notification to the next on-call resource in the shift.
Receive and respond to events on the mobile app
An incident is happening, and I need to add a comment!
When there's an active incident taking place, comments are added to the event to provide updates to the Incident Manager and other resolvers about the status of the incident. These comments are also recorded in the event timeline and can be reviewed by the Incident Manager afterwards.
Viewing comments
Navigate to the Recent Events screen; under each event you'll see a comment icon and count of the number of comments that have been added to an event. For events with comments, you'll also see this information in a new Comments section when you drill-through to the event.
Tap the Comments section on the Event report to read the comments added to the event. The most-recent comment is listed at the bottom of the screen, and you can scroll back to view earlier comments.
Adding a comment
If you need to add a comment to an event, tap into the Add Comment box at the bottom of the screen. You can type up to 1000 characters each time, so for longer messages, you might need to add multiple comments.
View and add comments from the mobile app
How do I connect to conference bridges?
When an incident is happening, often the best way to collaborate is through a conference call, and the xMatters app makes this easier than ever - say goodbye to manual dialing in or long-distance charges! Because now, you can get the app to do all the hard work for you, so you never miss a voice notification again.
Call Me to join a conference
When you receive a conference bridge notification through the app, select Join Conference.
Enter a phone number to have xMatters call you to join the conference.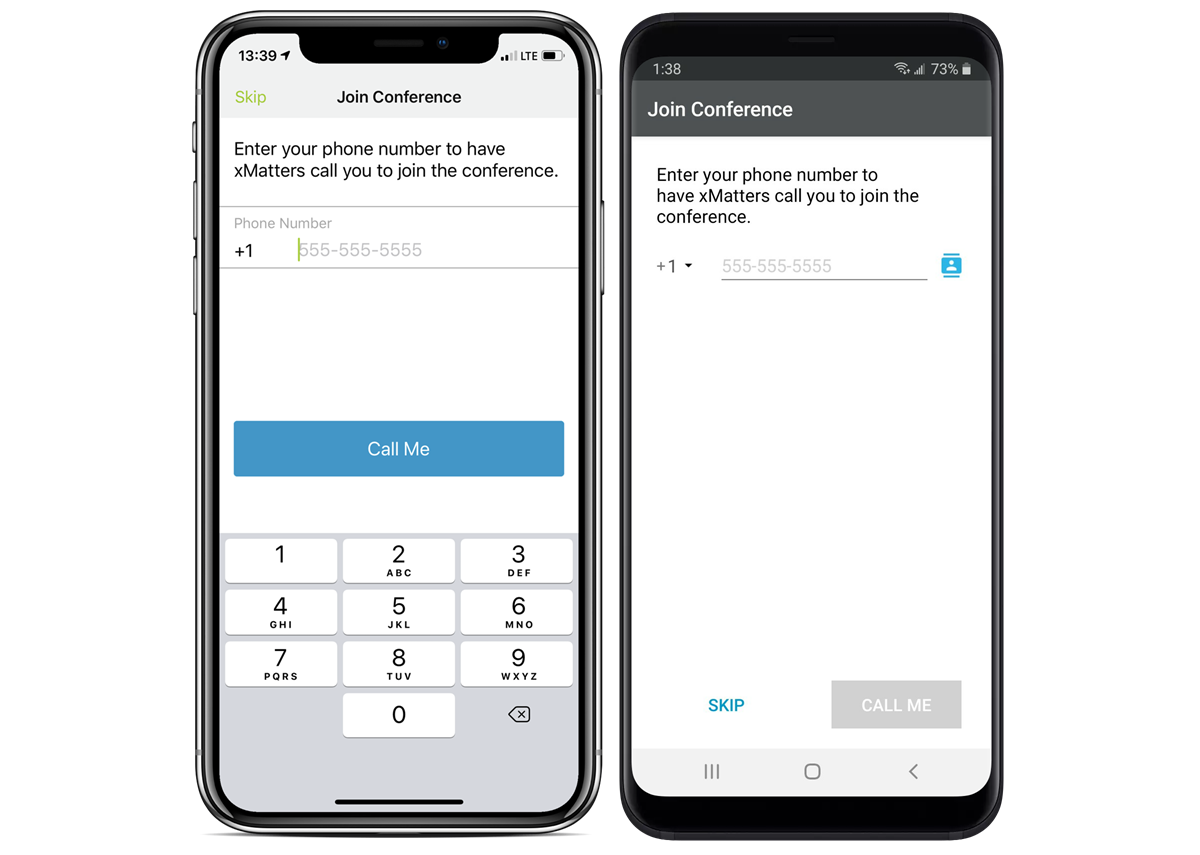 When you've added your number and selected your country code, tap 'Call Me' and standby for an incoming call from xMatters.
Accept the call and you'll be automatically added to the conference bridge.
Use the mobile app to join a conference
Incident Managers
If you're an Incident Manager, there are a few extra things you can do in the xMatters app that will help you to easily manage active events, and make sure they're progressing as expected.
Sending messages
The xMatters app allows you to send notifications straight from the app, using customizable forms. Depending on your system and how it's configured, you might be able to choose from message options that include conference bridges, polls, specific lists of options for components in your system, and much more.
Sending a new workflow message
Do one of the following:

On iOS devices, tap Send in the bottom menu of the app.
On Android devices, open the side menu and select Send Message.

Select a workflow and then select a form.
You will then be able to select recipients, create your messages, and in some cases, set specific properties or values for components of your system.
When you're ready, click Send.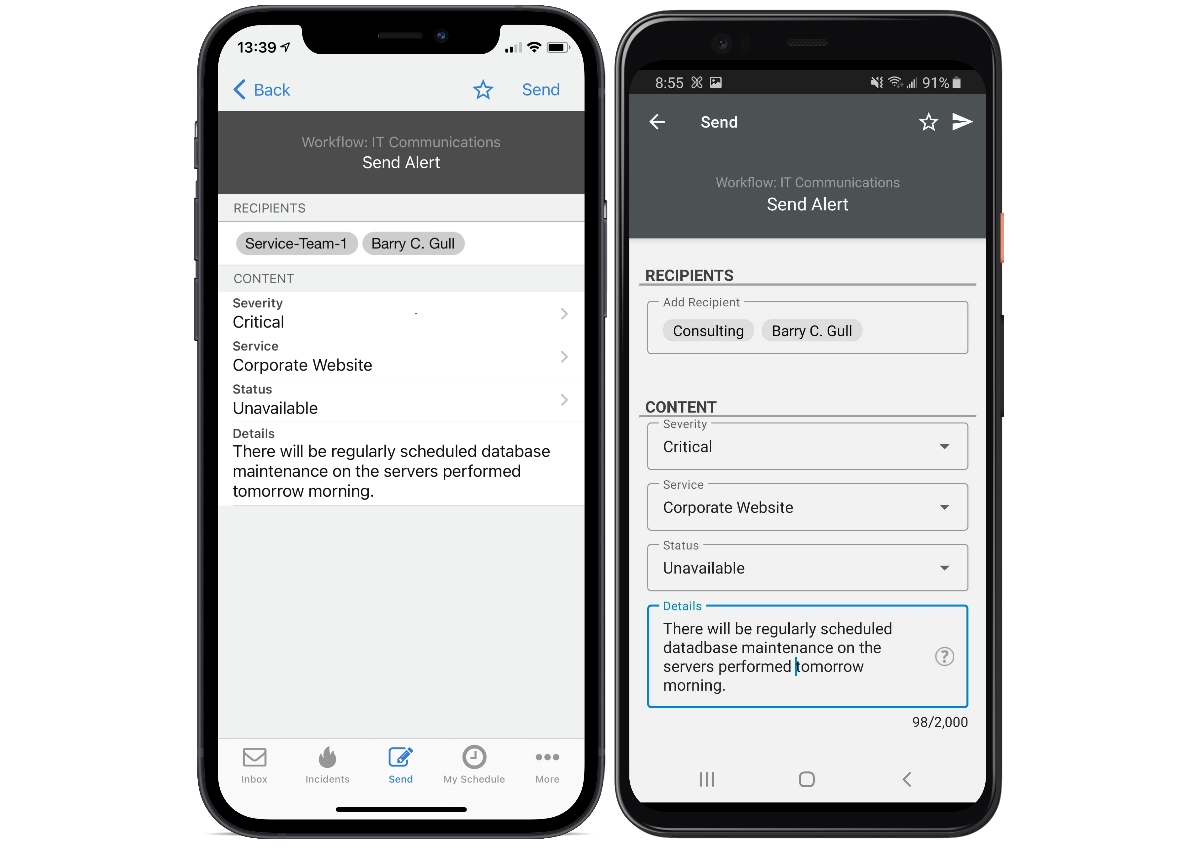 Review and monitor events
If you're used to the timeline feature on the xMatters web UI, you'll be happy to know you can access this from the mobile app too. During an active event, see how incident is progressing and who is working to resolve the issue by navigating to the Recent Events screen and tapping on the event. You can also review past event timelines, so you can see if you should make improvements to your incident management processes.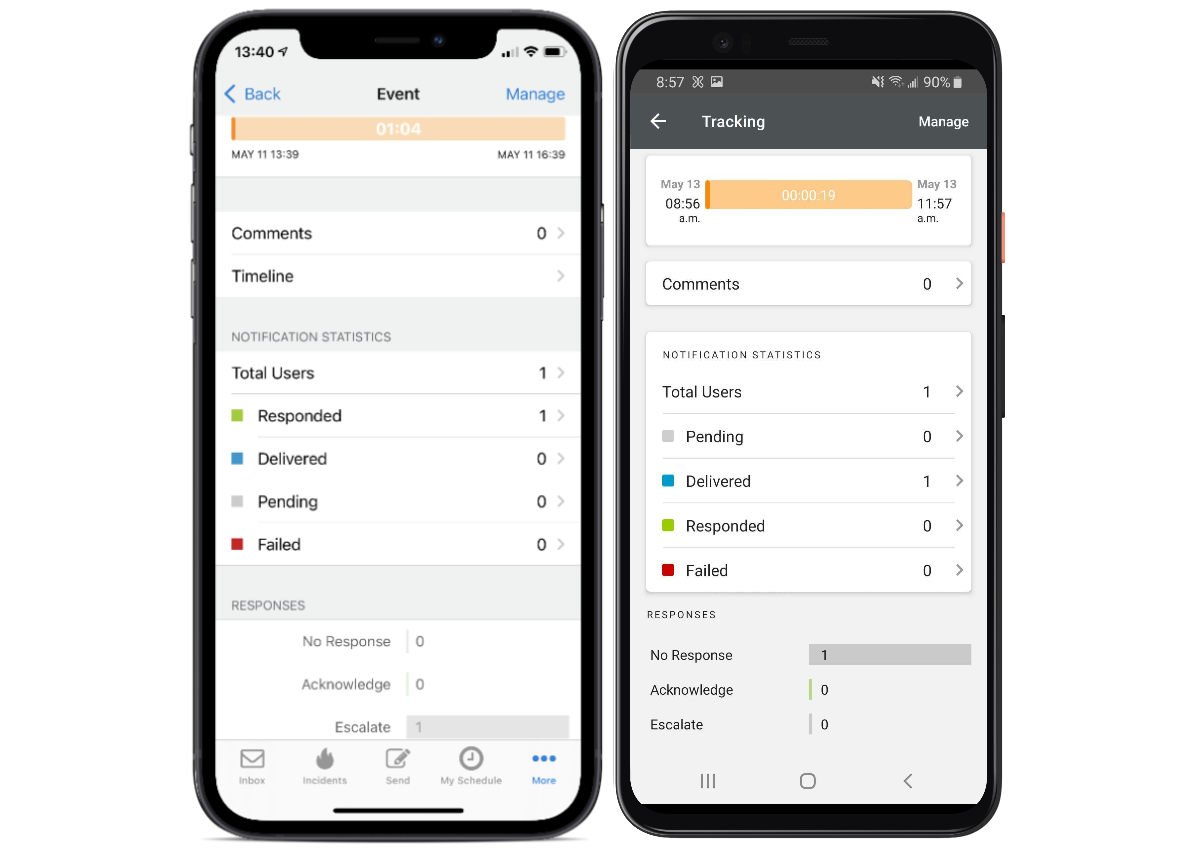 View the Timeline
You can view the timeline by navigating to the Recent Events screen and tapping on an event. This will take you to the Event report, where you can tap the Timeline option.
The Timeline displays the following information for an event, in chronological order:
Each user that was targeted, the device they were notified on, and the status of the notification (whether it was delivered or if it failed).
How users responded, and the device they responded from.
Any comments that were submitted by a user, either with their response or via the Tracking report (tap on a comment to view its full content).
View the timeline for an event
Terminating, suspending, or duplicating events
When there's an active event happening, you might need to temporarily pause event processing to give users time to respond, duplicate an event to send an update to an existing event, or terminate an event completely.  Now, you can quickly change the status of the event through the xMatters mobile app.
Terminate: this will stop the event processing and remove any active notification. If a user responds to a notification from an event that has been terminated, the response will be rejected. Terminated events cannot be resumed.
Suspend: this will temporarily suspend event processing. Any notifications that have already been created will be processed, but no new notifications are generated. Users can still respond to notifications that were sent by events that have been suspended. Suspended events can be resumed.
Duplicate: this will allow you to quickly copy an existing event, modify some of its properties, and resend it.
 To terminate, suspend, or duplicate an event
Navigate to the Recent Events screen.
Click on the event you wish to terminate, suspend, or duplicate.
Select Manage.
Tap on the option you need.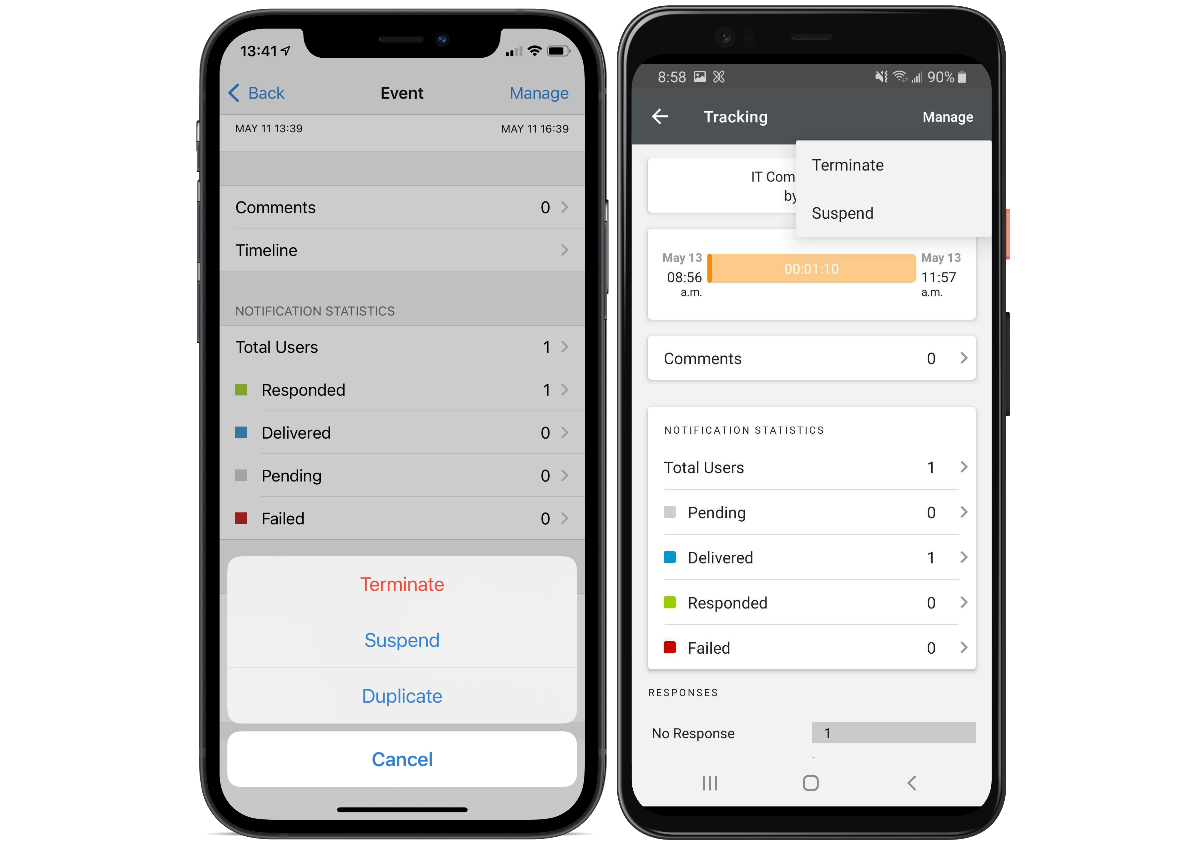 You may want to suspend an event while you check for false alarms or give certain users time to respond, or pause an event while resolvers are unavailable.
Tips & Tricks
Different phones can sometime react in unexpected ways. For example, some power saving settings on some devices can disable push notifications without warning. We've compiled a few troubleshooting tips in an article that might help: Mobile app troubleshooting.
When using an Android device, make sure the app has the ability to override any Do Not Disturb settings so you always receive important notifications.
You can install custom sounds from within the xMatters mobile app - just go to Notification Settings and Enable Custom Sounds. Then, tap System Settings to access the notification configuration screens for the xMatters app and select the custom sound of your choice.
The xMatters mobile app supports dark mode! Once you've enabled dark (or night) mode on your device, the xMatters app will automatically switch to its new dark theme.
In the event your device is ever lost or stolen, you can use the Sign Out option in the web UI to log out of any device in minutes.
If you're using an Apple Watch as an xMatters device, here are some important things to remember:

Notifications are only displayed when the paired iPhone is locked or asleep (you won't see them on both devices).
You may not see notifications on your Apple Watch if it's locked, or if certain privacy settings (such as Do Not Disturb) are enabled.
If you're still having trouble receiving notifications to your Apple Watch, or want to learn more about configuring your Apple Watch, visit Apple Support.

Use the Repeat Alerts feature to ensure you never miss a critical notification again. This allows you to specify a threshold priority level and repeat interval for notifications sent to your mobile device.